The trouble, for Macbeth, isn't getting the crown. The trouble is keeping it.
A visceral new production of Shakespeare's tragedy at American Players Theatre seethes with violence and distrust, led by Marcus Truschinski and Melisa Pereyra as the passionate power couple. It feels cinematic, set among obelisks cut to look like stone and lurid up-lighting on the trees behind the stage. 
Known among superstitious theater folk as Shakespeare's "Scottish play," "Macbeth" last played at APT in 2005 with Jim DeVita in the title role. This time DeVita is in the director's chair, and he brings the same powerful storytelling and aesthetic consistency that he did to "Richard III" in 2012.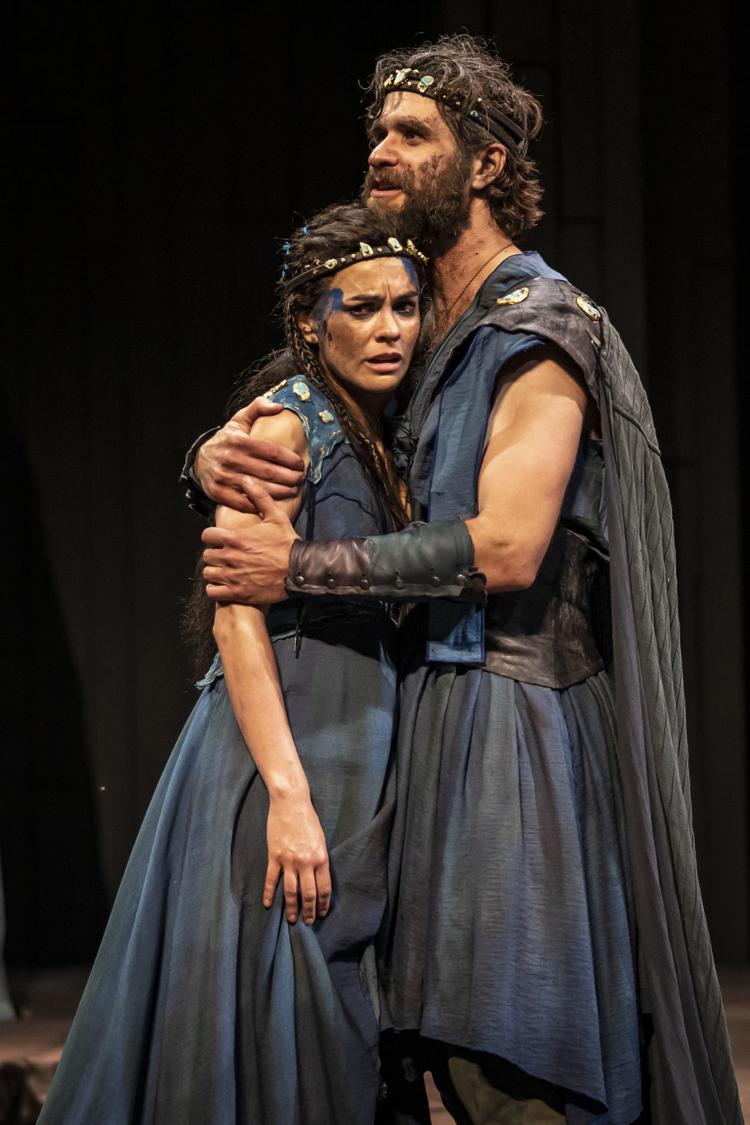 DeVita frames "Macbeth" with battle. In the opening moments, warriors rush through the prairie brush straight onto the stage as insistent drums draw them forward. We get a glimpse of Macbeth as a fighter, as well as what he stands to lose — his closest friend, Banquo (Laura Rook), his ally Macduff (Gavin Lawrence), the admiration of his fellow warriors.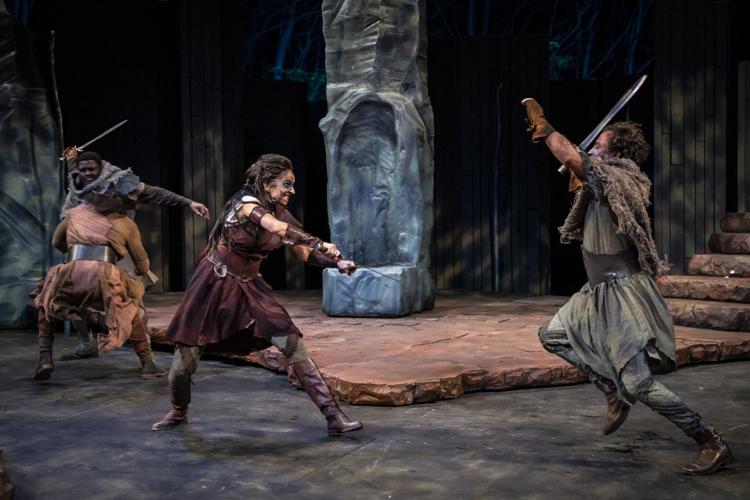 While most high schoolers know how the play ends, this "Macbeth" proves it's still a wrenching ride. The "weird sisters" tell Macbeth he's destined to be king, and it's like he's been handed One Ring to rule them all (Tolkien knew his classics). Macbeth gets a second title, thinks of the baby in his wife's belly and starts down a murderous path.  
Truschinski and Pereyra are both in excellent form here. Pereyra, as Lady Macbeth, galvanizes her husband with flint-sharp words and an icy gaze. Few can play agony as well as Pereyra, whose gift with Shakespeare's strongest speeches seems to increase play by play.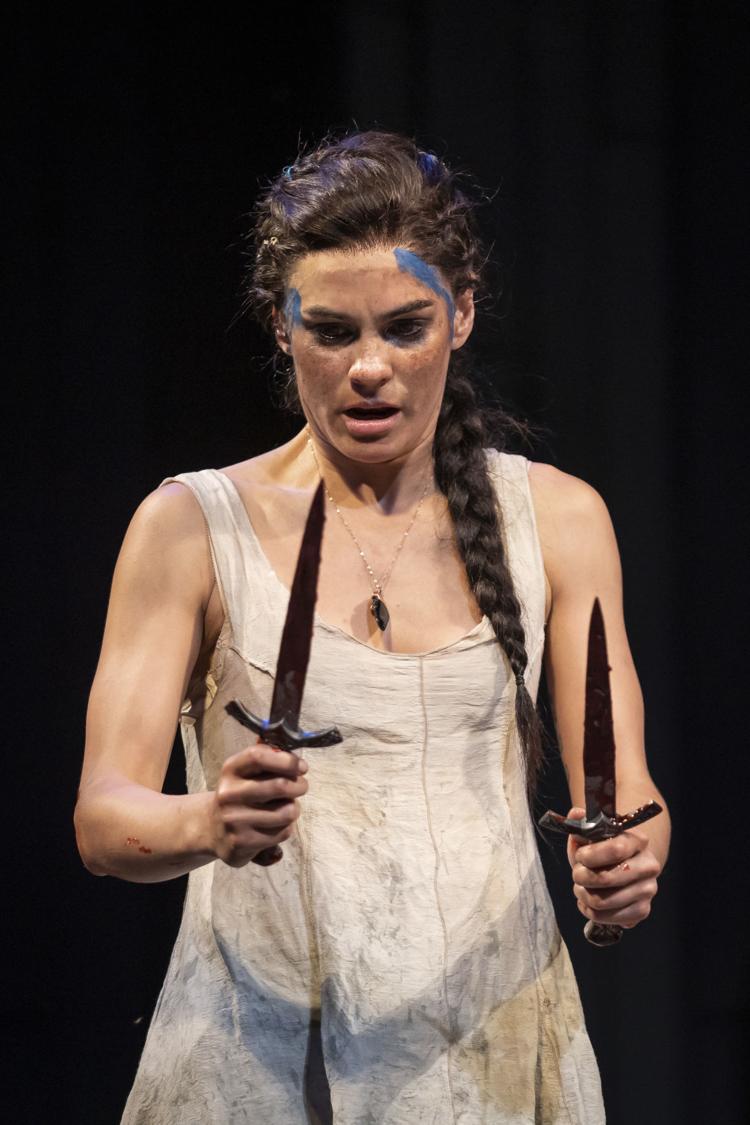 In this production, the new queen's pregnancy adds layers to the action. There's now a horrifying subtext to her threat to "dash the brains out" of her own baby if the throne were on the line.
It also gives us a way to track time. Lady Macbeth's stomach grows through the months of her husband's reign, giving a physical representation of their hopes for a long line of kings. Late in the play, Pereyra cries out from offstage, and I wondered, is she in labor or dying? As if it couldn't be both.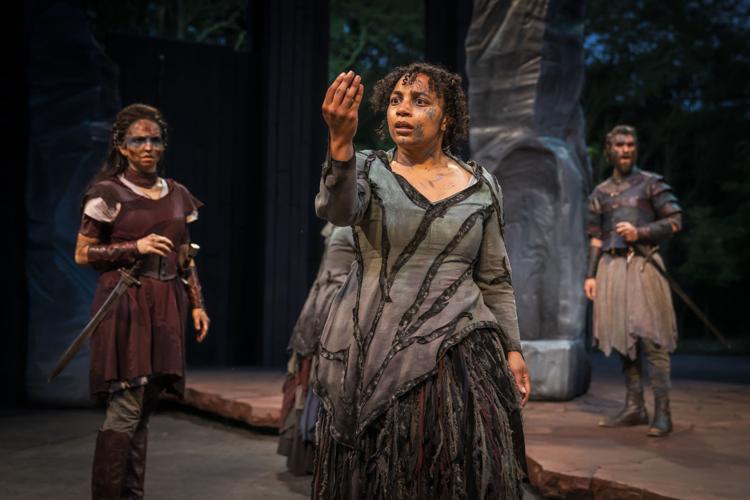 What we can't see is more unsettling than what we can. As the trio of sisters, Samantha Newcomb, Tracy Michelle Arnold and Carolyn Ann Hoerdemann writhe and shriek in pain, as though seized by an unseen power. When the ghost of slaughtered Banquo makes her appearance at dinner, it's only Macbeth who imagines her. The rest of us see a shift in light, a clash of sound.
Daniel Tyler Matthews dresses the cast in layered browns and blues, with tall boots and braids for the soldiers and a scarlet tunic for Banquo. Perhaps because Madison Opera's "Rusalka" lingers in my head, their rag-gowns make the sisters look like water sprites or wood nymphs.
Essential to the unearthly feel of this fine production is the work of two artists. Lighting designer Michael A. Peterson hits the trees behind the stage with mist and purple-blue light, creating a canopy of cobwebs.
Beyond ambiance, the light can act like an omniscient narrator. The players' bodies make long, starkly defined shadows on the stage as Macbeth, unheeded, wanders among them with murder on his mind.
Completing the picture, sound design and original music by Josh Schmidt surrounds every scene with ominous tones and the clash and wail of war. Drum beats echo heartbeats as Macbeth's former allies turn against his tyranny.
The pursuit of power will cost these two strivers their sleep, their sanity and ultimately their lives. DeVita's masterful production casts their journey as a waking nightmare, making "Macbeth" both unsettling and thrilling to watch. It's APT at its Shakespearean best.  
Stay up-to-date on what's happening
Receive the latest in local entertainment news in your inbox weekly!