With the exception of a sweet Italian nonna and an earnest, anxious clown, every named character onstage in Madison Opera's double bill this weekend is in love with the wrong person.
To kick off its 2018-19 indoor season, Madison Opera returned to a classic double header. "Cavalleria Rusticana," the story of a dramatically wronged woman who takes indirect but powerful revenge, and "Pagliacci," about a murderous clown (really), each run about an hour and a quarter on the stage.
The two have been paired together with some regularity since the 1890s, when both were written. "Cav & Pag," as they are sometimes coyly abbreviated, will play Overture Hall once more on Sunday afternoon.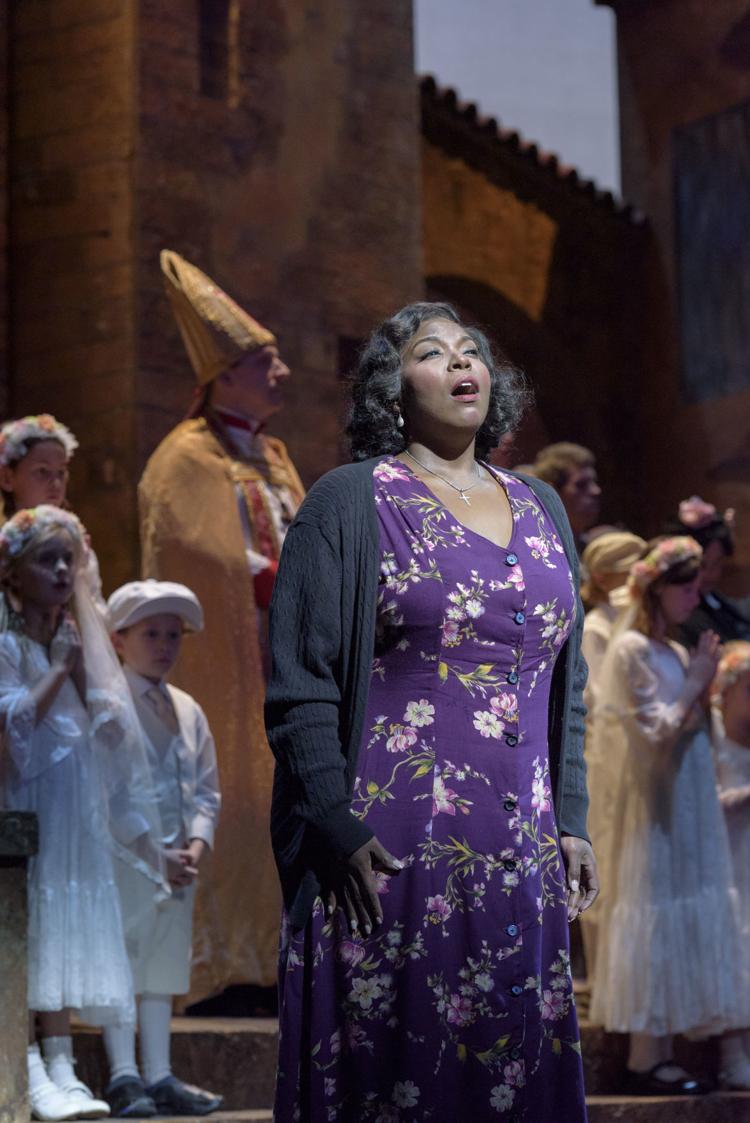 "Cav & Pag" were created by different Italian composers, but they have style, time and language in common. Pietro Mascagni won an opera contest with "Cavalleria" that launched him to international fame. Ruggero Leoncavallo aimed to ride that success with "Pagliacci" to lesser acclaim, though thanks to the movies and other media references, their popularity has somewhat evened out.
Both works are a style known as verismo opera, which was popular for 30 years or so around the turn of the twentieth century.
"The basic idea was that literature should portray the world with greater realism, focusing on the lives of ordinary people," Madison Opera general director Kathryn Smith explained at Friday night's pre-show talk.
Plots about "the average person and their problems" generally didn't end well for the characters.
"Those problems almost always end with someone dying," Smith said. "Verismo comedy is not a thing."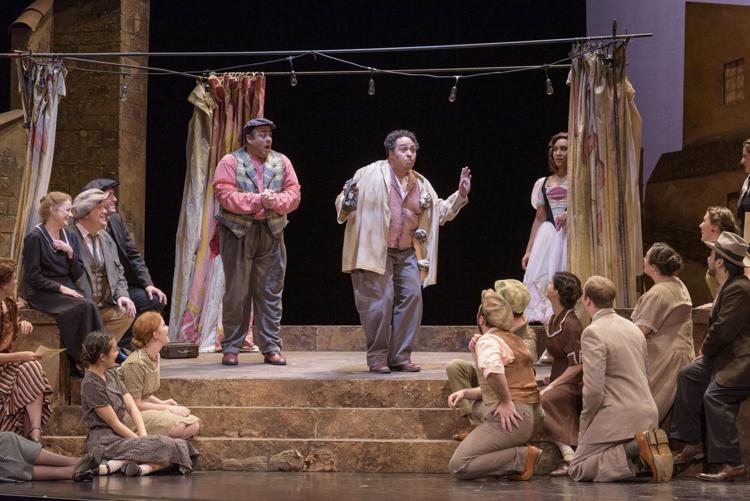 The first opera on the bill, "Cavalleria," pivots from lament to revenge to regret with a few quick turns. A pregnant woman pleads for the baby's father to take her back, but he insists on pursuing his married ex. 
As Santuzza, the discarded former lover of a thoughtless tenor (Scott Piper), soprano Michelle Johnson plays into her character's agony in gorgeous arias that shake with emotion. 
One of the most poignant moments comes courtesy of Johnson and the opera chorus, in an Easter hymn outside the church ("Inneggiamo, il Signor non è morto"). As the worshippers celebrate, Santuzza joins them on her own solo melody, present but cast aside.
"Cavalleria" has a lot of orchestral music built into its structure, and Joseph Mechavich leads the large pit through plenty of high drama, with romantic flourishes of the harp and, later, threatening bassoon. To fill the stage time, director Kristine McIntyre gives the cast large chunks of elaborate pantomime in the town square, as they gather for church and greet each other. It starts to feel like the opening party scene in the "Nutcracker."  
The two leading men take major roles in each opera. Michael Mayes, as a betrayed husband and a stalker type who won't take no for an answer, is arguably the most intimidating baritone to walk this opera stage in the last decade or so. In both "Cav" and "Pag," he radiates the intensity of a man who believes himself dangerously wronged.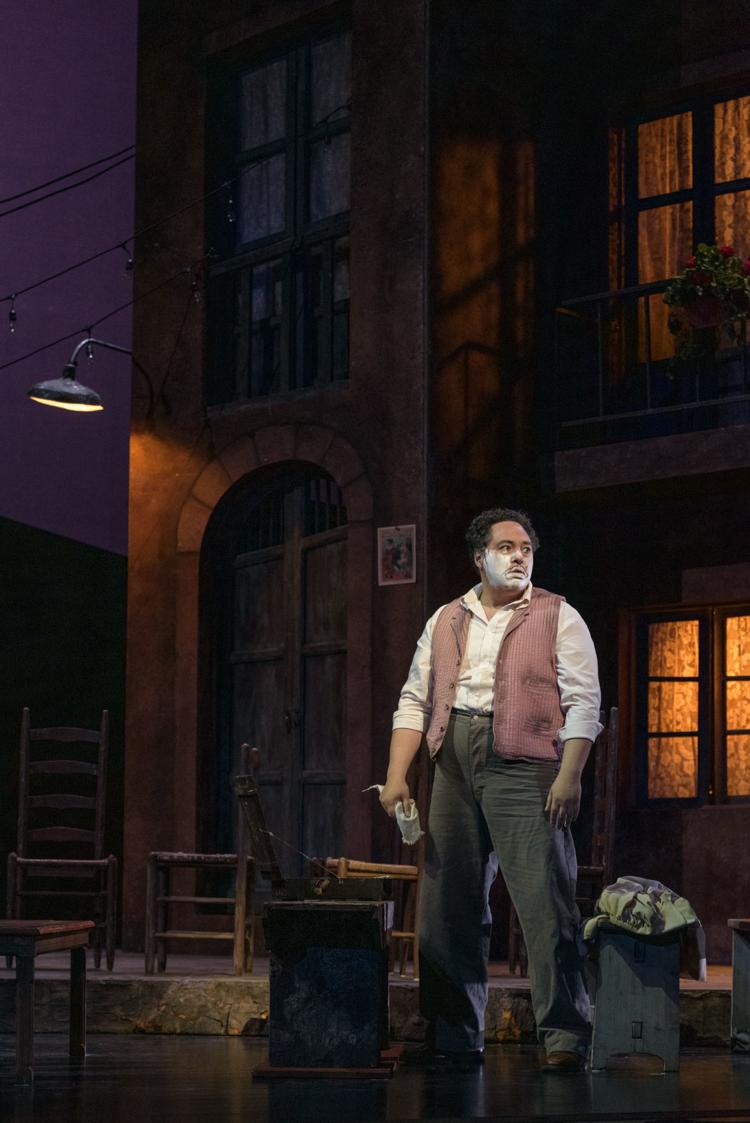 "Pagliacci" comes off the more successful of the two operas, with a story about a commedia dell'arte troupe whose romantic entanglements spill into real life drama.
Nedda is married to the troupe's leader but in love with another man. Tonio, a fellow actor, darkly obsesses over Nedda, making a toxic love square. 
Here, chorus entrances are less likely to be tentative; the lively "I zampognari," sung to the vespers bells, is a high point of the night. Robert Goderich as the hapless clown Beppe offers genuine comic relief. And Mayes gets more marvelously menacing stage time as a Harlequin crossed with Sideshow Bob.
Canio, an aging clown hiding a violent and jealous nature, is a better role fit for Piper, who gives an expressive performance of the opera's greatest hit, "Vesti la giubba." As the ingénue everyone's in love with, Talise Trevigne lifts Nedda's plea for freedom, "Stridono lassù," to the rafters with sparkling coloratura flair.
Only the young baritone Benjamin Taylor, as Nedda's secret innamorato, looks unsure. Taylor sings capably but he's stiff, and his awkwardness gets no help from costume designers who dressed him in head to toe khaki like an Italian Mr. Rogers.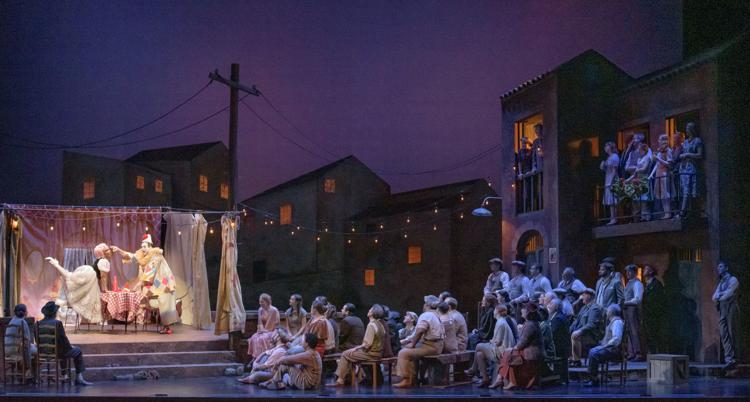 Madison Opera rented sets from Virginia Opera designed by Constantine Kritikos that transform with a bit of stage magic. Between works, the church in "Cavalleria" disappears to make way for a little stage where the commedia dell'arte troupe can play out its dramas, but it's most fun to pick out the Juliet balconies and arched entrances that remain. 
It's hard to imagine that actors killing people onstage or brazen affairs that result in literal excommunication were problems an "average person" in 1890s Italy grappled with. To a contemporary audience, verismo opera feels grand, roiling with melodrama and theatrical gesture.
The music, particularly the choruses, soars and thunders, as cinematic as anything written for a modern-day epic. Those who've heard just snippets of "Pagliacci" may be humming it on the way out the doors. 
That's a fine way to start a new season of Madison Opera.