Let's get one thing out of the way right now about the new "SpongeBob Squarepants" musical.
Yes, Squidward tap dances with all four of his legs. It's not until the second act, but it involves a magenta anemone chorus line and a song by They Might Be Giants about how the irritable Squidward would rather stay home. And it's just as glitzy as we all hoped it would be.
The non-Equity national tour of "The SpongeBob Musical" recently set off from Schenectady, where it opened on Sept. 22 with a fresh new cast decked out in their fluffiest floofs and liveliest leggings.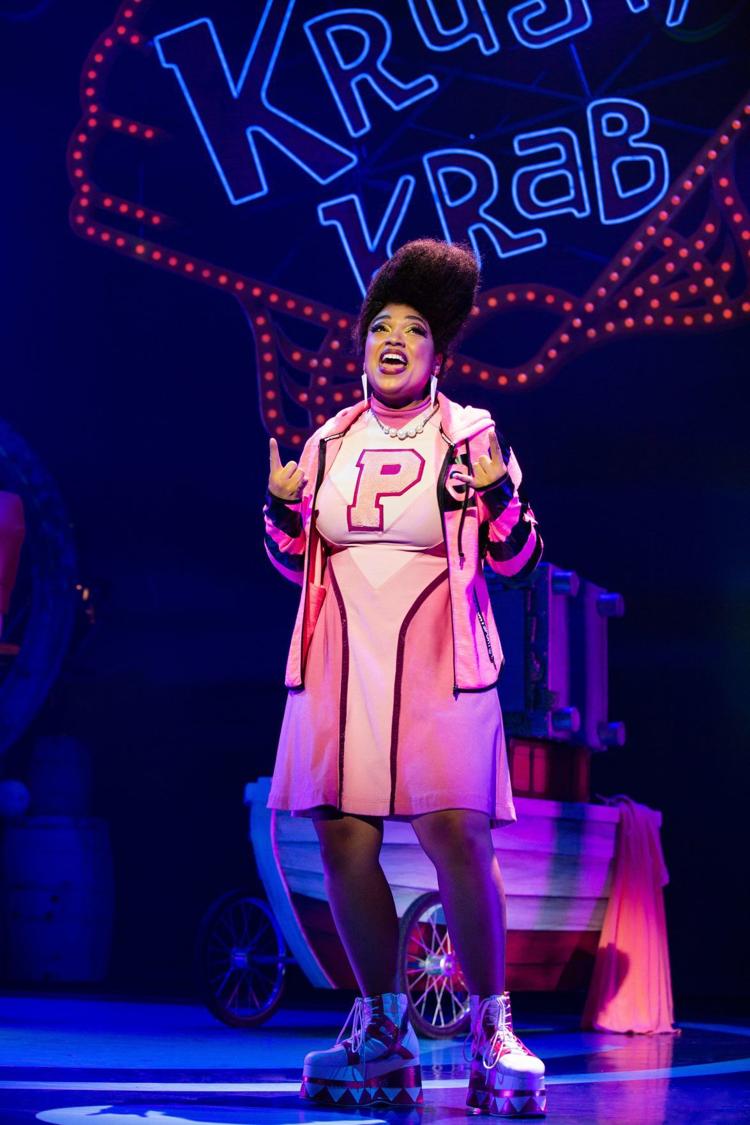 Tuesday night's Madison opening was only the third tour stop, and it was a little bumpy, with a late truck leading to a late start time. A band of folks in Hawaiian shirts entertained the audience until the lights came up on Bikini Bottom, and despite misaligned spotlights, the cast didn't miss a cartwheel.  
For anyone who missed this cultural phenomenon, the 2017 "SpongeBob Musical" was inspired by the Nickelodeon cartoon from the early 2000s, which itself spawned dozens of memes in the 2010s (sO mAnY mEmEs!). This new show, conceived so brilliantly by Tina Landau I'm still a little in awe, takes a book by Kyle Jarrow and music from a dozen-plus famous folks — David Bowie, Cyndi Lauper, Panic! At the Disco — to create a silly yet satisfying night in the theater.
"The SpongeBob Musical" is a simple tale of a determined young sponge whose management skills and flexibility win the day. (Spoiler! SpongeBob has a happy ending.) Played by Lorenzo Pugliese with a sweet voice and a gymnast's fearlessness on ladders that roll, SpongeBob is an eternal optimist. When a volcanic eruption threatens to level Bikini Bottom, he resolves to save the town.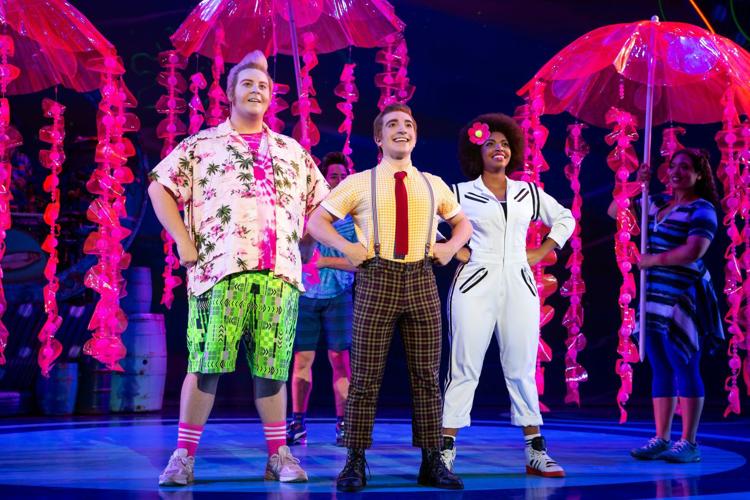 Harry Potter had Hermione, the smart one, and Ron, the goofy best friend. SpongeBob has Sandy, played by Daria Pilar Redus in a white jumpsuit and an afro — she's the smart one, and a confident singer too. His best buddy Patrick (Beau Bradshaw) is a starfish who's never 100% sure what's going on. In a glorious gospel-style number by Yolanda Adams, a bunch of sardines take Patrick's mindless rambling as sage wisdom.
Most everyone in this ensemble show is some kind of character actor, and they're such a talented bunch. As Sheldon Plankton and his computer-wife Karen, Tristan McIntyre and Caitlin Ort are perfectly devious villains. McIntyre gets a rap written by T.I. and a troupe of hip hop dancers in green sequined M.C. Hammer pants. Méami Maszewski does a funny bit as the teenaged daughter of SpongeBob's boss, where she pouts like a tween and belts like Ariana Grande.  
It feels like everyone's waiting for Cody Cooley's big moment, when the anxious, irritable Squidward finally got the chance to burst into song and dance. That tap is worth the wait, as watching Christopher Gattelli's tight, contemporary choreography assures us it will be.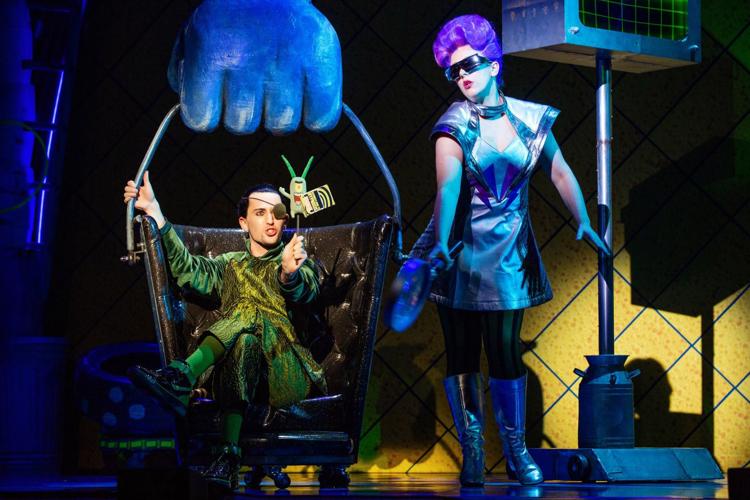 As a person raised on "Sesame Street," I can say it's not important to know much about these aquatic characters before "The SpongeBob Musical" (though it's fun when you hear a direct quote, like "the inner machinations of my mind are an enigma" from that idiotic starfish).
The kids will giggle when SpongeBob howls or Gary the snail meows like a cat. The adults might notice fear-mongering, as townspeople threaten Sandy for being different. They might catch jabs at government incompetence and a reference to "tidal warming."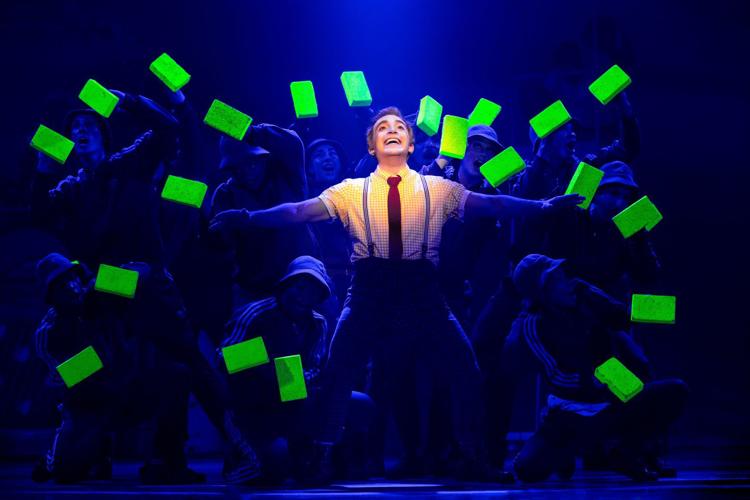 They might also notice that the set design contains a lot of detritus. Some of it's fun, like pool noodles and inflatable palm trees. Some, like an orange traffic cone, metal trashcans and an empty bleach container, looks like the crap that ends up in the ocean because we threw it away.
David Zinn designed both the set and the costumes, and won a 2018 Tony for the former. The aesthetic is a lot of Dr. Seuss and a little Super Mario Brothers, a gender neutral, gender-bending wonderland lit by neon stars and bubbles.
Most striking to me about this musical version of "SpongeBob" is not only how well the songs fit the characters and the story, but how rarely the creators relied on images from the cartoon itself. This is still SpongeBob's world, but we're in the theater, and the show works best when it asks us to imagine that those boxes and ladders are a sizzling volcano, or that pink plastic umbrellas are a forest of jellyfish. Some yellow sponges and black lights, held by a group of dancers, can make magic.
Those who don't already love "SpongeBob" might look at a musical like this and sniff. It's kid's stuff, right? But take it from a tap dancing squid, and don't stay at home all alone. It's a beautiful day in Bikini Bottom, and that's something to celebrate.
Stay up-to-date on what's happening
Receive the latest in local entertainment news in your inbox weekly!