Sagashus Levingston knows each story in "Infamous Mothers" intimately.
For three years, she has known these women and their extraordinary tales of abuse and trauma and joy. She literally wrote a book about them.
So it surprised Levingston when, in rehearsal for a new theatrical adaptation of that book, she teared up.
"I read these stories all the time," Levingston said. "I never cried when I read these stories. I didn't know why I was crying for three days ... I didn't realize what immersion could do to me. It snuck up on me. I went in with no armor."
That intimacy with the material is one reason "Infamous Mothers," opening Thursday at the Bartell Theatre, made the transition from page to stage.
In 2016, Levingston founded a community-oriented, for-profit company called Infamous Mothers, inspired by her doctoral research at the University of Wisconsin-Madison.
With a crowdfunding campaign, she raised $25,000 to produce a coffee table book, "Infamous Mothers," about black women who got pregnant as teens, suffered abuse and struggled with addiction, and ultimately "brought back something good." Infamous Mothers hosted a conference earlier this year around the same themes, with 18 workshops and nine panels.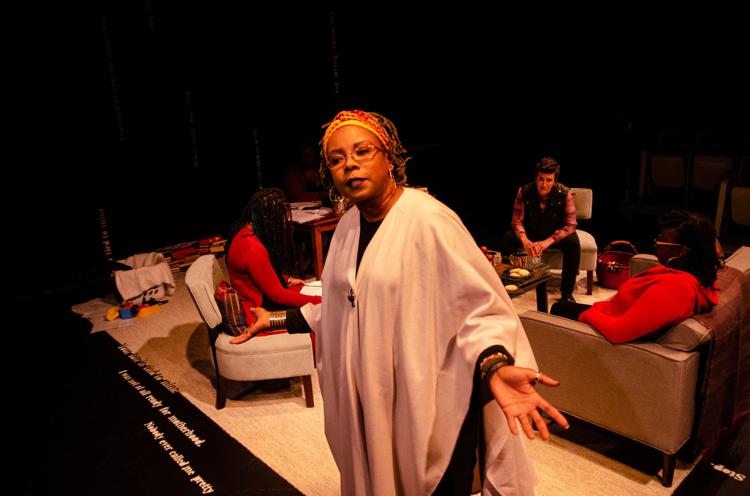 Coleman, a veteran theater artist who worked with Levingston on editing the book, collaborated on the stage version. Marie Justice, a filmmaker and co-founder of Justice Media, directs Strollers Theatre Company's world premiere production.
The play shifts between Levingston's work space, complete with (mostly) offstage noise from her young kids, and a cozy living room in another home. Idara, a community leader and matriarch, has invited over a group of friends to read the "Infamous Mothers" stories aloud, a kind of book club/support group.
Levingston's sections are a performative version of her own story, including a framing of why she wrote the book in the first place.
"We're always talking about the value of controlling the narrative," Levingston says in her opening monologue. "But what good is that if you can't control people's hearing, if you can't make them see the colors and touch the textures of your story?"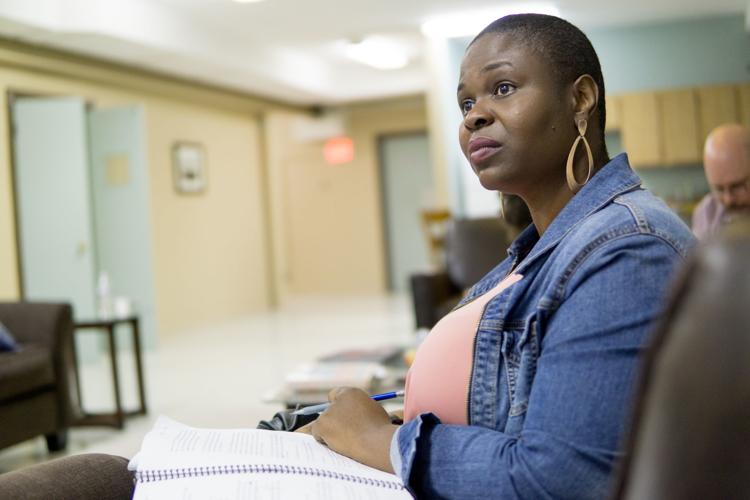 Levingston reclaims the word "infamous," entreating listeners to "feel admiration, feel respect. Listen to what we have to say."
Over in Idara's fictional living room, the women read real stories about teenage pregnancy, drug addiction, prostitution and abuse. As they begin to read, they shift into embodying the stories themselves.
"I want to be authentic," said Toya Robinson, who plays Idara. "Not to make it look like I'm acting but make it look like ... I know what this person has gone through, because I've gone through it. We bring a renewed energy onstage."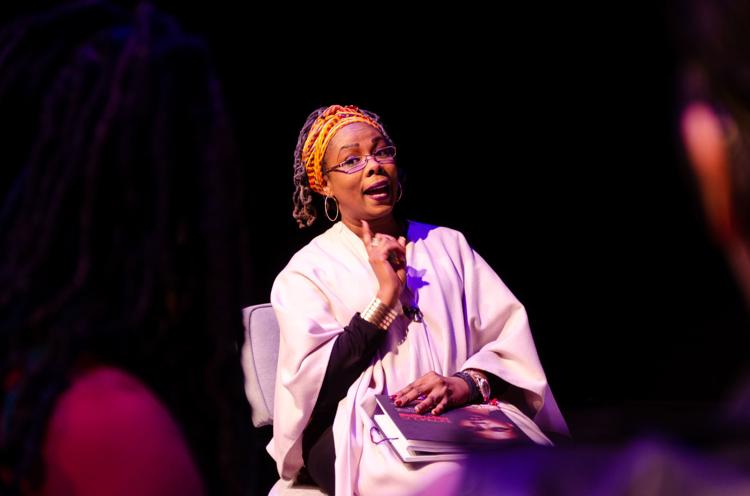 The book "Infamous Mothers" contains the stories of real women, which leads to some interesting crossover onstage. Tanisha Pyron, a professional photographer, artist and actor plays the prickly Akeesha, who's new to the group and unsure about her place in it.
Pyron's own story of young motherhood, sex work and the deep personal intuition that saved her is part of the play too, but she doesn't read it. Another actor, Keena Atkinson, does.
"Of course I want to do her justice," said Atkinson, a local fitness instructor and mom of two.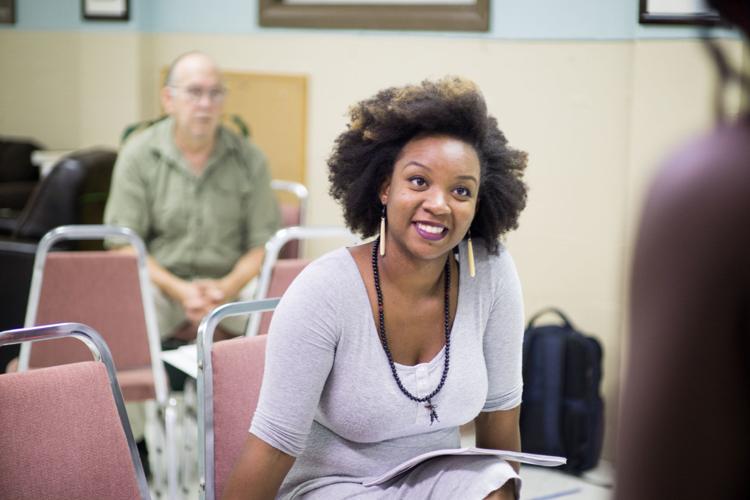 Atkinson wants to get the stories right, not only for the women they first belonged to but for young mothers who might be listening and think, "That's my story, too."
"I called SAPAR (School Age Parents program) and invited them to come to the play," Atkinson said. "When I was 15 and having a baby, people were telling me the world was over for me because I chose to become a mother. I wish I would have had somebody in my life say, 'you're going to be OK, and here's examples.'"
"Infamous Mothers" emphasizes both the struggles and the redemption in individual stories. These mothers got clean. They made amends with children they once failed. They went back to school and became social workers and artists.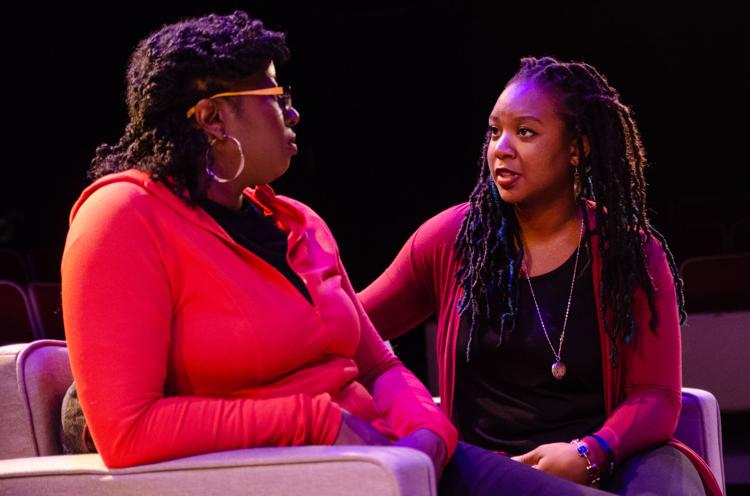 The practice of digging into the stories themselves has been an emotional challenge, but one in which several of the women said they've felt supported.
"You have to bring your humanity to the work," Pyron said. "We've built a collective around shared trauma, shared experience. When we've had moments of emotional breakthrough I feel like it's been a supportive environment.
"Theater allows you to bypass the mental arguments and cut to the heart of the matter. You can't help if you feel."
Everyone onstage is a mother in real life; Yemi Harding, Levingston's daughter, makes a few appearances as herself at the beginning and end of the play.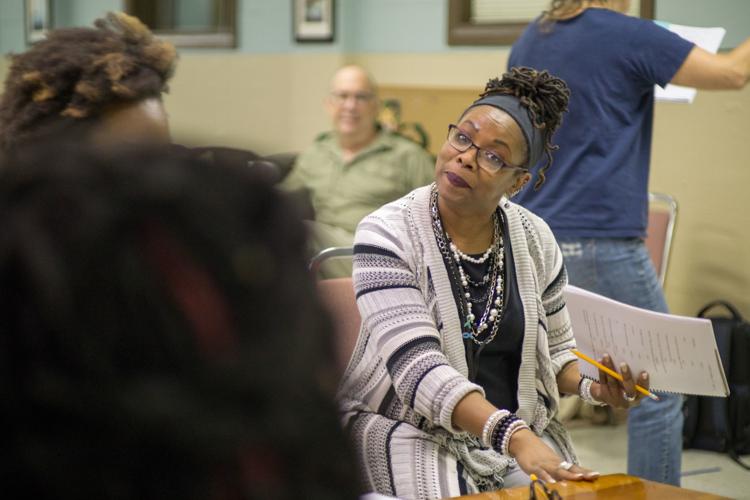 There is also one white performer, Liz Stattelman. Her character is gay with a traumatic background of her own, and she functions as a way for the women of color to open the conversation to some white theatergoers.
"Having the white girl in the play opens up a lot of dialogue around race and racial issues, the disconnect that exists that people maybe don't realize," Atkinson said. "She opens up room for conversations that might not happen if it was only black women in the room."
People don't know how to talk about it, Atkinson said.
"This is a gift to Madison, and I say that humbly," Levingston said. "You have white liberals that are very interested in better relationships with people of color. But people of color are dealing with whatever they're dealing with. Often the burden is put on us to educate people, to give them information, to sit and tell our stories.
"So we're giving you 10 nights of telling the stories. We're allowing people to be a fly on the wall of a conversation that normally they would not be invited into."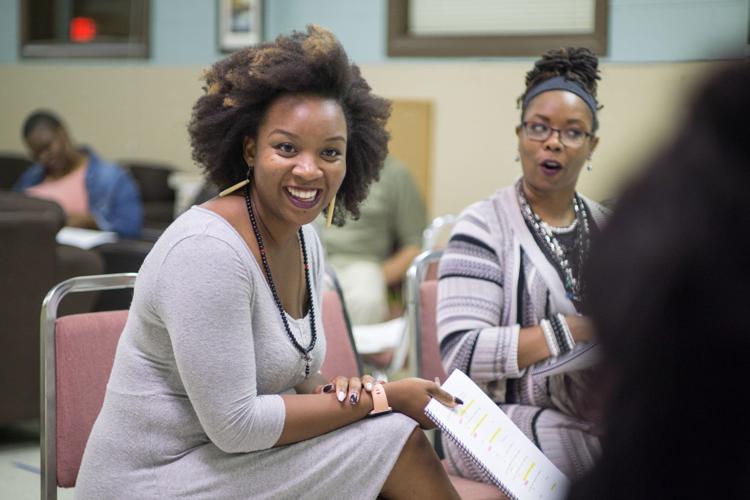 As a theatrical device, gathering around a fictional coffee table is meant to encourage real-life interaction, Justice said.  
"It's teaching people how to have conversations around this book, and telling women who are going through this that we can form groups, be a support system," Justice said. "We can be that solidarity root for each other.
"Too often strong women suffer in silence," she added. "Too often we don't have that group, that support, and we just get through it. Why do we have to do that alone?"
The stories in "Infamous Mothers" can be hard to hear, infuriating and heart-breaking in their honesty. Everyone in the cast has cried at some point during rehearsal.
"Sagashus's story, it's so strong, it's powerful — it gives hope," Justice added. "This play has so much to offer. You're going to be entertained, you're going to learn something. There's hope and courage and bravery. Most of all, it's the women's stories that deserve to be told."