When choreographer Reggie Wilson brings his newest work, "Citizen," back to his home state, he knows the audience may have a very different take than audiences in Brooklyn and Philadelphia did.
"The performers are putting their personal, familiar and ethnic selves in relationship to the material," said Wilson, whose Fist and Heel Performance Ensemble performs in Capitol Theater on Tuesday. "Whether people are conscious about it or not, that's what the audience is also doing.
"Individual audience members bring their own baggage. That baggage is made up of specifics, like how much dance have they actually seen? What types of dance have they seen? Are they used to going to the ballet? Did you grow up dancing in your living room?"
"Citizen," Wilson's most recent piece, comes to the Capitol Theater Tuesday night. Wilson founded Fist and Heel Performance Ensemble in 1989. It's a pickup company, so dancers join the ensemble on a per-piece basis.
"They have to make it a priority over a period of time, which might be a year or two to three years of development," said Wilson. "It's not a small endeavor."
"Citizen," premiered less than a month ago at the BAM Harvey Theater in Brooklyn, New York. In a New York Times review, Alastair Macaulay noted Wilson's "keen instincts for both danciness and theatricality.
"Specializing in bridging postmodern dance and the cultural heritage of African-Americans, he has often shown himself an appealing and original dancemaker."
Wilson grew up performing in swing choir and musical theater in Milwaukee and got introduced to modern dance at a camp at Northwestern University between his junior and senior year of high school.
He studied at New York University and has traveled and worked internationally, drawing inspiration for his work from ethnographic research and historical figures.
Wilson spoke with the Cap Times in advance of First and Heel's performance of "Citizen." We began with a discussion of why, according to a recent New York Times feature, he "hates the written word."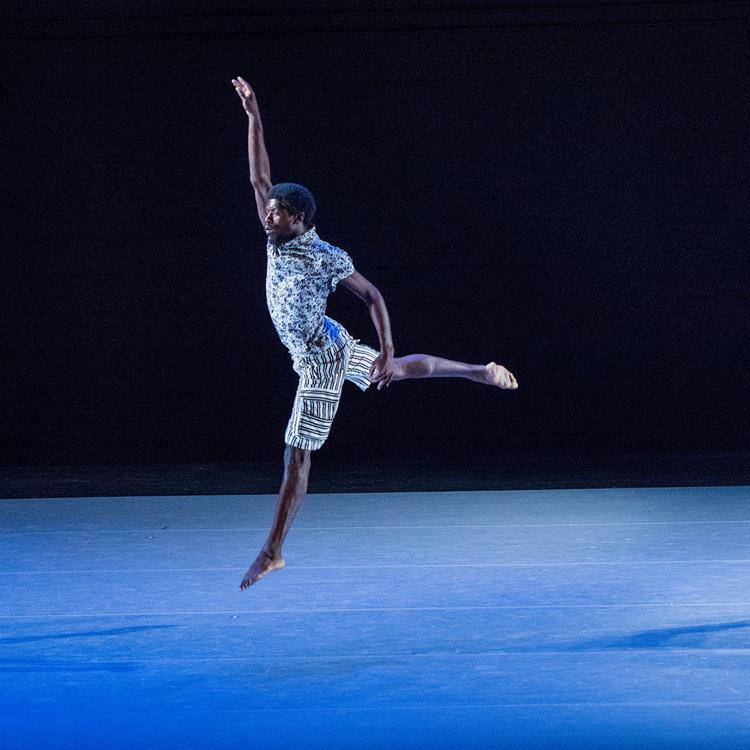 The Capital Times: I have to say, when I saw the first line of that Marina Harss' piece about how you hate the written word, I thought "Oh, great."
Reggie Wilson: It's an old admission. I'm not saying that to be anti-intellectual ... I hate the imbalance.
For me it's not "I hate the written word." I hate the privilege and power of the written word and how in our society it tends to be privileged over the body and other types of knowledge, other types of expression.
They do different things. It's our lack of acknowledgment of our experience of the physical, and the power of the physical ... how that holds power and agency, and an ability to transform. In some cultures (the physical) holds culture and information more powerfully, and better, than the written word does.
That's one of the biggest challenges of writing about dance, to translate and describe something you haven't seen.
You have to take the experience, whether you've had it or not, and frame it for individuals who haven't had it yet for them to ... want to come see it.
Imagine if you had written a book. You came to my town or country, and you wanted everybody to buy your book.
And I said, in order for that to happen we're going to need to hire a choreographer to create a dance for you, for people to want to buy your book and read it.
That switch of agency is the thing that's painful. I'm being forced to translate my art, my form, the thing I take two to five years to create. To reduce it down to words, that's not an easy process.
From what I've read about "Citizen," it has deep context based on historical African American experiences. I'd love if you could talk a bit about your process, how you take these inspirations and put them into movement.
How much of this takes place before you're in the room with the dancers?
My process changes from piece to piece, work to work. I let the piece dictate to me what might make the most sense.
It tends to start with obsession about an idea or a place. I go somewhere and get fascinated by something, and start doing more research. This used to be more involved with fundraising and going back to the place, interviewing people. It was a little ethnographic and anthropological.
Now with YouTube and Google, a lot more things can be at my fingertips at home. There's a lot more documentation of cultural ideas. That (research) can go on for six months to a year or longer.
Then almost separately, I will decide I need to step into the studio. I start to have a general sense about what the subject is, how many people might make sense. I start to create movement material.
How does that apply to "Citizen?"
It started to come to me, "I think solos would articulate that idea of citizenship for me most strongly." I had been awhile since I worked one on one in a studio with a dancer. My previous piece, "Moses(es)," the image is you think of one individual leading a whole mass of people. That ended up being more of a group piece.
This was more about the individual's relationship to the group. When I started working with the solos ... and when we started playing around with light and video projections, the solos didn't look like solos, because the dancers might be dancing with themselves (on video) or with their shadows.
And then I got the crazy idea, what if all the solos are being done in the space in the same time? That became a choreographic challenge — individually but separately made solos could coexist at the same time.
The piece is about belonging or not wanting to belong, and those are separate, parallel ideas.
You told a writer in Brooklyn that the recent election hasn't changed anything specifically in the piece, but I wonder if you think how people relate to it and respond to it might change because of recent events?
Similarly, I'm curious about how you think a Madison audience could respond differently to this work, versus where it has played so far?
I don't know! I'm so interested. The thing I'm fascinated with this particular piece is, I didn't realize people have such a defined preconceived notion of what "Citizen" should make a dance piece be about. And what it should mean, and how it should function and what the literal parallels should be.
It very much is a postmodern experimental contemporary dance piece. But I love how people have different reactions.
It's how people connect the structure of the piece and the images or emotions that come to them while they're watching and what meaning arises from their consciousness. It's not a passive piece where you watch pretty dancers dance prettily.
It's demanded of you to interact with the piece. Hopefully you don't get up and dance with us, but you think about how your attention is waning or waxing during the piece. How a body or gestures is compelling or meaning to you.
What does it mean to have different body shapes, body colors, body genders tell you something?