SPRING GREEN — From a chair onstage, Gavin Lawrence is listening.
It's mid-afternoon and the theater is mostly empty. The sun has come out from behind the clouds, making the actors squint. At stage left, a musician strums a guitar while Kelsey Brennan, playing a woman consumed by unexpressed passion, shifts nervously. Director John Langs watches from beneath his baseball cap.
As the lovelorn Duke of Illyria, Lawrence looks mysterious, like he sees something no one else does. His inscrutability draws the eye.
After three seasons at American Players Theatre, local audiences know that this is part of Lawrence's appeal as an actor — the ability to show, in his eyes and his posture, a deep well of feeling.
"I grew up with people asking me, 'Are you upset about something?' because I tend to be quiet," Lawrence said. "I think I have resting serious face. People think I'm in a bad mood when I'm in a quiet mood."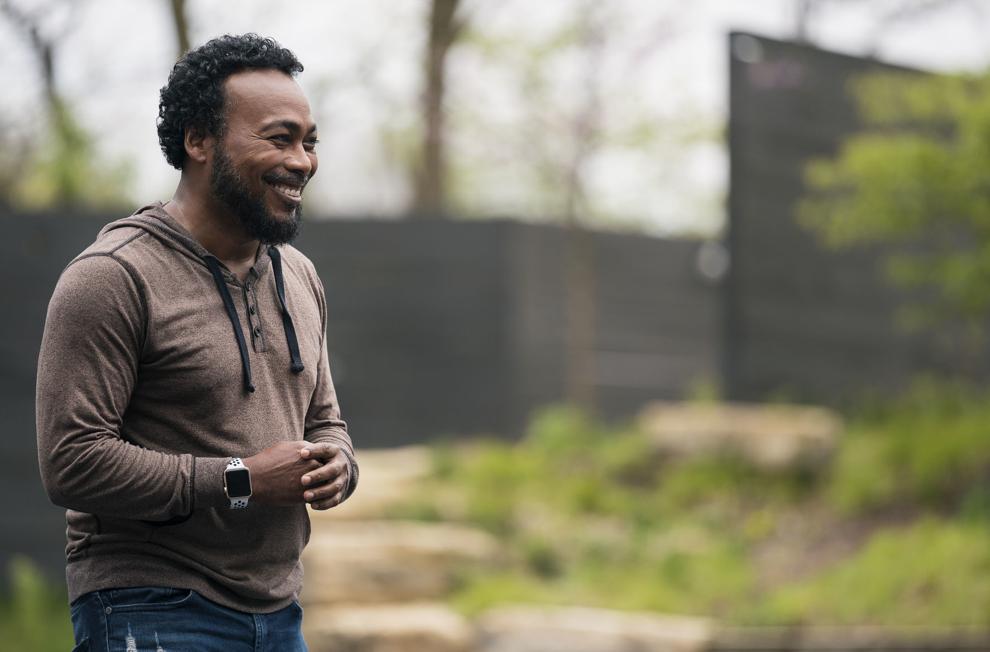 Lawrence opens his fourth season at APT with "Twelfth Night," in previews starting June 8. The classical company was founded by Randall Duk Kim and Anne Occhiogrosso 40 years ago on this hill.
APT runs plays in repertory all summer in two theaters, a 1,100-seat amphitheater (the Hill Theatre) and the 200-seat, indoor Touchstone. Five plays open in June, with three more in August.
Forming the backbone of this work is a core company of 13 actors, among them Jim DeVita, Colleen Madden, Sarah Day and Marcus Truschinski. When he accepted APT's offer last fall, Lawrence became the first black member of that company. Melisa Pereyra, an actor born in Argentina who played Juliet in 2014, was the first person of color to join the core company, in 2016.
"It was an amazing opportunity to be part of one of the best theaters in the country," Lawrence said. "The work here is ridiculously good. I've grown very fond of some of the people here.
"It also felt like a responsibility to not just think of me. There are now a lot of young actors of color who are aspiring to do this kind of work."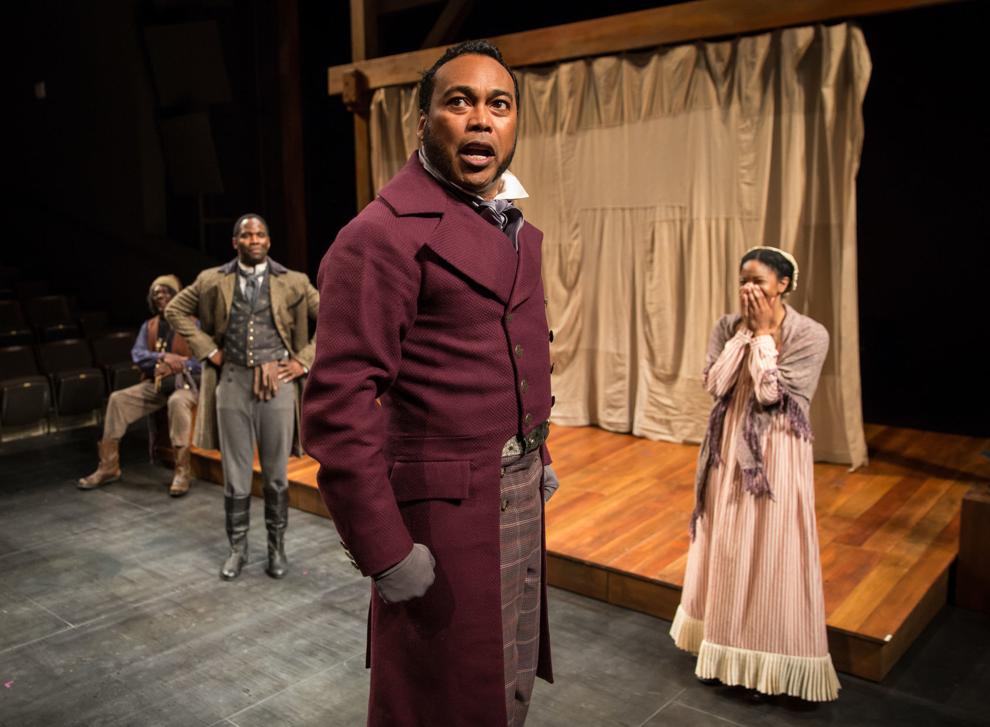 This year Lawrence plays Orsino, the duke in "Twelfth Night" who learns a lesson about unrequited love from a woman dressed as a boy. He'll play the avenging Macduff in "Macbeth," opening in previews June 21. In August, he'll play Gabriel Maxson in August Wilson's "Fences." Gabe, the brother of the main character, has a war injury that leads him to believe he's an angel.
In addition to some 30 years as an actor, Lawrence is a playwright, composer and director. He once played guitar in a reggae band. He loves good Italian food, he runs marathons and he has filmmaking and Broadway ambitions. He's spent his life in major cities.
Whether or not to dedicate six months out of the year to performing Shakespeare in a small, white Wisconsin town was not an easy decision.
"Being who I am, an African American, born-in-the-Caribbean man who embraces and loves his culture, spending five or six months every year doing plays that aren't about his culture" was a major consideration, Lawrence said. "I love black theater. I love speaking our words. I love illuminating our stories. That's the work I have grown up as an actor doing.
"I had to think about what that would really mean for the artistic food that I need to help sustain me. Would it be enough?"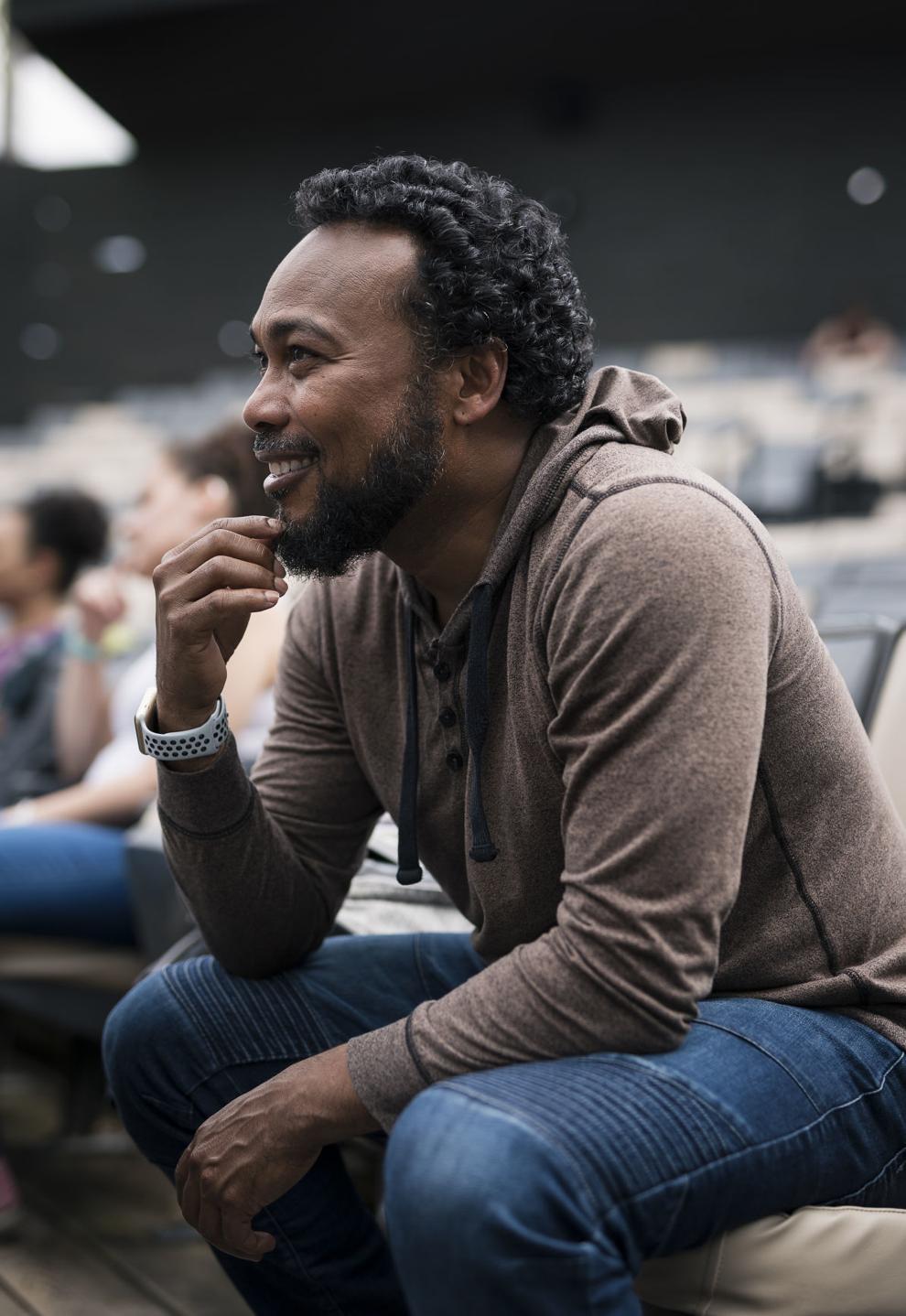 "Such as I am, all true lovers are."
- Orsino, "Twelfth Night"
Lawrence was born in Georgetown, Guyana, on a South American coast that's considered part of the Caribbean. His father died when Lawrence was 4 and his mother, Leota, moved to Washington, D.C. to attend Howard University. (She eventually earned a Ph.D. and taught literature and African American history there. Lawrence thinks of the campus as "a second home.")
Back in Guyana, Lawrence's grandmother took over raising Gavin and his cousins. He dramatized these experiences in his play "Salt Fish & Bakes," described by Minneapolis Star Tribune writer Rohan Preston in 2003 as "a spicy, flavorful memory play ... of food and reconciliation, beatings and blessings."
When he was 7, Lawrence joined his mom in Washington, D.C.'s Mount Pleasant/Adams Morgan neighborhood, later moving to Cleveland Park. His first memorable connection with live theater came during a PBS performance of Lonne Elder III's "Ceremonies of Dark Old Men."
"Glynn Turman played the older brother Theo," Lawrence said in an interview last fall with APT. "There was something about this flawed and human and loving person that jumped through the black and white TV screen and filled a hole inside me that I didn't even know was there.
"I realized, for the first time during what had been a troubled childhood, that I wasn't alone."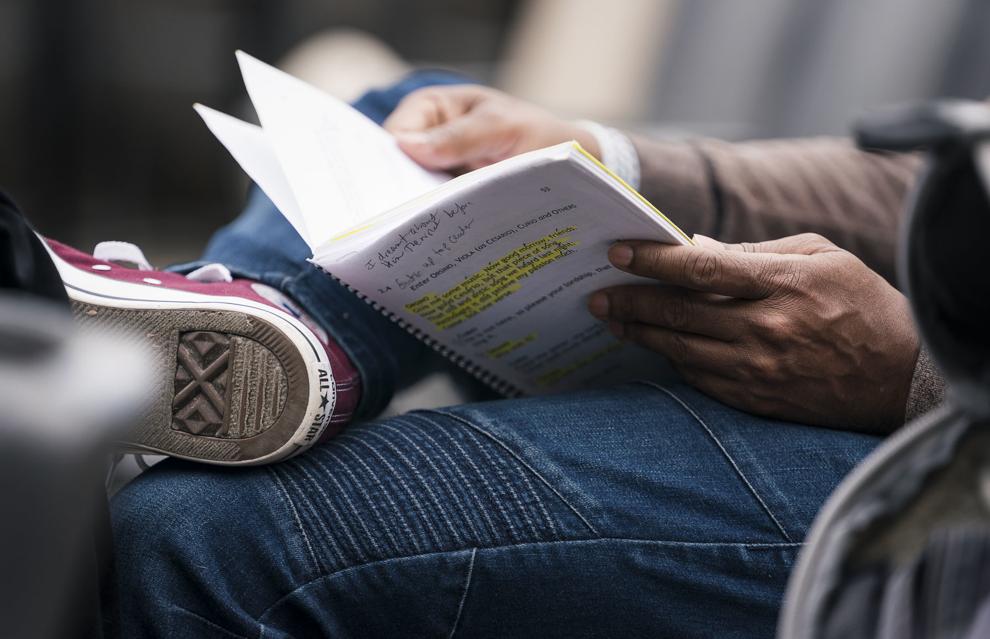 Lawrence's teen years were rough ("I was getting into trouble") so his mom sent him to live with relatives in New Jersey and finish high school there. That's when he decided to be an actor.
Lawrence earned a Bachelor of Fine Arts from Howard University in 1984. He moved to Harlem for four years, then returned to D.C. to work with the LatiNegro Theatre Collective. He grew dreadlocks "back when it wasn't fashionable" and kept them for eight years.
He wrote a play about that time, too. "Cut Flowers," described in the Chicago Tribune as "exceptionally lively, funny and emotionally powerful," was based on Lawrence's experience cutting carnations and chrysanthemums in the back of a D.C. flower shop in the late 1980s.  
In 1991, Lawrence moved to the Twin Cities. He had taken the name Omari Shakir — Omari means "God the highest" in Swahili, and Shakir means "grateful" in Arabic. It was, he said recently, "my attempt to shake off the lingering legacy of the abomination that was/is slavery."
In Minnesota, he worked consistently. At the Guthrie Theatre, he was directed by Bartlett Sher (Femi Osofisan's "Many Colours Make the Thunder King") and played Mosquito in Derek Walcott's "Dream on Monkey Mountain," directed by Bill T. Jones.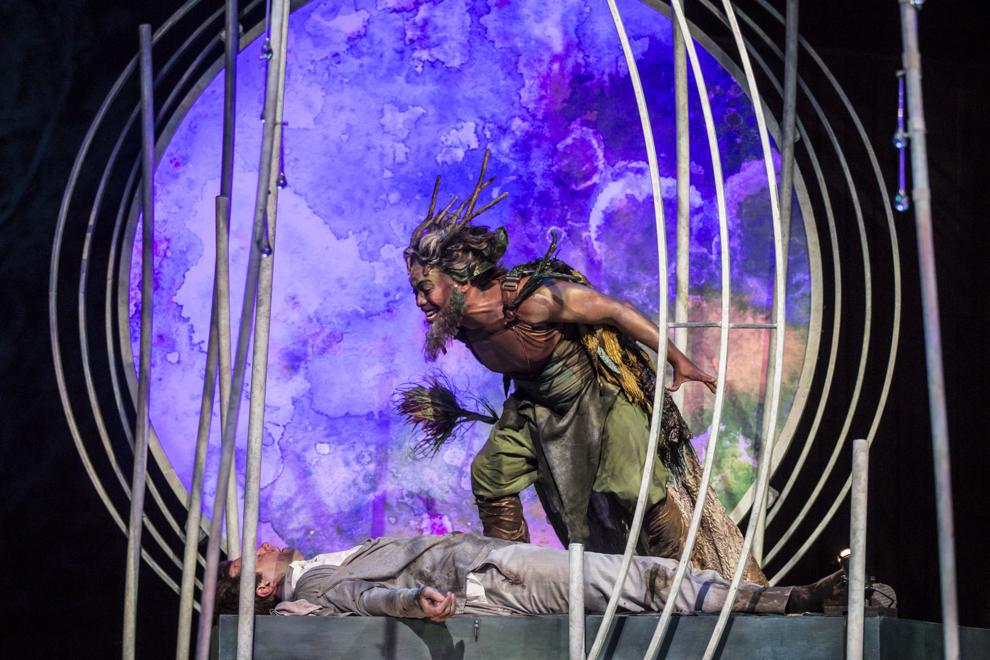 For years, Lawrence worked with Lou Bellamy and Penumbra Theatre in St. Paul. He performed "The Mojo and the Sayso" there in 1992 — a play he revisited, in a lead role, with Madison's Theatre LILA in 2016. When he played Randall in "Slow Dance on the Killing Ground" at Pillsbury House Theatre in 1993, one critic declared Lawrence's performance "the strongest aspect of the production." At Mixed Blood Theatre, Lawrence both acted and premiered his own work. "Cut Flowers" debuted there.
"Most of my plays have been set in D.C.," Lawrence said. "I am interested in illuminating how that place has changed for me, how it doesn't feel as warm, like home, as it used to. And I am passionate about presenting African American men in a different relief than they're normally seen. All my plays grapple with what that means."
In 2000, Lawrence reclaimed his birth name and continued performing at Mixed Blood and Pillsbury. In 2006 he was cast for the first time in Carlyle Brown's play, "Pure Confidence." It's a drama about a black jockey around the time of the Civil War who hopes his knack for winning races will buy freedom for himself and his wife. Lawrence would ultimately appear in the play seven times.
"Black jockeys dominated the world of horse racing in the antebellum South, even into the turn of the century," Lawrence said. "It was an amazing story. And the playwright had written the role for me."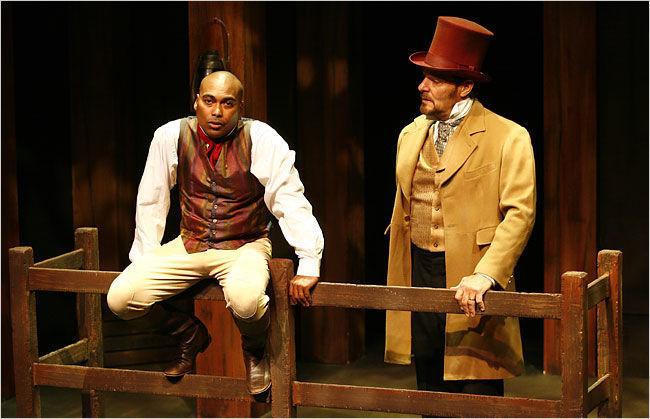 Critics called Lawrence's performance "superbly alive" and "energetic." "Pure Confidence" was bound for Broadway when Lawrence got another compelling offer — a tenure track position to teach theater at Southern Illinois University. Lawrence's children, Jabari Ade and Teja Grace, were still young. And he couldn't do both.
"It was a really tough decision, but I was afraid of being disappointed if I didn't go with the Broadway thing," Lawrence said. "People said I sounded more passionate about Broadway."
"Pure Confidence" didn't get to Broadway. The producer died. But Lawrence learned something important about the career he wanted.
"I don't regret that decision, because that's where my heart really was," he said. "It was tricky. (In rejecting the academic job), I felt irresponsible as a parent — I'm an actor, I have two kids, I'm trying to make a living and be a present father."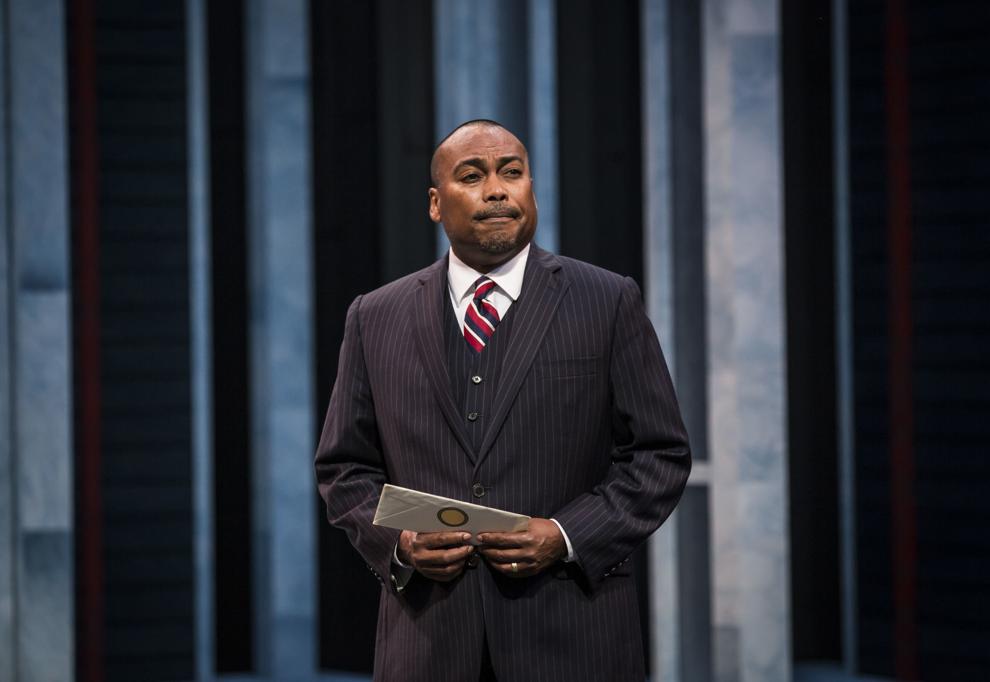 Lawrence continued to travel, performing Athol Fugard's "'Master Harold' ... and the boys" in East Lansing, Michigan and embodying Martin Luther King, Jr. in Katori Hall's "The Mountaintop" in Cincinnati, Ohio. He earned credits at Steppenwolf and the Goodman theaters in Chicago, and Woolly Mammoth and Arena Stage in DC. He was a playwright-in-residence at Baltimore Center Stage.
That choice between the relative safety of teaching and the continued pursuit of an itinerant actor's life made Lawrence take stock. He thought about that decision again 10 years later, considering whether to accept a permanent position at APT.
"I'm in a different place now, trying to learn how to go with what is offered me in a way that is less about trying to will and force a way," Lawrence said. "It felt like the universe offered me this at a time when things are shifting in my life."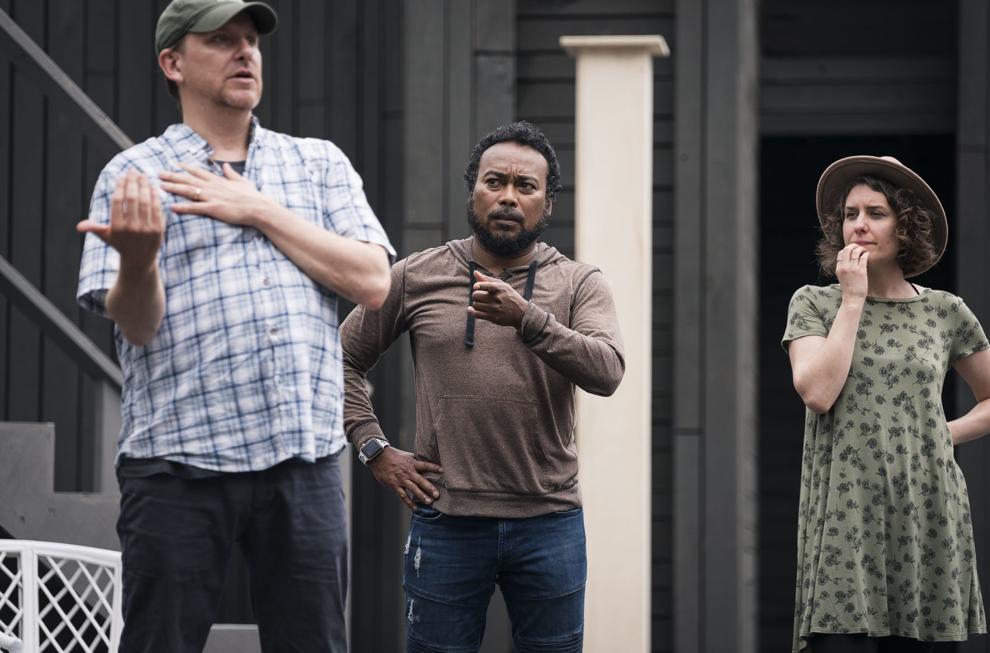 "How long within this wood intend you stay?"
- Oberon, "A Midsummer Night's Dream"
Gavin Lawrence met Chike Johnson in 2010, when Johnson was performing in "Sizwe Banzi is Dead" in Chicago. They had friends in common but didn't become friends themselves until 2013, when they performed together in Milwaukee Repertory Theatre's production of "A Raisin in the Sun."
"There are few people I will recommend for anything," Johnson said. "Especially with the standard at APT. When I thought about Gavin — he would fit in perfectly. I was working so hard to be out there, but he's at their level from the start."
In a Q&A with APT staff last fall, Lawrence remembered his first trip into the Driftless hills to see his friend's star turn in "Othello" in 2015.
"It was dark. I got lost. My GPS had no signal," Lawrence said. "I remember thinking, 'Uh, where am I?'"
He made it to the theater, found a space in the packed parking lot and walked up the hill.
"It was as if I had landed in another world," Lawrence said. "Throngs of people who were passionate about theater. Bats. Seeing my breath. I thought, 'Wow, this is a thing!'"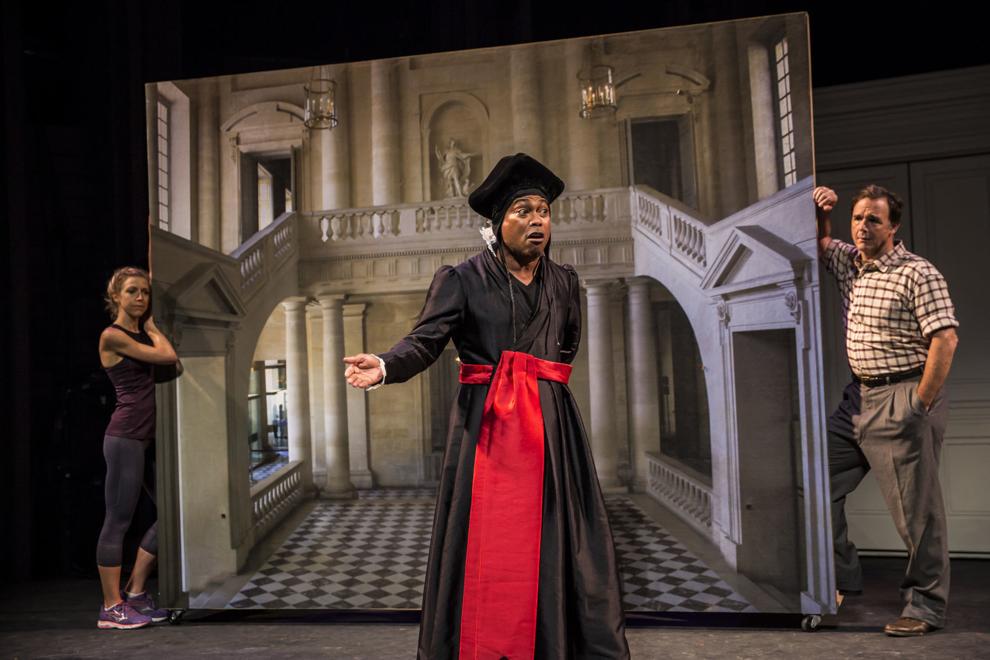 Associate artistic director Carey Cannon knew quickly that Lawrence's energy would complement the company.
"He's got as much integrity as anyone I've ever met," said Cannon, who's become close with Lawrence over the past few years. "One thing that's of great value to us here is transparency, collegiality, the willingness to share of yourself and be honest.
"With a company of people who live in each other's back pockets, the ability to actually say what's true to each other is a really important thing. It was immediately clear when he came to work here ... you could count on Gavin to tell it like it is."
In Lawrence's first season at APT, he had small roles up the hill and played the company manager, William Henry Brown, in "The African Company Presents 'Richard III'" in the Touchstone. The following year, in 2017, he opened the renovated stage as Oberon in "A Midsummer Night's Dream" opposite Colleen Madden's Titania.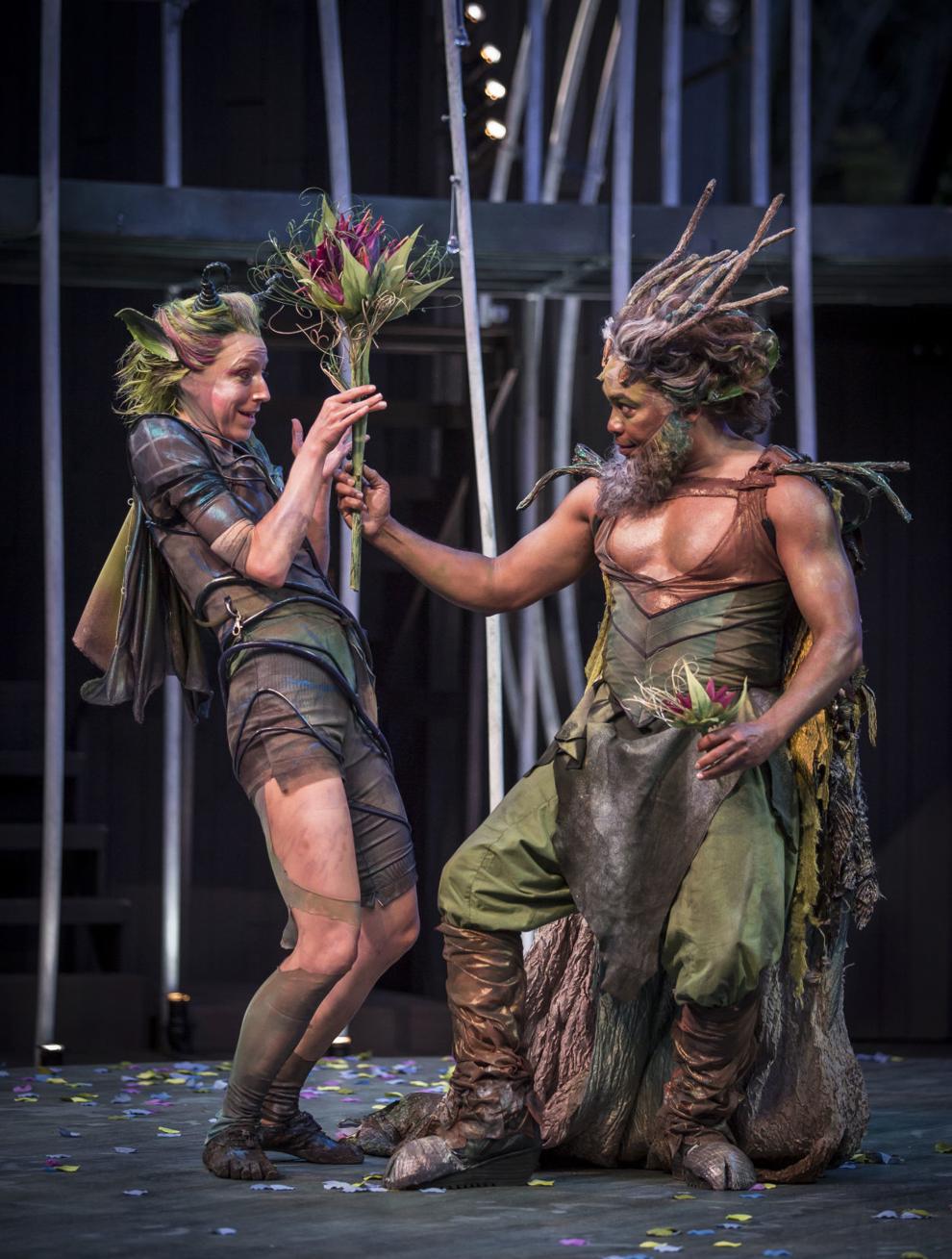 "This work is really hard," Lawrence said. "It's intense, draining. It's like working out for five, six months straight in a way that can be overwhelming at times."
Performing Shakespeare, Lawrence said, isn't like something he learned once and is returning to now. For him, it's a new style of speech.
"I wondered, do I have the skill set that these core company members do?" Lawrence said. "I feel like I'm still learning. These actors here are beasts onstage ... part of me doubted whether or not I was really capable of doing what they feel I can do."
That summer he played Oberon, Lawrence joined Eric Tucker's wild, free-wheeling staging of "Pericles" and the farce "A Flea in Her Ear." Then, in 2018, he and James DeVita played brothers in Athol Fugard's 1961 apartheid-era South African play "Blood Knot."
The play was written, in part, as allegory, and the character of Morris (whose father was white) had historically been played by a white man. Fugard originated the role himself, an illegal move that cost him his passport. Productions from New York to Minneapolis have cast "Blood Knot" with a white actor and a black actor.
Still, the theater knew it was a controversial choice. DeVita wrote to Fugard, now 86, and got the playwright's blessing.
Shortly after "Blood Knot" opened at APT, a nearly 3,000 word review ran in the Milwaukee Journal-Sentinel. Theater writer Mike Fischer called the casting of DeVita as mixed race Morris a distraction and a mistake.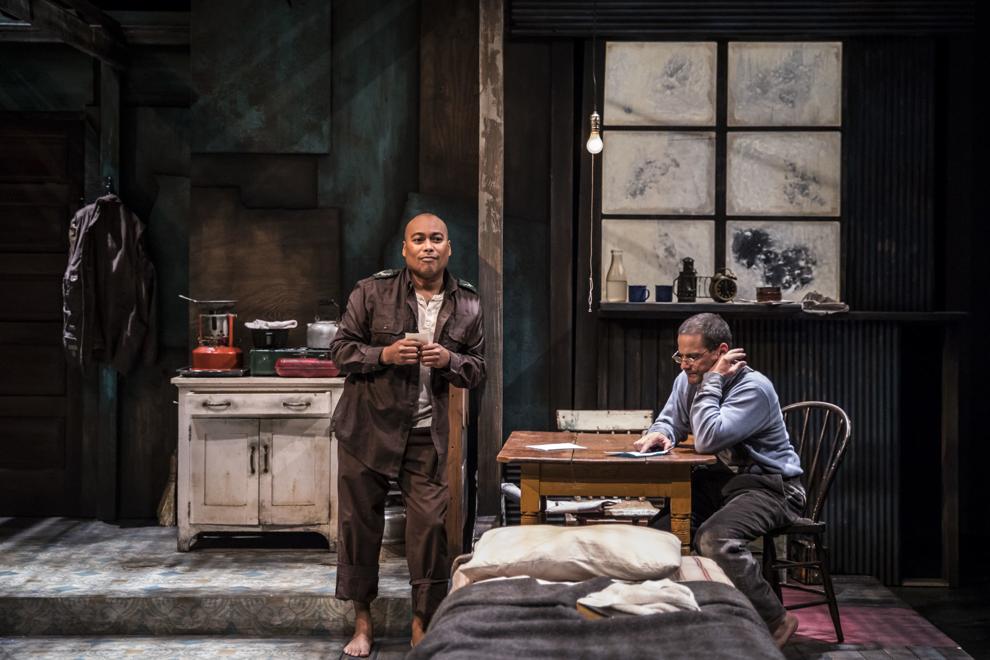 The internet's ire was swift. Several "concerned white theater leaders" circulated a petition that gathered more than 800 signatures. Critics cried nepotism (DeVita is married to the artistic director, Brenda DeVita) as well as colorism.
APT issued a series of statements from director Ron OJ Parson, the actors and the artistic director. They shared Fugard's letter, hosted talkbacks and held a "pay what you can" performance and panel during the run. Debates fomented on Facebook.
At the time, Lawrence said unequivocally that "Blood Knot" "does not work — does not have the same impact — if you have two black actors onstage. I don't care how light they are. ... I don't want to do the play if it's a black actor playing it with me, because that's not the story we're trying to tell. I want APT's audience, white America, to own their culpability in the race problem."
Meanwhile, Lawrence and DeVita continued going onstage. The play is emotionally demanding and intense, and Lawrence has said he doesn't compartmentalize well. So he shut out the debates.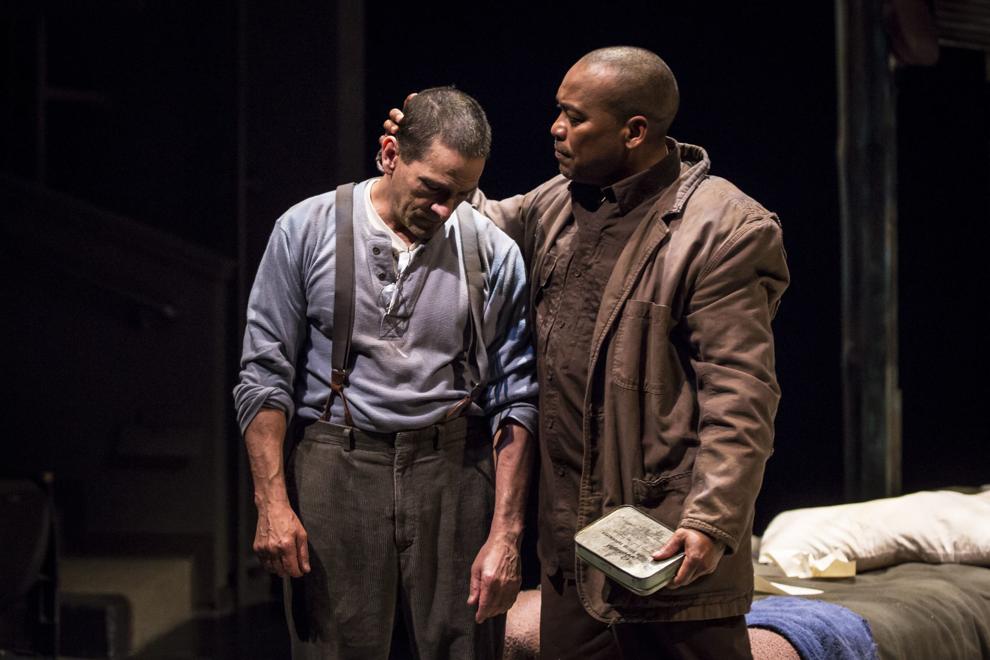 "I stayed away from all that talk," Lawrence said. "I had no interest in hearing what white men had to say about what we were doing.
"I was positive that what we were doing was right. I felt so lucky to be doing that work with him that if anything, the swirl around me made me focus even more."
Lawrence knew the negative attention was stressful for the company, but it helped him to be sharper. It was worth it, he said, for that moment when the toxic racism outside the South African shanty explodes between the brothers. It's a moment when the audience suddenly gets it.
"I looked forward to doing the show so much, I can't even tell you," Lawrence said. "The payoff with creating a moment, a live moment, in which everyone is compelled to own their part in creating this kind of cruelty, this destructive behavior that racism and classism comes out of.
"When you hear them gasp and feel them looking in, realizing the part they played? It felt like doing some Herculean work."
"I am here to take you home, just when you thought you walked alone."
- Elegba, "The Brothers Size," Tarell Alvin McCraney
APT announced Lawrence's addition to the core company last fall. Brenda DeVita called him an empath and a natural leader by example, with "a passion for leading as an African American man inside the theater world."
"There's no halfway onstage or in life with Gavin," she said. "He is 100% present. He's focused. ... He has this deep, deep respect for the hard work it takes to be good, and he's interested in being better all the time."
Lawrence was "never working to get a job with me," DeVita said. He's been willing to guide and correct when he felt something was awry, even when it was hard for her to hear. It was Lawrence, she said, who pushed her to have the confidence to do an August Wilson play.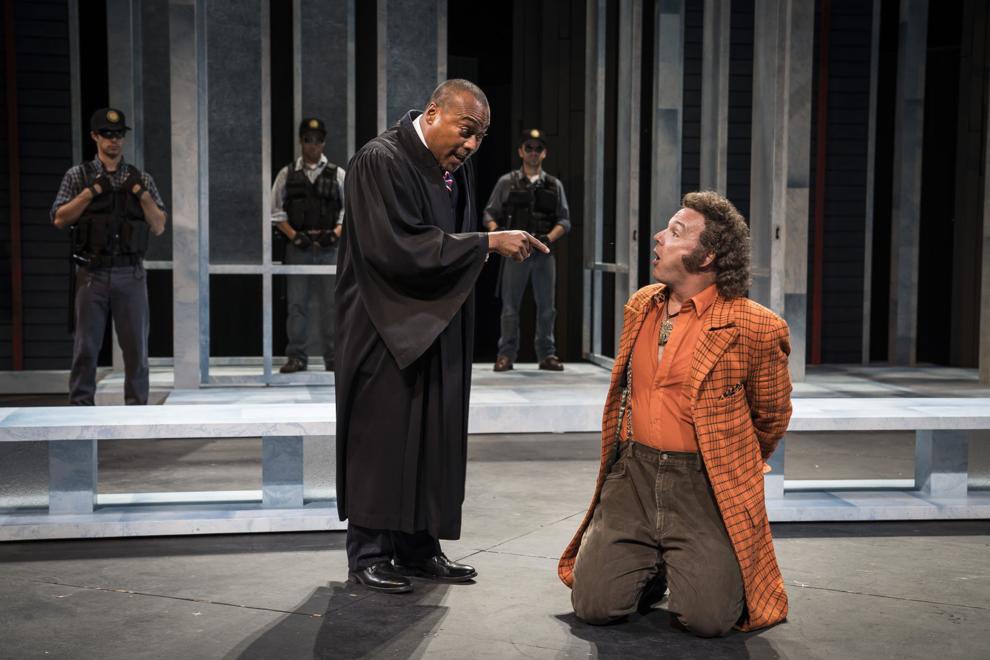 "He gives me plays, suggests directors and actors," DeVita said. "Gavin understands the power of language, the power of words. He's a lover of beauty and a writer and a poet himself.
"Maybe these weren't the plays he spent a lot of time doing, but he certainly has spent a lot of time with language and poetry. He's an authentic person, an authentic actor."
Lawrence may be a prominent voice in coming years as APT continues to expand its definition of the classical canon. This past winter, he led a staged reading of Tarell Alvin McCraney's "The Brothers Size" at APT; Lawrence had played the role of Elegba in the play in Minneapolis in 2012. 
"It is my hope that I can help them find their way to classical theater from ... not just dead white playwrights," Lawrence said. "There's a misperception that if it's classical (theater), classical language, it doesn't mean people of color. We have a classical language — August Wilson is a poet like no other. He said our grammar is our vernacular. That is our poetry. It's not incorrect, it's ours."
These new classics present their own challenges. At "Brothers Size," each character had his own musicality and rhythm. Lawrence would like to see APT hire a voice and text coach who's a person of color.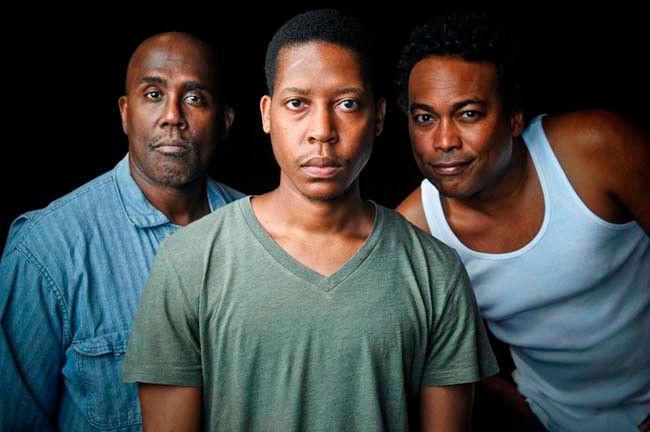 "It can be frustrating at times," Lawrence said. "When we're working on a play that's written by someone of color ... I deeply need to have someone in the room who understands the rhythm, can help me melodically. Not just the speaking, but what's happening internally."
Lawrence isn't put off by the overwhelmingly white demographic of rural Wisconsin, but it hasn't always been easy. A few years ago, someone yelled a racial slur at Lawrence while he was on a run. In response, the community gathered at the library to have an open discussion about racism.
When someone papered car windows with "white lives matter" fliers last summer, Cannon and others made signs that read, "Hate has no home here." Visitors can still see those signs around Spring Green.
"People are surprisingly progressive and tolerant here," Lawrence said.
Still, Lawrence isn't ready to live in Spring Green full time. When he goes back to Minneapolis or Chicago in the off season, he'll be "starting from scratch" with casting directors and agents.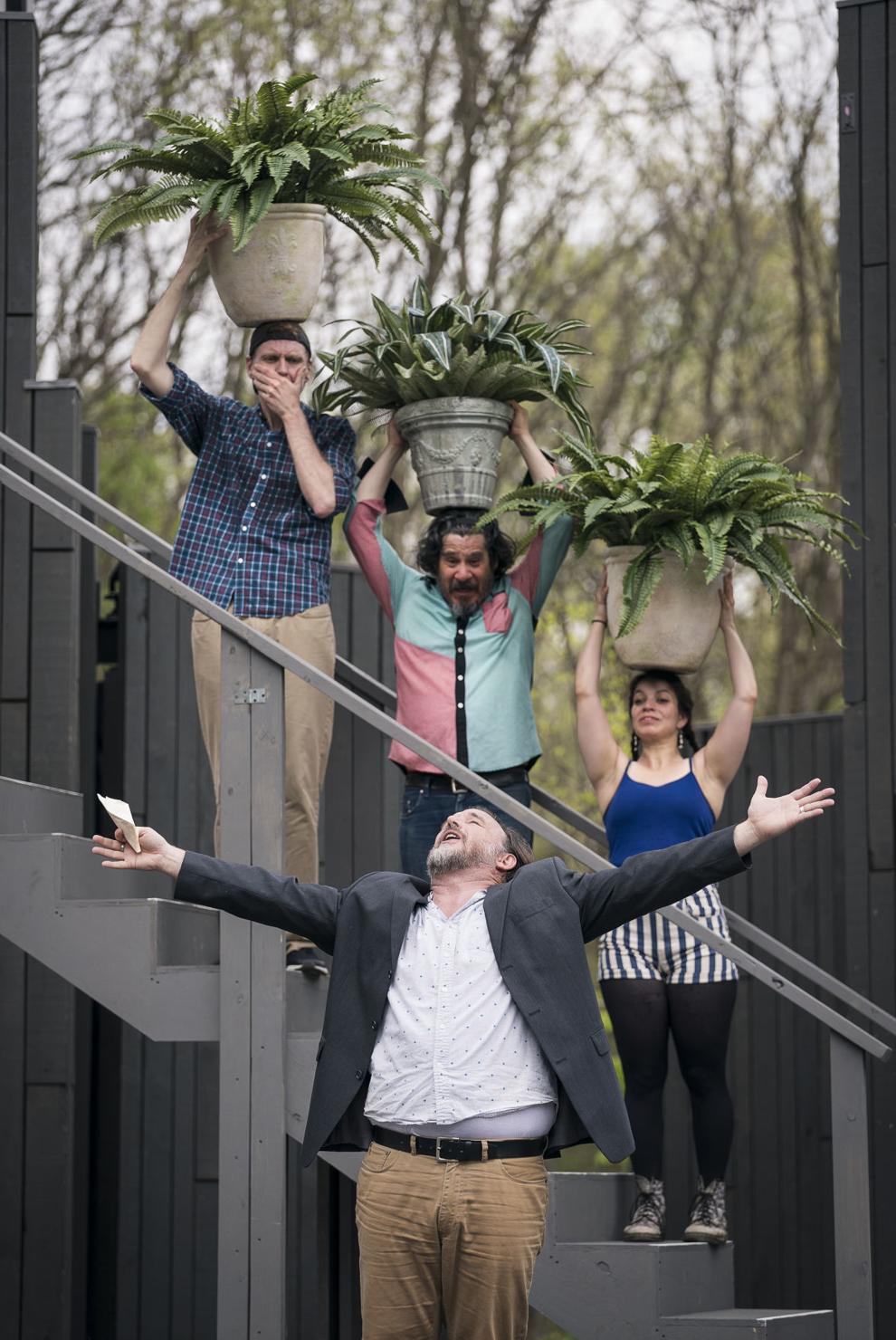 That's why Johnson didn't want to do APT every summer. He recently got cast in a production in New York, and he's moving his family there from Milwaukee soon.
"It pulls you physically out of the world of the theater community in any city," Johnson said. "I loved working at APT but I couldn't do it every year."
Lawrence "has to take on the responsibility of being the first black company member," he added. "I think Gavin's up to it. However long he stays, he will encourage more change as time goes on."
For now, Lawrence is focused on the 2019 season. He's a romantic himself, so he connects to the melancholy, lovesick duke in "Twelfth Night" on that level. But he sees himself as more of an ally to women than Orsino is. He's working through it.
"I want to find something that helps pull people in to empathize, whether they agree or not," he said. "I'm not trying to make him something he's not supposed to be, but I'm also trying to find some colors I've not seen in Orsino before."
Lawrence sees all of this — bringing something new to a Shakespearean character, helping mostly white audiences through difficult questions about race at talkbacks, encouraging young actors of color to embrace the classics — as how he's giving back, passing the healing on to others that he's found in the theater.
"The work on top of the work, the human work, that's just my life," Lawrence said. "Being a black man in this business, in this country, being someone who works in the creative arts where you're required to be open and vulnerable and sensitive, it comes with the territory.
"There are days when I'd like to take off from being black," he said. "I can't. I view it as part of my responsibility, part of the legacy that was left to me."
Editor's note: The original version of this story misspelled the names of Tarell Alvin McCraney and Lou Bellamy. The Cap Times regrets the error.