It's a glorious time to be back in Illyria, no matter how you get there — capsized in a storm, drawn by a beautiful mourning countess or back after months of rambling. The skies have cleared in Orsino's court. Love is in every other glance.
If American Players Theatre's "Twelfth Night" was a novel, it would be a beach read.
Director John Langs' production of "Twelfth Night" had a watery start in more ways than one. Shakespeare's 1602 comedy of disguise and frustrated romance opens in a shipwreck, as twins Viola and Sebastian are tossed, separately, onto the shores of Illyria. Opening night got damper than the players' bargained for this June, when the first official performance got rained out a few scenes into Act II.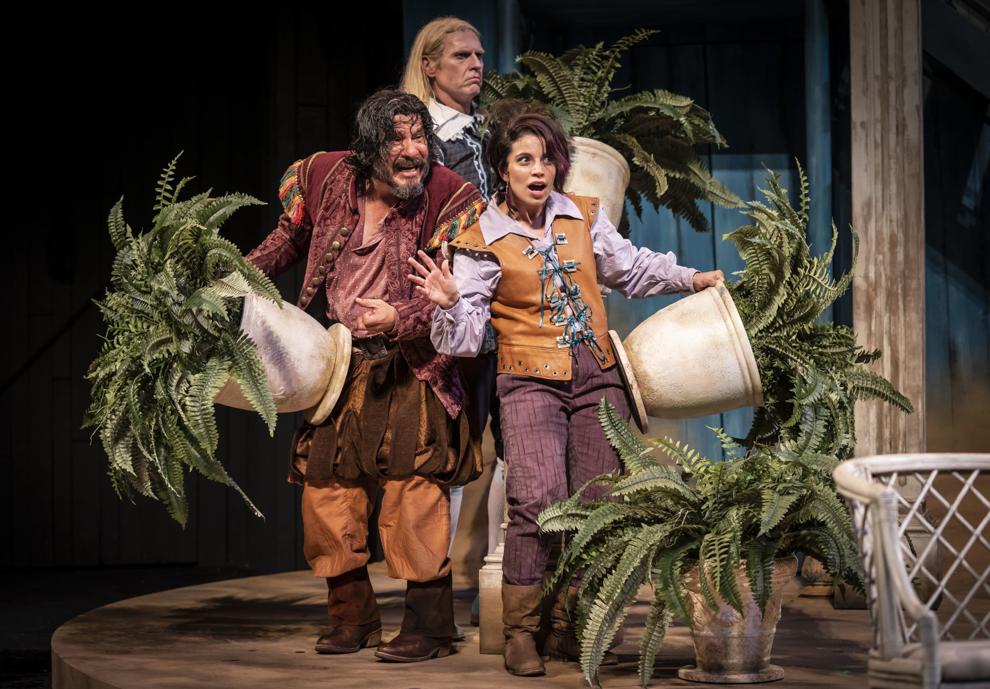 "Twelfth Night" was last seen here in 2012 in a rather dour production by David Frank, who leaned into the sadness of so many characters in love with the wrong people. Langs spins off in a different direction, recasting the comedy in the image of freewheeling, stubborn Sir Toby Belch (Triney Sandoval). 
The play bops along on the energy of Sandoval, an exceptional performer who can turn from clowning to earnest seamlessly. He leads a fabulous entourage: a fool played by La Shawn Banks with a rich baritone and one arching eyebrow; Ted Deasy, seven feet or so of goofy, high-kicking knight; and Phoebe González, a gleeful co-conspirator.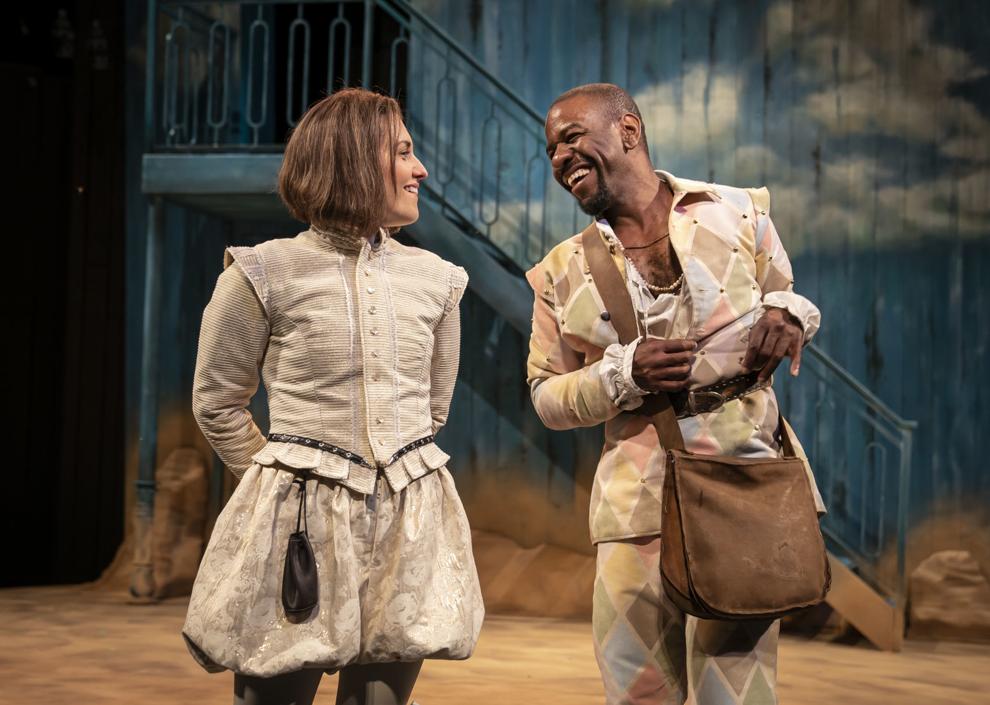 Colleen Madden, as the maid Maria, casts longing glances in Sir Toby's direction as she raises the stakes of the comedy. In her boldest move, she claps the hand of a man she's just met onto her breast ("Bring your hand to the buttery bar and let it drink.")
These scenes with pranksters and drunkards have equal weight to more serious ones with our quartet of lovers. Viola (Kelsey Brennan), in disguise as a boy, has landed a spot in the court of Orsino, who spends most of his time wallowing over a woman (Olivia) who doesn't want him.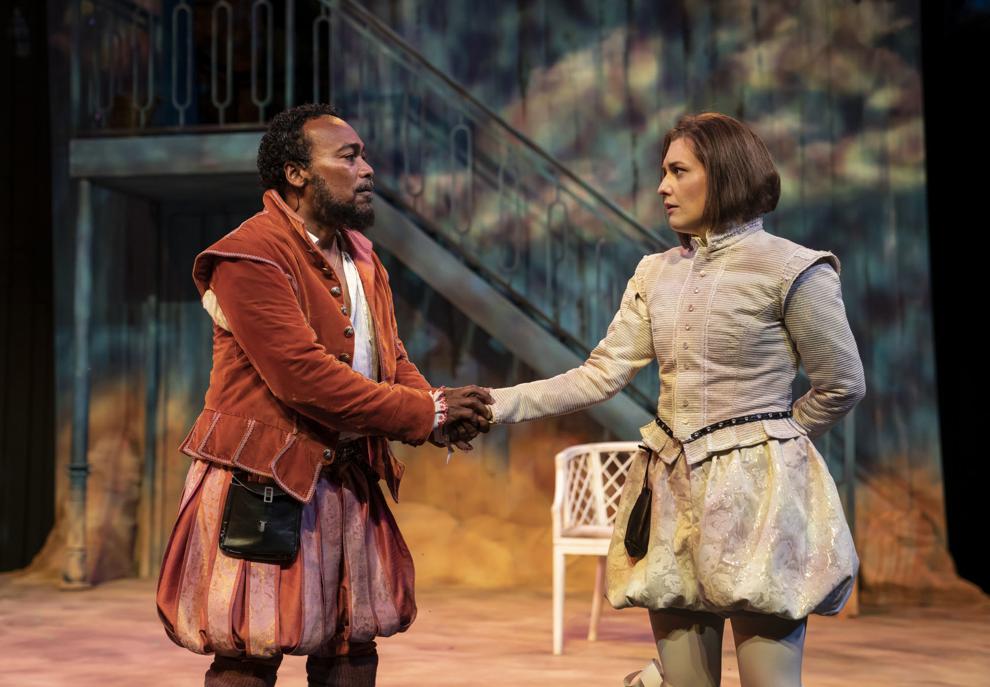 Much as in last season's "The Recruiting Officer," Kelsey Brennan shows how putting a woman in man's clothes can open something truthful in her. Viola may conceal her gender in her brother's trunk hose and doublet, but she can't hide her growing feelings for her boss. The simmering glances Viola-in-disguise sends the count's way confuse and unsettle him (Gavin Lawrence, self-contained and thoughtful).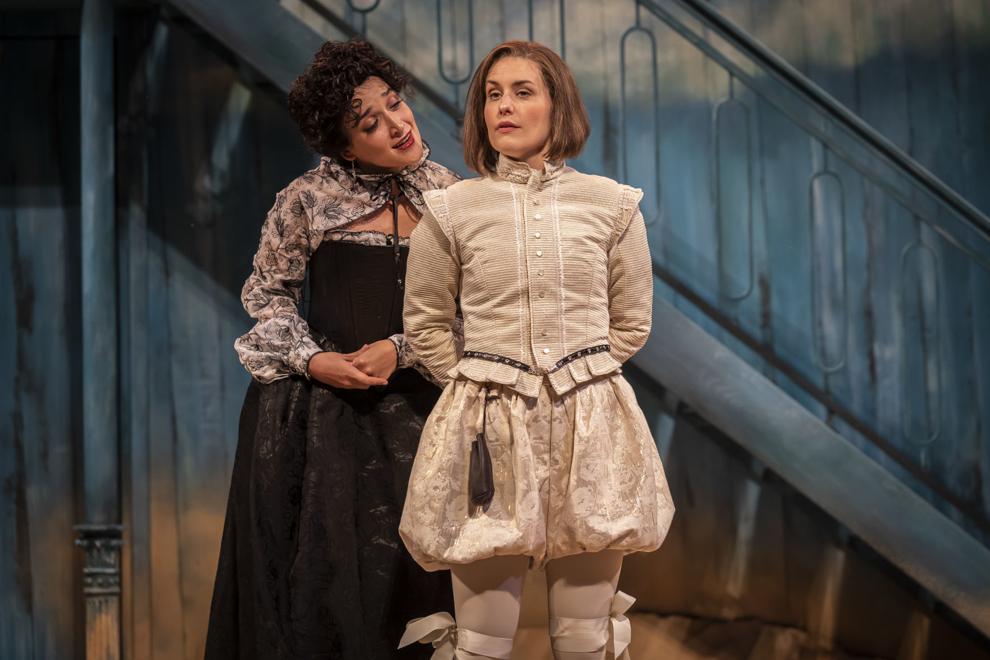 The energy between them is palpable. Their scenes sizzle, a tinge of homoeroticism echoed elsewhere in the play. Oliva catches sight of Viola in disguise and shudders as she loses her composure. When Sebastian (Michael Goldstein) washes ashore, the sea captain (Jeb Burris) who saved him looks at Sebastian much the same way.
Dressed by Jenny Mannis in black curls and a pleather bodice, Aila Peck as Olivia has cast herself in a Harlequin romance, throwing her head back and forth dramatically. David Daniel gets big laughs as Malvolio, the servant whose vanity lands him in head-to-toe yellow, baring his teeth like a mad dog (this in response to a request that he "smile").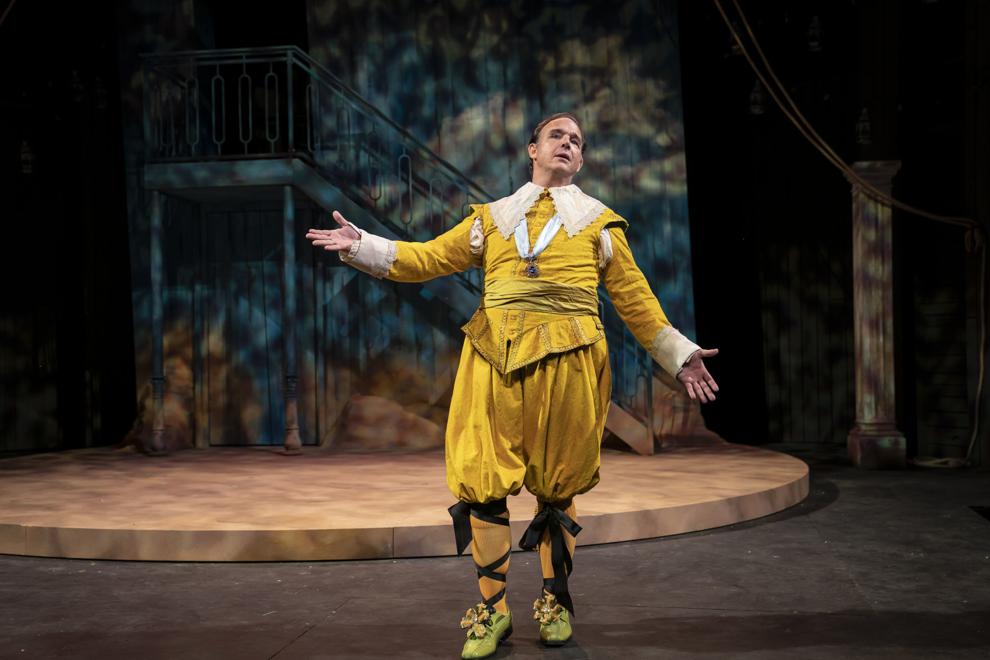 Arnel Sancianco's set, washed wood in seaside teal and light sand, has a Caribbean feel. Music from composer Josh Schmidt catches the ear — "O mistress mine" has been in my head for weeks — and the chance to hear La Shawn Banks take up his melodies is worth the ticket price alone.
That "Twelfth Night" flies by at close to three hours is a credit to a cast that moves with precision at breakneck speeds, juggling potted plants bigger than beach balls and swinging swords around like little kids on the beach. It's a joy to join them in the sun, for as long as this lively "Night" lasts.