Drummer Joey B. Banks, known as simply "Joey B." among Madison musicians, has been playing and teaching professionally for decades. He's a promoter, a founder and music director of Black Star Drum Line, and music directs the Clyde Stubblefield All Stars at the High Noon Saloon.  
But until recently, musical theater was a world Banks had never explored. When the newly formed Capital City Theatre approached him to play in the orchestra pit for "Violet" in 2015, Banks took the opportunity in part because it was a unique challenge.
"It was a musical experience I'd never had," said Banks, who opens a new show with Capital City on Friday. "I'm a good sight reader. I never get a chance to use that skill in that environment.
"The music wasn't all that challenging, but the dynamics of being in musical theater are much different. You're playing live, but it's a much different live feel."
Those dynamic levels will be an even greater challenge for Banks' current project, set to be staged in a space where drums could overwhelm the room without half trying. Capital City's production of "Lady Day at Emerson's Bar and Grill," a bio-drama with music about jazz singer Billie Holiday, opens Friday and runs through April 8.
A small company with big ambitions, Capital City staged "Violet" in the University of Wisconsin-Madison's Music Hall and "Gypsy" last June in the Wisconsin Union Theater's 1,165-seat Shannon Hall. ("Violet" star Leigh Ann Larkin recently returned to Madison as Sally Bowles in the national tour of "Cabaret.")
This time, though, artistic director Andrew Abrams wants to create a nightclub feel in Overture Center's Wisconsin Studio. Tucked up on the third floor, it seats about 100 people.
"The staging is going to be key," Banks said. "They're going to take that Wisconsin Studio at Overture and turn it into a Philadelphia 1959 pub and grill.
"There's going to be a cash bar. It's going to be set up cabaret style."
"Lady Day" is a 1986 drama by Lanie Robertson that experienced a resurgence in popularity after Broadway diva Audra McDonald won her sixth Tony Award in 2014 for playing Billie Holiday. Nearby, Milwaukee Repertory Theatre opened this season with the play.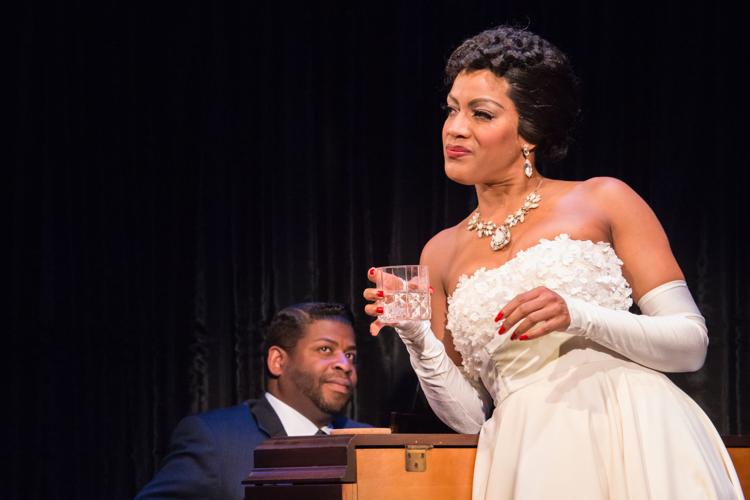 "It was cool to see all the exposure that the play got," Banks said. "In 'Violet,' there were a lot of race related, civil rights related concepts. It's just what was going on at that time.
"This is very similar. She talks in her dialogue about how she was treated. She was abused as a kid ... you could start to see why she's a heroin addict and an alcoholic.
"She's suppressing a lot of bad things. Racism was part of that, sexism was part of that."
Tracey Conyer Lee, Capital City's Holiday, has played the role before in West Palm Beach and Wellfleet Harbor Actors Theater in Massachusetts, both in 2015.
Sandy MacDonald, writing for the Boston Globe, wrote in her review of the latter show that "this 90-minute digest of Lady Day's travails places her on a comeback trail that's clearly headed straight downhill. Her life story unfolds in a series of seemingly random reminiscences, untainted by self-pity.
"Hers is a tale of unrelenting trauma, yet she expresses no regrets: 'You can only get to where you at by the way of what you been.'"
Banks believes the story as much as the music will be a draw for people.
"It is dark," she said. "It's an interesting dynamic. She's drunk and then she sings this beautiful song. She's talking to the crowd and slurring her words, spilling out her entire life."
"Lady Day" follows another production that celebrated a jazz great: Charlie Parker's "Yardbird" at Madison Opera. Told decades later, theatrical stories like these become part of the musicians' legacy.  
"This is a show about the end of days for her, the last days," Banks said. "I think people will leave a lot more knowledgeable of her, with much deeper respect. Some people might feel sorry for her."
For Banks, telling a story like this is "much more exact ... there's no room for improvisation."
"I think the word's gonna get out about this," Banks said. "The jazz community is going to come out and support it."