As Wisconsin lawmakers court the Taiwanese iPhone manufacturer Foxconn, a local actor is resurrecting a controversial monologue that introduced many Americans to the company for the first time.
"It's super timely, clearly," said Jason Compton, who performs a revised version of "The Agony and the Ecstasy of Steve Jobs" in the Bartell Theatre this weekend. "I don't know that it would have gone any further if (the Foxconn deal) hadn't been brewing."
"The Agony," a 95-minute solo show, describes a trip writer/performer Mike Daisey took to Shenzhen, China, to find out where his beloved Apple products are made.
Daisey describes Foxconn in his monologue as "the biggest company you've never heard of," a producer of MacBooks, iPhones and iPads, among other things.
Wisconsinites have heard of Foxconn now. Assembly lawmakers recently approved a $3 billion incentive package for the Taiwanese electronics company.
According to Cap Times reporter Jessie Opoien, the deal "offers the company environmental exemptions and tax breaks ... in exchange for building a $10 billion LCD panel manufacturing facility in southeastern Wisconsin."
"The fact that it is moving ahead in Wisconsin makes it pretty compelling," said Compton, who's performing under the auspices of a pickup theater company called Left of Left Center.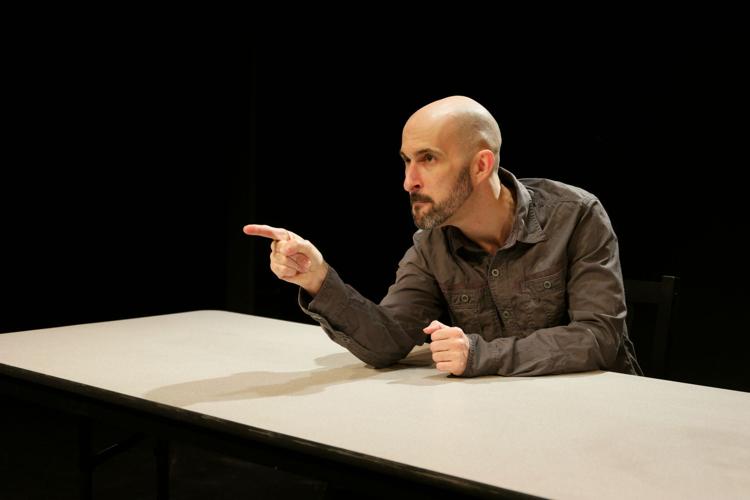 Daisey debuted "The Agony and the Ecstasy of Steve Jobs" in 2010, presenting it as documentary theater in a solo show.
Audiences loved the combination of comic personal narrative and social justice as Daisey described walking up to the gates of Foxconn in his Hawaiian shirt and starting to ask questions through a Chinese translator.
The trouble began when "The Agony" was adapted for the radio show This American Life. After it aired in January 2012 as "Mr. Daisey and the Apple Factory," reporters began to dispute Daisey's version of people and events.
Daisey had, as he eventually admitted in an episode-long retraction, repeatedly lied in the piece to make for better theater.
The version Compton will perform in 95 minutes in the Bartell Theatre's Evjue black box is, therefore, "The Agony and the Ecstasy" 2.0. Daisey offers it to theater artists to perform for free, without royalties.
The script is posted on Daisey's website with the note that it is now "ethically made," with a red disclaimer: ALL STORIES ARE FICTION.
"That's the version we started working with," Compton said. "We took out a few things for streamlining, we added one reference (to the Samsung Galaxy Note 7) to modernize it."
The revised monologue has "fewer things that are truthy and more things that are true," Compton added. "The most compelling parts are the things that haven't changed."
Compton performs some 30 characters in the monologue, including Daisey himself, who narrates. He has found common ground with Daisey, a 40-something white man who lost himself in his love of technology.
"There's a subset of people like me and like Mike who oriented everything they did around that computer," Compton said.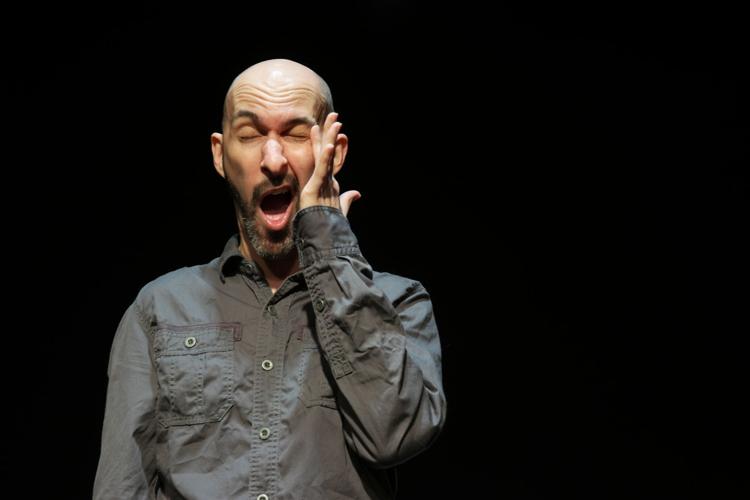 The specter of the first story's public takedown lingers in the following version, and Daisey does get defensive.
 "That is hyperbole," Daisey says at one point in the monologue. "That is a literary technique called hyperbole. That does not literally occur."
 Later, Daisey muses that if he was making something up, it would be awfully convenient for those who would rather not think about the working conditions and lives of the people who make the technology they love and use every day.
"Why believe me?" Daisey says. "I am, after all, a noted fabulist. Perhaps none of this is true.
"Wouldn't that be comforting?"
In the new version, Compton said, Daisey directly addresses National Public Radio and the fact checkers who wanted to dismiss his entire piece because it contained fabrications — similar, Compton argued, to voters who dismissed Hillary Clinton because of unauthorized emails.
"He is not just addressing the people in the Evjue," Compton said. "He's lashing out at the people who muffled his story for reasons that you and I understand, but that in the same breath prompted people to say 'Ah, but that story was so good.'
Directing "The Agony" is Jake Penner, who played Governor Scott Walker to Compton's capering Fool in "The Lamentable Tragedie of Scott Walker" at Broom Street Theater about six years ago.
While this play has a similar political connection, the divisions are less clear.
"That play had a clear set of politicians in favor and politicians against," Compton said. "Today we have the Foxconn news being greeted with varying levels of approval. Most of the leaders standing in opposition are picking at the corners, 'I don't like the subsidy package,' 'I don't like the environmental impact.'
"I haven't yet seen anybody saying, 'If we're going to invest $3 billion as a state on job creation, should that job creation be manufacturing televisions? Or should it be something higher reaching that creates more value?
"That's the conversation I would be interested in prompting."