"Life Sucks," Aaron Posner's dark-ish comedy of ideas, is big on direct address. A couple of times in the course of the show, everyone comes onstage and announces what they're going to do.
"This scene is called, 'Three things I hate,'" they say, and list them off: "My body," "weakness," "asparagus."
This part of the review, then, is called "Alternate titles for the final play of Forward Theater's 2018-19 season" (running in the Playhouse through April 14):
Seven Characters in Search of a Russian Countryside.
We Need to Talk About Vanya.
All You Need is Love (from everyone, all the time).
Posner, the Madison-born playwright and director best known for his "Seagull"-inspired "Stupid F---ing Bird," would probably endorse this kind of riffing. Posner has made a practice of taking classic literature, in this case the 1899 play "Uncle Vanya," by Anton Chekhov, and pulling out threads of character, situation and matters of the heart.
What he's able to mold out of these true things feels both fresh and timeless — timeless on an emotional level and a practical one, since "Life Sucks" has neither a real location nor much of a plot.
These characters bear only a passing resemblance to their late-19th century counterparts. Their language is contemporary and often profane, but "Life Sucks" feels like Chekhov. It can drag in the same ways Chekhov drags, as characters fight their own inertia. And it asks the same open questions.  
How do we cope when we don't get what we want? How do we let go of the stories we've been telling ourselves, good or bad? How do we move on?
To give the original title credit, life does suck in "Life Sucks" for all of the characters, at least some of the time. For Uncle Vanya, it sucks for pretty much the whole play, but don't expect the others to feel sorry for him.
Vanya (William Bolz) is a schlubby everyman, like an everynerd. He's desperately in love with Ella (Rána Roman) and seething with jealousy all the time at her pompous husband, the Professor (Brian Mani). (Vanya's extended rant about academics, "a vast conspiracy" of people "arguing endlessly about esoteric minutiae" earned self-deprecating chuckles from this university town audience on opening weekend.)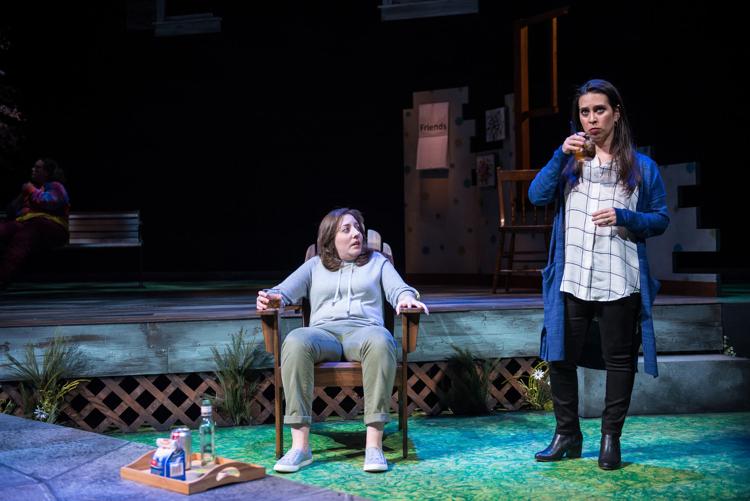 Vanya lives with his 20-something niece Sonia (the highly expressive Elyse Edelman, a joy) who herself pines for the brooding doctor down the road (Reese Madigan). Also around the house are Pickles, a perceptive, gentle soul played by Marcella Kearns in pigtails and tie-dye, and Sarah Day as a knowing Auntie Mame type who drinks a touch too much and dispenses grandmotherly wisdom.
Powered not by story but the intense frustrations of these characters, "Life Sucks" spends a lot of time letting people say what they really feel — "aggressively honest" acting is what the script demands, and director Jennifer Uphoff Gray pushes it in every scene. It sounds like everyone's been given a truth serum.
"Being honest doesn't mean you have to be a condescending bitch!" Sonia yells at Ella, then immediately breaks down. "Oh, god, I'm sorry. I'm just so, so unhappy."
Humming Beatles tunes and wandering around Mike Lawler's unobtrusive set (it is, as the script says, an "impressionistic, deconstructed" version of Sonia's house), the cast uses physical comedy to bring emotional turmoil to the top. Bolz, as Vanya, paces and stumbles, awkward and flailing in his body and his life. The more Ella tosses her hair, the more Sonia hunches her shoulders.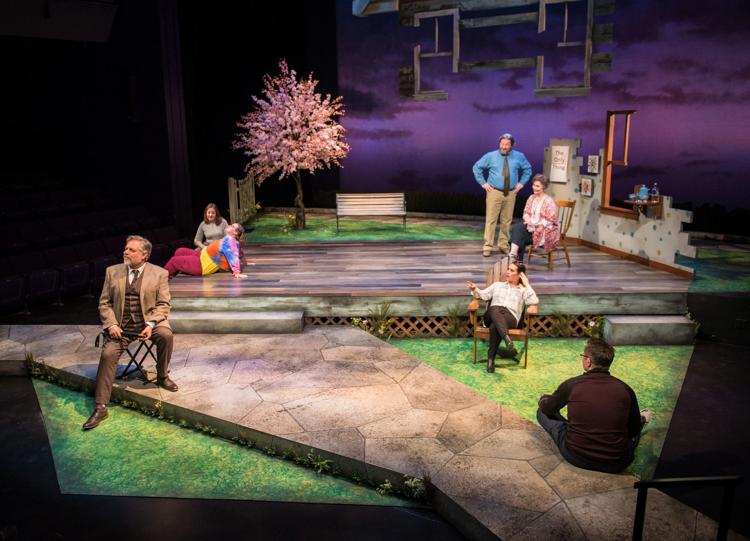 Mani and Madigan play excellent drunks, their focus and feet slipping underneath them. All the men are obsessed with Ella but none of them lets her talk; Roman makes her simmering frustration perceptible enough for us to clock it while the guys ramble.
"Life Sucks" doesn't require knowledge of Chekhov, but it's a fun thing to have. It's an extra layer of Easter eggs, like knowing whether the cast is singing the tune to "With a Little Help from My Friends" or "She Loves You" during a scene change.
"Life Sucks" doesn't make the case that life sucks, at least not all the time. It's very nearly optimistic. Ultimately it's up to us, as the actors end as they began and turn to the audience.
It's a fitting way for Forward Theater to cap its 10th anniversary season, with an invitation to keep exploring. So then, a question for everyone in the room. Does life suck? Life is ... well, what do you think?