The reason some theatergoers protest "Miss Saigon," three decades after the French-written, British-born mega-musical touched down on American shores is because damaging stereotypes persist about Asian women as property, Asian men as weak, and white, Western guys as saviors.
That's true not only in the United States.
"It's still everywhere, it's entrenched," said Bao Huynh, a teaching assistant at the University of Wisconsin-Madison who was born in Ho Chi Minh City in Vietnam. "It's so damaging to us, to our whole identity. The story is what is being told to Vietnamese women ... wives, sisters, are being told that the white savior is a thing."
Huynh was among dozens of people who gathered outside Overture Center on Wednesday night to listen to Asian American academics stand on milk crates and deliver excerpts of what was supposed to have been an Overture-sanctioned and co-organized panel, "Asian American Perspectives on 'Miss Saigon': Stereotypes, History and Community." 
In a move that baffled several of the speakers, Overture CEO Sandra Gajic canceled the panel earlier that morning, citing questions from moderator Leslie Bow that felt "inflammatory" and too personal.
Overture later partially reversed course and offered the panelists Promenade Hall, which they refused on principle. Gajic and other Overture leaders hovered in the center's glassed entryway during what Asian American scholars called a "teach-in." 
Speaking into microphones in front of a poster for the upcoming show, the would-be panelists said Overture programming of "King and I" and "Miss Saigon" back to back this season felt like "a one-two punch" to Asian Americans in town.
Their proposed questions for Gajic included, "Why do you think that plays like this are still so popular with audiences, when they represent racial views that are so out of touch?" "Are these works problematic to you?" and "Do you feel a responsibility to bring more diverse stories to the stage?"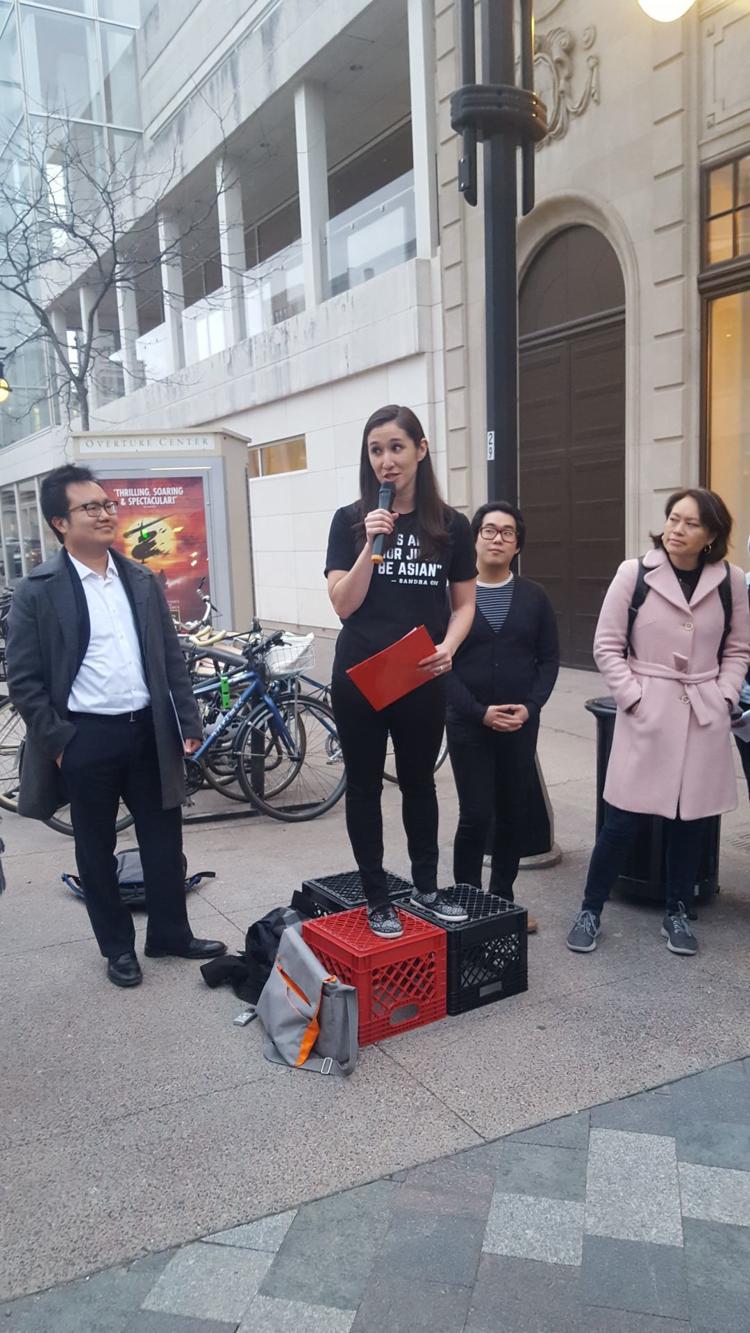 Bow, a professor of English and Asian American studies at the University of Wisconsin-Madison, had signed on to moderate the panel. She prepared for it during spring break like she would have for a class. Gajic's last minute change of direction seemed to truly confuse Bow.
"When they sent me that email saying, 'You're off," I sent back a text saying, 'Huh?'" Bow said. If Overture didn't want her to lead an honest conversation, "why didn't they just have an employee read the questions they wanted in the format they wanted? ... The questions were not inflammatory. The answers might be, but this is the work we do, we're educators. We pose the questions."
Overture released a statement on Wednesday to several media outlets explaining that "We have a misunderstanding with the people that we were collaborating with for this dialogue. It appears that we were not all on the same page as to our goals, objectives and the purpose for tonight's event." Neither Gajic nor Ed Holmes, Overture's vice president of equity and innovation, responded to requests for additional comment. 
Overture said in the statement that it wants to reschedule the Asian American panel talk for after the show has finished its run. This was ostensibly not about ticket sales, but to give "everyone ... the opportunity to see the show and be more informed about the content, which is the central focus of our anticipated discussion." 
The story of "Miss Saigon," an updated "Madame Butterfly," tells of an American soldier and a young woman named Kim in 1975 Vietnam. Kim, devastated by the loss of her family, has just started working as a bargirl (prostitute) in a nightclub. Chris and Kim fall in love, "marry" and sing several sweeping love ballads.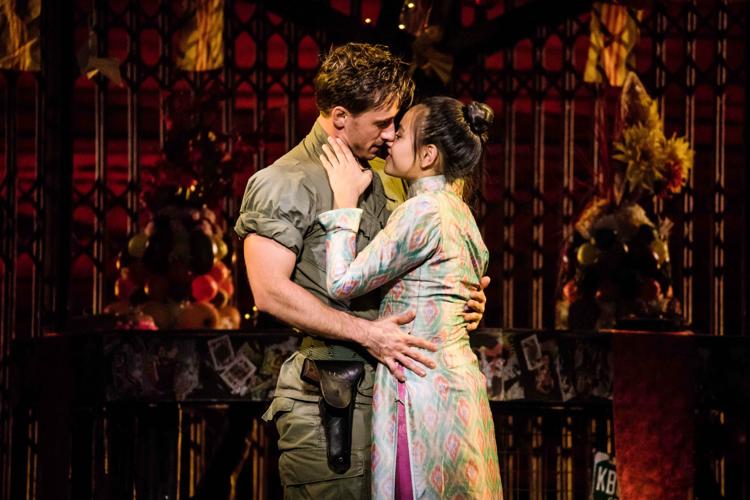 Three years later, Chris has remarried in the U.S. (a role not necessarily played by a white woman) and Kim has his child. Kim by this point is again desperate; she'll do anything to send her toddler to the United States.
An enduring example of the '90s mega-musical, "Miss Saigon" became known for the helicopter that carried the GIs to safety in Act II. The show made even bigger headlines when it moved from London's West End to New York in 1990, because the actors playing the Engineer and Kim's cousin Thuy were white men wearing yellowface.
One defense of "Miss Saigon" from those who have spent time in its company is that, despite its white, Western lens on a story set in Southeast Asia, a popular musical raises the profile of the Asian and Asian American actors in its company.
"Many actors have defended 'Miss Saigon' for the jobs it's provided for generations of Asian-American actors," American Theatre editor Diep Tran wrote in 2017. "But what kinds of jobs are these? Playing stereotypes, people who hate their skin and idolize whiteness to the point of suicide?"
Also, Tran said, the visibility hasn't had a lasting impact on whether Asian American actors get work.
Madison audiences do tend to love it. The first time a modified tour of "Miss Saigon" came to the Madison Civic Center in 2002, critics called it "an enduring legacy of the horror of the Vietnam War" and emphasized how the historic circumstances behind the story "make the narrative all that much more poignant and its characters more real."
"Miss Saigon" currently stands as the 13th longest running musical on Broadway, behind "Jersey Boys" and "Rent." Yet few of the speakers who took the podium Wednesday are likely to be seeing the show when it runs in Madison next week.
"Miss Saigon," they said, relies on harmful stereotypes like the hyper-sexualized Asian woman, the "lotus blossom who needs to be saved," according to UW-Madison professor Lori Kido Lopez. These stereotypes lead to continued oppression of Asian Americans today.
"We were shocked to hear they were calling off our panel, but Asian American voices will not be silenced," said Lopez, who studies Asian stereotypes in film. "Asian American activists have protested 'Miss Saigon' since its very first performances, and then again and again, every time it gets revived.
UW-Madison professor and poet Timothy Yu asked for the same promise when he met with Overture Center in February. He and many others want to see Overture present more work written both for and by performers of Asian descent.
On Wednesday night, Yu shared part of an essay he'd written to include in the program next week. This was something Yu said Overture Center invited him to do but that Broadway Across America, the company that books touring shows, ultimately wouldn't allow. (Broadway Across America has not yet returned a request for comment.)
"If you are watching 'Miss Saigon' today, whether for the first or the tenth time, perhaps you can try to see and hear it differently," Yu wrote, and later published on the UW's Asian American studies site. "Perhaps you can consider the perspectives of Asian Americans and particularly of Vietnamese Americans, many of whom have felt for decades that 'Miss Saigon' distorts their history and glamorizes their traumas.
"Perhaps you can ask yourself why, in an era when rich and complex representations of Asian Americans are increasingly mainstream, 'Miss Saigon' continues to be staged and celebrated — and whether its time has passed."