Two premieres — one for the state, and one for the world — are highlights of Forward Theater Company's upcoming eighth season, announced Wednesday night.
Forward, founded in 2009 following the dissolution of the Madison Repertory Theatre, has been building an audience slowly but surely with contemporary works, many of them pulled from recent Broadway seasons.
The company's final show for this season, "Mr. Burns, a Post-Electric Play," opens April 7 in the Playhouse at Overture Center.
Set to open Forward's next season on Nov. 3 is "4000 Miles," a 2013 Pulitzer Prize nominee for drama which has had two off-Broadway runs in recent years.
Amy Herzog's play follows the relationship between 21-year-old Leo (Madison newcomer Mitch Bultman) and his 91-year-old grandmother, Vera (Susan Sweeney, "Good People"), when he decides to crash with her after a tragic loss.
"It's a relationship we don't get to see on stage very often," said Forward's artistic director, Jen Uphoff Gray. "What I love about it is, it's these two characters who are both so lonely and trying to deal with very different stages of life that actually have a lot of things in common.
"You don't often see a grandparent and grandchild together without that middle generation there too."
John Patrick Shanley's sunny, romantic "Outside Mullingar" comes to the Playhouse in late January 2017, where Forward is giving it a three-weekend run.
American Players Theatre company member David Daniel and Clare Haden, recently the main character in in "Silent Sky," have been cast as misfits who find unexpected love. Tyler Marchant is set to direct.
"It's just a love letter," said Gray. "It's such a charming, well-written gem of a play."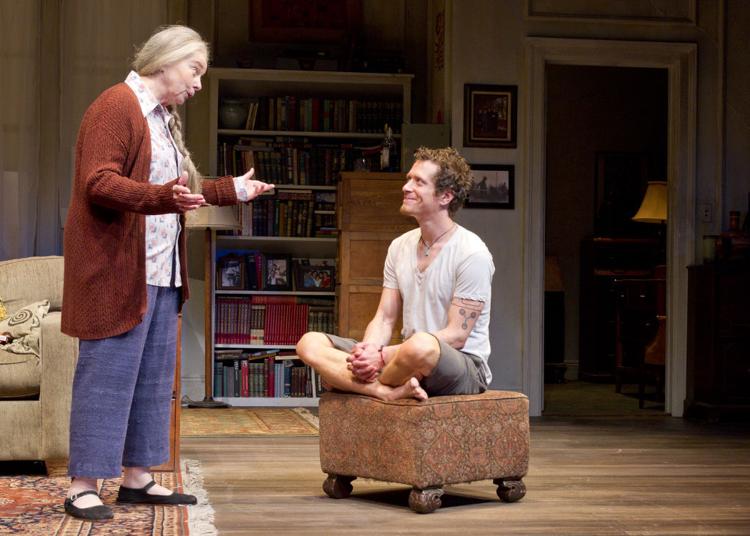 On March 23, 2017, James DeVita's new play, "Learning to Stay," will receive its world premiere in the Playhouse. Though most know DeVita as an actor, he's a playwright and a novelist as well.
"Learning to Stay" was adapted from a novel by Madison author Erin Celello, who has had a hand in its adaptation. It had its first reading last fall.
"It's our first commission," Uphoff Gray said with pride. "Every play that we produce at Forward Theater was nurtured and developed by a theater company somewhere. They invested timed and money and talent helping that play become a play.
"We're really excited, in season eight, that we're ready to do our part."
The story, set in Madison, is about a young attorney, Elise, who's so happy that her soldier husband has returned in one piece from the war in Iraq. She soon finds, though, that the trauma of PTSD has serious after-effects, and her husband is not himself.
With production of the play, Forward plans to partner with the Wisconsin Veterans Museum and the Wisconsin Book Festival, doing "outreach specifically targeted at military families, including a private performance for military families."
Kicking off Forward's 2016-17 season in the fall will be a return of a monologue festival, for which Forward has gotten more submissions than ever before: 270, out of which Forward needs to choose about 12.
"Someone's Gotta Do It," set for Sept. 22-24 in the Playhouse, is about jobs, "the inspired ones, the crazy-making ones, the 'I can't believe someone gets paid to do that' ones," Gray said.
"The topic is just so rich," she added.
Tickets for Forward Theater shows in Overture Center, 201 State St., run $37-$45. There are discounts for students, seniors, previews ($10-$20) and student rush ($15).
Subscription tickets go on sale April 7 and single tickets will go on sale in September. Visit forwardtheater.com/tickets for more information.