ARTS
A few good women: In 2018, American Players Theatre grapples with gender in the classics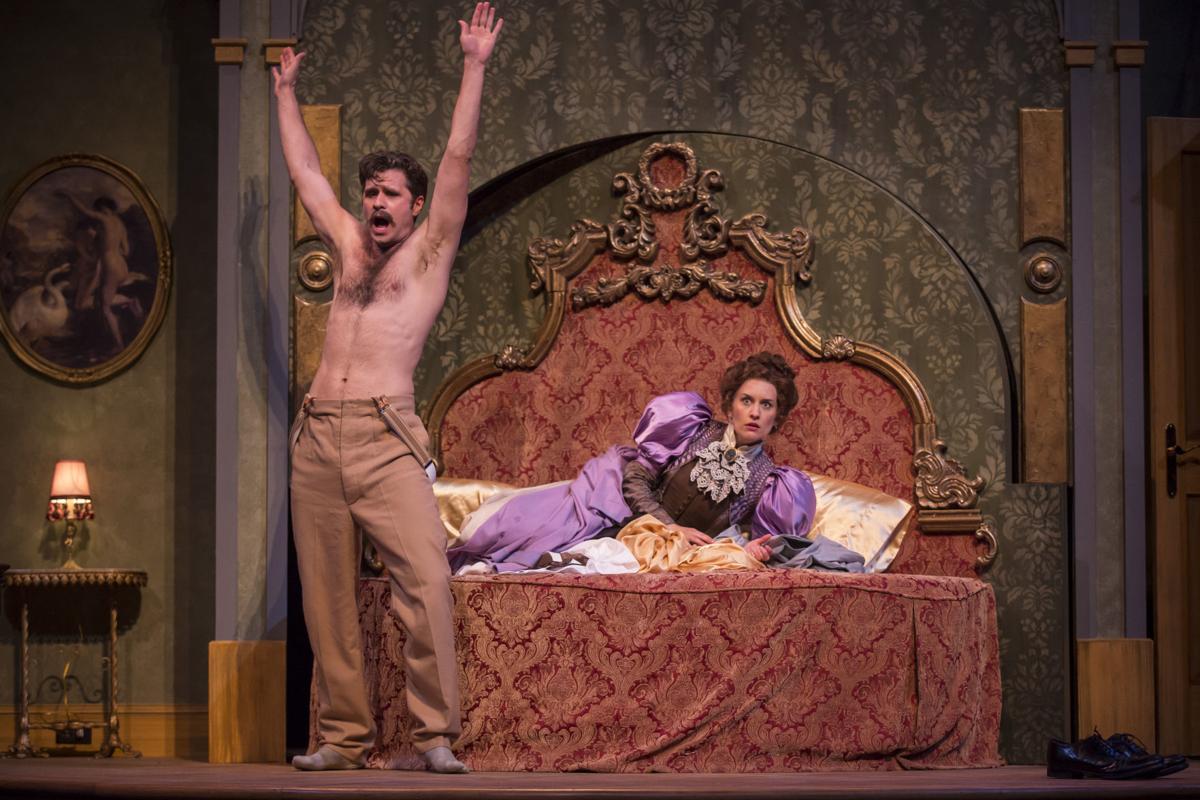 A few years ago, if someone had asked actor Kelsey Brennan if she thought about how she looked onstage, she would have replied, "Absolutely not."
"I would have been like, 'Oh no, no, I'm in the play, I'm pursuing objectives,'" Brennan said.
Then in 2016, she was cast as Dromio of Ephesus in a production of Shakespeare's screwball "Comedy of Errors" on the Hill stage at American Players Theatre in Spring Green.
To play this clumsy, confused servant, Brennan put on oversized red-and-white striped pants that looked like they'd been cut out of a circus tent. She and her twin in the play, Cristina Panfilio, plastered on fake beards, affixed fake noses and got fitted with two furry mutton chops.
They got dirty. Brennan looked like a dude, and she felt like one too.
"When I was costumed as a man, it gave me a beautiful freedom that I had not anticipated or experienced before," Brennan said. "I was not expected to be beautiful, at all. I was not expected to sound beautiful or have eyelashes you could see from 12 rows away. I was not worried about anyone looking at the shape of my body.
"And I realized for maybe the first time that those were things I did, somewhere in me, think about when I stepped onstage."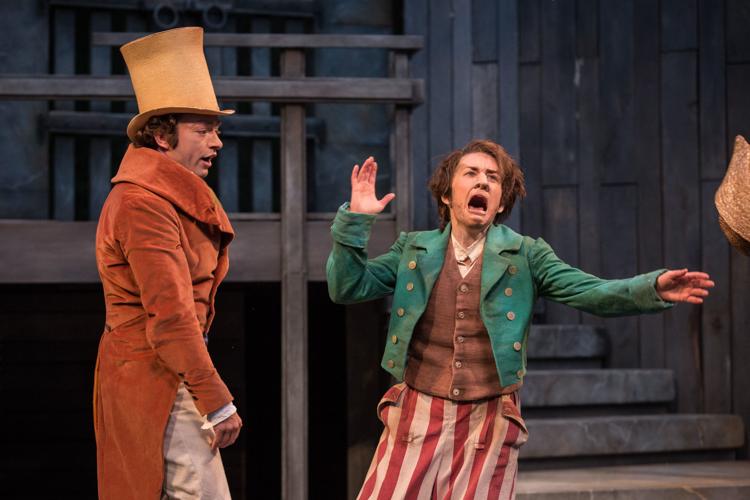 As the #MeToo movement brings to light the troubling treatment of women in movies, media, restaurants and politics, it's an interesting time to be a woman who works in classical theater.
A panel of artists, a professor and a critic will be discussing the issue on Tuesday, July 10, at a Cap Times Talk at Overture Center called "How do we stage Shakespeare in the age of #MeToo?"
"Part of the power of the classical plays we do is they are problematic sometimes," said Brenda DeVita, artistic director of American Players Theatre.
APT opens five plays in repertory this month, with the first two opening in previews on Saturday, June 9. Shakespeare's "Measure for Measure" and George Bernard Shaw's "Heartbreak House" aren't in rehearsal yet, both set to open in August.
"There are problematic relationships and problematic treatment of people and circumstances that we wish were different, but there's value in that for us to see," DeVita said, "and say, 'Wow, we haven't come that far,' or 'Wow, we've really come a long way.'
"Or, as my daughter would say, we never need to return to those days."
For more than four decades, APT has believed in the power of the classics, works by great men (and they are nearly all men) who plumb the complexities and foibles of human relationships.
Yet the women in these plays often find themselves grappling with characters who have been stripped of power, used as pawns in political games and lied to for decades. Farcical jokes can turn from mildly insulting to straight-up sexist with a single gesture.
Last summer at APT, Brennan played a perpetually scandalized society wife in a new adaptation of Georges Feydeau's "A Flea in Her Ear."
"In 'Flea,' we took away something like 24 uses of the word 'slut,'" Brennan said. "It was surreal. When we came into the first day of rehearsal, we realized we had all emailed (director) David Frank, 'So I have a feeling about this word.' It's something we're really attuned to."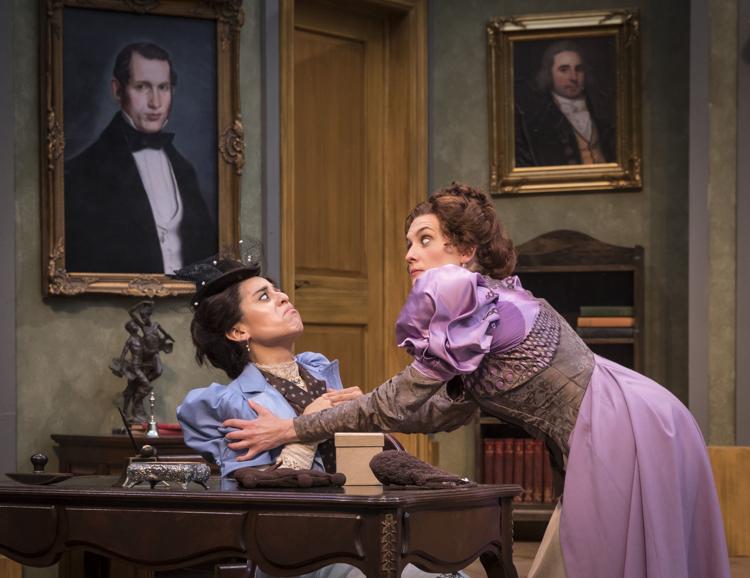 Brennan recalled one specific moment in "Flea" when her character, Raymonde, finally found herself alone in a hotel room with the man she'd been actively flirting with for most of the play.
Raymonde could make an active gesture to reject the suitor once and for all, hitting a button that flipped the bed around and moved her out of reach. Or she could keep it ambiguous, maintaining that "will she or won't she" — and Raymonde's agency — for the rest of the play.  
"Just about hitting a button in a farce, we had an entire hour-and-a-half conversation," Brennan said. "It was important to me that she didn't hit that button on purpose. Because that was a symbolic and literal 'no,' and it had to be, for the sake of comedy, a little more ambiguous. We haven't seen her deny consent.
"If we can keep it in a place where we can laugh at it, then we're still OK. But if we start to dip our toe into rape culture then how do I do the rest of the play with my integrity intact?"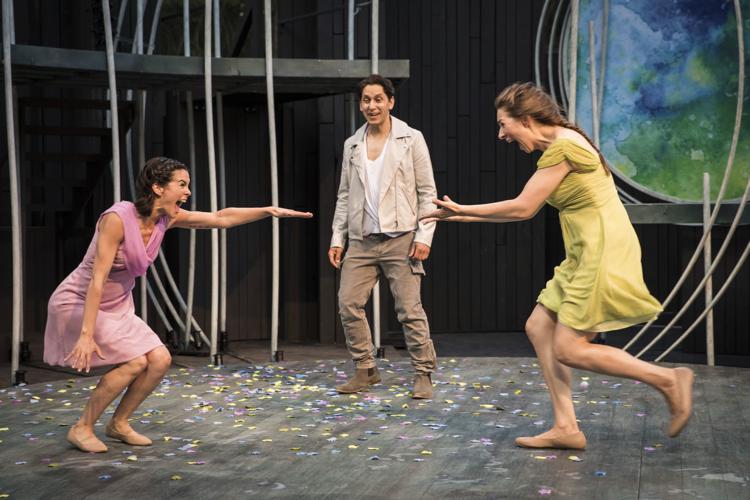 More than one of this year's plays involve a young woman who, in order to accomplish her goals, decides to dress as a man. In Shakespeare's comedy "As You Like It," opening officially on June 16, Rosalind (Melisa Pereyra) escapes to the woods with her best friend, Celia, daughter of the Duke.
The Duke bans Rosalind in part because he thinks she's too pretty, and he believes her presence is hurting Celia's marriage opportunities. Before the two run away to the forest of Arden, they pause.
"Alas, what danger will it be to us, maids as we are, to travel forth so far!" Rosalind says. "Beauty provoketh thieves sooner than gold."
So as soon as she gets to the forest, Rosalind pulls on some pants and starts introducing herself with a boy's name. In situations like this, actor Cristina Panfilio said there are a lot of conversations around "expectations of what a woman is supposed to be, and how being in disguise like that can free a person."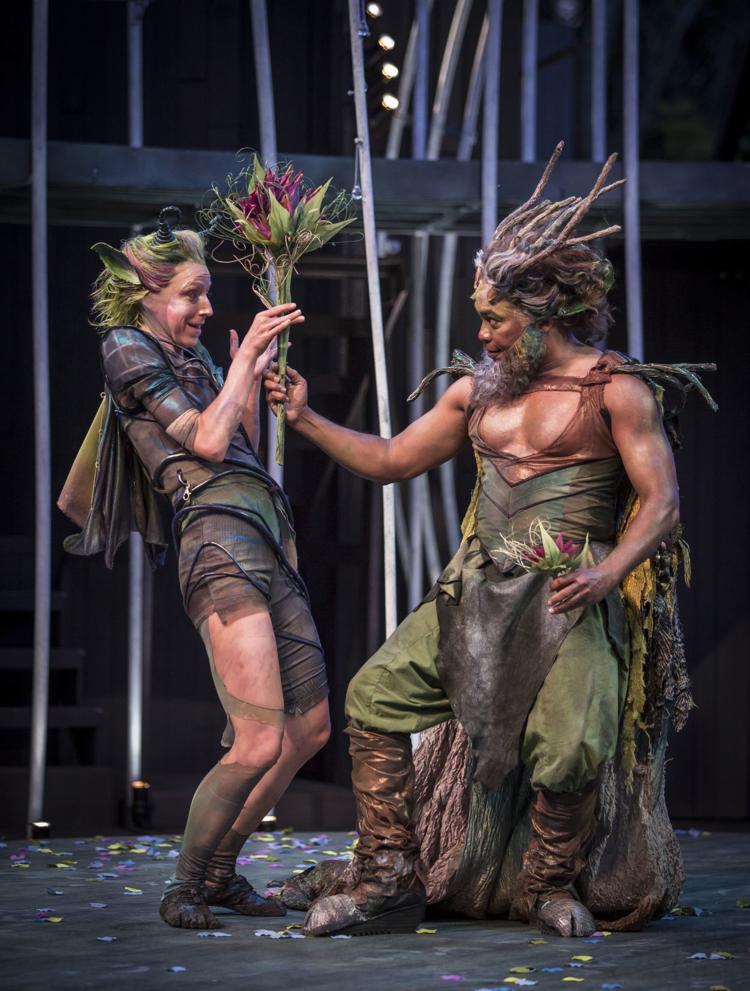 "It's important to keep asking ourselves those questions, especially as a woman walking into a role and how you're portraying a female," Panfilio said. "There's a danger of telling a story and not asking the questions ... you go, 'That's just how it was,' or 'That's how it is.' There are big generalizations we can make if we're not careful, I think."
Stepping into a breeches part, in the context of a classic play, can be liberating for the actor as well as the character.
In George Farquhar's "The Recruiting Officer," opening in previews on June 22, Brennan plays Silvia, a stout-hearted young country girl who spends most of the play pretending to be a guy named Jack Wilful.
While Silvia is still in a dress, the play contains few scenes where women are onstage together. The first time they are, they're immediately fighting about their boyfriends — Silvia's cousin Melinda (Andrea San Miguel) retorts that "hadst thou been a man, thou hadst been the greatest rake in Christendom."
Silvia has little interest in being told what she can't do. When she suspects her captain fiancé of having a wandering eye, she, too, puts on pants and straps on a sword.
"Learning how to swordfight is brand new to me," said Brennan. "There's muscles on my back that hurt, bruises on my legs because of my scabbard. I'm having to go to my colleagues and be like, 'Hey, guys, does your forearm hurt?' And they're like, 'You'll get over that.'"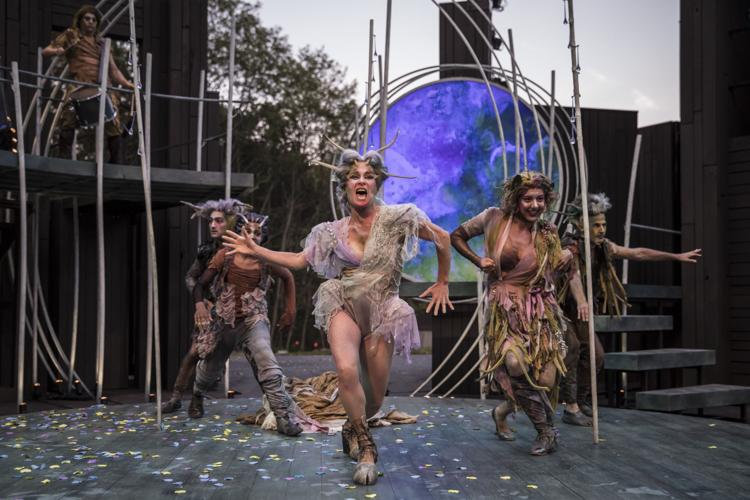 Opening in previews June 15 is a 1940s comedy called "Born Yesterday," a play and film first with Judy Holliday that was later remade into a film with John Goodman and Melanie Griffith.
In it, everyone underestimates a former chorus girl named Billie Dawn, including Billie herself. There's a kind of parallel to "Pygmalion" (and by extension "My Fair Lady") when a political reporter named Paul (Reese Madigan) agrees to "show 'er the ropes."
Now in her 18th year at APT, core company member Colleen Madden plays Billie. She said the character "meets the world with her sexuality," dressed in period clothes that exaggerate her hips, butt and chest.
"I don't think she's after beauty," Madden said. "She's more like a Jackson Pollock — she's a splash of paint. She has a freedom with her body ... she doesn't apologize for it.
"She has this sweet personality. She's not a conniver. There's not an ounce of guile in her. She's not using her body to hurt or entrap people, she's using her body to express her joy in life."
Playing Billie is its own kind of challenge. Madden has been working with a vocal coach to maintain Billie's high-pitched squeaky way of talking, and her feet are sore from high heels.
Still, wearing the uncomfortable undergarments that gave an idealized illusion of hyper-feminine womanhood makes Madden feel closer to the character.
"She's really an everyman," Madden said. "She's speaking to those of us who don't want to know, don't want to be challenged. (The reporter) is giving her access, giving her confidence to believe in herself and read and assimilate the information. He's urging her to make up her own mind.
"This play is saying, don't retreat."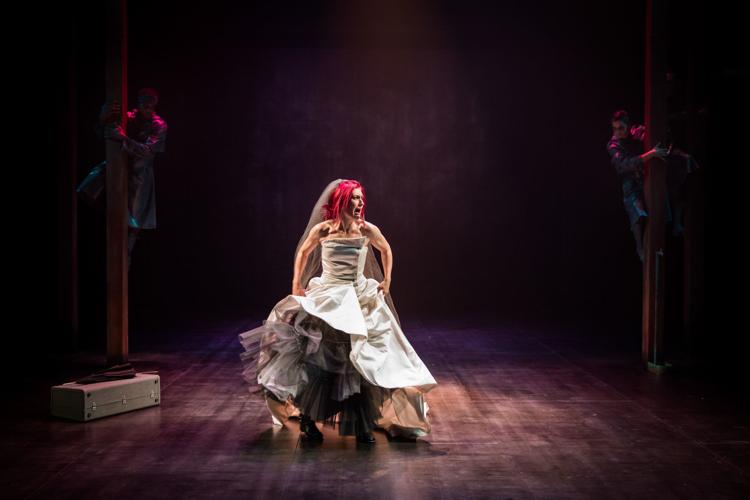 In part because of the challenges of performing in repertory with a core company, it's common for APT to cast roles in Shakespeare as gender-blind or gender-neutral. That's part of why playing male roles can be so compelling.
"These actors work in rep, so unlike many regional theaters they're always expected to do more than one thing, be more than one person in each season," said associate artistic director Carey Cannon. For most female actors, "even if she's playing three different roles she's likely playing three attractive women.
"If one of those is a man, it opens something she was missing."
In 2016's "King Lear," Panifilio played the Fool, usually a male role. In the same play Greta Oglesby played the Duchess of Kent (usually an Earl) in a reversal that added another layer of nuance to the action.
Tracy Michelle Arnold, a longtime core company member, played Peter Quince in last summer's "Midsummer" and will go on as the melancholy philosopher Jacques in this year's "As You Like It."
When director John Langs cast Panfilio as Puck in last summer's "A Midsummer Nights' Dream," there was "never a question about like, 'Is this androgynous? Is she playing Puck as a boy?'" Panfilio said.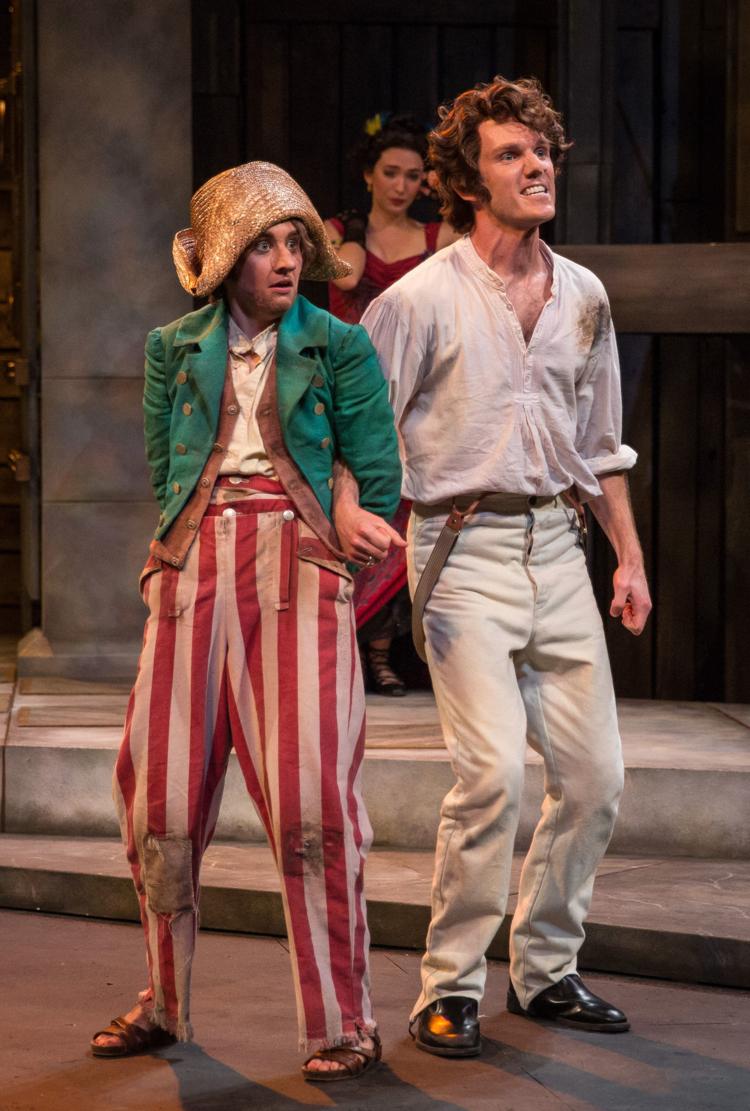 "It was just, you're Puck and Puck's a girl," she said. "I don't know how much gender was part of the conversation, or if it was my energy, he wanted an athlete, someone with my heart. And I also happen to be a woman."
There are always going to be people who push back with unconventional casting, Brennan said.
"People respond negatively sometimes," she said. "You're taking a classic male role and putting a woman in it and that's going to change things. It just will."
When audience members questioned casting the Dromios in "Comedy of Errors" with female actors, Brennan most appreciated one response from Brenda DeVita.
"She said, we needed the two best comics to play those roles and they happen to be women," Brennan said. "I loved that. It really was a chance for Cristina and myself to take on comic roles we had the chops for that were not really done by women traditionally."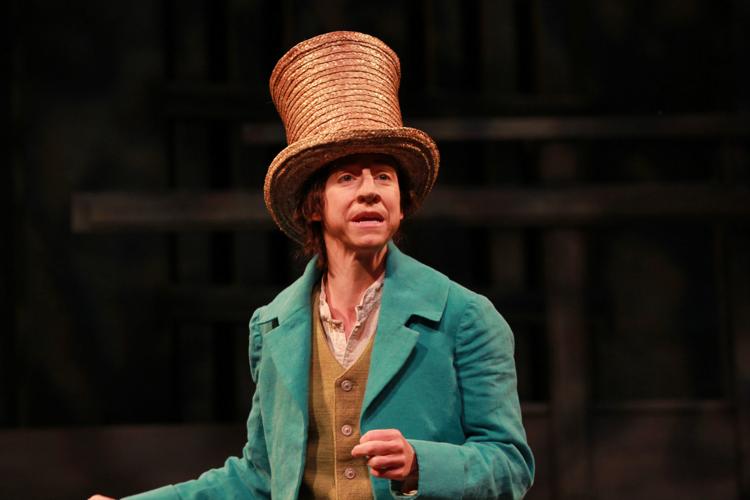 DeVita, Cannon and the artistic team choose plays more than a year in advance sometimes. DeVita was adamant that they wouldn't choose a problematic play (like "Taming of the Shrew," for example) with the goal of showing why it shouldn't be performed anymore.
"If the world is a certain way, that will reflect in the conversations and choices we make," DeVita said. "It's always about the best story we can tell, given the classical plays we're choosing from.
"The value of the piece has to reflect either something new about where we are, or something about how much wisdom we can gain from seeing the sins of our fathers we are still perpetrating."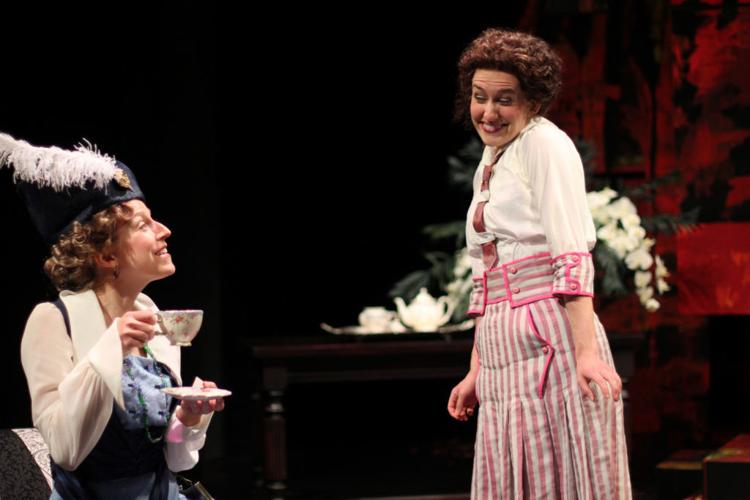 In the smaller, 200-seat Touchstone Thetare, the three plays span a diversity of subjects and styles.
Opening in previews June 9, "Blood Knot" is a two-hander for a white man and a black man by South African playwright Athol Fugard. Jim Ridge stars as the aging title character in Eugene Ionesco's absurdist "Exit the King," opening in previews June 26.
In August, Ameenah Kaplan steps in for Tyne Rafaeli, the director who was originally going to lead a production of the 1988 play "Our Country's Good." Kaplan had already been on the project as a choreographer.
"I think Tyne did a smart thing by casting this play interracially," said Kaplan, who choreographed "Midsummer" last year and directed "The Penelopeaid" at last winter's "Winter Words" reading series.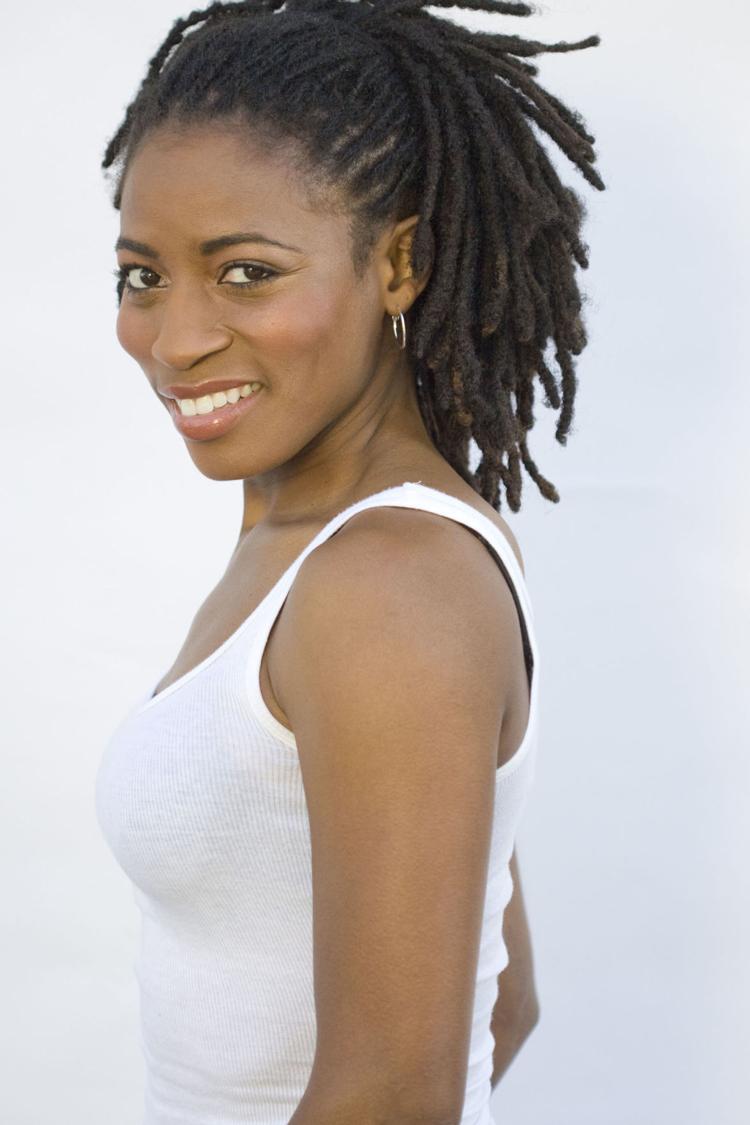 In "Our Country's Good," British playwright Timberlake Wertenbaker imagines a group of Royal Marines and convicts who decide to stage a play — specifically, "The Recruiting Officer." As with "The Importance of Being Earnest" and "Travesties" in 2014, some of the same actors at APT will appear in both plays.
Kaplan, an original cast member of the American production of "Stomp" who has roots in the classics, said she doesn't imagine "Our Country's Good" as a movement piece. The directing, she said, will be "realistic."
Kaplan has played men onstage before, including Sammy Davis, Jr. She saw how Brennan stepped into the character of a 15-year-old boy in "The Penelopeiad" and found it "amazing." "Our Country's Good" will involve gender-swapping, too. 
"I trust the actors and I know they will not be pantomiming," Kaplan said. "They will be inhabiting. I think we can all do that; I think there's enough yin and yang for us to understand each other.
"We try and make it seem like we're so different, and we are in many ways, but that essential thing about what we want is the same."