Jim Ridge has played that everlasting Christmas curmudgeon, Ebenezer Scrooge, for four out of the past five years.
"I'd been living with the knowledge that I was going to direct the play for over a year," Ridge said. "When we landed John (Pribyl as Ebenezer Scrooge), I'd worked with him a number of years out at APT. I know what a creative, brave actor he is.
"I felt more at ease than anything. I knew I was going to be able to trust him ... he was going to teach me a lot."
Pribyl is an older actor than Ridge, which may partly explain why, on opening night, his Scrooge seemed more grumpy and gruff, less spiky than Ridge's take on the character.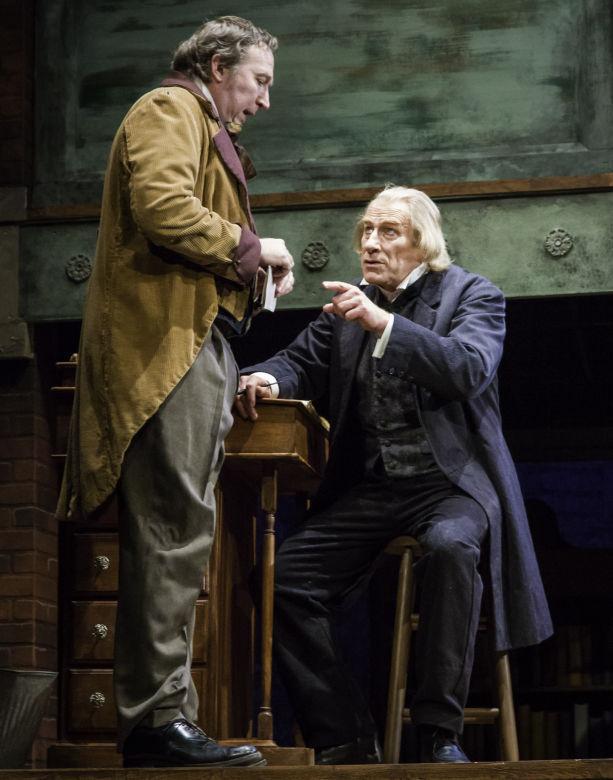 Ebenezer's refusal of his nephew, Fred (a boisterous Whitney Derendinger) felt, in this production, borne out of his missing his sister, Fan, and his guilt that he hadn't honored her memory. Scrooge's interaction with a sweet-voiced young orphan (Cedar Meyer-Rainford) sounded like a Dickensian version of "these kids today!"
Pribyl "had a bunch of ideas he brought to the table even before we started," Ridge said. "As we were in rehearsal in the process, he would bring up things that I had never thought of. It was easy to find a collaborative spirit."
This year's "Carol" looks quite different than in years past, with a new rotating, bi-level set (nicknamed "The Transformer") and props designed by Christopher Dunham.
The Spirit of Christmas Future, for example, is no longer a puppet — there's a person in there, gesturing from high above Scrooge's head toward the graveyard. If you're used to the old one, the change can be startling.
The show sounds different in places, too, with live music during Fezziwig's famous Christmas party. 
"We got really blessed with some great musicians," Ridge said, "and it all came together in the way that I had imagined."
The whole feel of the play was somehow more magical — and a bit less spooky — than it has been in the past. Ridge made deliberate choices about how and when to use the three ghosts, whose influence in previous versions resembled Fates, pushing and influencing the characters silently. 
One example of such a change was a scene in the Cratchit house. Mrs. Cratchit (Erin Baal) is reluctant to drink to the health of such an "odious, stingy, hard, unfeeling man" as Ebenezer Scrooge.
As Scrooge watches silently with the Spirit of Christmas Present (Shawn Goodman Jones), Bob Cratchit (James Stauffer) gently pleads with her: "It's Christmas Day."
"Her deciding to go ahead and drink (to his health) comes out of her connection with her family," Ridge said. "It's not supernatural. That's someone who decides that, even though they could have a grudge, decides to honor and bless him. And that's grace."
Ultimately, Ridge said, "A Christmas Carol" is about transformation. Working with Pribyl as Scrooge, as well as other creative collaborators, he was able to find things in the story he hadn't when he was playing the lead role.
"I wanted the play to be about connection," Ridge said. "Scrooge is described as moving along the edges of society, not taking notice, not seeing. The change is just for him to see.
"The beauty of the story is that he enters in. He decides, 'I'm going to jump in.'"