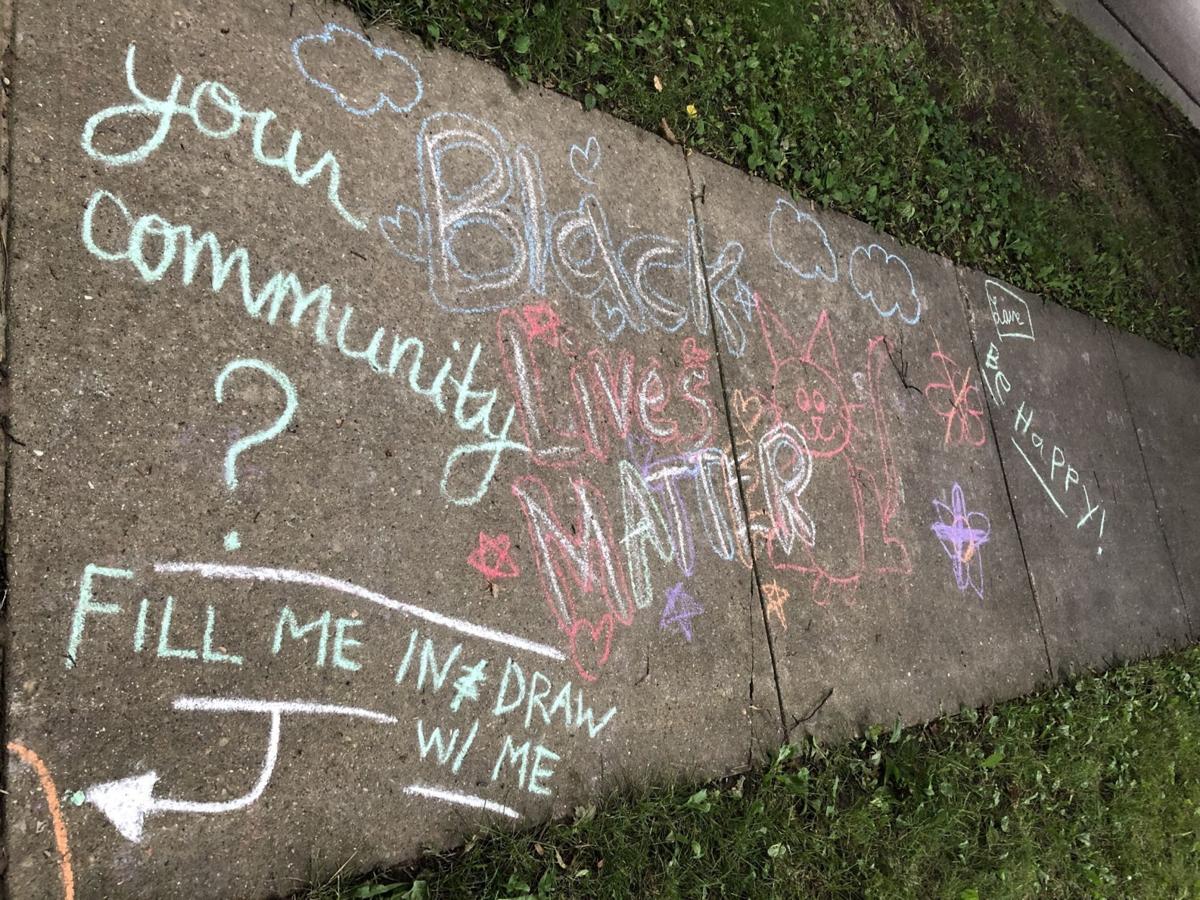 On the sidewalk next to Sunridge Park on Madison's southwest side, Veronica Lourich takes part in social activism. She holds no signs and shouts no chants.
Her weapons for change are the Crayola chalk sticks from her garage.
"I definitely hadn't touched these since I was nine," said Lourich, a hyper-realism portrait artist. "But I wanted to be able to give a communal space for people to all come together, learn together and draw together."
Even before downtown Madison acquired its vast array of Black appreciation and educational social justice mural art, Lourich was already creating detailed chalk portraits of LGBTQ+ leaders like Stormé DeLarverie, a lesbian singer and gay rights activist from the '50s and '60s, considered to be one of the sparks that ignited the Stonewall riots, along with gay liberation activist and self-identified drag queen Marsha P. Johnson.
"This past spring, I was talking to a friend of mine who had just read a book about Stormé and we started talking about her life," Lourich said. "I was like, 'I'm not surprised that I don't know this woman, but I'm also disappointed I never learned about her.' I thought, 'Okay, this will be a great person to draw.'"
So, one "particularly gutsy day," as Lourich puts it, the self-taught artist decided to bring her newfound hero to life with chalk, sharing the singer's face with the community via the sidewalk by her neighborhood park.
"I have to admit, it was very, very rough," said Lourich, who uses primarily yellows, blues, reds and pinks for every portrait. "But this young family stopped by and there were these two moms with young girls, maybe four years old. I was drawing a few different women at the time, some women were trans, and these girls were asking me who I was drawing.
"I explained I was drawing a trans woman, and they asked me what that was. Their mothers took over and explained in such a coherent and beautiful way that trans women were women that were born as boys. So the girls then said to me, 'Oh, so you're drawing them in pink because they're girls like me. But you could also draw them in blue.' And I said, 'Yeah, you could.'"
Lourich continues, "I loved that interaction. Even though I wasn't super excited with how the art turned out, it was encouraging to continue. Then the next day, a young maybe eight-year-old boy actually ran over from the playground and said, totally unprompted, 'I love the trans women.' And I said 'You do?' And he said, 'I think they're beautiful.'"
Katie Watermolen, a mother who also lives near Sunridge, said her 10-year-old son Huck introduced her to Lourich. The artwork has helped their family talk more about social justice and social movements.
"Huck has a lot of questions about these things that he asks after seeing Veronica's artwork," Watermolen said. "We live very close to the park and always go to see what is new. It has brought us closer together by providing us an opportunity to discuss what we see."
"It teaches people lessons about what is going on," added Huck. "It's amazing art! She is very talented!"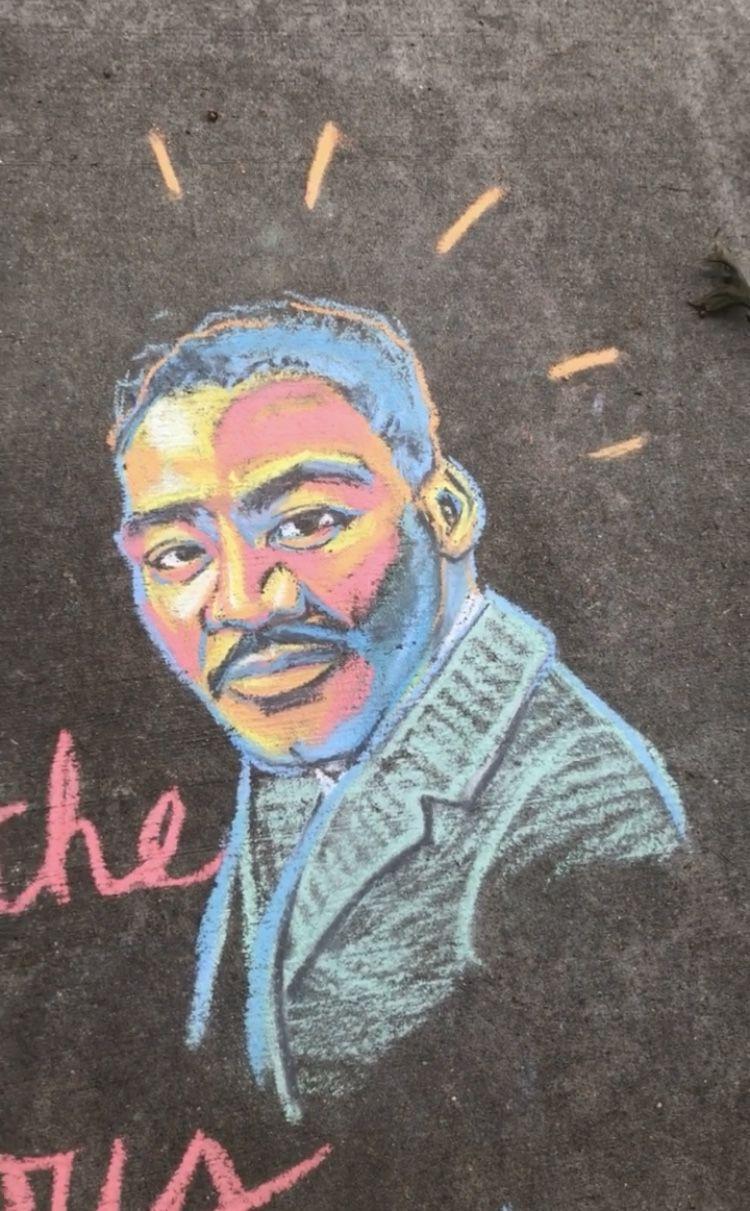 While Lourich began her highly colorful portrait drawings in April — which have since featured Martin Luther King Jr., American political activist Angela Davis, the late civil rights leader and U.S. Congressman John Lewis, and more — she originally used the chalk to reach her community with humor, writing random jokes in the mornings to invoke giggles from passersby.
"Like most people, I was a little bit desperate for a new way to connect to people in my community outside of the people I was quarantining with, which happened to be my parents," Lourich said. "So once the snow melted, around March, I dug up some old chalk from the back of my garage and started drawing some admittedly, really corny, jokes, just trying to make myself and other people laugh, stuff like, 'What's a pile of cats called? A meowtain.' Just really poor dad jokes, but they made me laugh."
But since her experimental drawing of DeLarverie, and George Floyd's death in May, Lourich says she's gotten bolder, both as an artist and activist, sharing links to petitions alongside portraits and the names of local organizations that are doing activist work, such as Urban Triage and Freedom Inc., and numbers of local representatives to call. Lourich is also an environmental researcher for the UW, working in the biogeochemistry and ecology labs, and has incorporated her love of nature into her murals, chalking out portraits of young climate activists like Greta Thunberg, Xiye Bastida and Mari Copeny.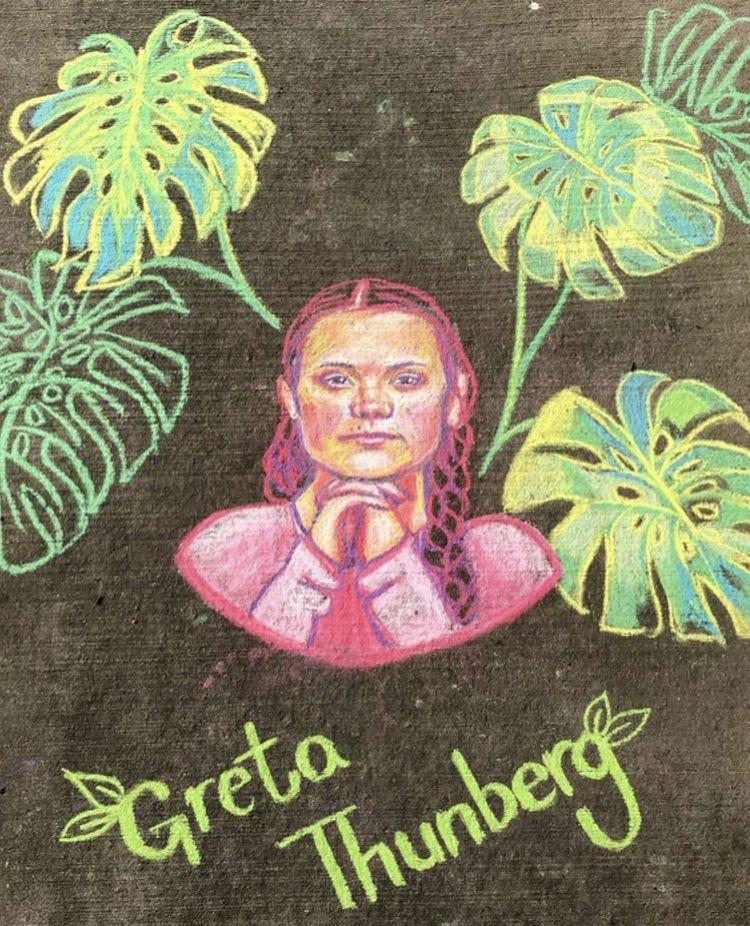 "I've gotten a little bit more confident in my drawings, but also in putting out messages that might be a little bit more challenging," Lourich said. "I've had primarily positive responses. There's some people within the police department and retired police officers who have also come and talked to me about what I've drawn and those have always been productive conversations.
"But I have had some heated conversations, mostly from friends who know I'm up for it, and I almost appreciate the hard conversations more, because I know that they're really thinking about what's being written or drawn and they still want to talk about it."
She added, "The difficult conversations are the point of art, right?"
Lourich also began a new project in the last month, where she asks the community to "Tell me your heroes," agreeing to draw a hero of someone else's if they first donate to a local non-profit that's doing activist work.
"I want to remember that this is a time for me to be listening and learning, and that's what I love about this project, that it reflects the person who presents the idea," Lourich said. She drew Ruth Bader Ginsburg two days before the U.S. Supreme Court Justice's death on a commission from one of her neighbors. "I've seen a lot of women present other women who were really at the forefront of feminism in their age. And I love that these are heroes that they have carried with them from a young age."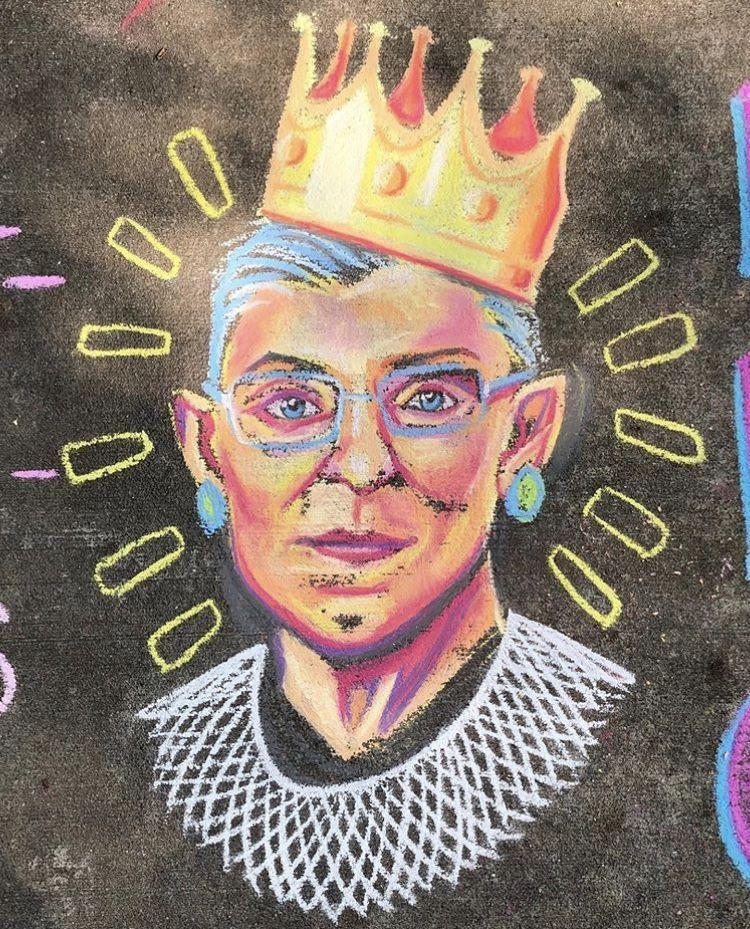 After Naomi Osaka won the U.S. Open in tennis, next door neighbor Lola Awoyinka requested Lourich do a piece on how the young athlete had used her platform to be a voice for individuals who had died as a result of police brutality.
"It was awesome to see Veronica bring that to life," Awoyinka said. "I can also say, as a black homeowner on a street without many people of color, I really appreciated seeing someone take the time to highlight issues that matter to me. To put them front and center and encourage reflection in a time when it may feel easier to look away. It has been amazing to watch neighbors I have never met gather around a new piece of Veronica's to take pictures and comment on the work."
But the heart of Lourich's art always returns to the kids in her neighborhood.
"Being close to a playground, the interactions with the kids have been so charming and I've had so many kids ask to draw with me because chalk is such in their wheelhouse," Lourich said. "I created a gardenscape that I had them add to with the question 'How do you care for your community?' Or 'How do you love strangers?' and they would write really nice things or draw pictures of their family and some kids wrote out, "Black Lives Matter." I even drew out some hands and cartoon COVID virus bugs, and the kids drew soap bubbles. These kids responses, they are very wholesome."
Lourich plans to continue with her art drawings until it gets "too cold to hold the chalk," but plans to continue with the chalk murals next spring.
"I have gotten to know more people now in the last few months than I have in my life," Lourich said. "And all it takes is sitting in the middle of a sidewalk."