For the last 67 years, people in Ghana have been able to sail into the afterlife in a plane, spice up their funeral with a chili pepper or zoom away in a carved wooden convertible thanks to the woodworking art form called "fantasy coffins." 
On Nov. 1, that tradition will be on display locally when Eric Adjetey Anang, an artist from Ghana, will be the first artist in residence at Thurber Park in the town of Blooming Grove. Thurber Park is located near Fair Oaks and Milwaukee streets and the studio is in a restored Trachte building, a prefabricated metal structure (shed) built by the Trachte Bros. Company in Madison. These sheds are common on the east side. 
Next month Adjetey Anang will move into this old Waunona Sanitary office and turn it into an art studio. During his residency he will build new coffins and other artwork. His 11-month residency is part of what will be an annual program through the Madison Arts Program, administered by the City of Madison. 
Madison Arts Program administrator Karin Wolf said Adjetey Anang was chosen from among 20 artists.
"We were looking for someone who can create a piece of public art, but we also wanted to have someone who is used to being part of the community," Wolf said. "Adjetey Anang is a world renowned coffin maker who we were lucky to have land in Madison. We thought he'd be a good artist to lean on and learn from."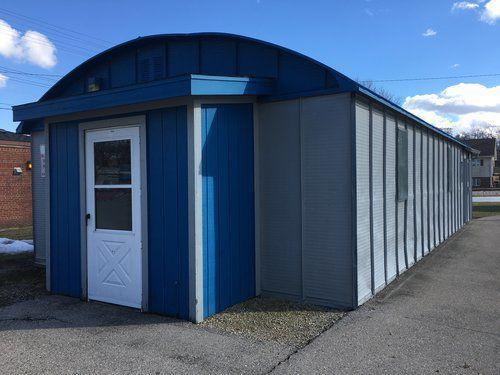 Not every detail has been worked out as the city is still finalizing contract negotiations with Adjetey Anang. The city's goal, Wolf said, is to have a public component. Future artists may start in April, as that seems to be a better fit. 
"The studio is his for the year so he can do whatever he wishes to do," Wolf said. "Our request is that he do like an open studio on a monthly basis. We hope he'll do some community workshops and more in depth workshops for people who want to learn those skills. It's an experiment in community art making."
One idea was to have whichever artist did the residency make something to display right there in Thurber Park, Wolf said. With Adjetey Anang being a woodworker, though, the art may need to be indoors. 
"We need to determine where the public art piece would be placed. We would love for something to be placed in the Darbo-Worthington neighborhood," Wolf said. "But the medium has to match the project. Adjetey Anang is a woodworker, so we're looking at where his work would be best. I'm exploring this with the folks organizing the public market. If his piece were there it would be great."
According to Adjetey Anang's website, the tradition of fantasy coffins was started by Adjetey Anang's grandfather, Seth Kane Kwei, in Ghana in the 1950's. In Ghana, chiefs were transported in palaquins, which were kind of like sedan chairs, during festivals. 
Kane Kwei had made a cocoa pod shaped chair for one of the chiefs to ride around in during the traditional festival. But the chief unexpectedly died right before the festival and they buried him in the palaquin instead. People admired the artistic coffin during his funeral. 
Kane Kwei's grandmother passed away not long after that. He buried her in a coffin shaped like an airplane so she could fly into the afterlife. After that, people started requesting unique coffins to be buried in. 
Adjetey Anang, who was born in Teshie, started helping around the workshop when he was 8. He took over the shop when he was 20. He came to the University of Wisconsin-Madison in 2015 as part of a series of artist residences at universities in the United States. 
"The studio opens in November," he told The Cap Times. "I will be working on some of my pieces. I have a couple shows to do in other states and I will be building new coffins."