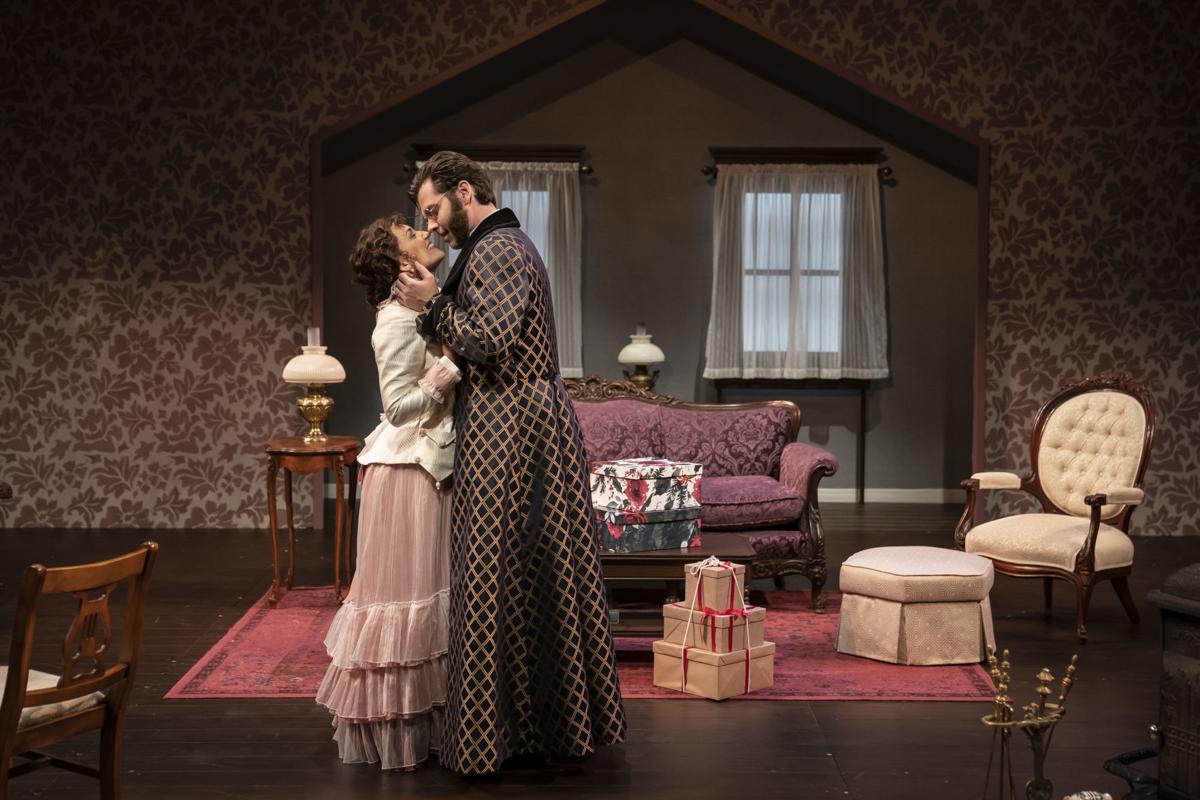 It's late in "A Doll's House" when Nora starts to spin out. In a deep red housedress buttoned halfway up her neck, she whirls downstage center, slamming a tambourine so hard against her hip she's likely to have a bruise.
This is Nora's tarantella, the Italian folk dance said to cure a deadly tarantula bite. Crazed and panting as the music plays, Nora is dancing to save her own life.
Keira Fromm directs an intensely physical, sensual production of "Doll's House," running in repertory through Oct. 6 at American Players Theatre. A new translation (2013) by Simon Stephens gives Henrik Ibsen's 1879 drama a brighter clarity and sharper focus.
Nora's transformation from twittering powder puff in the first scene to a conflicted woman in the final one may seem inevitable, 100-plus years and three waves of feminism later.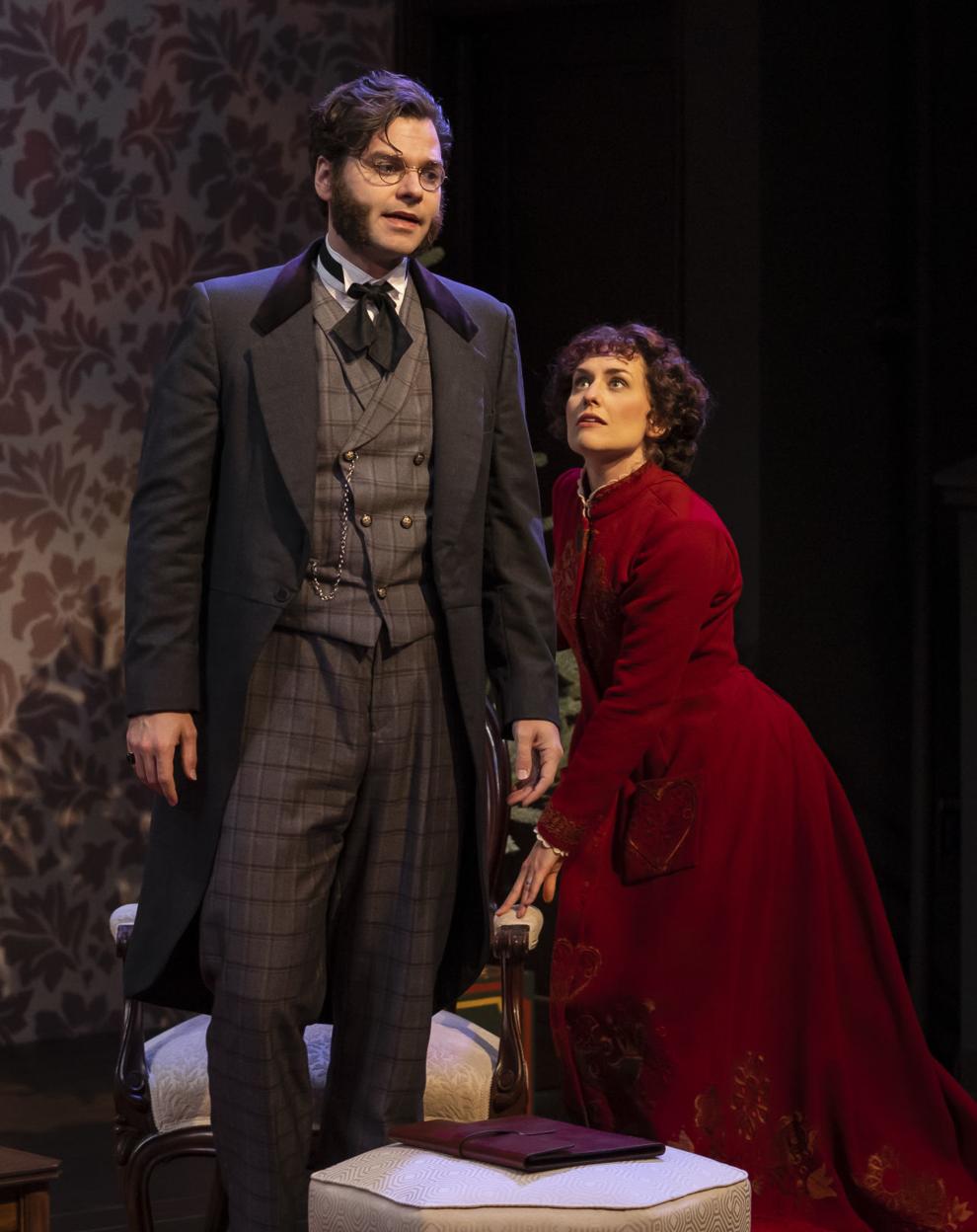 But when Nora bustles onstage with her Christmas packages, neither she nor her husband Torvald has any idea how precarious their bourgeois Nordic lives really are, and how quickly a bit of honesty might undermine them.
The Helmers, embodied by American Players core acting company members Kelsey Brennan and Nate Burger, are like a late-19th century power couple, the promising prefect married to the head cheerleader nine years later.
They have three happy kids, attentive staff, and Torvald has just landed a prestigious job at a bank. The promotion makes Nora as happy as Billie Dawn was at APT last summer — blithe and unquestioning.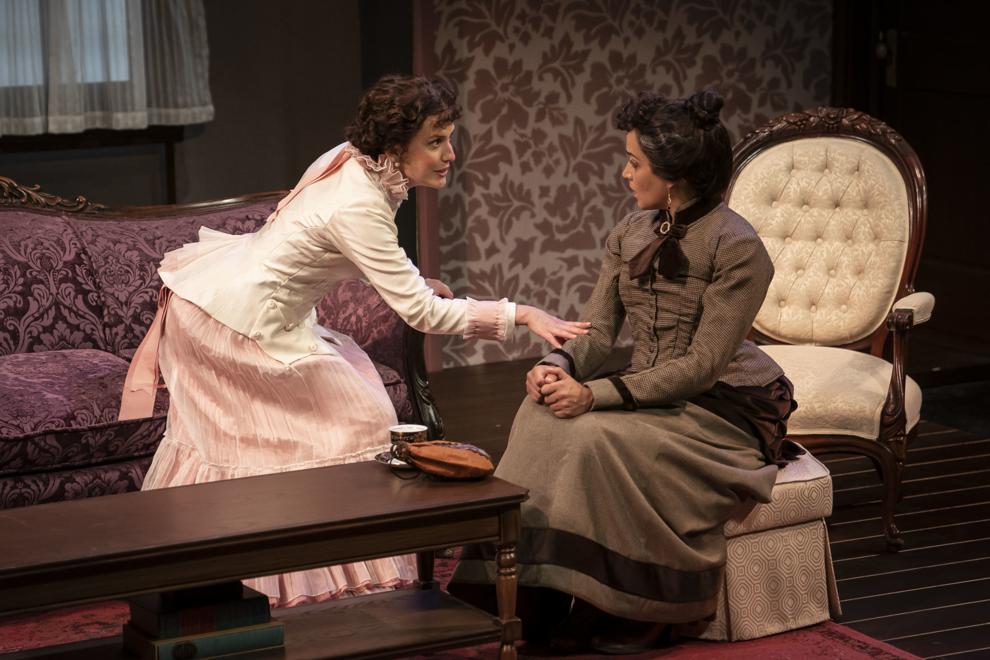 Nora is Torvald's skylark, his bluebird, any number of helpless woodland animals in need of manly protection. But if Nora's a bird, she's a caged one, trapped by a deal she felt forced to make years ago and dozens of tiny lies since to keep it a secret.
Both of Brennan's roles this season require her to keep a character's soul-shaking feelings tightly wrapped. In "Twelfth Night," Brennan wrestles with Viola's disguised love like a delicious secret. In "A Doll's House," Nora's fear that she will undermine the only life she knows consumes her from the inside.
Alone in the parlor, Brennan's eyes shift wildly back and forth, as though scanning for an exit. She looks frequently on the edge of a panic attack. She tries to distract her husband, whose moods she can sway with pouts and protestations of weakness, but what used to work doesn't anymore.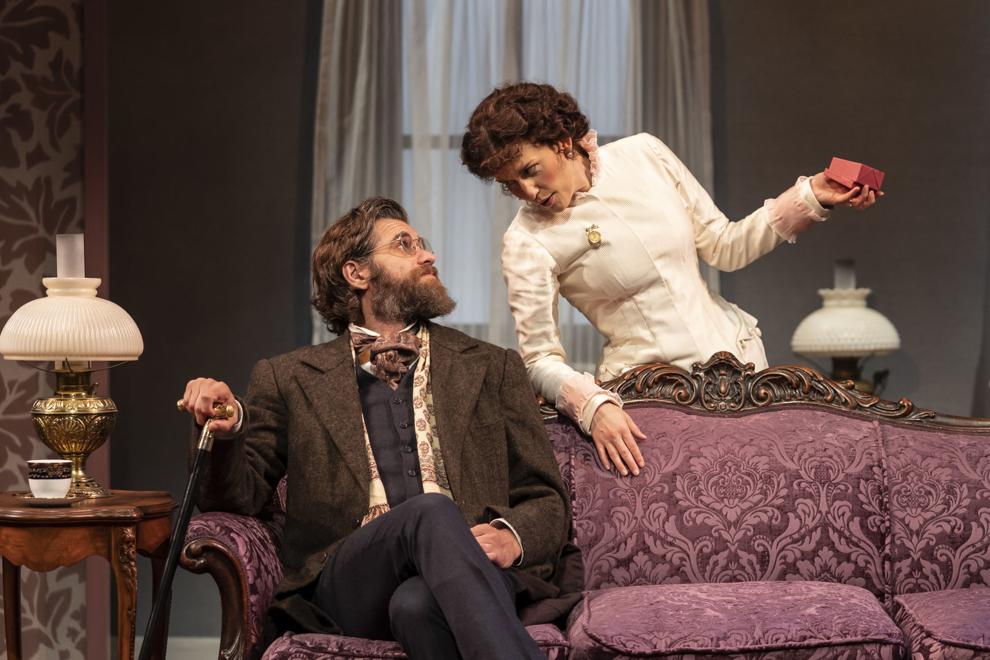 The men in this doll's house are unpleasant people on the page, particularly Dr. Rank, whose lingering illness has made him cynical and bitter. Here, Marcus Truschinski (also the title role in "Macbeth" this season) makes him almost charming. Nora's flirtatious with him, and for the first time, I get it.
Similarly, today's audience will groan and murmur at Torvald — "Has my little hamster been spending all my money again?" (Gross.) Burger, remarkably, makes the odd little condescending names sound affectionate. Torvald's a bit of a prig, but he cares for Nora. This is what he thinks that looks like.
Fromm directs Ibsen's drawing room drama with a dynamic sense of space, particularly between Nora and the men who want things from her. Michael A. Peterson's lighting design shifts ominously to emphasize Nora's feverish thoughts, illuminates the hallway like a creepy escape route, and unsettles reality on several levels. Is the couch pink or purple? Do these people know each other at all?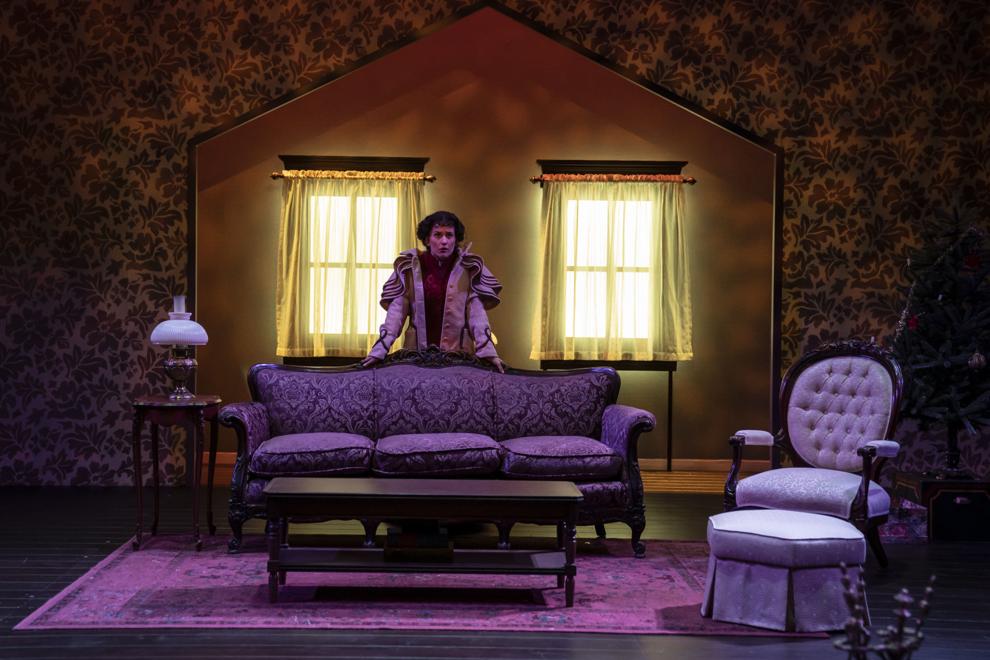 Designer Raquel Adorno's period costumes are gorgeous. She clothes Nora's unsmiling, world-weary friend Kristine (Aila Peck) in sober houndstooth gray next to Nora's cotton candy skirts. The light rosemaling detail on Nora's red dress and her "Romani girl" costume in Act III makes a viewer want to hit "pause" on the live theater, just to look at them all.
The empty promise of domesticity is safety, stability and the cozy approval of society. For Nora, who slowly comes to realize she doesn't know her own mind, it becomes stifling. If, as Nora says at play's end, she's been sharing her home with a stranger, it's partly because she's a stranger to herself, too.
Starting Oct. 24, American Players Theatre picks up the story again in "A Doll's House, Part 2," a sequel set 15 years after this play, written by Lucas Hnath in 2017.
It was "a leap of faith" to imagine Nora's future, the New Yorker's Hilton Als wrote in his review. Hnath trusted his imagination. By the end of "A Doll's House," Nora has the opportunity to do the same.