There's a touch of "Romeo and Juliet" about Madison Opera's mid-season production, a beautifully staged, heartbreaking story of two lovers in a hostile country.
Hawkins Fuller (Ben Edquist) and Timothy Laughlin (Andres Acosta) aren't blushing teenagers, though baby-faced Tim does look barely old enough for the brandies everyone's sipping in 1950s Washington, D.C. Yet with its interrogation rooms and Joseph McCarthy's fear-mongering, the world they live in is just as inhospitable to passion as fair Verona was for Shakespeare's kids.
In a pre-show talk, Madison Opera general director Kathryn Smith read a quote from the film and theater producer who first pushed for the 2016 novel-to-opera adaptation of Thomas Mallon's 2007 book "Fellow Travelers."
With a subtle score by Gregory Spears and an approachable English libretto by Greg Pierce, this production of "Fellow Travelers" feels seamless. Peter Rothstein directs with a keen eye for each character's humanity, while in the pit maestro John DeMain thoughtfully weaves one scene into the next.  
"Fellow Travelers" opens in a park in Dupont Circle, where bright-eyed young intern Tim sits drinking milk and making notes about Joseph McCarthy's wedding. Hawkins Fuller spies him like the Hawk he is, teasing and lightly flirting. Hawk gets Tim a job with a Republican senator. Tim is smitten.
Soon the two are inseparable, finding stolen moments in Tim's spare apartment and dreaming of trips to Bermuda. Hawk appears older, accustomed to using his charm to get what he wants, while Tim is both more conservative and prone to Catholic guilt. A scene in St. Peter's Church, after their first night together, features one of the opera's most wrenching arias, as the young man tries to quantify his sins.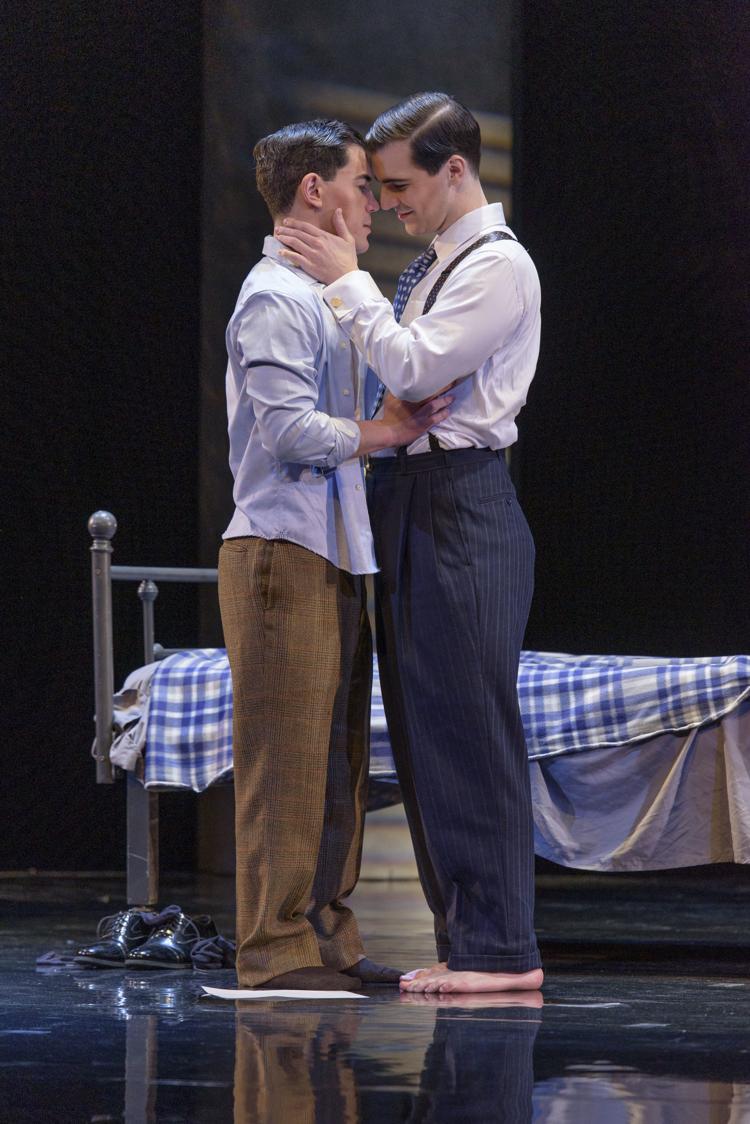 Acosta, a tenor reprising his role from the Minnesota Opera production, lets every surprise and revelation play across his face. As Tim steps into Hawk's world of political machinations and endless boring parties, the tension in Tim's shoulders and the eagerness of his smile mark him as a newcomer. Acosta truly broke my heart, particularly in his duets with Edquist. He's as compelling to watch as he is to listen to.
Edquist, as Hawk, soothes Tim's nerves with an easy charisma. It's not hard to see how he won over Mary, played by the marvelous Adriana Zabala. (Zabala's Act II aria, "I worry, that's all," is another distinct pleasure.)  
Spears' score pulses like a heartbeat as Hawk mourns the future he and Tim can never have in "Our very own home." The music is graceful as it soars with the exhilaration of new love, and even funny — Madison Opera studio artist Emily Secor and baritone Sidney Outlaw shine as a wisecracking secretary and a political puppeteer.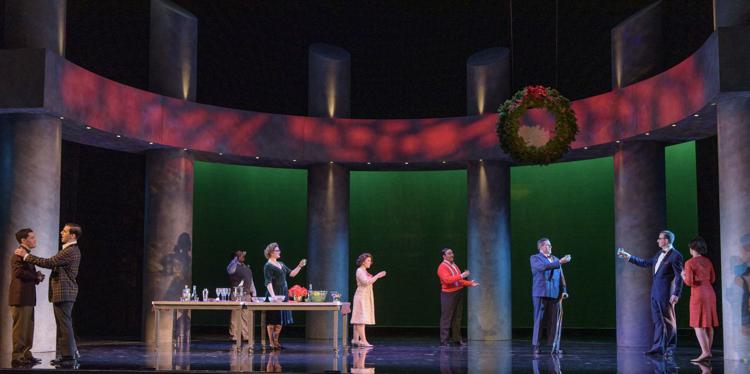 The design of this opera is a treat, with nipped-waist gowns and kitten heels designed by Trevor Bowen and jewel-toned lighting by Mary Shabatura. Scrims at the front and back of the stage lift and lower to reveal a shocking teal, like an aquarium, or bold, glowing red. Sara Brown's columnar set design evokes the outside of the Capitol while allowing scenes to flow easily in and out of a central half circle.
The Lavender Scare that sweeps up Tim and Hawk is the only real villain of this star-crossed love story. There's no way to fast forward 60 years and give them the life they deserve, with his-and-his towels and a fireplace to share.
We can know how it's going to end and still find "a certain kind of wonderful," as Mary sings, in this extraordinary opera about loving, despite everything. That in itself is timeless, like any great love story.
Stay up-to-date on what's happening
Receive the latest in local entertainment news in your inbox weekly!