Something is rotten in Thebes. With grand decrees and confident curses, the king promises to root out whatever is "burrowing its head into the flesh of our sacred land" like a tick, making everyone sick.
But as sure as the king's name is "Oedipus," we know the call is coming from inside the house.
Staging the great Greek theatrical origin stories is a passion project for David Daniel, an American Players Theatre core company member who adapted and directs this new production in the Hill Theatre, running through Oct. 9. "Oedipus" is tragedy at its most essential, a fall from grace so stark and memorable, there's a whole psychological complex named for it.
Gavin Lawrence brings gravity and believable disbelief to the title character, a king so sure of himself and his position, he swears to hold himself accountable even for his own ignorance. As Oedipus gets nearer to the truth of his circumstance, Lawrence appears to be learning it all in real time.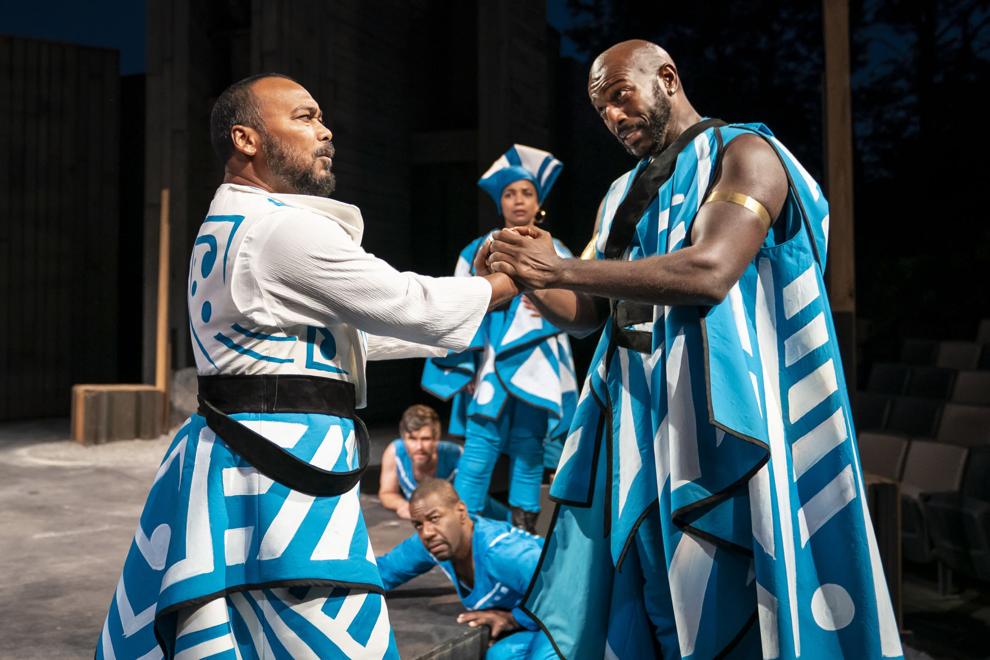 Ringing the story like a noose is a prophecy about a child, a prince, destined to kill his own father and sleep with his mother. Thebes' queen, Jocasta (Sun Mee Chomet, at once regal and deeply human), hears this and tries to stop it by sacrificing her first born. When Oedipus hears it, he puts distance between himself and his family. Nobody wants this to happen.
But the gods can be cruel, and Sophocles was writing about fate, faith and the limits of free will. The idea of a destiny we can't escape is maddening. In this case, it's kind of the point.
Translated here in more ways than one, centuries-old "Oedipus" can feel eerily contemporary, with references to "this all-hated plague." "Loved ones turn into lists, lists into numbers, numbers into numbness," says the chorus. "Lives, like leaves scattered in the wind."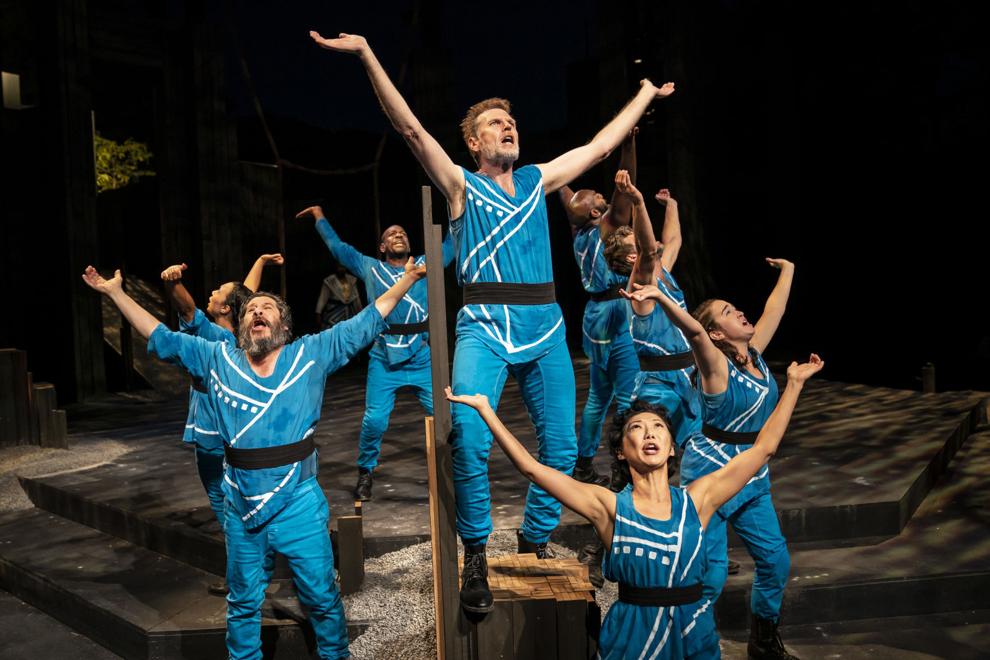 Daniele Tyler Mathews' costumes reinterpret Greek motifs in blown-up batik patterns, everyone from king to chorus in vivid teal with black, white and gold accents. La Shawn Banks adds gold around his eyes to become the blind prophet Tiresias. Corey Jones slips gold cuffs around his biceps to become Creon, Oedipus' impassioned, decent brother-in-law.
There is real disgust inherent in the "Oedipus" tragedy, and Daniel's script doesn't back away from it. Yet he finds humor, too, in Ted Deasy as an affable Corinthian convinced he's going to save the day, or Samantha Newcomb as she strikes a "tell it like it is" pose in the chorus.
What's particularly lovely about this production is twofold. First, this is ensemble work on the level of APT's "Pericles" from a few seasons ago, as smooth and agile as a corps de ballet. Among the cast of nine only Lawrence plays a single role. The transitions are seamless.
Second, Daniel's adaptation is poetic and clear. The action moves quickly. And even though we know from the start how it will end (we do, right?), the intensity of the emotion is there, and the love seems as real as the suffering.
"I love you, I love you. Live better than your father did," Oedipus tells his young daughters, kissing each one on the forehead. Oedipus is blinded, broken, destroyed, and yet see here: love is a choice.
Share your opinion on this topic by sending a letter to the editor to tctvoice@madison.com. Include your full name, hometown and phone number. Your name and town will be published. The phone number is for verification purposes only. Please keep your letter to 250 words or less.