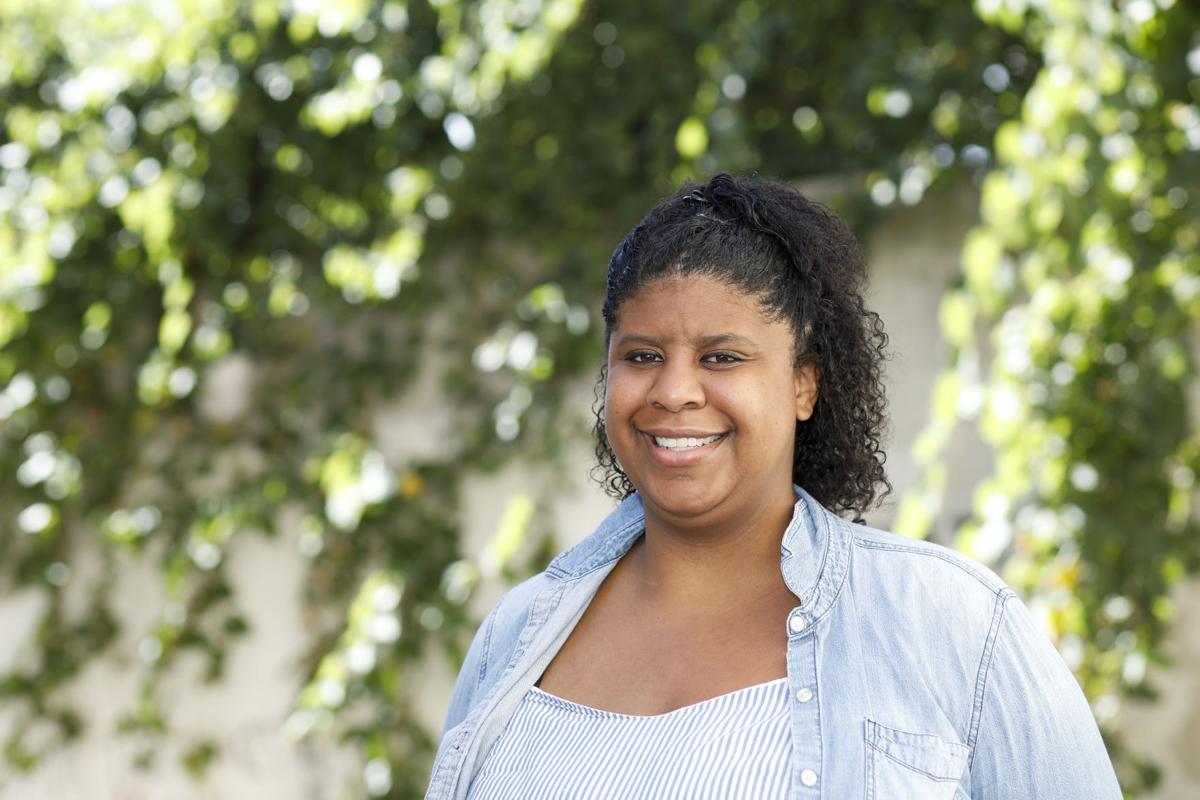 Rachel Lynett knows it shouldn't be easy to pick a favorite from among the 35 plays she's written. But her winner, so far, is "Abortion Road Trip," a 2017 dark comedy about two sisters who take a cab from Texas to New Mexico for reasons the title makes clear. 
Lynett, who has had work produced at theaters all over the country, likes to write about messy, complicated women and queer people. Her plays frequently deal with sexuality, race and gender.
In June, Lynett founded Rachel Lynett Theatre Company, which alternates readings with other events. On Sept. 5, she'll moderate a panel of fellow playwrights called "Surviving American Theatre" about "what it means to survive and thrive in theater as Black women playwrights ... and hope for what American theater can learn from the pandemic."
Originally from Los Angeles, Lynett went to school in Indiana. She worked and taught in Arkansas before relocating to Madison in January for a job at the Wisconsin Union Theater.
She works there as Rachel Spurgers and taught a course, Introduction to African-American Performance, this summer in the University of Wisconsin-Madison Department of Theatre and Drama. (Rachel Lynett is the name she uses for all her creative work.)
Lynett spoke with the Cap Times recently over video chat.
Why did you want to start a theater company?
I didn't want to start a theater company! I don't think anybody wants to. You get pulled into it.
The selfish part of it is I write a lot of plays. They get produced like once a month, which is really exciting, but theaters are like eight months behind me. So when I write something brand new, I wish there was a way to work on it. It would make the play stronger for when I submit it if I can workshop it on my own.
I live on State Street in Madison, so I had a front seat to the protests. Where my apartment is, police teargassed it so much that it got stuck in my apartment. When I tried to go downstairs to get air I had an officer point a gun at me and tell me to go back upstairs. Me and my cat were struggling, not knowing what to do.
So I already had this tension, and over the next weeks I saw theater companies releasing very vague "We stand by you!" statements. But they were also locking their doors and not letting protesters come in. That struck a chord with me.
We need more inclusive theater. We need theater that represents people getting teargassed in the streets — for Black women, for queer people. I said out loud, "We need more diverse theater!" and I looked around my apartment and was like, Oh no. Uh oh. It's gotta be me.
Have you been able to raise funds successfully during the pandemic?
With fundraising, we did really well in the beginning and we got enough money to pay the contracts of people who were helping me. I could also pay actors, which is really important to me. I don't want to ask anyone to work for free, especially since theater artists right now are all scrambling and not working. If we can't pay artists, we don't do it.
Now fundraising is mostly on me. It's a full time job and doing that on top of artistic direction, playwriting, my Wisconsin Union Theater job — and I'm commissioned right now. It's just a lot.
You mentioned you've written five plays since March? That's so many.
It's fun to say that. Part of it was because I had to. Two plays were commissions. A lot of artistic directors who work with me know I write fast, which is good and bad.
I take a block of two days for writing a play. I start and don't stop until I'm exhausted. These are my "gelatin drafts" — the bones of the play. I've been told by directors they're strong bones, strong first drafts.
It's a cliché, but where do you get your ideas?
Ideas find me. I'm obsessed with the news. In another life I would have worked in politics. Sometimes it's trying to figure out my own feelings about something, or when something pisses me off.
I'm a big fan of writing about really heavy things in a darkly comedic way. If you really want to reach across to someone with a different opinion from you, if you can make them laugh first, they're going to listen longer than if you just roll in shouting.
I'm a big fan of humanizing political issues. I get annoyed when people say, "that's a political issue!" No, that's a human issue. I try to make my plays take on human issues and also make them funny. I like to lead with laughter.
Rachel Lynett Theatre Company is all virtual right now, which means you can involve colleagues from all over the country. What are the other advantages?
As a playwright, the world premiere issue is a really big deal. Theaters all want that. Staying virtual I can say this is not a world premiere, it's just a workshop production.
We've been saying on our Zoom calls, please don't think of this as a professional reading, this is an invited reading as if we're all in a friend's house eating pizza, listening to a play. It's not meant to feel like what theater was. That's something we might keep moving forward so I'm not competing with theater companies I want to work with.
I see the virtual as an advantage. It's a way for lots of people to see the play, hear the play, and I can invite artistic directors and literary managers.
You had two plays on the 2020 Kilroys List, which highlights new plays by women, trans and non-binary playwrights. As a queer, Afro-Latinx playwright, what are your thoughts about lists like that?
In 2017 when I got an honorable mention, that changed my entire career. All of a sudden people were like, "I want to read this play, I want to read this play, I want to know more about this playwright." So the lists can be really great. They're a central place that companies look to.
These lists aren't comprehensive. The people who nominated, it's just who they know. Give people a way to weigh in, because it feels really cold and lonely being excluded, and there's not a clear way explained on how to get in.
What are you goals for Rachel Lynett Theatre Company?
If we had a live season it would have been four of my plays and one play by someone else. For one of the slots we'll do a 10 minute play festival, with works by other writers.
Eventually I'd really like it to be half and half. Then three years down the line, five years down the line, it's just one of my plays in the season and all the other slots are for playwrights who are either queer or women of color.
I want to spend some more time getting to know the community and see what the needs are. I need to make time to do that. Some of it's being new, but I need to catch up — I'm aware of how often I say "this is for the community" without yet fully knowing the community.
Share your opinion on this topic by sending a letter to the editor to tctvoice@madison.com. Include your full name, hometown and phone number. Your name and town will be published. The phone number is for verification purposes only. Please keep your letter to 250 words or less.
Stay up-to-date on what's happening
Receive the latest in local entertainment news in your inbox weekly!