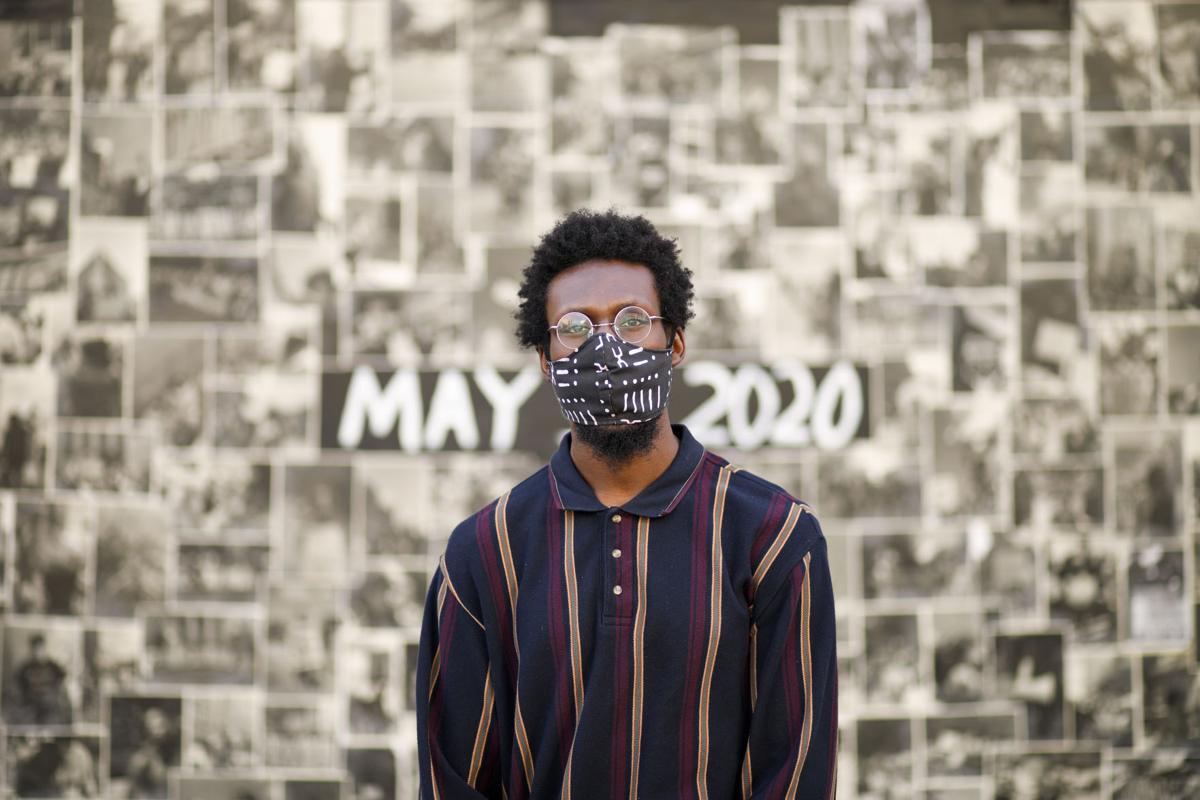 Photography was never a career option for Kenechi Unachukwu, who grew up in New Jersey and studied pharmacy in college. He casually started taking photos with friends at breakdancing competitions in 2017, but it wasn't until after college that he bought his first camera.
Unachukwu, 28, moved to Madison four years ago and works as a project manager at Epic. He has been actively documenting protests in the city, with a collage of his photos displayed downtown at the Overture Center.
What was the first topic or incentive that drew you to photography despite not having considered it professionally?
I did graphic design as my elective all four years in high school, and my very first year of doing it there was a little module where we used some DSLR cameras, took photos and had to incorporate into some design. That was kind of a catalyst. I couldn't afford a camera back then, but I stayed interested in photography, especially in the breakdance community. There are a lot of awesome photographers and seeing the work that they did, I still had a continued interest in it despite not actively doing it. When I finally got out of school and got a job, I had enough money to buy a camera and still had a couple photographer friends. One of them helped me pick out my very first camera, and I just went from there.
Protest art has been such a big topic in Madison. How has that shifted the ways you approach photography compared to what would catch your eye prior to the summer?
Clearly it's changed some of the subject matter that I photograph. It's a lot more protests and gatherings of people right now, but I don't necessarily think my approach is really different. My approach to a lot of these events has really been like a street photography approach, which is something I've been doing since the beginning of 2019. That involves getting up close to have your subject fill the frame and trying to create a sense of empathy with the subject. I'm still taking that same approach and applying it with each event that I go to.
How does the way you engage with these events differ as a photographer capturing the event, compared to just being a participant at a protest?
That's the tough part. I always try to have a camera on me, but I think it's important sometimes — especially if it's a topic you care about —  to disengage from the photography perspective to be there to protest and support. All too often people get wrapped up in trying to document what's going on and not really asking themselves, "Why am I here? Why do I do what I do?"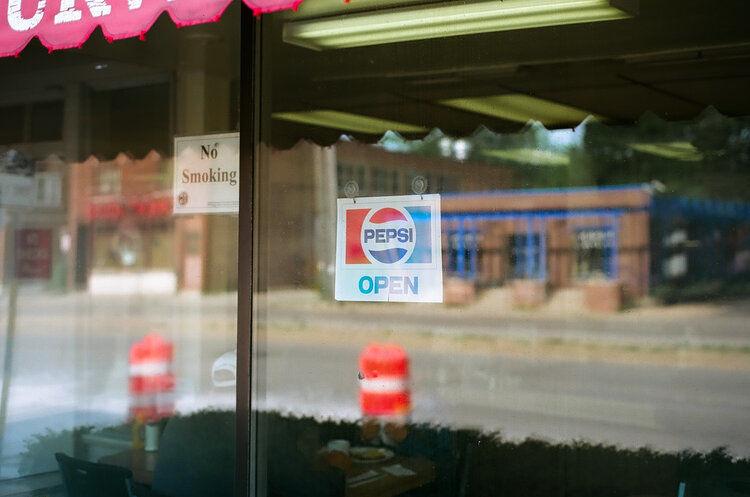 What have been some of your favorite subjects to photograph since coming to Madison? As someone who's still relatively new to Madison, what has the city come to mean to you and what do you like photographing here?
I did a project last year of basically all the different Pepsi signs around the Madison area. There are a lot on storefronts and restaurants, in Mickie's diner, the Camp Randall scoreboards. I was basically making a list and taking all the photos and culminating it into a little booklet, which was cool. There was no particular reason, apart from noticing, "Hey, there's a lot of Pepsi signs around Madison." Maybe the reason behind the project was to figure out why, which I don't have an answer to, other than Pepsi sponsoring the Badgers, but I still think it's weird that it's that prevalent.
A collage of your protest photography is up now at the Overture Center. Going through your own photos or looking at the collage, what are your takeaways from what you captured and what the protests meant emotionally to the people and city? What aftertaste do they leave for you?
I think the biggest takeaway, particularly for the May photos, is that people are passionate about getting things to happen and making things change. At the beginning of that protest, I was so focused on taking pictures and documenting it, and I remember at one point, probably marching down East Wash, I just put my camera down, walked and joined in on some of the chants. It made me have a greater appreciation, especially as a Black person, that people are passionate for this change.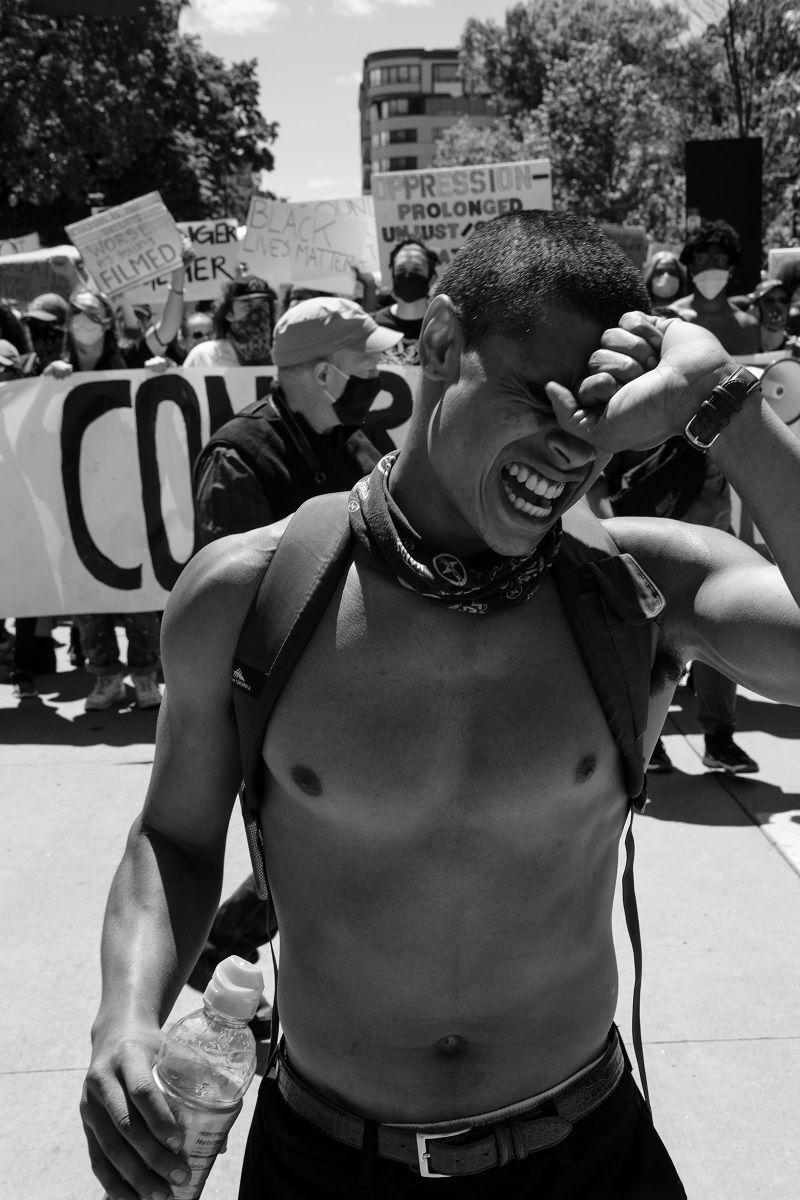 You do a lot of your protest photography in black and white. Why do you make that deliberate choice and what does it mean for you?
First of them were just in black and white film, but for the ones that were digital, I did edit them. I think it removes some of the distractions that color can have, and it draws detail to the important things. You're forced to pay more attention to the emotion that things are conveying, as well as the interplay between light and shadow and how that makes the subject more poignant.
Moving forward, both specifically to Madison and in your work more broadly, what are you eyeing to work on in the next few months?
I definitely want to continue documenting the protests and gatherings here in Madison for as long as I am here. One thing I want to say is that I'm not here for a lot of the things that happen. There are a lot of people who are out there on the streets everyday protesting, so I don't want to convey that my photography is the end-all, be-all of everything that's happening in Madison. I'm not out there on the streets everyday, and it's important to call out the people who are. I want to give a shout-out to the organizers who are organizing the events that I get to photograph at: organizers like Urban Triage, Black Umbrella, Madison Lake. Those guys are the ones who are putting in the work everyday on the streets, giving me the platform for me to photograph and people the platform to protest and say what's on their minds.
But I do want to be there to capture as much as I can from a street-photography, down close to people perspective, and bring that angle to the things that I can be there for. Similarly to the Pepsi thing, I'd love to self-publish or work with a publisher to create a photobook just documenting this time, maybe 2020 in Madison or more broadly.