Rita Mawuena Benissan takes a "big tent" view of family and culture. Or perhaps it's more accurate to say "big umbrella."
Benissan, 26, is a photographer, a cultural curator at the Noldor Artist Residency in Accra, Ghana, and a recent graduate of the University of Wisconsin's Master of Fine Arts program.
She was born in Abidjan, Cote D'Ivoire, to Ghanaian parents, came to Michigan as a baby and was raised in a Ghanaian American household by her aunt and uncle, whom she also calls Mom and Dad. When she moved to Madison in 2018, Benissan found another Ghanaian community of honorary aunts, uncles and cousins.
When a member of that community came to Benissan's Master of Fine Arts show at Arts + Literature Laboratory this past spring, she was struck by the massive umbrellas Benissan had designed. Made of what Benissan called "faux velvet" and bamboo, the umbrellas were inspired by those used by chiefs and queens in Ghanaian festivals.
"My friends who grew up in Ghana or visited Ghana ... they were like, 'Oh, my God, we finally see these here. We're so used to seeing them from far away!'" Benissan recalled. The umbrellas, used at funerals and celebrations, are "always high up in the sky, and it's very crowded.
"Being able to actually see the umbrellas face to face, see the surface and how they're made, the texture, even the size — it's just a whole different experience."
These are essential tenets of Benissan's art practice: connecting to a royal African history, personally and culturally, and making that history immediate and accessible. Benissan spoke with The Cap Times about discovering her own Black aesthetic and her dreams for Si Hene, a growing Instagram archive that could one day be a physical museum.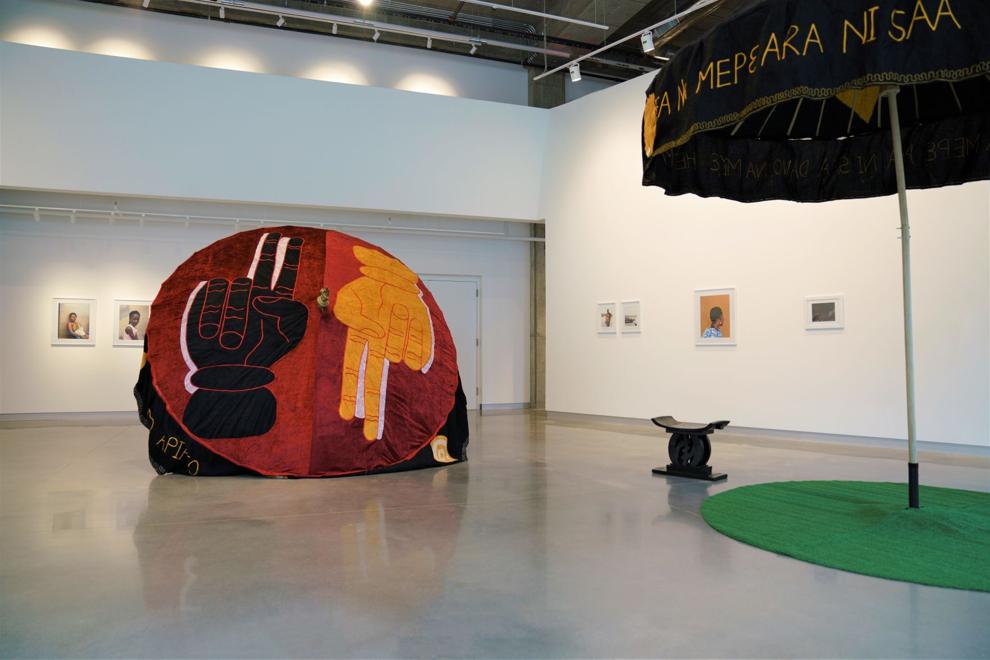 Your artistic interests are not only historic and cultural, but also anthropological. Can you talk about that?
The anthropological part has always been there. If you think about African culture, Ghanaian culture, a lot of the things that we're learning from the United States, it's like — OK, this is my culture, but I'm not in Ghana. Yes, it's your culture and identity, but how do you make it part of you?
In our house, we had sculptures my dad got from Ghana, and paintings, like a "Last Supper" with African and African American figures. In grad school, I was photographing a lot of students who are African and African American, (exploring) how they feel about their own aesthetic on campus. But I hadn't tapped into my own aesthetic. I wanted to look deeper into what truly makes me Ghanaian.
Where did your fascination with the umbrellas come from?
The royal umbrella came to me because throughout my life, my parents would say, 'You have royalty in your family.' I would know the history about it, but I didn't have any real photos. My grandfather was a traditional chief, but there's not much information about him.
One thing that I noticed in Madison was the Ghanaian Association, they always have an African Festival, and they have the royal umbrellas. I was like, this is a very interesting object. It was a bridge for me to connect my textiles and printmaking, but also being able to use photographs to capture the essence of the umbrella and the person that was under it.
That was what brought me to actually go to Ghana, in 2019.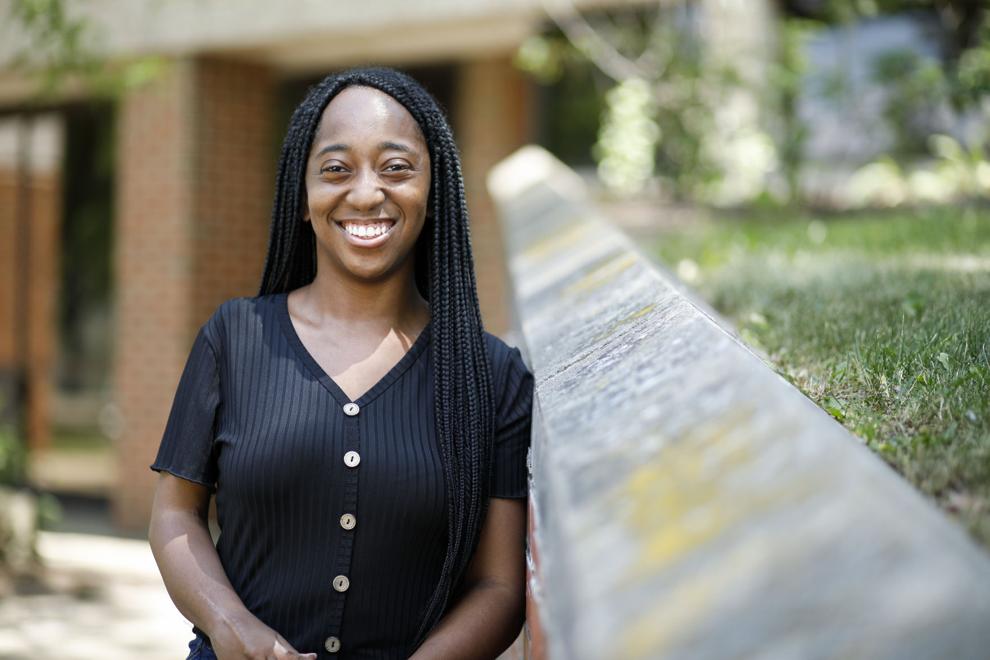 In a way COVID was a blessing. I was in my apartment, I had all these books, I had my phone and a printer and a scanner. I was like, let me just start scanning and make a digital museum. From March to September, I grew almost 10,000 followers, reaching out to individuals in Ghana, growing momentum, posting more.
Now people are saying, "OK, I can't go to a museum, I can't go into a space. But on Instagram, I just go on my phone, and all this history is accessible to me." They're seeing a different perspective on how Ghana was.
A lot of times they don't have these photos or have access to them, so how are they going to see these moments? Or even the different traditional music? You'll see documentation from other databases on YouTube, and I'm able to place those on our page. Like – Louis Armstrong, he performed in Ghana. All these different historical moments have been forgotten, but now you're able to see these photos, these videos, and embrace that moment.
How do you see your role as a cultural curator?
In a way, now, Si Hene is becoming like the messenger from the chief to his people — being able to continue those legacies on our page, and having these stories, these photos out, and continue that story. Some of the chiefs, they might not have Instagram, they might not have social media. So how do they tell their story to people who are using Instagram?
I really want to be able to be that position for the chiefs. Being able to tell these stories, that's my passion. I want to establish it physically in Ghana, where it's not just something that's online, but actually something people can go into and access exhibitions.
What's your dream for the Si Hene archive?
My dream is to have museums throughout Ghana, where people can interact with this history. I want to be like the messenger for the chiefs, the kings and the queen mothers, that their stories will continue. When I'm dead and gone, this is something that's always going to be there.
Even just having the importance of the structures, like the umbrellas, the thrones, the stools—just see the importance. In Ghana, our culture is so integrated within our daily lives that we might not take that second step to get to learn it more. Our parents tell us important aspects of it, but maybe not the deeper aspects, the deeper history of it.
So how do we combine it, go deeper? How do we make it relatable to every single generation?
Share your opinion on this topic by sending a letter to the editor to tctvoice@madison.com. Include your full name, hometown and phone number. Your name and town will be published. The phone number is for verification purposes only. Please keep your letter to 250 words or less.