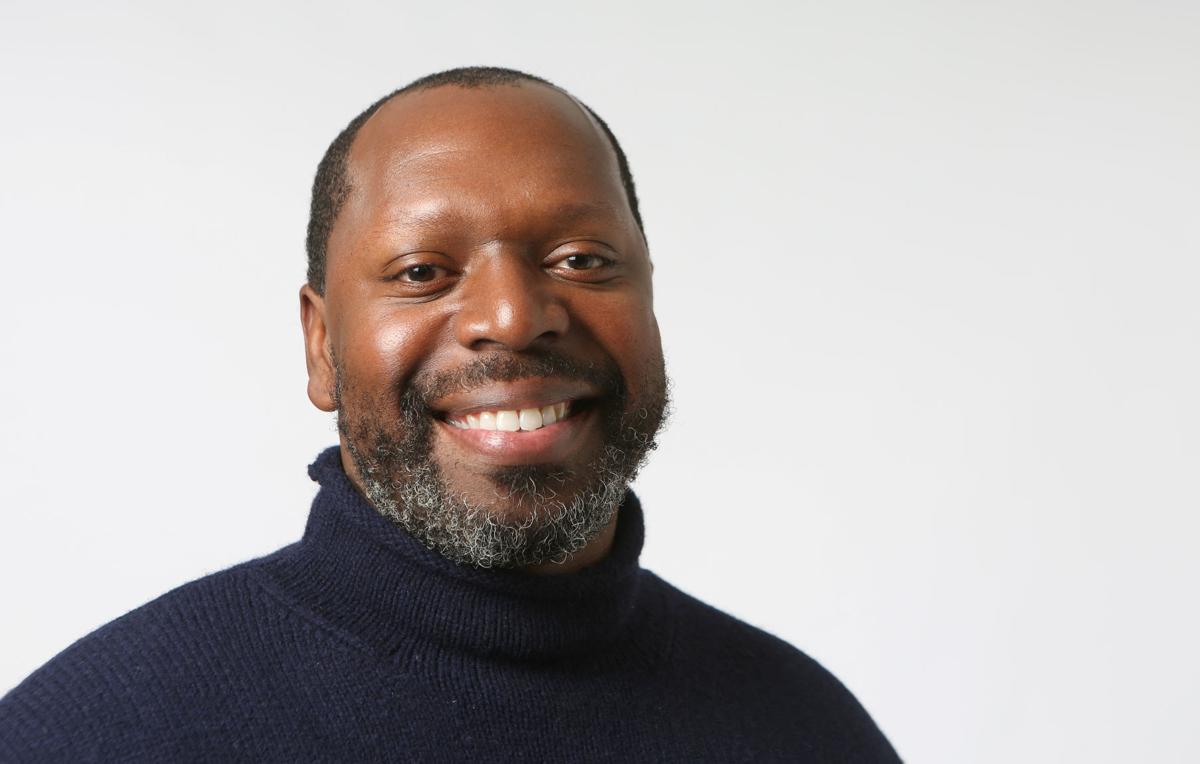 Artist Rashaad Newsome seems well-suited to be the UW-Madison's Spring 2019 Interdisciplinary Artist in Residence. The New York-based artist combines several disciplines including collage, performance, film and even computer programming, to create works that are always changing.
"I like the idea of transforming these certain elements into other things," he said. "I think that transformation could be an allegory that runs through all of the work. Thinking of trans-ness not as a sexual identity, but as a state of mind. To transgress, which I want all the work to do, and which I try to do in life."
The class Newsome is teaching at the UW, "The Gesture of Collage as Practice," brings together students from a variety of disciplines and backgrounds to experiment with collage, movement, sound design and creative coding. The underlying thread of the class, as with much of Newsome's work, is look at the power of media and popular culture to shape views of race, class and sexuality in society. Newsome's residency is present by the UW's Division of the Arts and hosted by the School of Education's Art Department.
Newsome will bring in another guest artist Hitmakerchinx, a DJ and producer who has worked with Rihanna among others, to talk and perform with two flex dancers. That performance takes place at 6 p.m. Friday at 549 Lathrop Hall, 1050 University Ave. and is free and open to the public.
The students' final residence event takes place in the same place on Thursday, April 18. Newsome described this as an "experience."
You grew up in New Orleans. Were you interested in art then?
I was. My father was an artist, not a visual artist but a singer. Me and my brother used to perform with him. From there, I went on to be in a program called Talented Art in junior high school, which I stayed in until college. That's when I started to paint and draw and sculpt. Then I ended up studying art history.
After I graduated, I moved to New York and started to pursue my career as an artist. In New York, I studied film, and after that I studied programming at HarvestWorks Digital Media Arts Center.
Performing arts, visual arts, then film and video. You started bringing that all together in your work.
It makes sense. Most people go to undergrad and then grad school. I didn't go to grad school. I kind of created my own grad school based on what I wanted to learn how to do, and then my practice is essentially made up of all those things.
You mentioned art history. I know a big part of your work is exploring how African-American artists aren't fairly represented in art history.
I think that's a dimension of the work by way of me being an African-American person. I think that's the case with any person of color. The whole idea of art as we understand it in the West is a very Eurocentric idea. As an artist of color coming into that, you immediately have to negotiate how you're going to insert yourself into that historical context.
In your work, you often turn something that's documented into movement, and then take that documentation and put it in performance. Where does that come from?
It goes back to my unorthodox training and how the practice becomes an amalgamation of all those different practices — video, performance, sound, computer programming. I think it has to do with starting with an idea and really working through that idea. When you have a good idea, and you're having an intimate conversation with your work, it will speak back to you and it will turn into other things. Now you have to learn another tool, or bring in another skill set that you have.
Like the work "FIVE." It started out from this whole idea of vogue, which is this community that I'm a part of in New York. It's this very rich cultural production created by African-American and Latino queer youth, and yet somehow none of the people who have documented it looked like the people in the community. So I wanted to create this formal portrait of two different styles of vogue.
What started out as this portrait of this dance, which was going to be a video archive, turned into a performance. I was compelled to do something more with it. And then as I'm creating this performance, I'm thinking about those technologies I'm creating over here and how I can use it.
When you create collages, is it important for each piece to have significance, or are you more concerned with the whole?
It is something that I think about, for sure. Obviously the final product is important too. But when I work with 2D, I like to work with images that already exist. Popular culture is where the pedagogy is, but if the goal is to make something transgressive and counter-hegemonic, maybe you have move away from certain hegemonic ways of looking at art.
When you move into popular art, it can be perceived as less intellectual. We need to think of the power those images have over us and how that helps form certain ideas that we have intellectually.
It also makes the work more rich. Because popular culture is more inclusive, someone who might not necessarily connect to the end product might have an entry point through one particular piece within the picture. Now you've pulled them in. It's a very subversive way to teach the viewer critical thinking.
That brings us to the class. Can you describe the course you're doing?
It's essentially using my practice as a framework to get these students to start thinking about how to work in an interdisciplinary way. What was really important to me was, "What do you want the kids to walk away with? What's going to help them in life?" I think it's the gift of critical thinking. Without that, you can't make any artwork that's truly that interesting, no matter how technically proficient you are.
We started out with bell hooks' theory of the capitalist, imperialist, white supremacist patriarchy. She believes that these are all society structures that work together to oppress all people. You can't abolish one without abolishing the other ones.
We worked in a lot of different magazines, and I had them pull images that they felt speak to the theme. They made collages and they critiqued the collages, and it was such a great conversation.
I just felt there were so many conversations that needed to be had that weren't being had. My class is almost 50-50 black and white, and there was a clear divide. I was like "Okay, we're going to shut this down." And I felt the collages really helped to push through that. To be honest, I was really impressed by these kids, what they had to say and the way they were thinking. They gave me a lot of hope in some ways.
They'll do many individual exercises over the semester, but the final project we're approaching as sort of a lab, and that will be a collective project. There's teams within the labs specifically made up of people who don't know each other and don't have a certain amount of commonality. I just love that. It proves that the class is working. In many ways, this class is an experiment.
It will be what they have made throughout the semester. It's going to be an exhibition that's collectively designed. Actually calling it an exhibition isn't really fair, it's more of an experience. There'll be performative things, there'll be video, there'll be objects.
I've been keeping it open because I want them to express themselves. I'm giving them the tools to build the house. How that house gets built is really on them.
It's kind of like what you've done your whole career, but with more of a guided structure than you had.
Totally. I was kind of doing it rogue. I feel like they really appreciate it. I don't think that approach is happening a lot in universities. I visit a lot of universities, and I see a painting, and then I see a sculpture, and then I watch a video installation. And those silos just don't exist in the artists' minds.