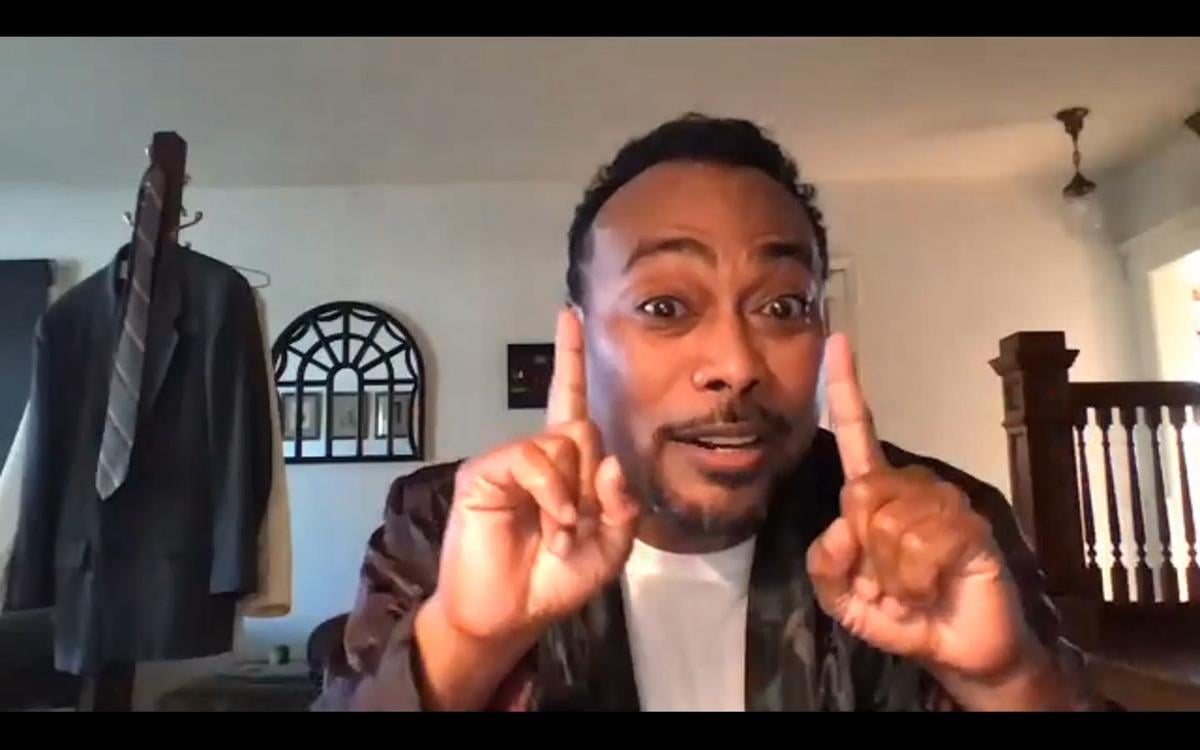 On the night before his trial, Langston Hughes is rehearsing. Joseph McCarthy's Un-American Activities Committee has accused Hughes of being a communist, and he's got to testify on his own behalf. Politics for artists, he says, can be dangerous.
"Politics in any country had better be disguised as poetry," Hughes says. "Politics can be the graveyard of the poet. And only poetry can be his resurrection."
As Hughes, Gavin Lawrence takes center screen in American Players Theatre's reading of Carlyle Brown's play "Are You Now Or Have You Ever Been...," set to post publicly on PBS Wisconsin on Friday, July 10.
This is a role Lawrence performed at the Guthrie Theatre in Minneapolis in 2012, with a playwright he's worked with for years — locally, APT staged Brown's "The African Company Presents Richard III" in 2016. David Daniel, an APT core company member who recently featured in a Chekhov mini-comedy and "As You Like It," directs.
Lawrence, as Hughes, seems agitated as he addresses his unseen audience, but he finds space for a little education and humor. Writing for white and Black audiences is an unenviable, near-impossible task, he says. His aim is to "please you, entertain you, shock you a little." Next to the screen where Lawrence changes his jacket and pauses to type, we see a projection of the poem he's laboring over:
"Sometimes there's a wind in the Georgia dusk/ That cries and cries and cries/ Its lonely pity through the Georgia dusk/ Veiling what the darkness hides."
The first section of the play feels like an intimate salon with the great poet as the wind howls outdoors. The second part is colder and much more unsettling.
Suddenly white faces fill the stage, the congressional accusers with their own agenda. Jamal James (from last year's "She Stoops to Conquer") plays Hughes lawyer, Frank Reeves, looking guarded and protective as the committee demands that Hughes explain and defend his artistic work.
Where "Are You Now" lifts and spins into the air is Hughes' poetry, in lines that ring and resonate. It constricts again in the courtroom as senators badger him, asking questions no person could answer truthfully. Brown drew this from the 1953 historical transcript, shortening the "boring, repetitive badgering" of Hughes to something more distilled and powerful.
Of the video-play readings APT has produced to date, "Are You Now" most vividly parallels the isolated experience of watching. Hughes tells us fiction is essential — it is not frivolity, it is life. Stories are the keys to life and road maps to our very being. Yes! I thought, clapping my hands as I watched alone in my kitchen.
The filming of "Are You Now" took place following a week of protests led by the Black Lives Matter movement. In a talkback following the reading, playwright Brown referenced the "ongoing conflict of living in America as Black people."
"Most people in America, when they talk about race, they have absolutely no context," Brown said. "I wanted my contribution to be, like the legacy of Langston, that activist tradition of writing. And African American stories in history are just fantastic!
"It's not a story about victims. It's a story of heroism and imagination and ingenuity and resiliency."
Share your opinion on this topic by sending a letter to the editor to tctvoice@madison.com. Include your full name, hometown and phone number. Your name and town will be published. The phone number is for verification purposes only. Please keep your letter to 250 words or less.
Stay up-to-date on what's happening
Receive the latest in local entertainment news in your inbox weekly!