In front of the outdoor stage at American Players Theatre, a quartet of seats quotes a broken line from "As You Like It." Life in the woods, Shakespeare wrote, offers "tongues in trees, books in the running brooks, sermons in stones and good in everything."
This fall, APT has interpreted that line literally. If These Trees Could Talk, running weekends through Oct. 18, takes visitors on a two-hour tour of the APT grounds and theater. Set to poetry read by APT actors and stories of their experiences on the hill, it's a way to revisit memories of stories past, led by familiar voices.
The tools for these tours are not dissimilar to what patrons need for any APT show: a good pair of walking shoes, bug spray and/or sunscreen, a bottle of water. The company has opened the grounds for picnics (though grills aren't available) and the bathrooms are open as well.
Visitors should bring a pair of comfortable earbuds to plug into a basic MP3 player provided by APT. Masks are required for all tours, though walkers stay in their own small groups. Tour times are limited to eight people and depart every quarter-hour.
APT has adapted the experience for people who want to walk less, who would rather visit at night or prefer a ride up to the theater in a golf cart.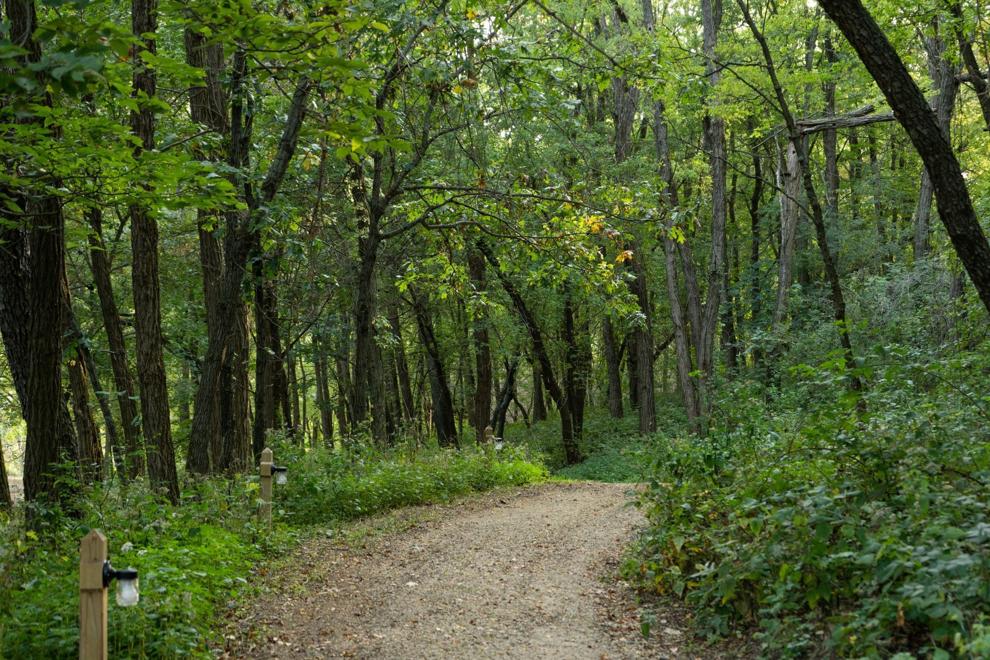 "There is no right way to experience this walk," artistic director Brenda DeVita writes in her program introduction. "The only thing you need to do is be here, now.
"Take a breath, look out to the trees and press play."
Starting in the woods on a Saturday morning, my partner and I held up our MP3 players and started the audio at the same time. Sarah Day, a member of APT's acting company since 1986, serves as the narrator. She acknowledges the Ho-Chunk land, and several of the poems that follow are credited to Indigenous people.
Both acts of If These Trees Could Talk set off from John's Place, an enclosed shelter at the base of the path to the Hill Theatre. We set off first toward the Touchstone Theatre on the Oak Savanna Trail. I recognized the voices of Brian Mani and Jim Ridge, Melisa Pereyra and Colleen Madden. There were new voices too, like Isabella Star LaBlanc, and actors from previous seasons, like Jamal James and Alys Dickerson.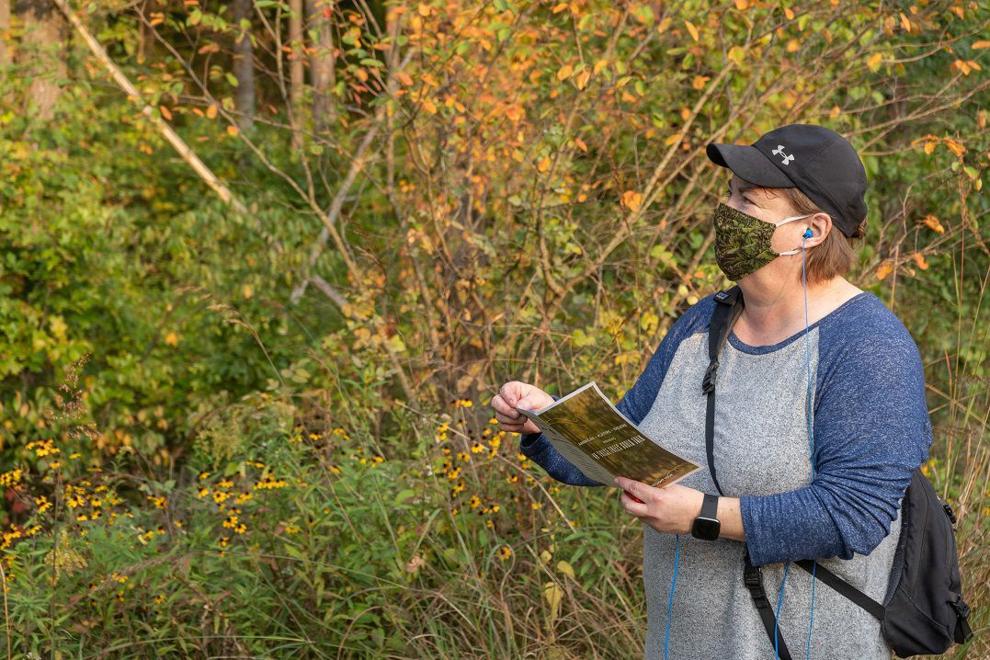 Parts of the text were lyric and evocative, passages about breezes and dew, "ghosts lurking in the branches of our history." Others were conversational, making us stop and laugh out loud. I loved a funny, exasperated passage read by Kelsey Brennan. We, the hikers, were often within view of one theater or another, but her character was lost and at her wits' end.
"No one ever told me it wouldn't be marked along the way, and so I left my map and light at home," she says. "My clothes are not appropriate and not in a sexy way."
The trails and paths that snaked through these woods were gentle, and most walkers would be more likely to pause to look at the prairie than catch their breath. It was a quirk of timing that one of the few moderate climbs on the Walk on the Wild Side trail coincided perfectly with building drums underneath the spoken lines.
"There's a lyric in California/ where thousands of students march for blocks / undocumented and unafraid," Pereyra's voice thrummed in my ear. "Where my friend Rosa finds the power to blossom/ in deadlock, her spirit the bedrock of her community."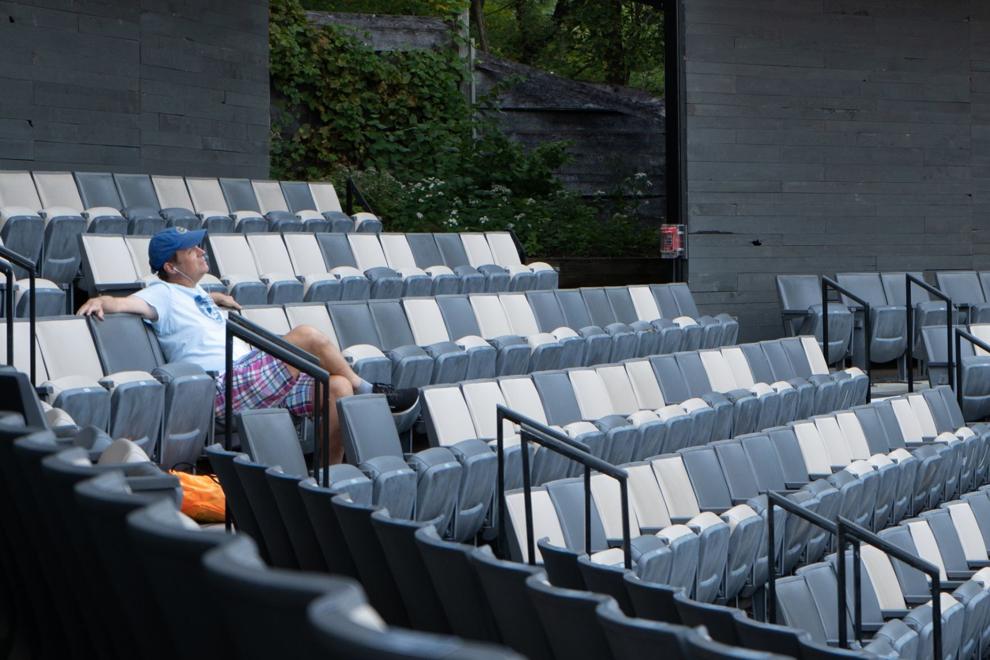 Natural wonder and nostalgia
Back at John's Place, Act II brought us back to Shakespeare and to the paths we knew from previous summers — the route to the Hill Theatre. We found seats in clusters of twos and threes, spread across an 1,100 seat amphitheater in front of the empty stage.
As we sat alone together, the actors reminisced about what it's like to perform Shakespearean speeches in the open air. I watched my partner cringe as David Daniel described a "sheet of mosquitoes" (shudder) on the back of a fellow actor, and Pereyra, who is quite allergic, recalled bug bites the size of goose eggs on her forehead during the summer she played Juliet.
Their stories intertwined and overlapped. Madden had a breakthrough about a character, thanks to some wild visitors on her path to the stage. Brennan saw a ghost. A tree frog stole the show from Jim DeVita in the middle of a monologue.
In concept, If These Trees could Talk is a different kind of performance. The Act I script combines work from some two dozen writers, and the second half is a behind-the-scenes story time. 
In practice, If These Trees Could Talk feels like a moving meditation. It's both new and old, grounded in natural wonder and nostalgia. While the stages stay empty, this is a gift.
Share your opinion on this topic by sending a letter to the editor to tctvoice@madison.com. Include your full name, hometown and phone number. Your name and town will be published. The phone number is for verification purposes only. Please keep your letter to 250 words or less.