Make a face: Anwar Floyd-Pruitt
Anwar Floyd-Pruitt has made thousands of faces. Each one is a single, unbroken line tracing eyes, ears, lips and a nose in pen and ink or silicone caulk.
It's a quickly repeated self-portrait, an evolving, abstract sketch of how he looks to the world at any given moment. In one vigorous period of art-making, Floyd-Pruitt drew so many of these faces that pain in his forearm forced him to stop.
The gesture looks nearly effortless now. So he was mildly surprised when he asked teenagers to trace their own faces roughly in a mirror, and they struggled a bit with how they thought it should work.
"When I've led youth through this process, many of them were disappointed with the results," Floyd-Pruitt said. "It doesn't look like them. And they are holding onto a very institutional, historical version of what an artist is and what an artist does. The artist as the genius, creative mind.
"The best artists I know are brilliant, but they're also well-practiced. They've done these things over and over and over."
Floyd-Pruitt, 41, has built his artistic practice around all of these elements — thought, technique and repetition, his own private work and wider community engagement. He recently started his second year in the University of Wisconsin-Madison's MFA program, focusing on 4D art, which includes video and performance.
"He's really, truly a mixed media artist," said Gail Simpson, a sculpture professor at UW-Madison. "He's hard to categorize because he works in so many materials and processes. He has a background in sculpture, video, performance, painting, drawing.
"He still does all of those things, and the work seems to always be a coherent whole no matter what process he's working in."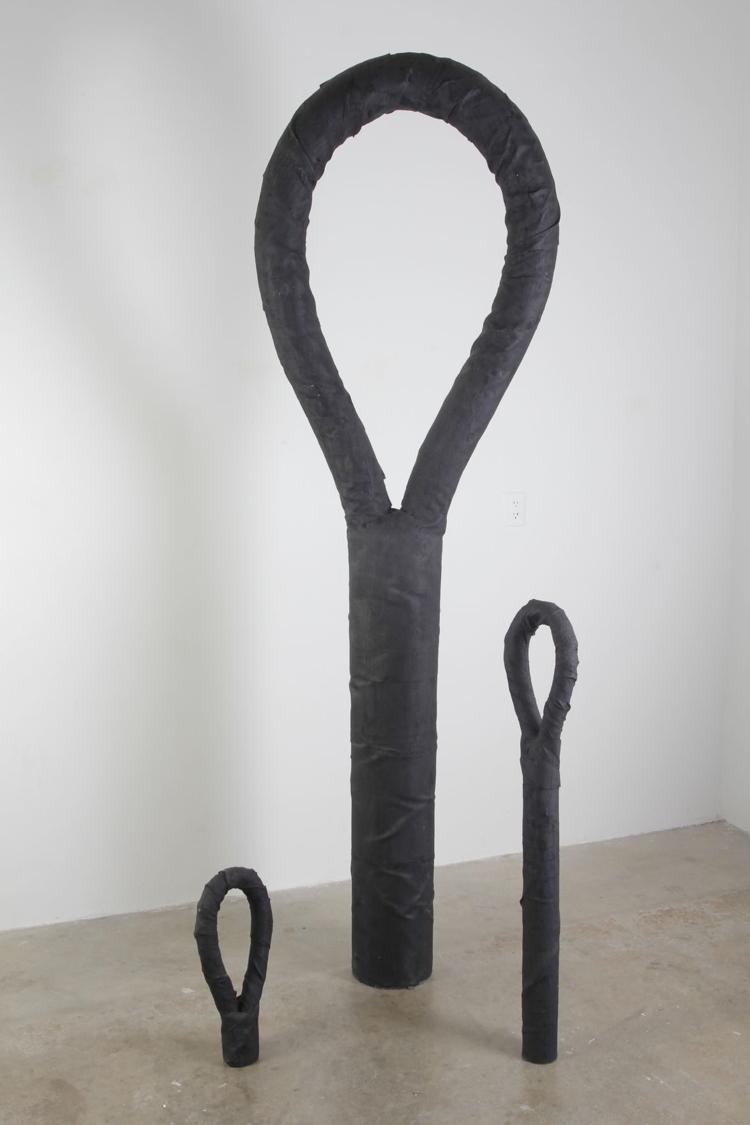 A Milwaukee native, Floyd-Pruitt came to art after a psychology degree at Harvard University and a career in New York as a marketer for high-end alcoholic beverages like Chivas Regal. But the lifestyle drained him.
"I stopped seeing people as people," he said. "I started seeing them as consumers."
Floyd-Pruitt returned to Milwaukee and turned toward art and community service. He discovered a love of sculpture while getting his BFA at University of Wisconsin-Milwaukee's Peck School of the Arts. At the same time, he was working with Express Yourself, which brings arts immersion programs to at-risk and incarcerated youth.
Floyd-Pruitt's work with those teens underpins his artistic practice now in both overt and subtle ways. He likes "the democracy of cardboard." He uses recycled materials, turning paper bags into little booklets where he jots down what he hears and sees.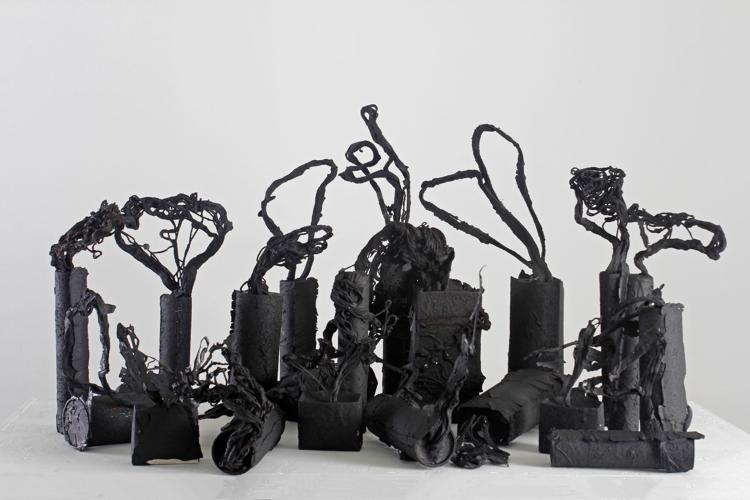 He's interested in how to take a process like self-portraiture and make it community oriented, and how young people can use visual art processes to reimagine their identity and future.  
"I can't make the change for any of the youth I work with but maybe I can give an assist," Floyd-Pruitt said, "share my perspective, share my skills, share my energy, my sense of hope."
His work with teens has influenced the content of his art, too. "Black Pain," an abstract trio of assemblage wall pieces, was featured in the Milwaukee Art Museum in 2013 in conjunction with "30 Americans."
Among Floyd-Pruitt's previous sculptures is a trio of free-standing, upside down nooses, coated in black latex-ite ("We Become," 2016). A cluster of black cylinders look like they've just exploded ("State of Shock," 2016) and a large, curving hook bristles with wooden shims ("Natural Reaction," 2016).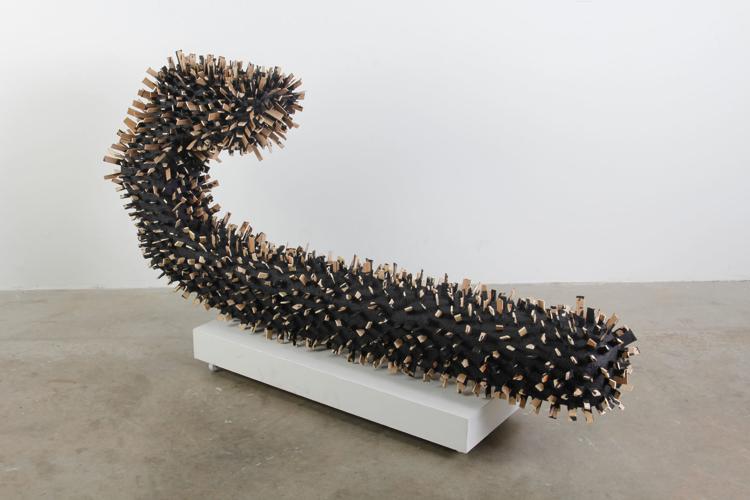 Floyd-Pruitt made these in response to the Sherman Park riots in Milwaukee that spring. For "Wheeled," he wound together chicken wire, garbage bags, duct tape and zip ties. On the upper left side of the piece, a face seems to look up with tears running down.
"It's about feeling trapped in the hood," he said. But when he shows the piece, "I still don't know how that trickles down to the community that inspired this work."
Creating art in Madison "has changed my work from explicitly looking like it deals with identity politics," Floyd-Pruitt said. "It doesn't deal with the same themes in the same way. When I make work that's explicitly about the black community, I'm going to make that work for the black community as the audience … it doesn't make sense in a gallery, being discussed by white academics."
On a recent morning, Floyd-Pruitt sat in his studio on the seventh floor of the Humanities Building and again traced the outline of his face. He closed one eye. The mirror moved a little in his hand.
"The mirror shifts and wobbles and I think our identities do the same thing," he said.
gnflsjdNGlk/XN CFV/lk nzXDVlj/