By all means, brush up on your Shakespeare before seeing the delectably zany new musical "Something Rotten!" at Overture Hall this week.
But make sure to study all your Broadway show tunes as well.
With its Elizabethan costumes and setting, the 2015 Tony-nominated musical may look like "Masterpiece Theatre," but its heart is on the Great White Way. References to "West Side Story," "Annie," "Cats" and dozens of other musicals fly at the audience like a tsunami of Playbill magazines. Your humble scribe thinks he caught most of them, but judging by the roars of recognition around him, missed a few.
With music and lyrics by Wayne Kirkpatrick and Karey Kirkpatrick, and a book by Karey Kirkpatrick and John O'Farrell, "Something Rotten!" is a fast-moving and exuberant musical comedy in the vein of "The Producers" and "A Funny Thing Happened On the Way to the Forum," a crowd-pleaser that sends everyone home grinning.
It's 1595, and brothers Nick and Nigel Bottom (Matthew Janisse and Richard Spitaletta) are struggling playwrights living in the shadow of William Shakespeare's rock-star status in the theater world. They're the Puddle of Mudd to his Nirvana, unable to draw any respect or an audience, as Nick grouses with Paul Giamatti-level exasperation in "God, I Hate Shakespeare."
Facing bankruptcy, Nick hits upon an idea. He'll visit a soothsayer (Greg Kalafatas), who will tell him what the future of theater is, so Nick can stay one step ahead of the Bard. And the future of theater, as everyone sitting in Overture Hall watching "Something Rotten!" knows, is big, brassy Broadway musicals. As the soothsayer explains what a musical is to the skeptical Nick in "A Musical," the six-minute song becomes a high-energy, tap-dancing meta- extravaganza that both sends up the musical and pays affectionate homage to it.
While Nick is scrambling to create the first musical centuries before its time, sensitive poet Nigel bemoans that the brothers aren't working on something more personal, especially since Nigel's poetry has won him the ardor of Portia (Jennifer Elizabeth Smith). She's the daughter of the stern local Puritan leader (Mark Saunders), who of course hates both music and theater.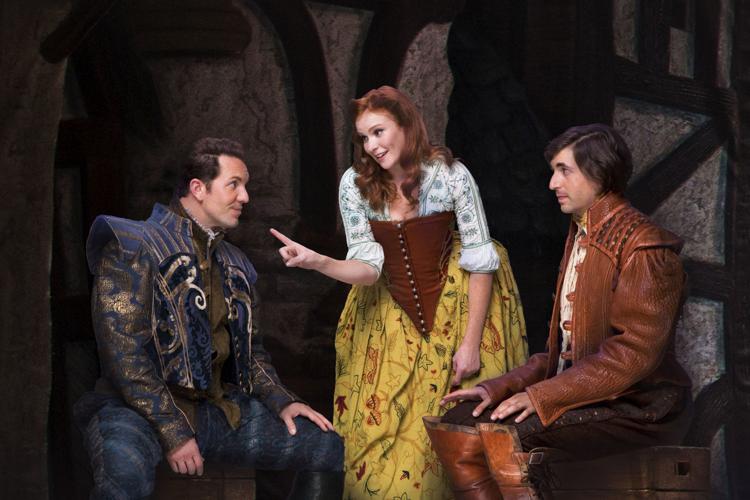 Complications ensue, especially when Shakespeare himself (Matthew Baker) gets wind of the Bottoms' plans and tries to sabotage them. The show wisely holds back Billy Shakes until the end of the first act, because he's such a treat, with Baker playing him as a spectacularly arrogant celebrity in love with his own genius. ("You're 'bedazzled.' Do you like that word? I just made it up. It's what I do.")
I won't spoil all the twists and turns, although when we finally do see Nick's idea of a musical in the second act, it's a riotous mishmash of Broadway tropes that bookends "A Musical" in the first act.
There's probably a serious theme at the heart of "Something Rotten!" that resonates with modern theater, about the tension between chasing what you think the audience will like and doing what comes from the heart. The plethora of revivals, jukebox musicals and movies-turned-musicals in theaters seems like the fallout from a focus-group approach to making theater.
"Something Rotten!" simply turns that impulse up to 11, playing on audience familiarity with both Shakespeare and Broadway for a lot of its jokes. But the show is so ecstatic and cheerful, with a talented cast and ensemble (including Middleton's Brian Cowing) that you can miss both the "To be or not to be" reference and the "Newsies" callback and still have a great time.
As the Bard himself said, "all that glitters is not gold." Sometimes it's sequins and gold lame.