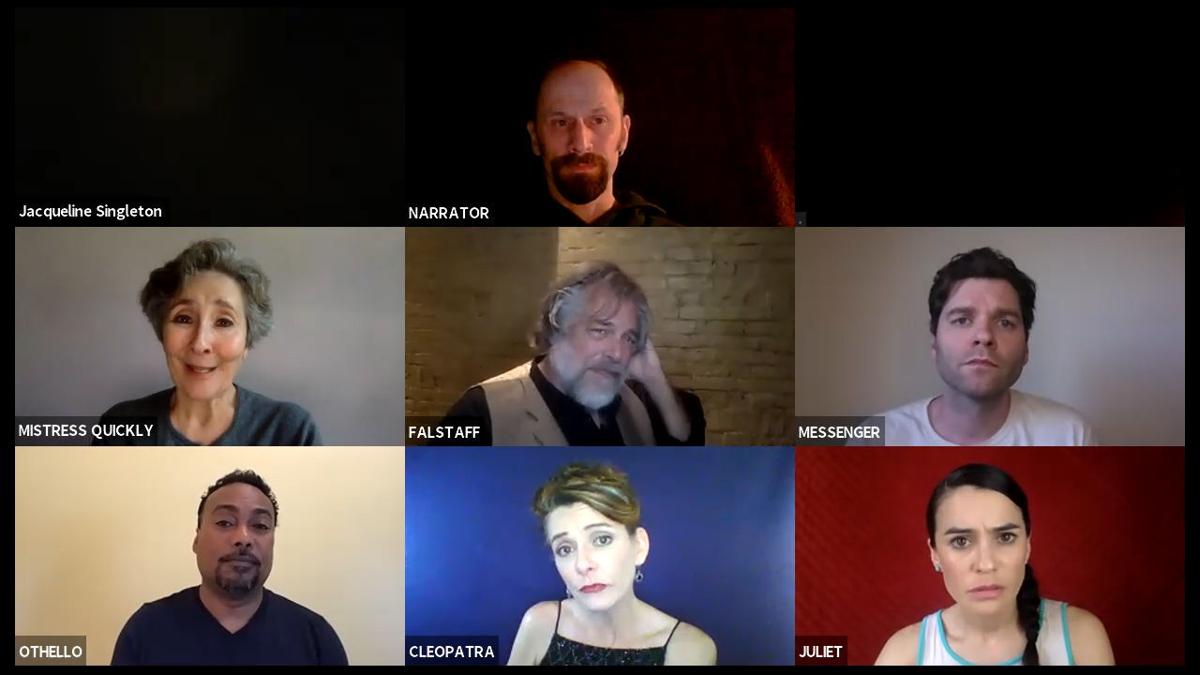 These days, a lot of us feel like Falstaff. Irritable, a bit maudlin. Drinking too much.
"A pox on the plague!" the roguish knight exclaims toward the beginning of a new Shakespeare-inspired play. I raise my glass to him. "An Improbable Fiction," debuting Friday, July 17 at 7 p.m. on PBS Wisconsin, is full of the Bard's lines, restructured and recast expressly for these pandemic times.
Fresh from his debut at Asolo Rep in Florida, the author, director and veteran classical actor Jim DeVita spent "three weeks of moping around the porch" earlier this spring. His wife Brenda DeVita, artistic director at APT, was "trying to get me out of my misery," he explained in a talkback after the reading. She thought he should write something about what was happening in the world, this unsettling, dangerous moment.
He brushed it off. Who wanted to listen to sadness? She suggested, half-jokingly, that he write a play about Shakespeare's characters being out of work, just like they were.
"Suddenly it didn't sound so crazy," he said. He pounded out a rough draft in three weeks. The cast developed it over the next two months, working remotely via video conference with director Tim Ocel.
Jim DeVita describes "An Improbable Fiction" as "a play about friendship." The title is drawn from "Twelfth Night" and refers to a surprisingly successful prank. This play is more drama than farce, but it's witty, and there are elements of comedy as Shakespeare's characters object to how he wrote them.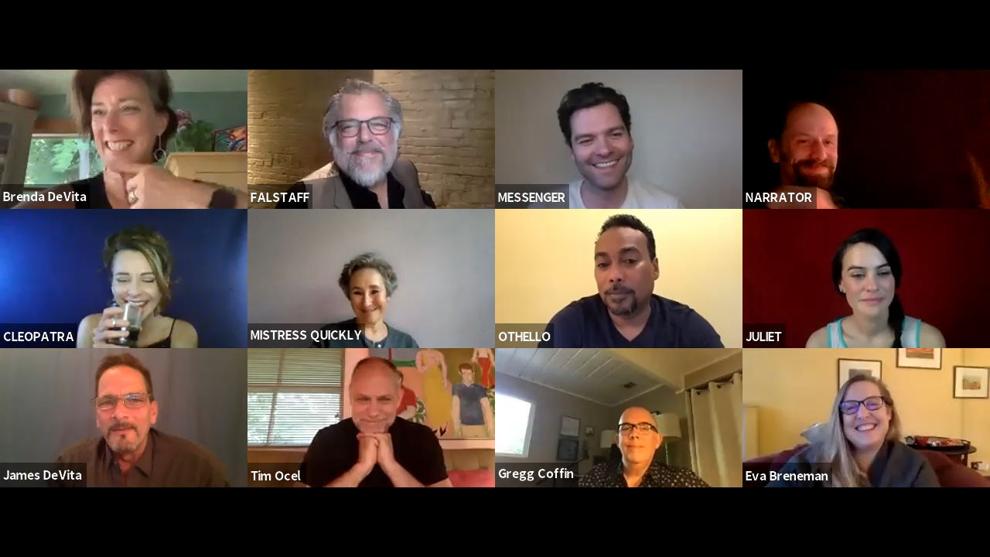 This motley, time-crossed group is in self-quarantine at a pub run by Mistress Quickly (Sarah Day), a matronly character from several of the "Henry" histories. The blustering Falstaff (Brian Mani) is a regular, and he'd fit right in with the guys in "Iceman Cometh." Like them, Falstaff is parched for companionship. He spoils for fights but his health, as in "Henry IV," is failing.
Soon enough, they've got company. Juliet (Melisa Pereyra) bursts in, anxious and distracted. Cleopatra (Tracy Michelle Arnold) is furious, sobbing and looking for Mark Antony, who's made his way to a rival playwright's quarantine pub. Othello (Gavin Lawrence) shows up too, as does his famous strawberry handkerchief.  
Together, they fret about what's going on outside, and the future of the craft — maybe they can tour a comedy like "Merry Wives?" They begin to weigh when it's worth going out and risking infection. For love? For revenge? For medicine?
DeVita seizes the opportunity to show us different sides of characters we think we know. Juliet without Romeo; Othello without Iago or Desdemona. Pereyra, as Juliet, is particularly refreshing, tired of being paired up all the time, determined to reframe her narrative.
Their frustration seems to echo our own. "The entire canon is closed!" declares Nate Burger. Burger plays the messenger in all of Shakespeare's plays — those apprentice/intern parts, with names like "musician" or "herald" or "Cypriot gentleman number four."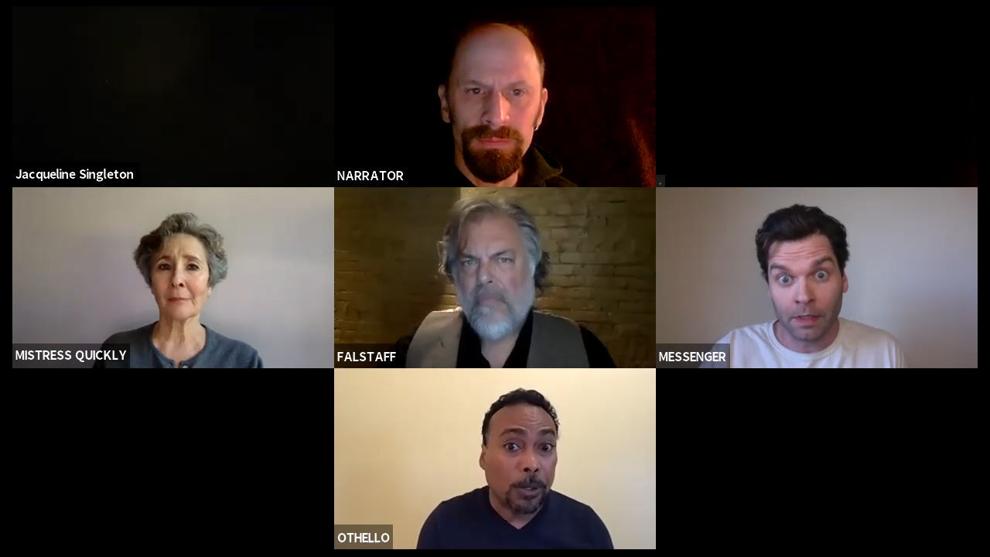 That Cypriot gentleman is from "Othello," which of course I looked up. For longtime Shakespeare fans, parts of "An Improbable Fiction" play like a game of "Who said it first?" DeVita estimates that at least three-quarters of the dialogue are Shakespeare's lines recast and rearranged.
The story doesn't demand a person remember which bits are from "Richard III" or "Troilus and Cressida," but when you do get one right away, it's a lot of fun. I laughed out loud when Cleopatra snarled, "Oh, that I were a man! I would eat his heart in the marketplace." It's one of my favorite lines from "Much Ado About Nothing," said by Beatrice, and it's pitch-perfect here.
"An Improbable Fiction" has the appeal of fan fiction and alternate history, similar to last season's "The Book of Will" by Lauren Gunderson about the creation of the First Folio. DeVita's drama is full of affection, both for these characters and the actors. It has a gentle optimism. I'm hopeful we'll see some version of  "An Improbable Fiction" onstage, in person, in the next few years.
"The theater will outlast this plague," Quickly says.
"Yes, but will I?" replies Falstaff.
They are but fiction. They cannot die. Theater is dead; long live the theater.
Share your opinion on this topic by sending a letter to the editor to tctvoice@madison.com. Include your full name, hometown and phone number. Your name and town will be published. The phone number is for verification purposes only. Please keep your letter to 250 words or less.