The Madison Symphony Christmas concert — once known as the Christmas Spectacular, held on the first weekend in December in non-"Hamilton" years — is all about tradition.
Maestro John DeMain plans his MSO seasons to be a deliberate blend of the familiar and the new. This series of three concerts in Overture Hall, playing again Saturday night and Sunday afternoon, sways toward nostalgia. There are goofy jokes and gospel carols, and violas in reindeer-antler headbands.
DeMain, now in his 26th year leading the orchestra, rallies for this concert. He programs a little John Rutter, a little Handel and a lot of holiday pops (no "Sleigh Ride" on the 2019 program; I expect its return soon). "O Holy Night" and the "Hallelujah" chorus (technically an Easter thing) are program favorites.
Historically, the symphony's Christmas concerts are the least subscribed and the most attended, which means a different audience mix. DeMain has been taking the opportunity to showcase a principal from the orchestra, and it's always a treat.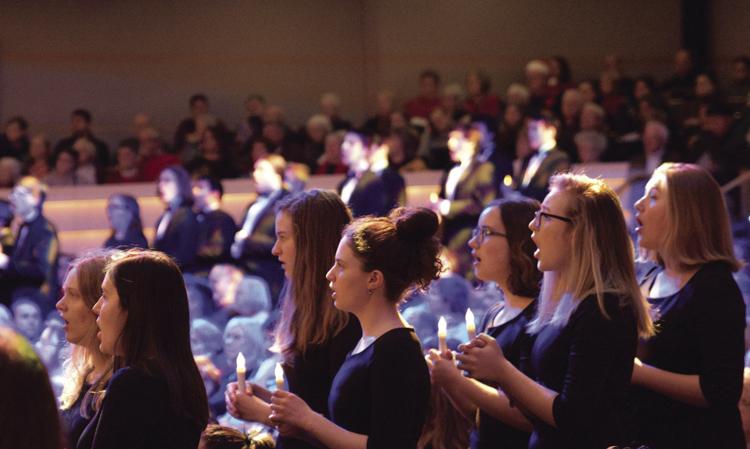 Johanna Wienholts is the MSO's principal harpist, and on this program she played an Andante movement from a Handel concerto. How often do we get to watch a harpist's hands as she creates lush layers and textures on one of the oldest instruments in the world? Her playing was so assured yet so delicate, I found myself holding my breath.
The Madison Symphony Chorus, under the direction of Beverly Taylor, got to be very celebratory this year. It's a big choir with a big sound, and on Friday it reveled in the "Gloria Patri" from Bach's "Magnificat" and the closing chorus of Mendelssohn's "Lobgesang," or "song of praise."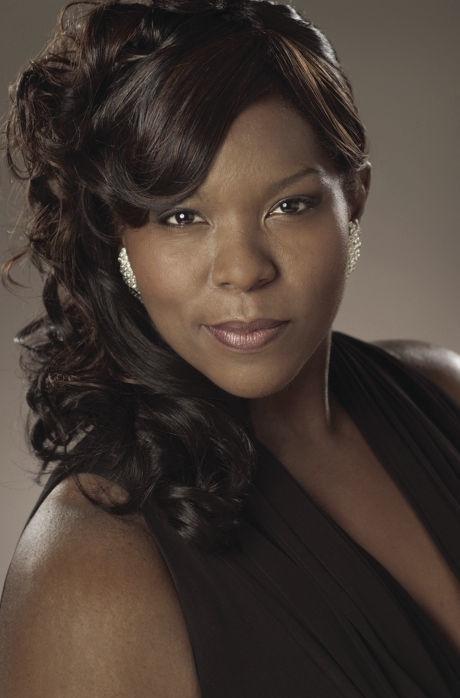 More nuanced moments were carried by a pair of soloists. Tenor Mackenzie Whitney, seen recently in Madison Opera's "La Traviata," joined two of the younger Madison Youth Choirs on a lovely lullaby by Franz Schubert ("Mille cherubini in coro"). He moved capably between a formal, operatic style and that chestnut-roasting Tormé flavor in "Christmas Song."
Soprano Michelle Johnson, stunning in a gold-accented gown, sounded warm and resonant on a Basque carol called "Gabriel's Message," sung in English. Her "O Holy Night" was glorious, too, soaring and dramatic.
The Christmas concert likes to be funny. I laughed most at the "Apple-Tree Wassail" conducted by Mike Ross and performed by the high school-age Madison Youth Choirs. A verse about a guy with a cow who doesn't know how to milk it got appreciative chuckles from this central Wisconsin audience.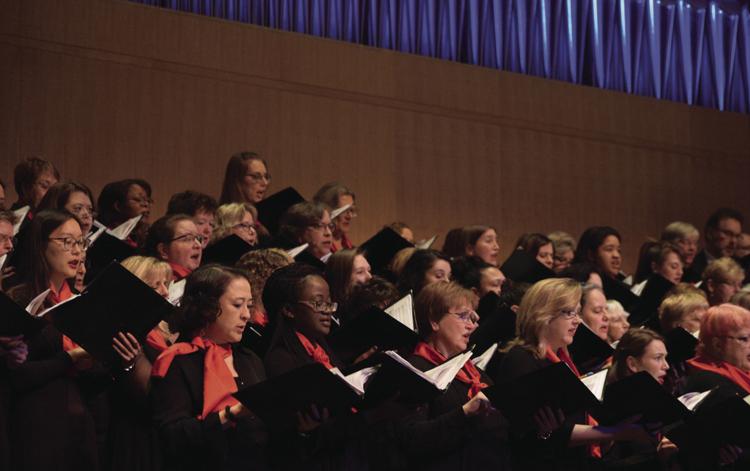 The Stanleys, composer Leotha and conductor Tamera from the Mount Zion Gospel Choir, turned Overture Hall into church for a minute toward the end. "The Joy of Christmas," a lively piece from 2016, involved audience interaction. (Sing out, Madison!) The premiere this year was "Christmas Hope," an anthem with chords that climbed toward the balcony.
About 50 minutes before each concert, the Madison Symphony Chorus sings carols in the lobby of Overture Center. For those who want more, the MSO hosts a free community carol sing on Saturday morning at 11 a.m. in Overture Hall.
Finally, Leotha and Tamera Stanley's tenth annual Gospel Carols concert is set for Friday, Dec. 20, at 7 p.m. at the Alliant Energy Center. Tickets for that are $20-$50 through Eventbrite.