If a person had to pick a Shakespearean character to wait out a plague and share a stoup of canary with (a slosh of sweet wine, roughly), Falstaff is an obvious choice. He's a good storyteller. He buys a lot of rounds. He brought cards and dice.
For me, though, the barfly/ father figure of the "Henry" history plays would be well behind Beatrice, that sharp-tongued wit from "Much Ado About Nothing," and Viola, the gutsy cross-dressing adventurer from "Twelfth Night." Those "Midsummer" girls annoy me, but Rosalind and Celia from "As You Like It" seem like a good time. They'd probably want to go camping.
American Players Theatre chose an imaginary hang with several of Shakespeare's headliners to welcome us back to the Hill Theatre in Spring Green this summer. "An Improbable Fiction," a world premiere by James DeVita, runs through June 26 in person at 25% capacity as well as streaming.
For this dark-ish comedy composed during the early months of the pandemic, DeVita draws characters and lines from a folio's worth of Shakespeare plays.
He takes some big names — Juliet, Othello, Cleopatra — played by the APT actors who had those roles before. Then he drops them into Falstaff's favorite dive, The Boar's Head, during an outbreak of the bubonic plague in London.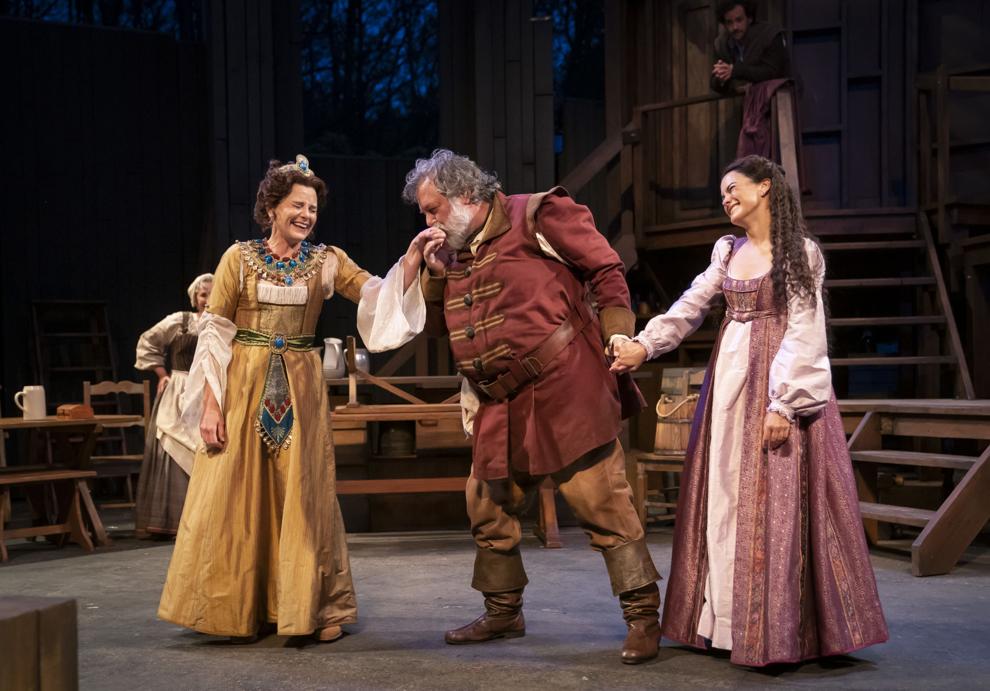 At play's open, Falstaff (Brian Mani, looking like a besmirched Santa Claus) moans to Mistress Quickly (Sarah Day) about the boredom and loneliness of quarantine.
"A pox on the plague!" he hollers. (The audience — spread out and sweating, some still in masks — chuckles knowingly.) "It's not the damn plague will kill me, it's the solitude."
"Their care hath been only to have me matched, as if I were a china dish, worthless until made a set!" Juliet protests. In her speeches, Pereyra reminds me of Beatrice, or one of Henry's exes in "Six."
The main source of comedy is a guy called The Messenger (Ronald Román-Meléndez), who sounds like the Artful Dodger, capably plays the guitar and is used to filling in wherever Shakespeare needs him — Serving Man three, shepherd, soldier, whatever.
"When my cue comes, I will answer it," he says. The Messenger doesn't drink, but he knows things.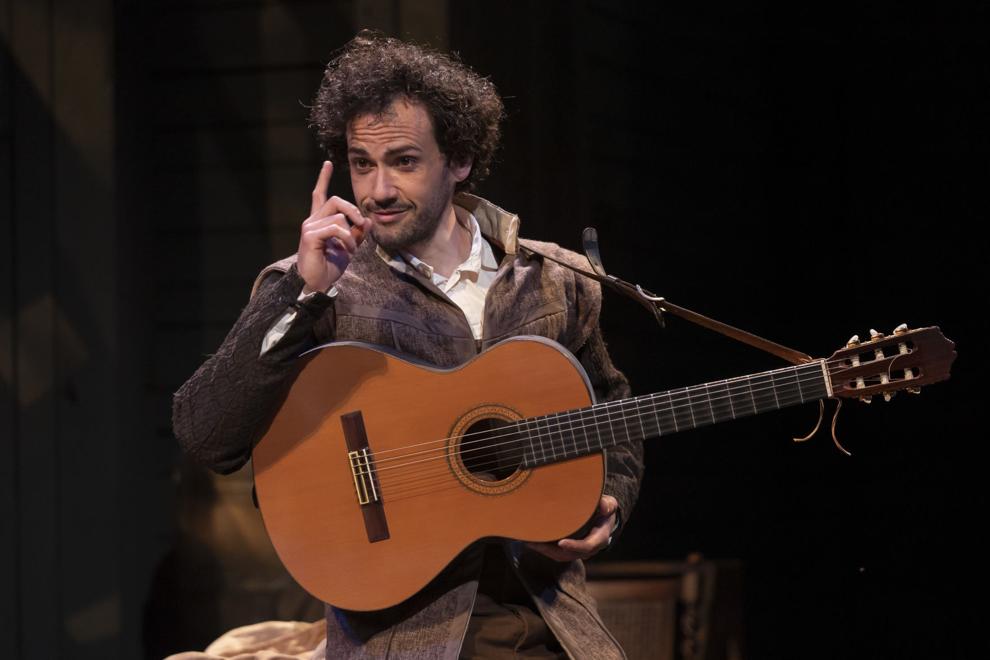 "Improbable Fiction" prizes character over its slender plot. DeVita and director Tim Ocel trust that these are folks we've already met and want to spend time with. The text has flourishes of Elizabethan jukebox musical — was that quote from "The Tempest?" — but the energy is mostly "Waiting for Godot." Disease prowls the streets, but inside the Boar's Head Tavern, they do not move.
Without question, "An Improbable Fiction" is a pandemic play. Characters talk about how fear morphs into anger and fret about their livelihoods. Scenic designer Nathan Stuber crowds the set with knickknacks and wooden furniture in a way we rarely see when APT is running in rep, making tight quarters feel even closer. Some of Gregg Coffin's original music reminds me of mournful indie folk, 2020 Taylor Swift.
"Improbable Fiction" has a natural act break about an hour in but, perhaps in a nod to Actors' Equity safety concerns, runs straight through for 100 minutes. APT has just put tickets on sale for its next two productions, "Rough Crossing" in the Hill Theatre, and "An Iliad," opening the last weekend in June.
The company has also announced two more plays, both adaptations, to run in early fall: "Oedipus" by Sophocles, running Sept. 16-Oct. 9 in the Hill Theatre, and "The Taming of the Shrew" in the Touchstone, Oct. 14-Nov. 14.
As the theater rebounds from the pandemic, it has received a shot in the arm in the form of a $10 million gift from the Pleasant T. Rowland Foundation, the largest such gift in the theater's 41-year history. 
"This gift will be a game-changer for APT," artistic director Brenda DeVita said in a statement Wednesday morning. "It singlehandedly affords us the opportunity to return to thinking strategically and planning comprehensively. It is a transformational opportunity." 
DeVita said $7 million of the gift will be directed to the endowment held with the APT Foundation, while the remaining $3 million will be used as major capital funding for additional artist housing and renovation to APT's administrative offices.
Share your opinion on this topic by sending a letter to the editor to tctvoice@madison.com. Include your full name, hometown and phone number. Your name and town will be published. The phone number is for verification purposes only. Please keep your letter to 250 words or less.