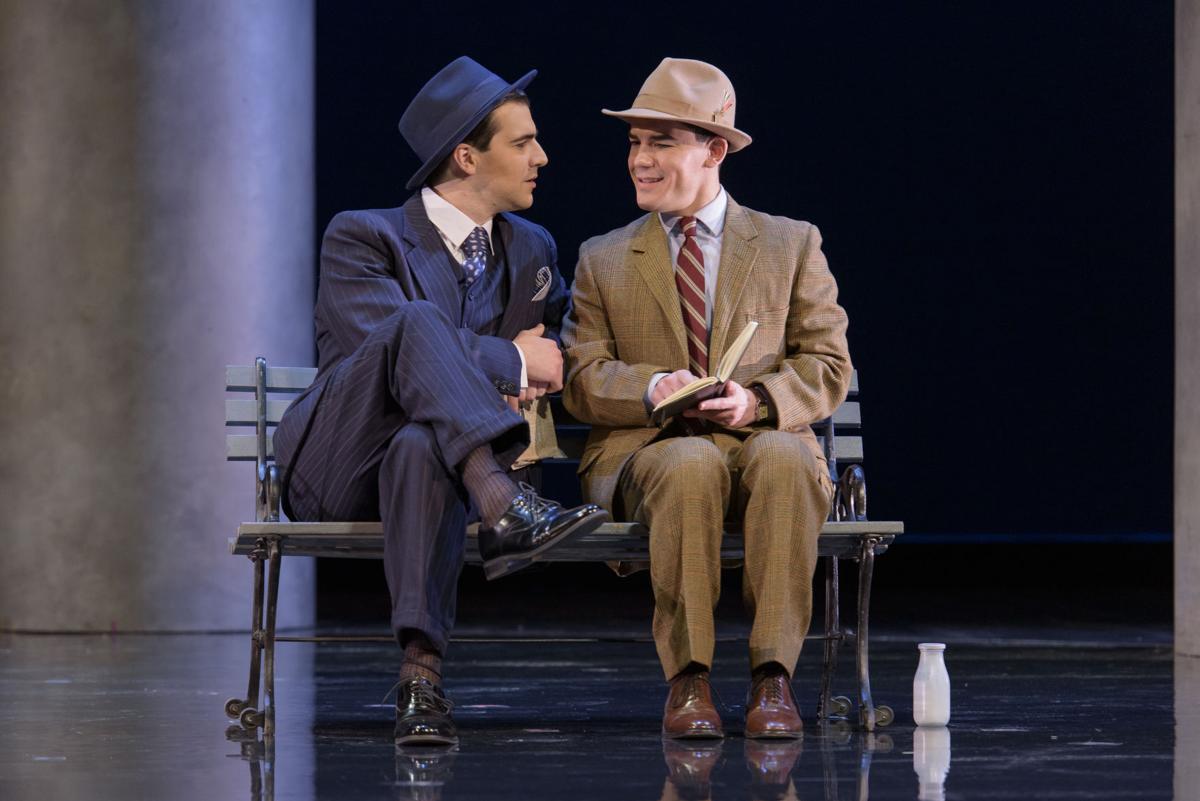 Locally, community spread of coronavirus required a reinvention of Opera in the Park, a popular event that began in Garner Park in the summer of 2002. Madison Opera's digital production of Opera in the Park 2020 is set to broadcast at 8 p.m. on Saturday, July 25 at madisonopera.org. 
Organizers are encouraging folks to use the stream, which will remain up through Aug. 25, to have a safe, physically distant celebration in their own backyards and living rooms. (You can even pick up swag, like a pack of glow sticks ($5) or a Madison Opera tumbler ($8).) 
"Normally we just walk out onstage and do it," Madison Opera general director Kathryn Smith said. "It's a very different way of thinking about what every one of us does. But it's nice to be creating fresh content."
Like Concerts on the Square (at the Duck Pond on July 22), Opera in the Park has become a Madison institution. Generously sponsored and free to the public, the event typically draws thousands (when skies are clear) to spread picnic blankets on a grassy hill and listen to arias by Verdi, Rossini and Mozart.
Most summers, maestro John DeMain conducts members of the Madison Symphony Orchestra and the Madison Opera Chorus. There's a preview of Madison Opera's coming season and a smattering of musical theater. Little ones rouse at the end of the evening to wave glow sticks in time to "A Grand Night for Singing."
Opera in the Park is about opera, but it's also about showing up a few hours early to drink white wine and running into friends on the way to the Chocolate Shoppe booth for intermission ice cream.
"People are missing connection right now," Smith said. "That's what people are going to miss most about Opera in the Park, being on the hillside together."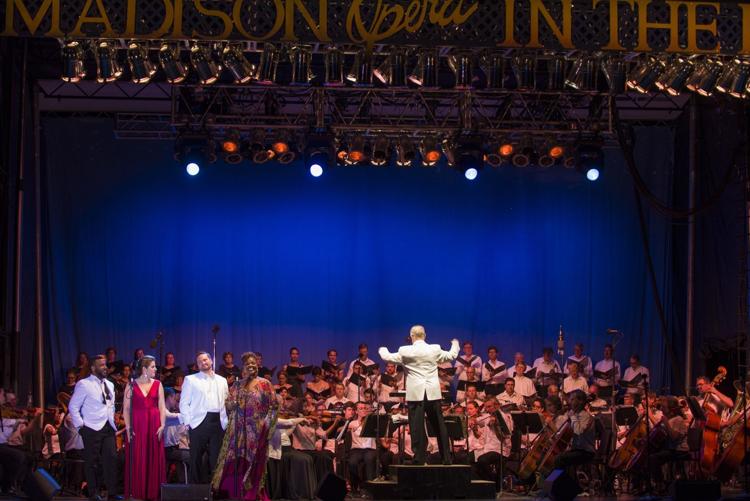 Madison Opera wants to make the most of the switch to digital. To that end, Smith and her team have enlisted not only musicians but visual artists, restaurant partners and a range of technology.
"It's a lot of individual parts going into it," said Smith. "Everyone, including the singers, just went with it. I read a teleprompter yesterday for the first time and told jokes with no audience response. I hope that gets a laugh?"
Just like in the park, there will be solos and duets, and a "Grand Night for Singing" finale with the chorus. Choristers recorded themselves individually singing the "Anvil Chorus" from Verdi's "Il Trovatore," which was meant to be Madison Opera's fall 2020 production. Pianist Scott Gendel worked with violinist Suzanne Beia and sent accompaniment along to the professional soloists too, who listened and recorded themselves. DeMain accompanied Beia on the "Méditation" from "Thaïs."
Andres Acosta, a tenor who sang a principle role in "Fellow Travelers" with Madison Opera in February, wouldn't have been free for an outdoor Opera in the Park. But Acosta's packed spring schedule — Miami for another production of "Fellow Travelers," a run out to Italy to sing Tony in "West Side Story," a spin in "Don Giovanni" in Minneapolis — screeched to a halt in early March as the coronavirus shuttered theaters around the world.
"I now know, more than ever, that what I love to do is perform," Acosta said. "I realized this transition is actually helpful in a way that I can find my 'home' as a singer. … At the end of this, the institution of opera will be completely changed."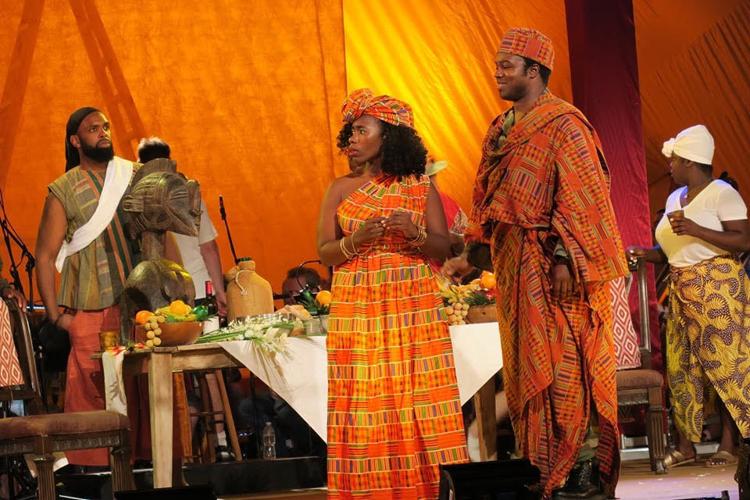 Acosta went with a pianist to a cabaret space in Indianapolis, where Acosta has been sheltering in place with his husband. For Opera in the Park, he recorded one of Fernando's arias from "Cosi fan tutte," a challenging aria from Rossini's "William Tell" opera, a zarzuela (Spanish musical theater) piece and half of a duet from "Pearl Fishers," which will later be combined with a recording from baritone Weston Hurt.
"I have to imagine all of Weston's singing, which I actually haven't heard before," Acosta said. "We're fortunate that we had the opportunity to get together with a pianist in person. There's something to be said about the way that a singer breathes, and the way that a collaborative pianist reacts to that. There's the drama that exists in the room."
Jasmine Habersham, a soprano from Macon, Georgia, went to a nearby United Methodist church to record "Quel guardo, il cavaliere" from "Don Pasquale" and "Vanilla Ice Cream" from "She Loves Me," a musical that was meant to be Madison Opera's January 2021 production.
Habersham, who missed her European debut in Barcelona because of COVID, was on the original Opera in the Park roster. She signed on to sing Susanna in "La Nozze di Figaro" with the company in April/May 2021. A fourth soloist, Karen Slack, debuted with Madison Opera in "Dead Man Walking" and is set to be part of its digital fall season.
"The challenge of recording is you try for perfection," Habersham said. "It's got to be good on one take — if you mess up, you have to start over. You have to be your own producer, make sure the angle's right. And you can't control the elements of what's happening outside, if dogs are barking or a fire truck goes by.
"You have to adapt and learn. It's very challenging."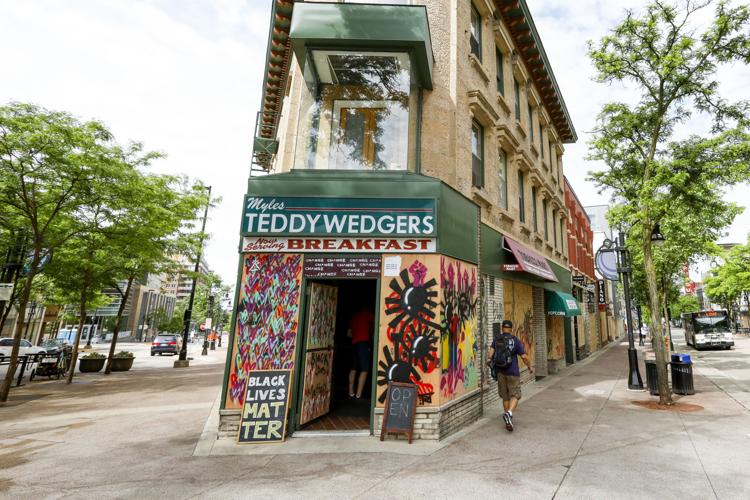 To add another visual element to the Opera in the Park broadcast, the company asked mural artists to make work in response to the music. These pieces, by Mike Lroy and Liubov Szwako, will eventually live at the Madison Opera Center. Szwako, also known as Triangulador, is hoping to get his art in front of a larger audience this way.
"Some people see me from the work on the mattresses, and they think I do street art and just vandalize things," said Szwako, who's in the process of moving his studio space. "Maybe some people will look more into it and realize I'm an artist.
"I don't really plan things," he added. "I just get the material and start putting things down … whatever the emotion is at that moment."
For folks who want to get fancy, Madison Opera pulled in a quartet of Food Fight restaurants (Cento, Fresco, Bar Corallini and Craftsman Table and Tap) to do special three-course "prelude dinners." In a charming touch, every dinner comes with glow sticks.
All of this — the recordings, the dinners, the artwork, a post-show online chat with the artists — are examples of how the opera and theater world have begun to evolve during the pandemic. Some have argued that streaming these art forms could usher in a new genre, one with greater financial and geographical accessibility.
Acosta has spent the spring and early summer thinking about how he could more actively bring the Latinx community to opera, perhaps by offering a Spanish-language program in conjunction with a company like Madison Opera. He's working on a new opera, designed for a virtual platform.
"Hopefully we can bring moments of inspiration to a wider audience in a way that is not sacrificial to live art," Acosta said. "Instead of thinking 'How can we replace it?' it should be a question of, 'How do we make the non-live experience better?'"
Habersham noted that the Phoenicia International Festival of Voice in New York, where she recently sang in an all-Black cast of "The Elixir of Love," is presenting a drive-in production of "Tosca." Post-COVID, the opera world will never be the same, but Habersham is optimistic about that.
"I'm excited to see how opera is going to navigate through this and how they're going to come back beautifully," she said. "People are going to into smaller, more intimate things. I'm looking forward to a lot of new work, new stories we're going to tell."
Share your opinion on this topic by sending a letter to the editor to tctvoice@madison.com. Include your full name, hometown and phone number. Your name and town will be published. The phone number is for verification purposes only. Please keep your letter to 250 words or less.
Stay up-to-date on what's happening
Receive the latest in local entertainment news in your inbox weekly!