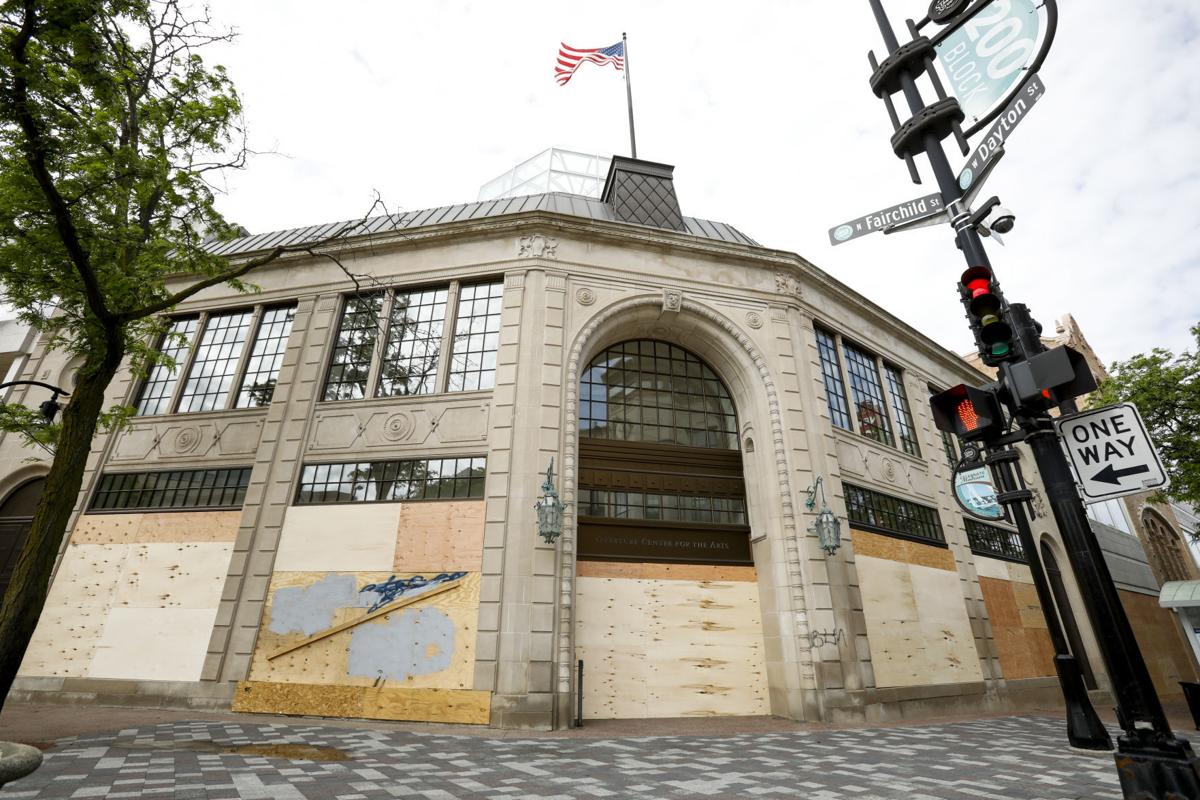 Leaders at Overture Center for the Arts announced Thursday that the building would remain closed at least until December. Shuttered by the coronavirus pandemic since mid-March, the center at 201 State St. estimated it has already lost some $7 million in revenue over the past three months.
"Once we closed our doors, earned revenues came to a halt," said Chris Vogel, COO of Overture Center, on a webinar held Thursday on behalf of local media. "We won't reopen until it's completely safe for patrons, employees and show personnel to come through."
Overture is among the largest arts organizations in the state of Wisconsin. It plays host to Broadway tours like "Hamilton" and is home to 10 resident organizations, including the Madison Symphony Orchestra, Madison Ballet, Madison Opera and Forward Theater Company.
The center received a federal paycheck protection grant to tide over some of its employees. Last week it announced a 60% staffing cut. Stagehands from IATSE Local 251 were impacted right away in March, as were front of house staff, paid ushers and event managers. 
Overture had a staff of about 90 earlier this year. Recent reductions were felt by every department. Employees took furloughs, reduced their working hours, were temporarily laid off or had their positions eliminated.
A search for a CEO to replace Sandra Gajic, who passed away last year, is on hold. Overture Center has been operating with minimal staff on site, including security and facilities personnel to keep the building maintained. The national tour of "Wicked," which had to close just days into its Madison tour stop, still has sets on the Overture Hall stage. 
"The performing arts industry has been hit hard by the pandemic," said Tim Sauers, Overture's vice president of programming and community engagement. "We are seeing many centers reduce staff and announce closures. ... At this time, there are no Broadway shows touring. The industry has stopped. Everyone is working on a reopening plan."
In a typical year, Overture's operating budget is $20-$25 million in earned revenue, with additional support from the city (about $2 million from room tax). The center has received about half of that funding so far, and there is a chance the rest would not come.
Board chair Betty Harris Custer said she'd had conversations with officials from the city and county, who left the door open for "if the city is going to be in a position to do something else" based on the passage of a federal bill called the HEROES Act. If that passes, "Madison would fare fairly well and there's a chance we could expect additional dollars."
Overture leadership decided to call this interim time an "intermission" and embark on an "intermission campaign" with a goal of $1.5 million. That could make up what may not come from the city's room tax.
"Our business partners have also been really hit by COVID-19, as have their employees," said Emily Gruenewald, vice president of development. "In some cases we've heard from corporations that have done multi-year gifts that they aren't sure they can make a multi-year commitment, but they've said ... 'We believe in you, you're important.'"
Some of Overture's corporate sponsors have dropped limitations on their financial gifts so they can be used for operating expenses. Others have diverted their donation to future seasons or chosen to support digital programs.
Some $200,000 in ticket revenue has been donated back to Overture, "a significant help," Gruenewald said. Ruth Purcell, the interim vice president of sales and marketing, hopes people won't panic when they hear the season is still on hold.
"We are working with a lean team and we're asking for people's patience when responding," Purcell said. "Everyone who's purchased a ticket, though, will be individually communicated with via email and their options will be laid out there. If people have questions for the ticket office, they're asked to send their request in the form of an email."
"We are staffed in that area," Sauers added. "We anticipated and prepared for this."
When the center does reopen, it will have a ramping up period to train returning staff, update operational plans and stock up on sanitizer and other supplies.
"It's possible things will look different when we do return," said Jacquie Goetz, vice president of operations. "The situation is so fluid. We are entertaining many scenarios for what life looks like when we get back into the building. We won't know specifically what that will look like until we get closer to (it) and we can see the reality of the situation.
"We don't know if there will be capacity limits at that point."
"When we do come out of intermission, it's not likely to be 100%," said Vogel. "One to two years of recovery time is probably accurate."
Sauers is a Tony Awards voter and the host of "Cocktails with Tim and Karra," a series for Broadway subscribers. He's seeing an entire industry in flux, with new safety guidelines for Equity (union) actors who go out on tour, as well as crews and stagehands. Touring artists who previously wanted to move scheduled dates just a few months are now asking about spots in the 2021-22 season.
"It has been a great opportunity for some of the best communications I've ever had," Sauers said. "There's collaborations between agents, agencies and performing arts centers, looking at what a model of performing arts is going to look like. That never happened before.
"This was a transactional business — everybody wanted to make money. We've seen a change in the way the industry is talking and collaborating. It's been one of the greatest joys for me out of this."
Overture is a presenting entity, not a producing one, so to put arts content online it needs to collaborate with those artists. Overture has taken a few steps into online engagement, including a virtual season announcement and a live-streamed video version of the Jerry Awards, a program that recognizes excellence in high school musical theater around the state.
Staff is still working out what a "new hybrid mission-service model of digital and live community engagement" could look like, functionally. Innovation like that may be what takes Overture and centers like it into a future where the coronavirus is a lingering threat.
"Right now we can't have any public gatherings, we can't connect with people face-to-face and live," Sauers said. "That's what the arts are about, having that shared experience."
Whether gathering in the theaters will resume in January 2020, or March 2020, or even next summer, Sauers wants to be ready for it.
"We as an organization took a stand that after we had all the information we needed, we had to think about ourselves and our survival, and look at that on the long term," he said. "That's what we're thinking about, not just what's going to happen in the next three months or six months. What is that going to look at two years down the road?
"We are preparing, and have prepared for, different scenarios."
Share your opinion on this topic by sending a letter to the editor to tctvoice@madison.com. Include your full name, hometown and phone number. Your name and town will be published. The phone number is for verification purposes only. Please keep your letter to 250 words or less.
Stay up-to-date on what's happening
Receive the latest in local entertainment news in your inbox weekly!