Maestro John DeMain has been conducting the Madison Symphony Orchestra's holiday concert since 1994.
Not until this year, so far as I can tell, has he ever sung in it.
Maybe that should come with a spoiler alert? I'd argue that seeing DeMain attempt to stage a little coy flirtation with statuesque soprano Sylvia McNair would be delightful whether one knows it's coming or not.
On Friday night in Overture Hall, the opening to "Baby, It's Cold Outside" stuttered so badly, DeMain had to restart it after reminding the orchestra which song they were on. I'm not sure the singers knew all the words. And DeMain, to be generous, is a fraction of the singer McNair is.
But the symphony's Christmas concert, set to repeat on Saturday evening and Sunday afternoon, has never been about perfection. It's about celebrating local talent, from 90 sweet-voiced boys in Madison Youth Choirs to Leotha and Tamera Stanley's joyful gospel adaptations of sacred Christmas classics.
By the time we reached the annual carol sing that closed out the concert, there were at minimum 500 people on the Overture stage, playing and singing with some 2,000 patrons in a sold-out house.
For many families, it's tradition. Every year, DeMain says: Join us. Put on your Santa hat — or reindeer antlers, if you're in the viola section — and make a joyful noise.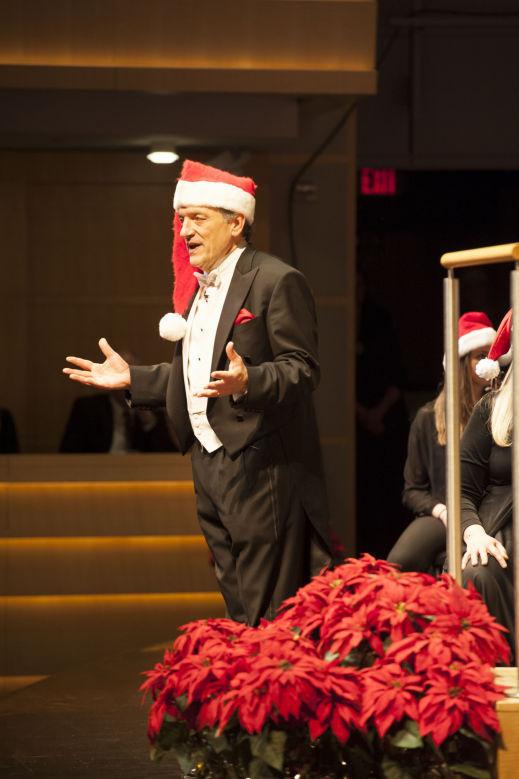 That's not to say this year's concert didn't include some beautiful moments. Trumpeter John Aley and co-concertmaster Suzanne Beia both got a chance to dazzle in the first half.
Aley's work was bright and clear on a piece by Bach ("Bringet dem Herrn Ehre seines Namens"). Beia dove into virtuoso lines in the "Winter" movement from Antonio Vivaldi's "The Four Seasons," with delicate, precise bowing on the opening Allegro.
McNair brought orchestra arrangements written for her by composer Brian Eads, including a fresh version of "O Holy Night" that highlighted her honeyed, warm tone.
Backed by the symphony chorus and high schoolers from the youth choirs, McNair sang a medley of "What Child Is This" and "Mary Did You Know," following that with an extremely cinematic rendition of "The First Noel."
At DeMain's request, she reprised "Let There Be Peace on Earth," which she sang with this symphony in 2009. At times, McNair's voice shook or she pulled the microphone back a little too far, but her magnetic stage presence showed a performer fully at home.
Youth Choirs, directed by Mike Ross, changes up which chorus gets a highlight spot each year. Some 90 young gentlemen joined the symphony on the concert's first half, with a clear, resonant rendition of César Franck's "Panis Angelicus" and a lively piece by contemporary composer Mack Wilberg called "One December Bright and Clear."
It's extremely challenging to have a perfectly clear fugue or melisma with hundreds voices singing at once. Still, the Madison Symphony Chorus directed by Beverly Taylor sounded solid on John Rutter's "Magnificat."
From the joyful first movement to the somber, almost sinister "Fecit potentiam," the chorus had fine diction and substantial dynamic range. The final movement, "Gloria Patri," featured heavy timpani and brass, highlighted passages for harp and solo work from seventh grader Ethan Staver, a singer with a beautiful, sweet young tenor.
The Mount Zion Gospel Choir, a growing ensemble based at a south side Baptist church, has been performing with the symphony at this concert since 2005.
Looking bigger than ever this year, they swayed and clapped, using loose rhythms on an arrangement of Norman Hutchins' "Emmanuel" that challenged the symphony. 
Not to be outdone by DeMain, Tamera Stanley turned around midway through a medley of "Away in a Manger" and "Sweet Little Jesus Boy" to read a passage from the second chapter of Luke and take a few solo lines herself. 
As a side note, it is this, more than the sing-along to "Oh, Come All Ye Faithful" and "Hark! the Herald Angels Sing," that makes me doubt the symphony will ever return to "Holiday Spectacular" instead of "Christmas." 
Tamera Stanley failed to cajole most of the (overwhelmingly white, older) audience into singing along with Leotha Stanley's newest composition, "The Joy of Christmas." It was a good idea, though; I dearly hope she'll have better luck Saturday and Sunday.
In all, everyone looked to be enjoying themselves. Electric enhancements were in this year — I spotted a light-up scarf in my own row in the audience and a pair of blinking red antlers in the back row of the chorus. 
"This program is filled with tradition, but hopefully along the way you'll hear a few surprises," DeMain said. He added later that "a prayer for peace is never dated."
Neither, it seems, is a little unexpected singing from the conductor himself.