To hear "Yardbird" sing it, Charlie Parker was catnip to women.
In a new opera running this weekend in the Capitol Theater, ladies love Parker's magnetism and his music. They beg him to come home, to stay home, to hold his demons — the drugs — at bay.
But when Parker himself finally sings a love aria, it's not to his doting mama or the mothers of his children. It's to his saxophone.
"I blow my soul into your beautiful neck," he sings. "Music is my world, my soul."
"Yardbird," a soulful, haunting jazz-inflected opera by composer Daniel Schnyder and librettist Bridgette A. Wimberly, premiered in June 2015 at Opera Philadelphia.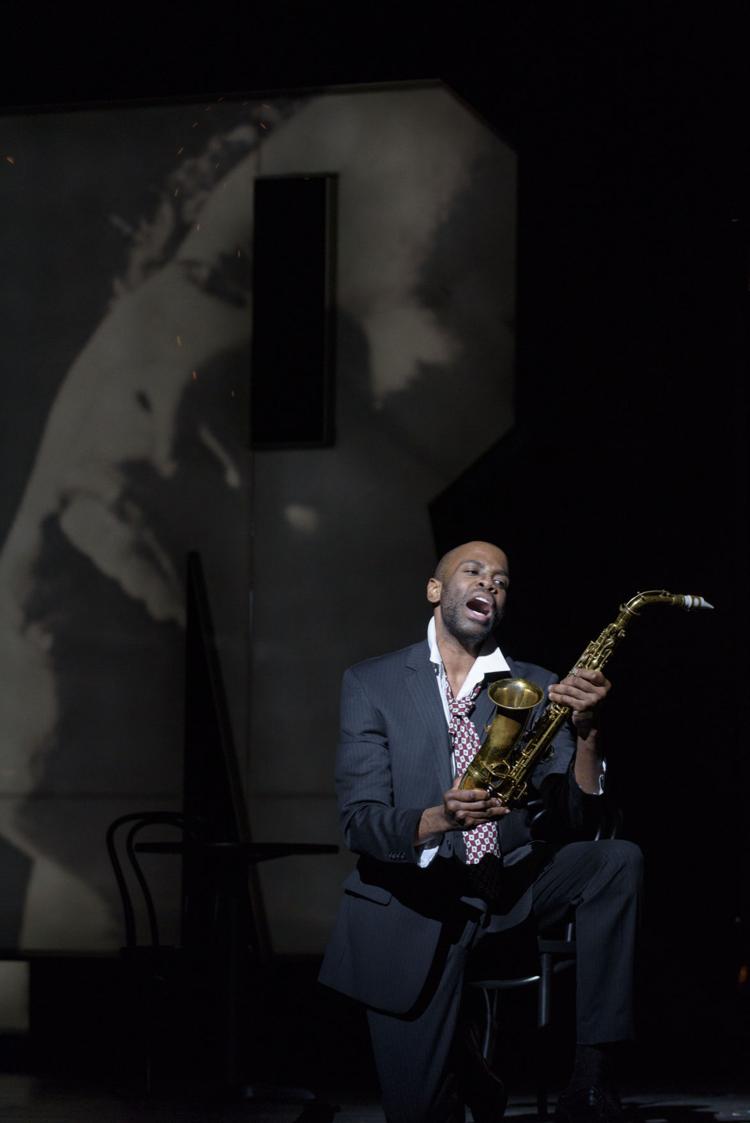 Through Sunday, Madison Opera presents the opera, directed with a dancelike sensibility by Ron Daniels. For the Midwest premiere Madison edged ahead of Lyric Opera of Chicago, which has conscripted most of the same cast for its late March production.
Wimberly's story loosely sketches and re-shuffles imagined moments in Charlie "Yardbird" Parker's life, set in an imagined version of the jazz club Birdland, just after Parker has died in 1955 at age 34.
Designers render Birdland in shades of gray, with black and white photos of jazz musicians on a spare, contemporary set designed by Riccardo Hernandez. Emily Rebholz's period costumes are timely and elegant, especially the fit-and-flare style for Bird's fourth wife, Chan.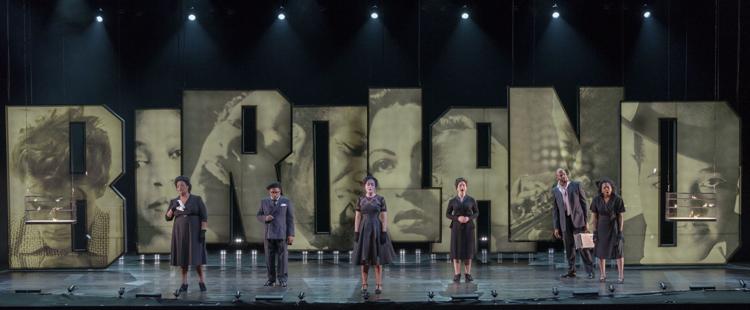 Near the start of the opera, Parker insists to his patron Nica de Koenigswarter (Julie Miller, a silvery-voiced mezzo) that he has "postponed (his) deadline just a little bit" in order to write a final masterpiece.
But writing music takes a backseat as a parade of wives, Bird's friend and collaborator Dizzy Gillespie, his drug dealer, police officers and time in a mental institution interrupt his work.
Tall, slim Joshua Stewart plays Bird, the jazzman with a "monkey on his back." Stewart has an agile, warm tenor and an affecting physical presence, draping his long limbs over a chair or folding in on himself in the grip of another bender.
It can be hard to hear Stewart over the orchestra at times, and his movements are sometimes tentative or awkward. But when he trades licks with Dizzy Gillespie (the boisterous tenor Will Liverman) and pours his frustration into the music ("blowing all my pain through my horn"), his confidence returns and Schnyder's score sparkles.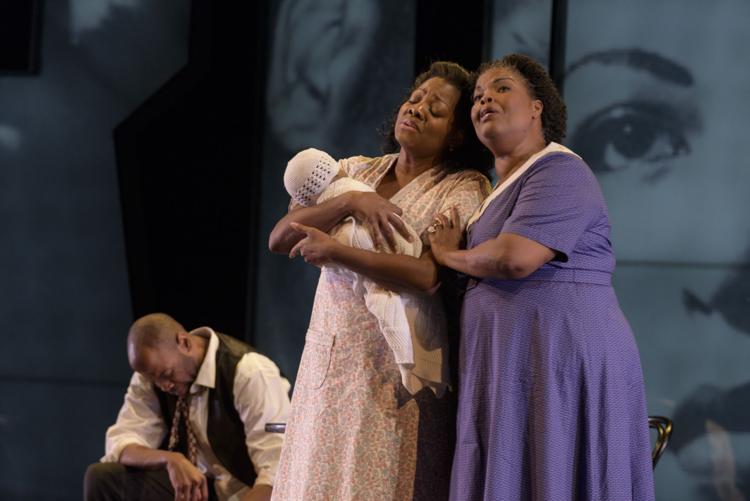 Soprano Angela Brown makes Addie the kind of mama who can keep a budding young musician in line with little more than a look. She commands some of the show's most beautiful music, including an exuberant aria about how proud she is of her son's success. Addie's tossed off "told you!" at the end of her celebration feels like a verbal cymbal hit.
Maestro John DeMain leads a 16-person orchestra in the pit. Framed by more traditional operas this season, Schnyder's score is an unexpected pleasure, drawing from Latin jazz and bebop to create appealing musical textures. A scene in Camarillo State Mental Hospital has a noir feel, sultry and a little mournful.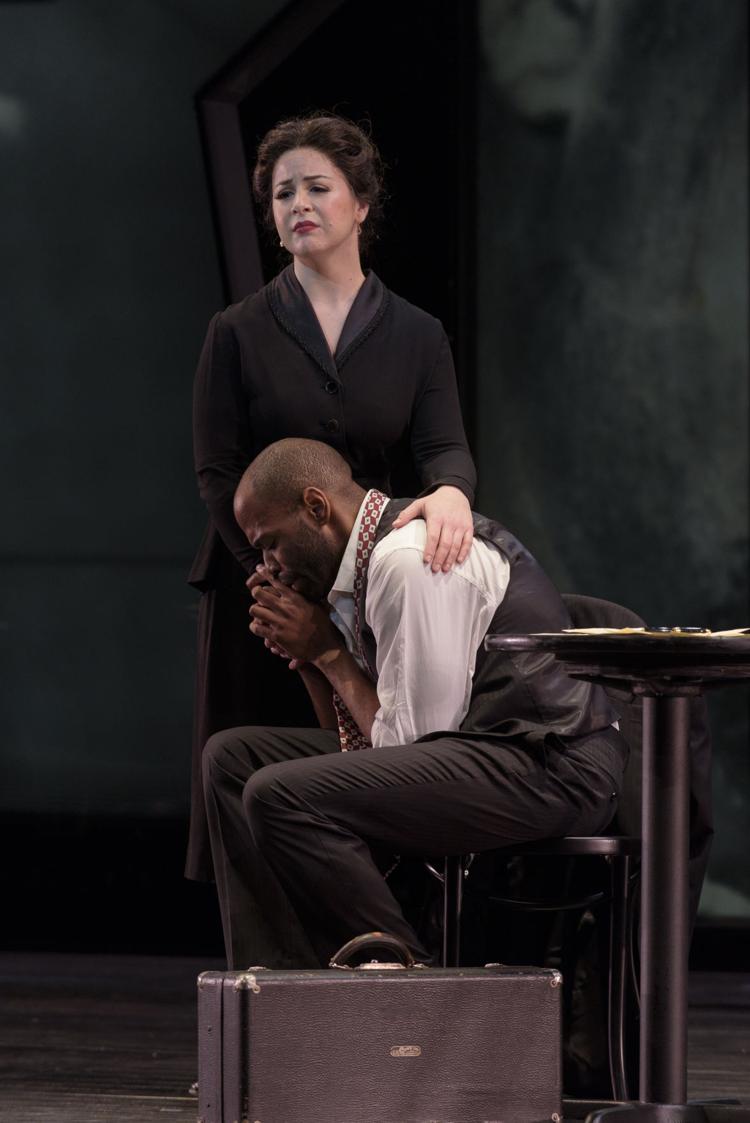 As Chan, Rachel Sterrenberg makes her vocals snap and fizz as she describes her first meeting with Parker, insisting she was drawn first to his music, not to the man himself. Angela Mortellaro and Krysty Swann, gifted performers both, sing Doris and Rebecca Parker, wives whom Parker loved and left.
"Yardbird" is an opera that's more about how difficult it is to be and love a creative genius who's also an addict, rather than the impact of Parker's musical innovations.
This is never more clear than when the women in his life gather in the morgue around Parker's prone body, their keening wails overlapping like waves.
"Yardbird" resonates most in this moment, as Parker watches others mourn him, sax case in hand.