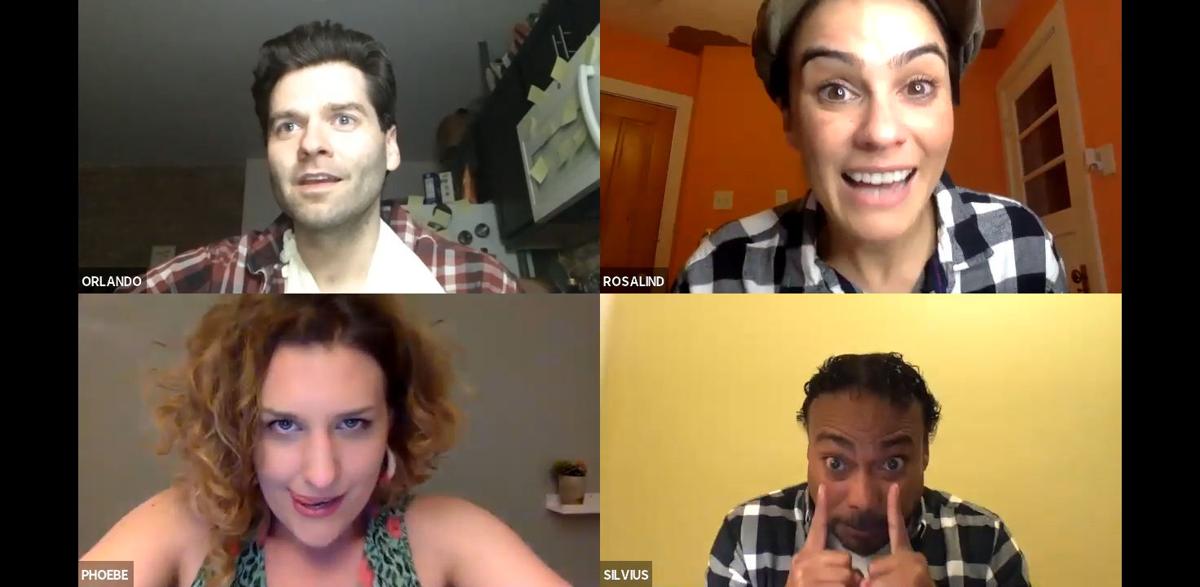 Like a unseasonably warm weekend, Winter Words offers a little off-season taste of future summers at American Players Theatre. The stories that APT audiences may one day see onstage start here, where impressive acting belies an extremely short rehearsal period.
This year's Winter Words reading series has shifted to Zoom, similar to the Out of the Woods play readings. These will be available just once, live, to ticket buyers. All Winter Words readings start at 7 p.m. and are scheduled for every other Monday, concluding on April 5.
Winter Words opens this Monday with an adaptation of "Agamemnon," directed by David Daniel. Simon Scardifield adapted this first play in the Oresteia trilogy for the BBC, in which a king sacrifices his own daughter in service of war. The choice has deadly consequences.
"Agamemnon" is a holdover from the 2020 Winter Words season. Brian Mani plays the king. Melisa Pereyra plays the queen, Clytemnestra, and Kelsey Brennan plays their daughter, Iphigenia.
Brennan directs the next play, "Dear Brutus," a 1917 dark fantasy by J.M. Barrie that a Guardian story described as "'Peter Pan' for grown-ups." In it, an eccentric horticulturalist invites three unhappily married couples to his mansion for an evening of revelations.
Like in children's story, here there's a Never Never Land-style magical wood and an opportunity for reinvention. Who among us hasn't wondered what life would be like if we'd made different choices?
"Dear Brutus" is set for March 8. On March 22, Pereyra directs "Elliot, a Soldier's Fugue," by Quiara Alegría Hudes. Written in 2006, it's the first play in a trilogy called the Elliot cycle and was nominated for a Pulitzer. (Hudes won for the second play, "Water by the Spoonful." She also wrote the book for Lin-Manuel Miranda's musical "In the Heights.")
Inspired by family interviews and structured like a Bach fugue, "Elliot" is about the legacy of war in a Puerto Rican family. Elliot, 19, enlists in the Marine Corps, becoming a soldier like his father and his grandfather. Elliot's experiences in Iraq change him, causing him to question silences he'd taken for granted.
Finally, on April 5, Ameenah Kaplan returns to APT to direct "Dontrell, Who Kissed the Sea," a lyrical, moving drama by Nathan Alan Davis that premiered in 2014. Dontrell, a college-bound 18-year-old, has a vivid dream about one of his ancestors jumping from a slave ship crossing the Atlantic Ocean. The dream captivates Dontrell, who begins to seek out a connection with this ancestor any way he can. Poetic, funny and emotionally resonant, "Dontrell, Who Kissed the Sea" has the power of an epic hero's journey.
American Players Theatre has not yet announced plans for the 2021 summer season. Administrators are documenting the challenges of planning in a blog called The Road Back, posting video updates as well.
"We feel really confident that we'll be able to do live theater up the hill, because we have an outdoor space," Brenda DeVita said in a video posted Feb. 17. APT has to hear back from the labor unions before it can announce anything.
"We're asking our actors — and this is serious — we're asking them to work unmasked," DeVita said. "Those actors have to be protected. ... We promise, we are dying to tell you what we are going to do this summer. But we're going to have to wait."
Share your opinion on this topic by sending a letter to the editor to tctvoice@madison.com. Include your full name, hometown and phone number. Your name and town will be published. The phone number is for verification purposes only. Please keep your letter to 250 words or less.