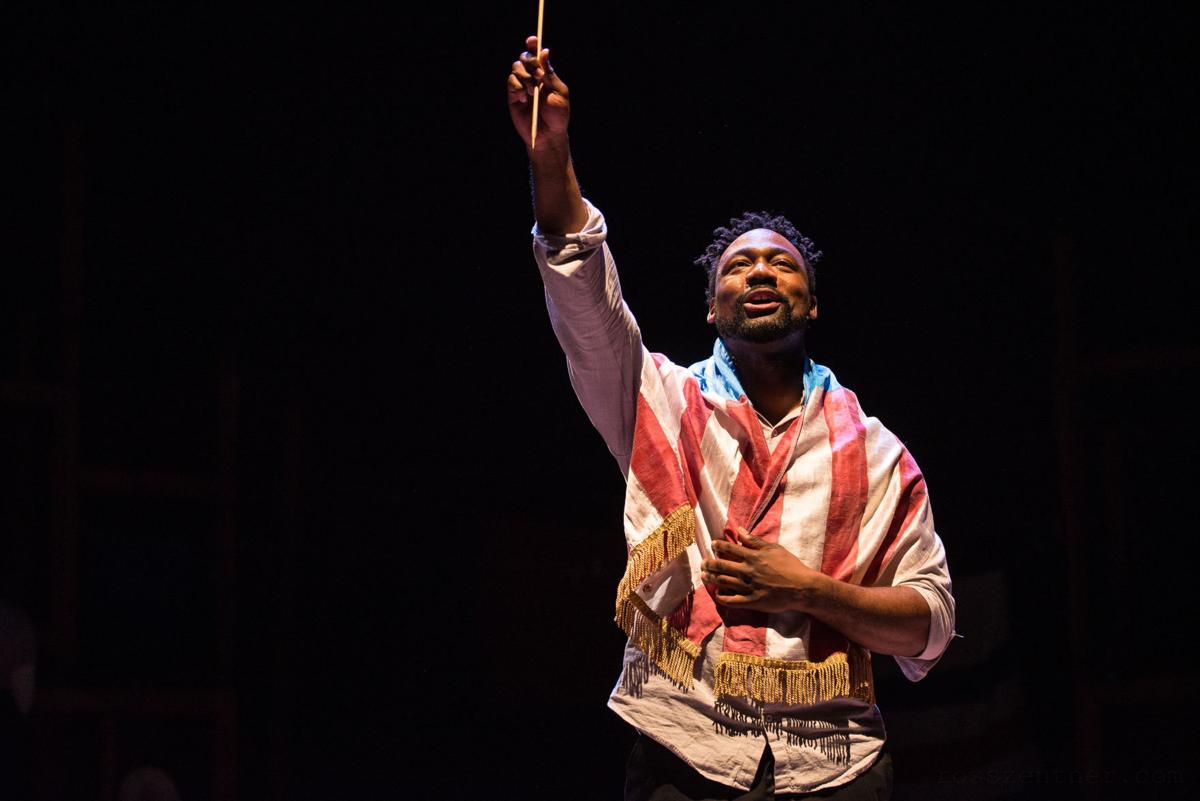 The West African proverb "speak softly and carry a big stick" was famously adopted by a U.S. president — Teddy Roosevelt, if my dad and civics teachers taught me right.
I find the aphorism fits a first lady better than foreign policy. For better and worse, the Bess Trumans, Harriet Lanes and Edith Wilsons of American history set a lot more than fashion standards. "46 Plays for America's First Ladies," a rolling world premiere produced by Forward Theater Company through May 23, wants us to know all about them.
Or, rather, a little about them. Forty-six plays is a lot to squeeze, Dolley Madison dinner party-style, into two hours.
"She's been abandoned by history," the actors tell us about one first lady, Lucy Hayes, after an unintelligible minute of overlapping dialogue. "Remember that for us, OK?"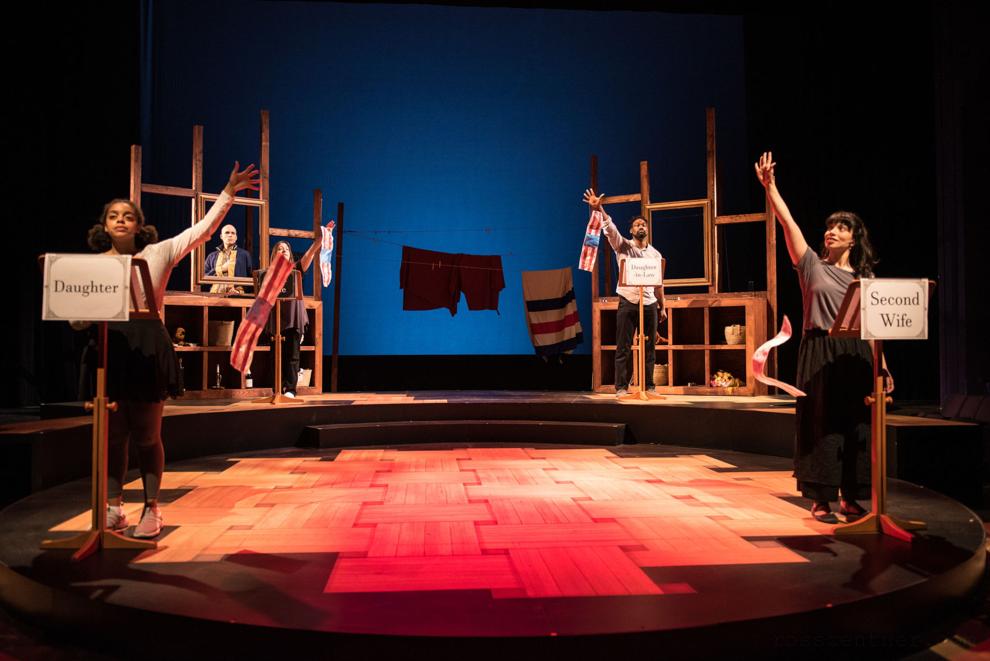 Some plays are like a live-action history lesson. "An Iliad," which American Players Theatre will produce again this summer, has that flavor. So does Michael Frayn's "Copenhagen," Peter Morgan's "Frost/Nixon," and a lot of stuff by Aaron Sorkin. History retold and reimagined.  
"46 Plays," performed by a flexible ensemble of five, embraces and shakes up this tradition. As conceived by Andy Bayiates and four other members of the Neo-Futurists, a Chicago-based experimental ensemble, it's part social studies, part after-school play, part Drunk History.
There are card tricks and music boxes, balancing acts and balloons. Nadja Simmonds, as Julia Grant, sings a bluesy number about Civil War-era bipartisanship. Elyse Edelman plays a raccoon. (It's very funny.) Jamal James, in character as Florence Kling Harding, puts on an apron and poses for a series of cheeky photo ops.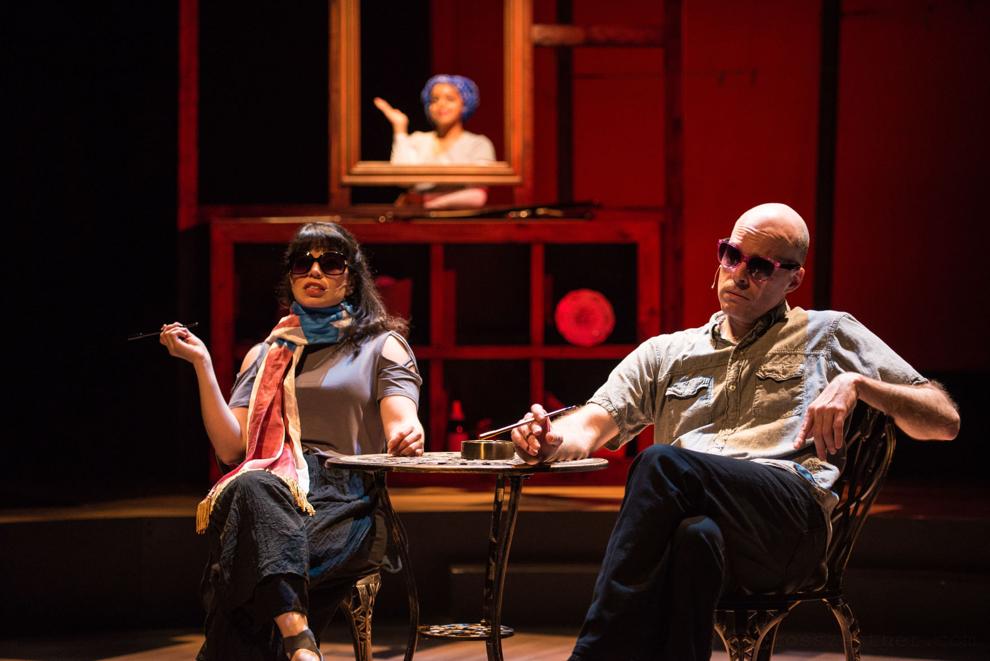 "46 Plays" is a companion piece to another Neo-Futurists creation, "44 Plays for 44 Presidents," produced by Forward in 2012. Shifting focus to first ladies, "a job that doesn't technically exist," was no easy thing. Sometimes the researcher/playwrights show their hands.
"If you want to do something hard, try parsing the inner life of a relatively obscure 19th century woman born into a family of no importance and married to a man no one wants to remember," says Phoebe González as she folds laundry in a sketch about Eliza McCardle Johnson. "If you want to do something harder, try researching the person she owned."
For every "Girls Just Wanna Have Fun" dance number, other vignettes take up and hold the fact that many of these women owned slaves. Presidential companions throughout history were complicit in their husbands' decisions to murder Native people and drop bombs. Some fought for women's suffrage. Others actively opposed it.
"It's OK to say that some women uphold patriarchy!" one sketch insists.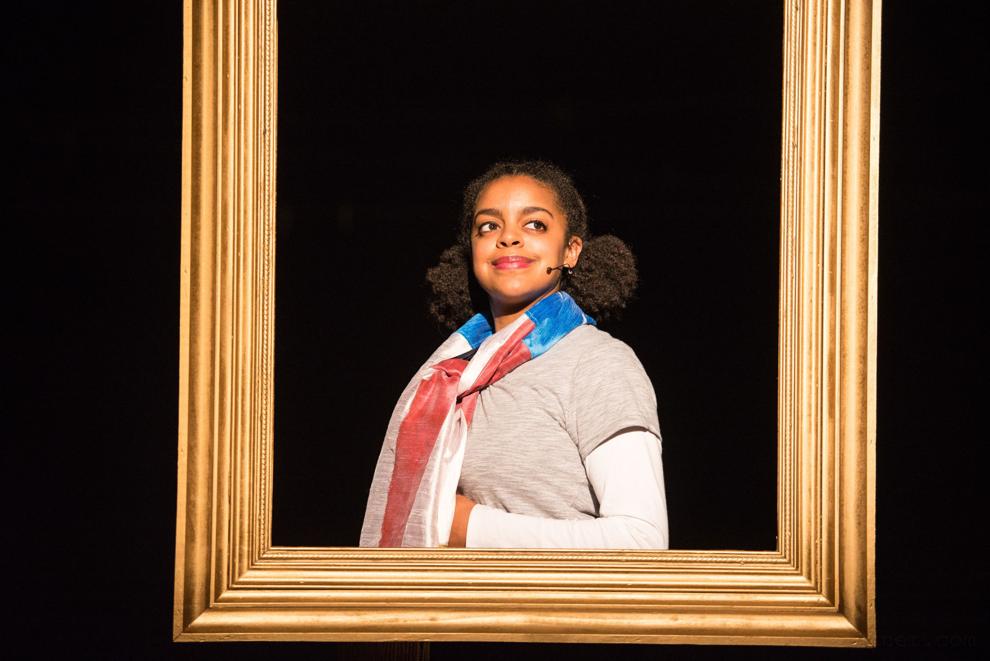 Even when the tone is somber, "46 Plays" moves with lightness. Director Jen Uphoff Gray's cast appears visibly thrilled to be on a stage. Simmonds is a fantastic singer; González could do stand-up comedy for real. Everyone is a chameleon.
Matt Daniels, the sole holdover from the 2012 cast of "44 Plays," strums a guitar, dances the Charleston and embodies the brisk efficiency of Edith Roosevelt as she crisply redecorates the White House. Edelman, as her niece Eleanor, does a trust fall from the top of a ladder.
Accompanied by Joe Cerqua's charming, historically on-point musical score, the tone of the sketches in "46 Plays" ranges from poetic to playful. Mike Lawler's set design foregrounds portrait frames, while prop master Pamela Miles fills the stage with trunks, dinnerware and fabric.
Forward adapted the production to COVID-safe staging in a few key ways. The actors perform for a small, spaced-out audience in the Playhouse, who are occasionally asked to participate from their seats.
At home on my laptop, a title card marks the break between each vignette. Quote marks appear on the edges of the screen to indicate historical accuracy. When González holds forth as Mamie Eisenhower, the quotes turn pink, her signature color.
As the play wound past an indignant Rosalynn Carter toward the Bushes and more recent presidential history, I found myself thinking of Meghan Markle and her choice to leave the U.K. With great influence comes harsh scrutiny. For some first ladies, it literally killed them.
Yet for all that, "46 Plays for America's First Ladies" ends on a hopeful note. We're not asked to forgive these women, but perhaps to remember them with grace — and decide, collectively, what comes next.
Share your opinion on this topic by sending a letter to the editor to tctvoice@madison.com. Include your full name, hometown and phone number. Your name and town will be published. The phone number is for verification purposes only. Please keep your letter to 250 words or less.