An artistic appetite: Evan Gruzis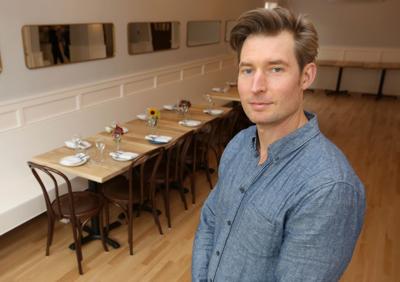 Evan Gruzis underestimated Madison's love of tie-dye.
Last June, Gruzis and a group of artist friends pitched a few tents and set up big buckets of bold color at a '60s-themed Madison Night Market.
There'd been a little promotion for "We're Dyeing," but they figured they'd mostly be responsible for giving people supplies.
"We were really surprised at how many people showed up with things to dye," Gruzis said. "People showed up from home with white clothes. They brought them and dyed them and bagged them up."
Gruzis, 39, spent some seven years on the international art show cycle before he and his wife, Nicole Rogers, moved to Madison in 2015. In the next few weeks they hope to open their first restaurant, The Heights, on 11 N. Allen St. in collaboration with Underground Food Collective.
"He struck me as a very skilled contemporary artist with new fresh ideas," said Karin Wolf, a City of Madison arts administrator who fielded Gruzis' request for a BLINK temporary public art grant. "He does work in collectives a lot.
"He brings with him a tribe of artists with similar aesthetics pushing ideas. … With the tie-dye buffet, the process of gathering and engaging people is part of the art."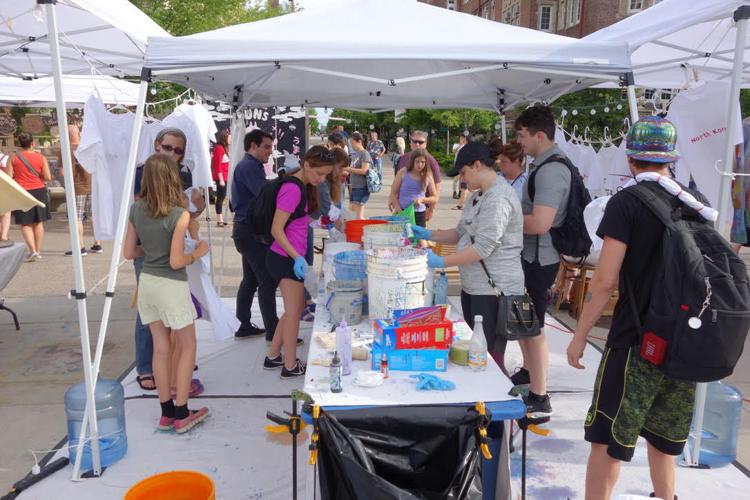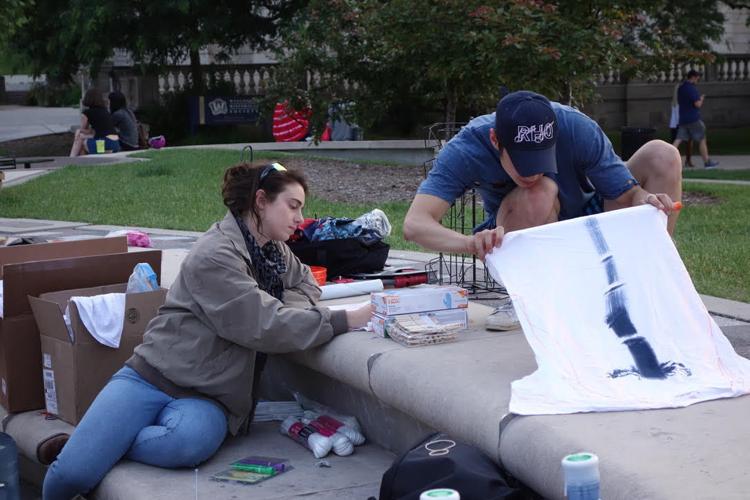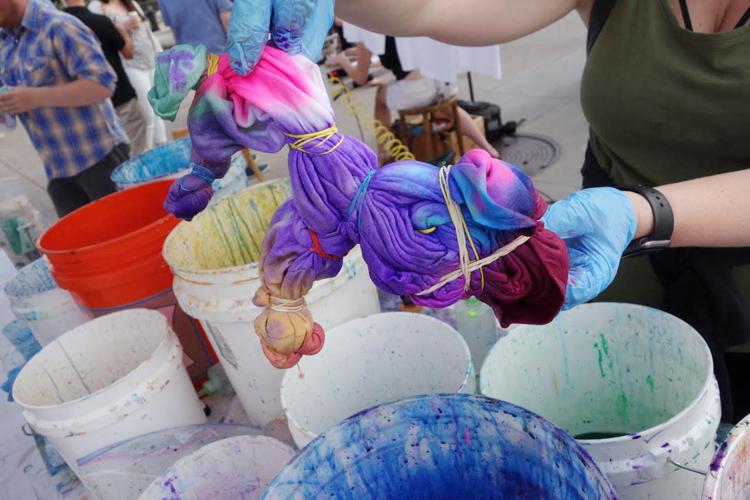 Interactive public art making is quite different from where Gruzis began his artistic career as a painter (still his primary medium). After earning a BFA from UW-Madison ('02) and an MFA from Hunter College, the Milwaukee native went on to have solo shows in Berlin, Switzerland and New York. The Whitney Museum of American Art and the Milwaukee Art Museum acquired his work.
When Gruzis was 31 with a studio in Brooklyn, visual arts online magazine SightUnseen called his "cool conceptualism and traditional craftsmanship … an alchemical combination."
A 2016 solo show at Green Gallery in Milwaukee, "Real Feelings," incorporated meticulously made still-life ink paintings and an interpretation of the Wong-Baker FACES pain scale. A video, "Angry Collector," combined scenes from "The Bachelorette" with a real phone call Gruzis got from a prominent (and notoriously difficult) art buyer.
"Artists don't aestheticize their relationships with their collectors. They do institutional critique instead," Gruzis said. "The collector/artist relationship has sanctity to it. I wanted to go there, into a place that's sort of taboo."
In Madison, he's moved away from private shows and toward "public projects, curatorial projects, things that interface with the public on a greater frequency," Gruzis said. "I'm more and more interested in public projects."
His most visible work here is probably Bacchus, a giant pastel-colored inflatable sculpture created with Kristof Wickman that first blew up at Yum Yum Fest 2016. The previous year, Gruzis and Wickman co-curated Condensed Matter Community, a pop-up exhibition at a decommissioned particle accelerator in Stoughton.
"My practice in Madison has strictly been public stuff," said Gruzis, who since moving to Madison has become a father to 2-year-old Winslow. "My priorities have shifted. The way I'm being creative is shifting, and it's still coming into focus.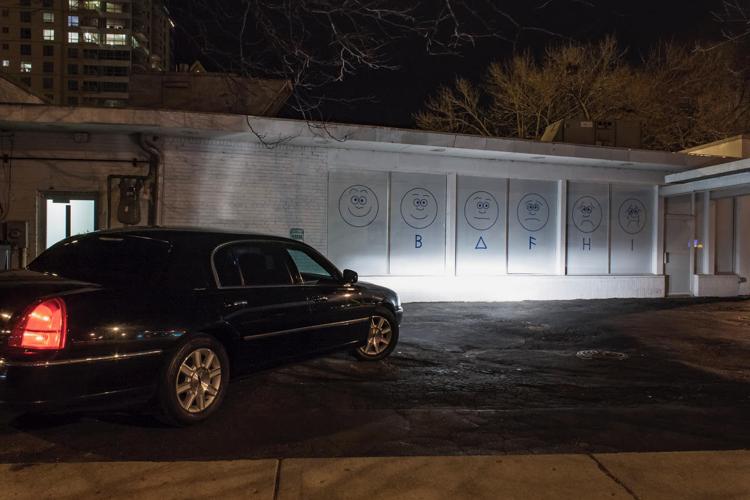 "I think it's good for artists to be hyper-locally focused," he added. "Being locally focused first should be any artist's priority, and moving outward from there, that's how you build a practice that is vibrant and sustainable."  
Gruzis hasn't given up all connections to larger cities. He's in a four-person group show that opened last week at Impakto Gallery in Lima, Peru.
Every week he drives to teach at the School of the Art Institute of Chicago, where he's been a lecturer for six years. This semester Gruzis is teaching an undergraduate studio class and a graduate painting and drawing seminar.
"I love painting, and I will continue painting for the rest of my life," Gruzis said. "I've found that doing public work and public practice is so enriching. It's easier to bring challenging ideas in front of people if it's something that's participatory and unique and not repeatable."
Is the new restaurant a work of art? Gruzis is designing the interior, but he wouldn't go that far.
"Instead of being in the studio and making something and sending it out and waiting," Gruzis said, "the satisfaction of creating something that's alive and moving every single day, and creates an aesthetic people can participate in … That's more exciting to me at the moment than anything else."
gnflsjdNGlk/XN CFV/lk nzXDVlj/