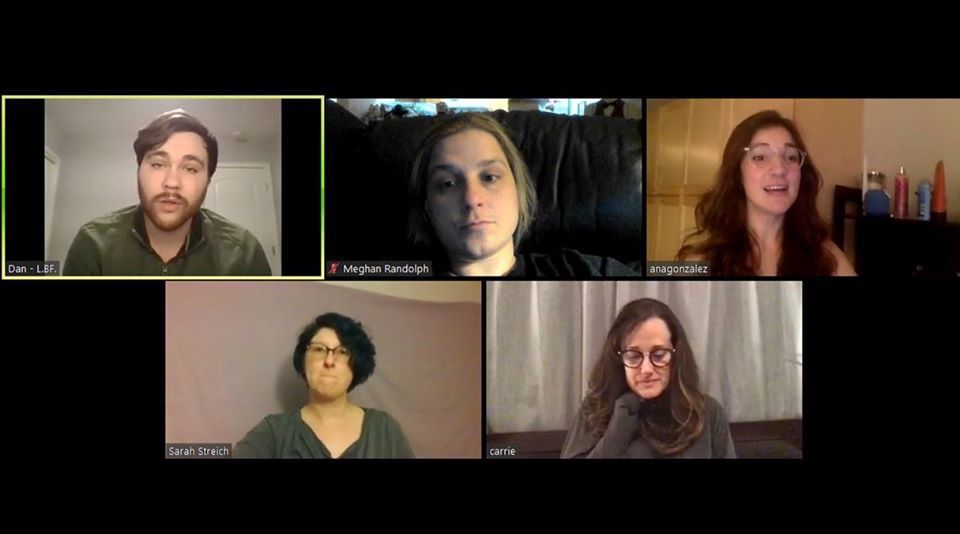 When Voices Theatre Project's latest performance concludes on Friday night, its cast will never once have been in the same room.
When these 21 local actors take the stage for Friday's one-night-only performance of "The Pussy Grabber Plays" — playing the women allegedly assaulted by President Donald Trump — they'll be speaking their lines into a webcam and playing off their fellow actors through a Zoom session. Their audience won't be in the orchestra or on the balcony but in their own living rooms or kitchens, catching the livestream video on Youtube Live.
It wasn't always going to be this way. When Voices Theatre founder Meghan Randolph first conceived of the production more than a year ago, she pictured sets, costumes and theatre seats. But Voices is a side project for Randolph, the executive director and founder of Music Theatre of Madison, and the production just had to wait. 
And then came the pandemic. Along with all its ills, it's brought some perks. Most people, including Randolph, suddenly have a lot more time on our hands, and, no offense to Netflix, are all pretty starved for art.
Randolph, who directed the production, decided that these eight short plays, driven by dialogue rather than action, would lend themselves to a virtual performance.
"It's all in the words. The women describe the things that happened to them," Randolph said.  
In "Five Beauty Queens Walk Into a Bar," five former Miss America contestants discuss whether to come forward about Trump's behavior. In "Sat Nam," a women debates with her mother about going public.
"Each play is really about relationships between the people ... In a virtual space it's just sort of like people talking to each other."
With so many people stuck at home, the online show might even yield a bigger audience than an in-person show would have, Randolph said.
The actors will perform on Friday from wherever they're sheltering in place, just as they've done for their virtual rehearsals. For some, figuring out the right space to perform was easy: Kassy Coleman, an actor and yoga teacher playing a yoga teacher, will perform from her home yoga studio.
There will be few props and no sets, though one character may get a backdrop. But Randolph said that adapting these plays to such a set-up required only minimal changes. The trickiest, she said, was trying to figure out how three characters can share a group hug through their screens.
"It's really meant to be using your imagination," Randolph said. "My favorite kind of theater, anyway, is where there's not a lot of bells and whistles and you can just listen."
Technically, the performance will be a "reading," with actors able to subtly consult their scripts — likely just off-screen — when needed. In an era where so many of us are seeing each other through video chats and Zoom meetings, Randolph hopes the technology may disappear into the background, allowing the virtual performance to seem oddly intimate. 
"We've become so used to that platform, so I think it will not be as big of an adjustment for people as it would have been maybe six months ago or a year ago if we tried to do this virtually," Randolph said. "I think it's extremely believable, and it actually is kind of elevating the material in certain ways."
For most theater companies, virtual shows won't make sense unless they can figure out how to monetize them, Randolph said. But Voices, with few costs and no profit motive, has a different dynamic. 
"I could see us doing as many virtual performances as we wanted to," Randolph said. "It's low-cost, and it's a good way to do fundraisers and spread awareness."
Voices finds its next script
Friday's performance is only the second show by Voices Theatre, which Randolph launched in 2017 to "highlight the voices of those who have been systemically silenced." The company's inaugural show, "The Exonerated," told the stories of wrongly convicted inmates on death row, raised $1,500 for the Wisconsin Innocence Project at the University of Wisconsin Law School.
When Randolph heard about "The Pussy Grabber Plays" — which tell the stories of seven real women who came forward to say they were assaulted by Trump and asks about others who might have remained silent — she knew this was just the kind of work Voices should bring to the stage. 
Only later did she learn that these plays were made for just this sort of project: Following the one-night debut in New York City in January 2019, the creators made the works available for free as long as proceeds went to women's rights organizations.
"It couldn't have been more perfect for what the Voices Theatre does," Randolph said, admiring that these women playwrights, some of them award-winners, had donated their work. The playwrights are Julia Brownell, Sam Chanse, Halley Feiffer, Sharon Kenny, Melissa Li, Sharyn Rothstein, Natasha Stoynoff, Bess Wohl and Anna Ziegler.
Friday's performance will be free to watch, but viewers will be encouraged to donate to the Rape Crisis Center.
Due to the pandemic, Pellebon said, the Center wasn't able to fundraise for Sexual Assault Awareness month and had to cancel upcoming events, said Dana Pellebon, senior director of client services at the Rape Crisis Center, who is also an actor in the show. "So this is our one true fundraiser for the spring."
Meanwhile, at the start of the quarantine, the Center experienced a spike in calls to its helpline, Some people are quarantined with their abusers, Pellebon said, while for others new anxieties and depression have resurfaced past traumas. 
Pellebon hopes the plays will not only raise money for the Center but will help the audience understand the complexities sexual assault survivors face. 
In "Credible Women" — the only one of the eight plays that is not based on an individual woman's true story — Pellebon plays a woman who was assaulted by Trump and did not come forward publicly. The character, wracked by guilt and uncertainty, wonders aloud whether she made the right choice. 
"It's that person's choice, and no matter what choice you make, there are feelings and consequences behind those choices," Pellebon said. 
The play delves into questions about what it means to decide not to report an assault: "What does that make you feel like? Is that a valid choice?" Pellebon explained. "Spoiler alert: It is."
Excited as she is to put on this production, Randolph worries that present anxieties could lead some to steer clear.While the cast won't be act out assaults, and Trump does not appear as a character, those who are triggered by discussions of assault or sexual violence might not want to watch. 
"It's hard to make it sound not depressing," Randolph said, but she sees it differently. "It's not a dirge," she said, explaining that the writers knew how to balance heavy material with laughs and uplifting moments. 
Take Randolph's character in the play "The Interview." As the journalist Natasha Stoynoff, who alleges Trump forcibly kissed her during a 2005 interview at his Mar-a-Lago resort, Randolph sings her frustrations as an aria, a funny series of expletives and high notes. "It's great, you know. It's cathartic."
"The plays are all about Donald Trump being terrible, but they're also about women banding together ... It's women, sometimes at odds, and then coming together to support each other, which is definitely a glimmer of hope.
"It's political, and there are things in it that are gross and upsetting, but there are also things that make you laugh and make you feel like women can rise above."
If you have experienced sexual assault, whether recently or long ago, help is available 24 hours a day, seven days a week at the Rape Crisis Helpline: 608-251-7273 (Spanish: 608-258-2567)
Share your opinion on this topic by sending a letter to the editor to tctvoice@madison.com. Include your full name, hometown and phone number. Your name and town will be published. The phone number is for verification purposes only. Please keep your letter to 250 words or less.