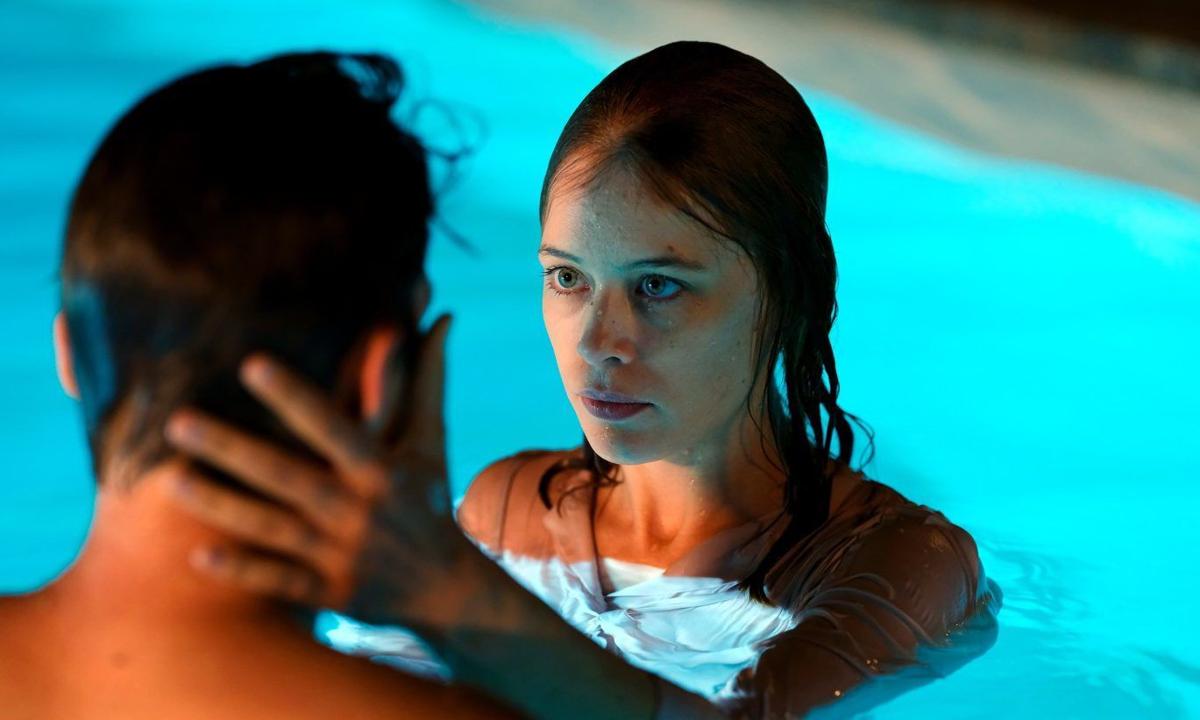 The title character of "Undine" is a mythical water creature, but don't expect the latest film from Christian Petzold ("Transit," "Phoenix") to be a German twist on "Splash." Petzold is discreet about the fantastical underpinnings of the film almost to a fault, and those unfamiliar with the legend will likely be confused.
It's better to let the fantasy linger in the background and focus on the very human love story that develops. This is the most purely, unabashedly romantic movie I've seen in a while, the camera lingering on its two lovers as they wander Berlin arm in arm, completely enraptured in each other's presence.
'Undine" is playing at both the Wisconsin Film Festival and the Milwaukee Film Festival through Thursday. The Wisconsin Film Festival includes an audio Q&A interview between Petzold and programmer Mike King. 
Undine (Paula Beer) is in the process of getting dumped by her boyfriend Johannes (Jacob Matschenz) as the movie opens, and her reaction is, to put it mildly, odd. "If you leave me, I'll have to kill you," Undine tells Johannes, and he seems to believe her.
This plays into the myth of the undine (although Petzold never explains it to the audience), a water sprite that achieves human form for love. If betrayed, the undine must kill her lover and return to the water. It's unclear at this point where Undine really is a water nymph, or merely believes she is. A lot of "Undine" reminded me of the stories of Haruki Murakami, where surreal flourishes float through ordinary human life, as in a dream.
Undine apparently forgets about her deadly promise when she runs into Christoph (Franz Rogowski, who starred with Beer in "Transit"). Christoph is a professional diver who repairs underwater turbines in dams, so perhaps he has a natural attraction to a water creature. He's sweet and open where Johannes was manipulative and duplicitous.
Beer and Rogowski have enormous on-screen chemistry as Undine and Christoph fall quickly and deeply in love; Petzold often uses the sound effect of a distant train rumbling in the distance to signify their roiling emotions. But the story of the undine is ultimately a tragedy, and it can't last.
What lingers in the mind about "Undine" isn't the relatively thin story, but the enchanting imagery that Petzold conjures up around these lovers and their magical, probably doomed relationship. A recurring theme in the film is of lost cities; Christoph encounters a flooded town while diving in a lake, and spies Undine's name (with a heart next to it) printed on an archway. Undine's day job is as a tour guide at the Berlin Historical Museum, where she talks about the city's changing face, how it's been destroyed and rebuilt over time.
Lost love is like those lost cities. While we're living in that moment, we think things will stay this way forever. But time moves on, that moment is erased from the map, and later on we look back and wonder how things could have ever been that way. "Undine" beautifully captures the intensity of love in the present and the poignancy of love in the past.