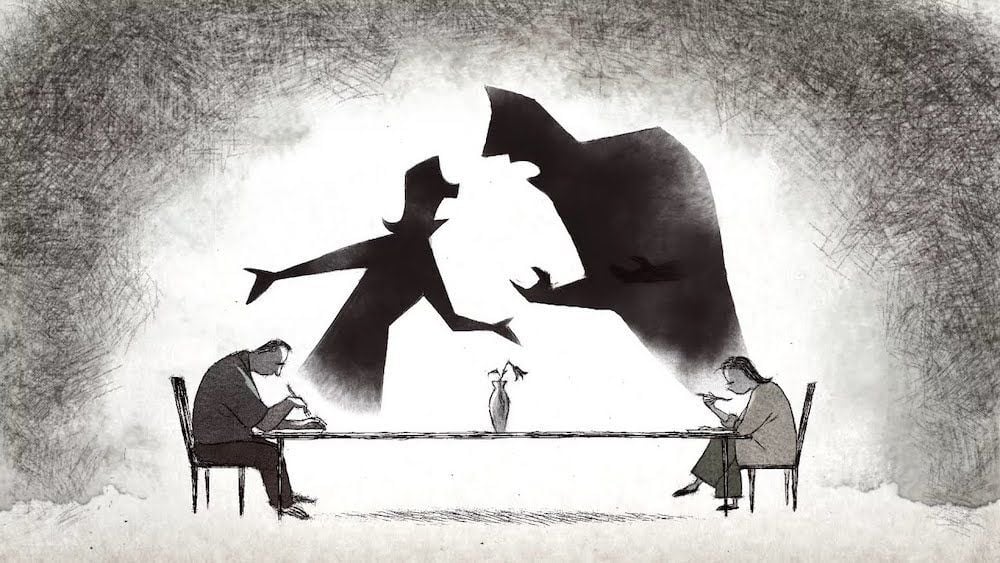 Each year I review the five films nominated for an Academy Award for Best Animated Short, and each year I get asked if the collection is appropriate for kids. Usually my answer is "No," although this year the answer may be "For goodness sakes, no!"
At least one of the nominated films is probably too emotionally intense for a few adults as well. In a way, that's a good thing. While the Animated Feature category has been dominated by family-friendly films for years, the short film category offers the chance to watch films that are more adventurous, both in subject matter and in visual style.
The films screen at 7 p.m. Tuesday at Marcus Point Cinemas.
The film that will likely garner the biggest emotional response is Will McCormack and Michael Govier's "If Anything Happens I Love You," which uses spare pencil and charcoal animation to illustrate a parent's grief. A couple quietly goes through the routines of their day — watching TV, eating dinner in silence — while shadows of themselves hover behind them.
The shadows represent the emotions that the mother and father are keeping locked away in the wake of their daughter's death, keeping themselves numb and isolated from each other. A random encounter with the girl's favorite song causes those feelings and memories to come flooding back for the couple.
Those memories include the circumstances of the daughter's death, which is portrayed discreetly but is still devastating to watch, and sadly relevant to the news of the past few weeks. But the film's message is ultimately a healing one, that remembering the fullness of a life is the only way for those who mourn to move forward. "If Anything Happens I Love You" is now available to watch on Netflix.
I was wowed by Erick Oh's ambitious "Opera," which attempts nothing less than to capture the cyclical nature of history in a giant animated tableau that looks like an intricate level from the video game "Monument Valley." We watch as hundreds of tiny figures move in an intricate loop of working, eating, fighting and dying, while a ruling class watches from above, enjoying the fruits of their labor.
"Opera" is a marvel that you can watch over and over, each time focusing on different little dramas that play out in the frame. It's a stunning achievement unlike anything I've ever seen.
On the more kid-friendly front is "Burrow" from Madeline Sharafian and Michael Capbarat. Both are Pixar animators, but "Burrow" has more of the look of a hand-painted storybook in its tale of a bunny who wants to build his dream home underground, only to keep running into moles, worms and other critters who already live there. The moral is to learn to get along with your neighbors — even if it's a giant badger in a bathrobe.
"Yes-People" by Icelandic filmmakers Gisli Darri Halldórsson and Arnar Gunnarsson also deals with living in close quarters to others. It's a series of wry vignettes about the denizens of a tiny apartment building, from a complacent middle-aged couple to a harried single mom with two kids. It doesn't add up to much but the rubbery animation is enjoyable.
Adrien Mérigeau and Michael Capbarat's "Genius Loci" is an impressionistic tale of a young woman experiencing Paris. The title refers to the "protective spirit of a place," and the film is less about story and more about creating an atmosphere, as the woman turns into a feral beast to explore the sublime and menacing sides of the city.
The collection also features three short films that didn't make the cut this year. DreamWorks' "To Gerard" feels like the most obvious Pixar homage in its tale of an elderly would-be magician. "Kapeamahu" is a gorgeous retelling of a Hawaiian legend, and "The Snail and the Whale" is a storybook come to life from the makers of "The Gruffalo."