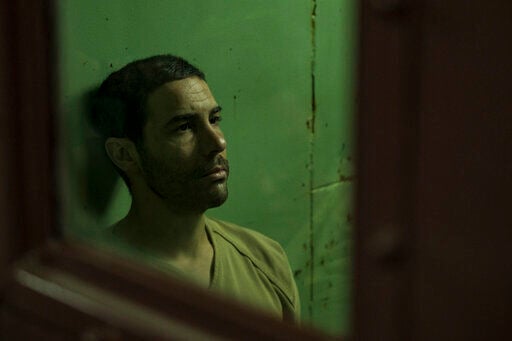 Note: "The Mauritanian" is only playing in movie theaters, and was reviewed from a digital streaming link. The review is about the film itself, and a positive review is not intended to be encouragement or an endorsement to go see the film in theaters right now. People should make up their own minds whether they want to see a movie in theaters or wait until it arrives on video-on-demand or DVD. And if you do decide to go the theater, please abide by all theater and public health rules to stay as safe as possible.
There's a good movie locked away inside "The Mauritanian." The film is based on "Guantanamo Diary," Mohamedou Ould Slahi's first-person account of being arrested after 9//11 and held without charges in Guantanamo Bay for 15 years.
The excellent Tahar Rahim ("A Prophet") plays Slahi, and the film is peppered with flashbacks that feature Slahi in solitary confinement, being battered with "extreme interrogation" techniques like sleep deprivation, stress positions and worse.
Like a modern-day "Papillon," these sequences contrast the brutal inhumanity of incarceration with the essential humanity of the incarcerated. Slahi hunts for moments of grace, even humor, amid the darkness, forcing his captors to recognize him not as a number but as a human being.
Guantanamo is presented as an almost surreal resort, a brutal institution located on a picturesque Cuban beach. There's even a McDonald's nearby. Director Kevin Macdonald shoots these scenes in a boxy full-screen format to separate them from the rest of the widescreen film, as if Slahi was confined inside the frame itself.
Unfortunately, this personal story is wrapped inside a tiresome and predictable drama in which white savior characters pound desks and pontificate about the Constitution and the rule of law. This is a dispiriting old trick in these sorts of dramas, to put familiar Hollywood actors (usually white) in the foreground of a story about non-white people, but one would have thought we'd be beyond it by now. It's the sort of film that uses the image of an American flag shot from behind barbed wire more than once, and thinks it's being profound.
It is welcome to see Jodie Foster, who doesn't make many movies these days, in a canny performance as Nancy Hollander, a hard-charging liberal attorney (dubbed the "terrorist lawyer" by her detractors) who agrees to take Slahi's case. Foster plays Hollander as someone so used to government abuses of power that she's almost amused when she runs up against roadblocks, such as receiving boxes and boxes of documents from the government, every line of it redacted.
Her assistant, played by Shailene Woodley, has almost comical levels of gullibility by comparison; at one point, she questions why they would even defend an accused terrorist, which tees up Foster to give one of her "rule of law" speeches.
On the other side of the case is Marine Corps prosecutor Stuart Couch, played by Benedict Cumberbatch with a Louisiana drawl so forced that it seems like he's trying to do a Dennis Quaid impression rather than a performance. Couch is presented the case as if it's a slam dunk, that Slahi is one of the lead organizers of 9/11 and the "Al Qaeda Forrest Gump" because of all his terrorist connections. What he finds is that most of the "evidence" is based on hearsay, and confessions coerced under duress. Like the Woodley character, we're supposed to believe that Cumberbatch's character is a brilliant prosecutor who is also hopelessly naïve.
Macdonald slices and dices the film's three narrative threads to the point of incoherence, cutting between one featureless conference room to another, going back and forth in time, never building momentum.
"The Mauritanian," and Rahim's sensitive and humane performance in particular, made me want to read "Guantanamo Diary." The rest of the film is a pedestrian attempt to simplify and sanitize a complicated, enraging true story into a bland melodrama.