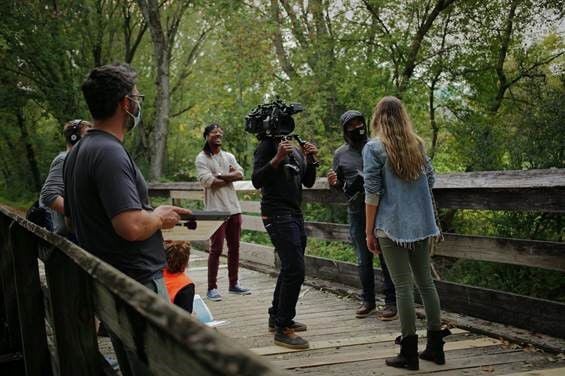 At the start of 2020, Bravebird was poised for its best year ever. The Madison production company produces documentaries, advertising and corporate videos with an eye toward presenting diverse voices in front of and behind the camera.
And then came the three words that have become part of every business's story — the pandemic hit.
All of that work was put on hold. Bravebird founders Alex and Noel Miranda could have just hunkered down and weathered the storm, making long-term plans for 2021 and beyond.
Instead, they decided to meet the moment and use the unexpected free time to make their first feature film.
"We, like a lot of companies had a choice — what are we going to do?" Noel Miranda said. "During that time, I think it was in early May, Alex just had this story idea pop into his head. And he saw this scene of two people that we know really well, who are now our leads in the film. And what would life look like for them to cross each other's paths in the middle of a pandemic?"
The result is "Trace the Line," a feature film that reflects 2020 both in the way it was made using COVID-19 protocols, as well as responding to the Black Lives Matter protests of last summer. The story, which Alex Miranda describes as a combination of fiction and documentary, is told from the perspective of two artists, a Black man and a white woman, who are processing the events of the summer while living during the pandemic.
Alex Miranda shot the bulk of the film last September, and the film is currently in the post-production process of editing and scoring.
His journey to "Trace the Line" began when he was a young actor working in Hollywood. A Latino, he found himself repeatedly typecast.
"No matter what ethnicity I played, it was always someone who was in poverty or was uneducated or was a criminal, and I always needed salvation," Alex Miranda said. "I ended up leaving the industry. I didn't feel like I was contributing to society in a positive way."
After a stint studying theology, where he met his future wife Noel, Alex came to Madison for a job as a creative director at an advertising agency. He enjoyed the work, particularly because he was able to present the sort of diverse narratives he wasn't able to in Hollywood.
"We were doing corporate videos, but we were really trying to tell impactful, authentic human stories. We were just blowing up. That's what got me into directing, working in advertising and marketing," he said.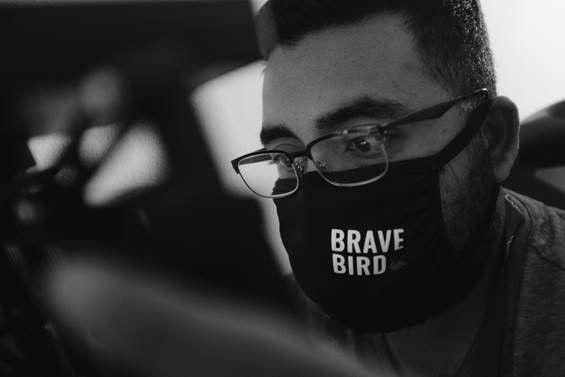 Alex Miranda actually began traveling and shooting footage on his own for the film as early as May, taking his camera to Florida, Wyoming and Utah. But his plans for the film shifted over the summer following the police killing of George Floyd.
"As the events of the summer unfolded, we kind of took a detour in the script," Noel Miranda said. "The film itself became this unique reflection of the Midwest talking about itself, which we really don't get much of in film."
When it came to shooting the bulk of the film over 21 days in September, Miranda and his cast and crew observed COVID-19 protocols to keep everyone safe — testing, masks, social distancing, shooting outdoors as much as possible. There was even a professional chef making individual meals for everyone so food wasn't shared.
"The fact that we did it without any COVID-19 incidents with our cast and crew is like the biggest mark of success to me," Alex Miranda said. "And then we were experiencing all these emotions for real, and then filming them for real. The shoot took a toll — spiritually, emotionally and physically."
The film's unorthodox creation extended to inviting members of the community into the process while it was being made. Alex and Noel Miranda organized a couple of virtual gatherings with the public to talk about the concept and show some work-in-progress footage, and will continue to do more as the post-production process continues. The filmmakers have taken part in crowdfunding campaigns and participated in StartingBlock's Social Media Cohort last year.
"It takes a village to make these things," Noel Miranda said. "Not just our team, but there's been a real group of leaders and donors and cheerleaders, and corporations and nonprofits that have supported us along the way. And so we're thankful and we're really glad to be making this film here."
Once the film is completed, Bravebird plans to begin submitting it to film festivals in May, and the filmmakers are hoping for some kind of national streaming distribution. While it stands as a document of a very trying year, Alex and Noel hope that "Trace the Line" can be a testament to what can be achieved under such conditions.
"We managed to gather a group of over 40 people to work on this project," Alex Miranda said. "We didn't work person-to-person, face-to-face because of the situation, but we gathered together. I think people are just feeling really beat up and hurt. This film, it just gave us a lot of hope."