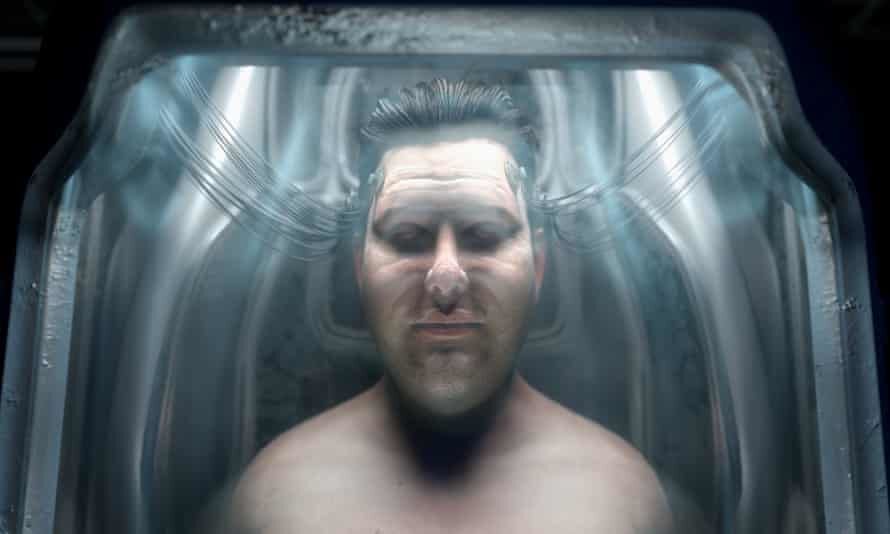 The first interview subject seen in Rodney Ascher's "A Glitch in the Matrix" is a lion man. The anonymous subject uses a computer-generated avatar to conceal his identity, giving himself a shiny red mane and glowing green eyes.
Another subject wears the avatar of a smiling boxy robot, while another looks like the Egyptian jackal god Anubis, only with a sharp bow tie. It's like the characters from Fortnite finally get to sit down in front of a camera and reveal what REALLY happens on that floating bus.
The first instinct of a viewer might be to sneer at these oddballs, but Ascher is not one to sneer. In films like "Room 237" and now "Matrix," Ascher approaches people who believe outlandish conspiracy theories with curiosity and even-handedness rather than derision. "Room 237" looked at people who believed they had decoded the secret meanings of Stanley Kubrick's "The Shining." In "A Glitch in the Matrix," Ascher talked to adherents of "simulation theory," who believe that they are actually living in a video game or some other kind of computer simulation.
"A Glitch in the Matrix," which premiered last week at the 2021 Sundance Film Festival, will kick off the UW Cinematheque's free watch-at-home film series this week. Email info@cinema.wisc.edu and put "GLITCH" in the subject line for access to view the film. Cinematheque director Jim Healy interviews Ascher on the latest episode of the Cinematalk podcast.
The film opens with a 1977 speech that the late science fiction author Philip K. Dick gave to a perplexed audience in Paris. Instead of talking about his books like "The Man in the High Castle" or "Do Androids Dream of Electric Sheep?" (many of which dealt with shifting realities), Dick matter-of-factly laid out his belief that he himself was living in a simulation.
The lion, the robot and the jackal god all have similar beliefs, or at least they enjoy thinking and talking about them. One talks about how, walking down the street, he will think of a random object like an orange fish, and within 10 minutes will see an orange fish on a restaurant sign or something. "Somebody's got to be putting their hand on the scale," he said. Another theory is that the guy's subconscious remembered an orange fish from a previous walk, but that's not as much fun as wondering if there's a puppet master up there nudging reality for our benefits.
The interviewees often process their worldviews through the visual language of movies or video games, and the film is a pop culture treasure trove of images from "Dark City," "Grand Theft Auto" and, of course, "The Matrix." Ascher also uses computer-generated landscapes to dramatize re-enactments of the participants' memories, with eerie polygonal landscapes and people that look like crash test dummies.
"A Glitch in the Matrix" doesn't try to convince us one way or the other about the validity of these theories, but has more of the vibe of a late-night dorm-room hangout sesh, with people arguing theories for the pleasure of arguing them. He also interviews philosopher Nick Bostrom and cartoonist Chris Ware about their views on simulation theory.
There is a darker, antisocial side to the theory that other humans are just non-player video game characters, illustrated by a disturbing interview with a "Matrix" fanatic whose obsession led to a tragic end. But it could lead to a positive outlook on life as well. The lion guy says there may be value in living a rich, interesting existence, just to "keep your player interested." If you're going to be stuck inside a video game, you might as well make it one worth playing.