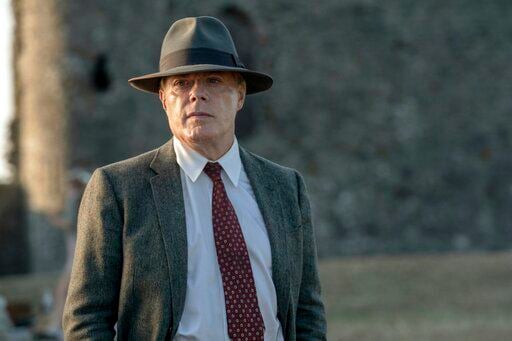 It could be the plot of a Gothic horror movie. A new teacher comes to a mysterious boarding school in a remote corner of England that the locals whisper about nervously. The teacher is there to replace a predecessor who died under unexplained circumstances, and discovers dark secrets within the school.
But this school isn't haunted by a ghost. It's haunted by the specter of Adolf Hitler.
"Six Minutes to Midnight" is inspired by a real place, a finishing school in the seaside town of Bexhill where, in the 1930s, the German elite sent their daughters. Actor-comedian Eddie Izzard's family lived in Bexhill, and the school is used as the basis of a fictional suspense thriller, which Izzard stars in, co-wrote and produced.
Izzard plays Thomas Miller, a new teacher hired by the school in 1939, on the eve of World War II. The school's British headmistress (Dame Judi Dench) somewhat naively sees her school as a symbol of English-German fellowship, and doesn't see the sinister implications that the school's uniform patch features both the Jolly Roger and a swastika. It's not until she sees the words "JEW" and "GENTILE" scrawled on a chalkboard by the school's German instructor Ilse (Carla Juri) that she starts to understand that her school isn't just raising young women, but young Nazis.
All is not what it seems about Miller, either. He's really a British agent, sent to gather intelligence about the school and find out what happened to his predecessor, who was also a spy. The Brits figure that if war breaks out, they can hold onto the girls and use them to pressure their parents in the German High Command. But Hitler also knows the value of the girls, and will go to any lengths to ensure they don't fall into British hands.
For a while, I expected "Six Minutes to Midnight" to be an austere historical drama, sort of a World War II-era "Dead Poets Society," as Miller and Isle struggle for the hearts and minds of their students. But Izzard has instead created a juicy old-fashioned thriller, full of double crosses and narrow escapes.
Director Andy Goddard has a long resume in television that includes both "Downton Abbey" and "Daredevil," and he keeps the film smoothly humming along as Miller gets in and out of one scrape after another. An extended sequence in which Miller, on the run after being framed for murder, infiltrates an oompah band is both suspenseful and pretty funny.
The film features a strong supporting cast, including James D'Arcy as an exacting police captain investigating the school, and Jim Broadbent as a local bus driver who is surprisingly resourceful.
"Six Minutes to Midnight" isn't a great movie, and its reach sometimes exceeds its grasp, especially in a finale that involves CGI planes battling it out in the skies. But it has the appeal of an old paperback thriller you might find on the shelf at a vacation rental, one that doesn't look like much from the cover but ends up pulling you in.