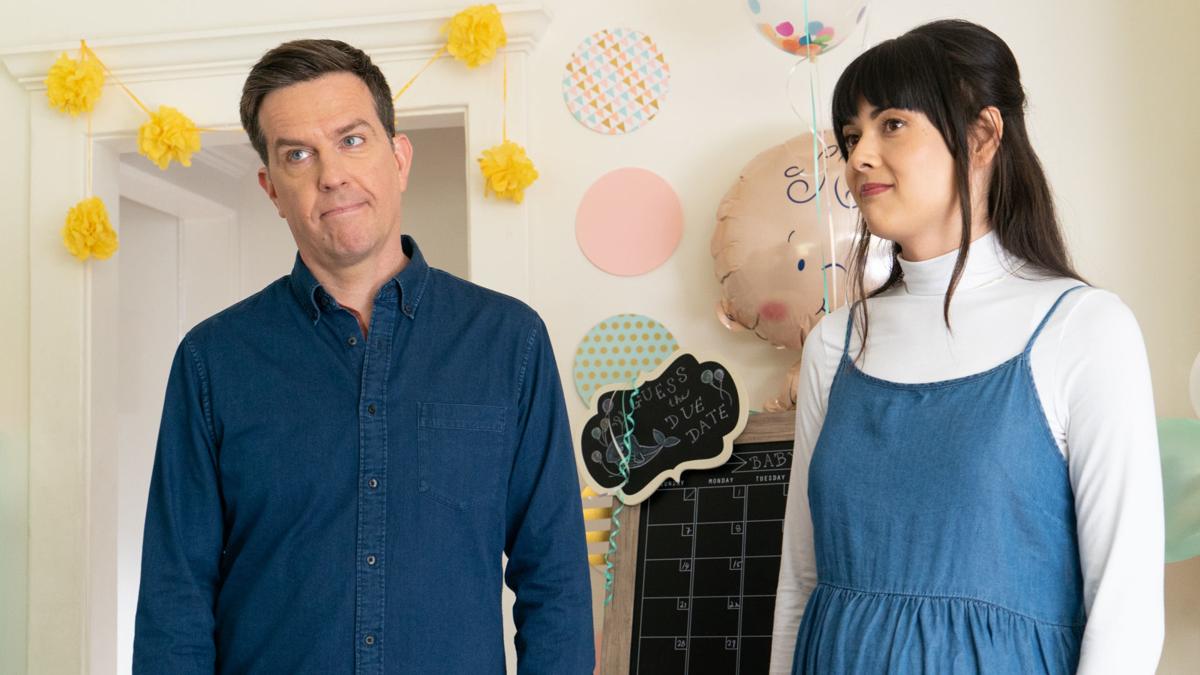 "Together Together" is currently only in theaters and was reviewed from a digital screening link.
I cringed a little when I first saw the poster for "Together Together," featuring 47-year-old Ed Helms and 30-year-old Patti Harrison sitting next to each other. The last thing we need is yet another romantic comedy featuring a much older man courting a much younger woman.
Fortunately, writer-director's Nikole Beckwith's film is not a rom-com at all, but a witty and empathetic movie about two loners finding a strictly platonic friendship that blooms in the unlikeliest of circumstances. And, just to put an exclamation point on it, the film rakes Woody Allen over the coals in one scene to underscore that it's not that kind of movie.
Helms plays Matt, a successful app developer whose biggest success is "Loner," sort of a no-contact Tinder that allows you to view and save other people's photos but never interact with them. Matt's life is similarly lonely, and having given up on finding a soulmate, he decides he wants to move ahead with his life and have a baby on his own.
He hires Anna (Harrison), a twentysomething woman who has been sort of drifting through life as a barista since she gave up her own baby for adoption as a teenager. She could use the money, and figures that she'll be able to stay emotionally detached from her pregnancy this time, since the baby she's carrying belongs to someone else.
Of course, that plan doesn't work out. The enthusiastic Matt begins looking after Anna, wanting to be involved in the pregnancy every step of the way, and Anna is happy to have someone caring in her life. A real friendship forms. But it's also a friendship based on a business transaction, and one that likely can't last past Anna's due date if she wants to stay emotionally detached from the baby.
Beckwith's screenplay navigates the complexities and contradictions of this bond with humor and humanity, and is very attuned to the balance of power between Jack and Anna and how it shades their relationship. There's a scene midway through where both characters give their "why I'm doing it" speeches — why Matt wants be a single father and why Anna wants to be a surrogate for him. It's an expected scene, but it's so well-written and well-acted that it feels natural and authentic.
Helms, who usually plays nerds, jerks, or nerdy jerks in movies these days, delivers a marvelously unguarded performance as Matt. The lone single man in a birthing class full of couples, he knows that other people think of him as weird for pursuing single fatherhood and doesn't care. "It's weird that everybody thinks of me as hopeless, when I'm so tremendously hopeful," he says.
Harrison, a stand-up comedian who is so good as Aidy Bryant's acerbic co-worker on Hulu's "Shrill," is a real revelation as Anna. She's very funny (especially in conversations with a sullen co-worker played by Julio Torres), but she's also endearing and vulnerable as a young woman trying to find her footing.
"Together Together" doesn't wrap up things neatly, but in a restrained way suggests that these two people will figure out a way to care for each other, and the new life they create together.