It's been about six months since Minneapolis police officer Derek Chauvin killed George Floyd. 
It's been about six months since protesters began filling the streets and some people broke downtown windows. It's been six months since store owners began covering their windows with plywood, and about six months since artists covered that plywood with art.
More than 100 murals appeared on and around State Street. Some were funded through a city-sponsored street art initiative, and some were created by artists taking their own initiative. 100 more appeared elsewhere around town. 
Many of these murals have since come down, but some remain, and the conversation they've sparked continues. On Wednesday evening, the artists behind three of those murals gathered virtually for a panel discussion with Chazen Museum of Art director Amy Gilman and University of Wisconsin-Madison art professor Faisal Abdu'Allah, hosted by UW-Madison's Center for the Humanities.
Each artist emphasized the ways that this experience differed from their previous work.
"I learned just as much from the street artists who were next to me as we were doing this project as I do from faculty at universities," said Shiloah Symone Coley, who graduated from UW-Madison earlier this year and is now earning a Masters of Fine Arts at American University in Washington, D.C.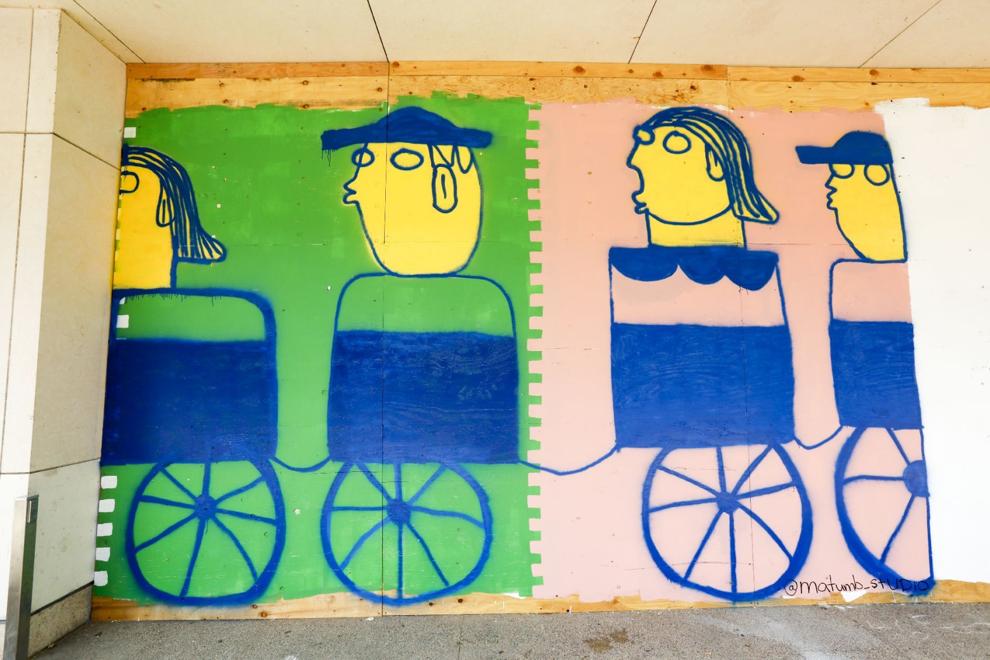 Taj Matumbi, an MFA candidate at UW-Madison, said he'd never created something so large with spray paint. "I used to do graffiti and I got in trouble," he said, recalling getting arrested in junior high. When he decided during college to pursue a career in art, Matumbi discovered he could do what he loved without fearing the police. 
On panels outside the Overture Center, Matumbi spray painted four characters traveling on a boxcar train.
"This was like the final finale: working on State Street and not having to worry about it being illegal. I got free art supplies and I got to do what I wanted," Matumbi said.
Yorel Lashley is the director of arts for the office of Professional Learning and Community Education at UW-Madison's School of Education. As an educator and professional musician, he was new to creating visual art.
"I'm the imposter, for sure," he joked. Lashley runs Drum Power, a youth leadership program that builds confidence through West African drumming. The mural provided an opportunity for him and the young people he works with to make a public statement about police violence. 
"It was more of an outpouring of emotion," he said of the three-paneled painting they created, which includes the Black Liberation flag covered with names of people killed by police over the last century, along with a collection of symbols and quotes painted by Drum Power youth. 
Lashley said he encourages Drum Power participants to define their own paths in life, but police violence undercuts his efforts — and theirs.
"The ultimate example of disempowerment is for someone to take your life," he said. He wanted to make a public statement at a moment when more people are thinking about what that disempowerment means. 
The artists viewed the project as being about taking control of a space and taking back power for themselves. 
"It was such an incredible opportunity for Black artists to claim agency and use their own agency to have control over a space they do not have control over in Madison, Wisconsin, which is State Street," Coley said. "What does it mean to have the freedom to put up what you want in this space?" 
In her space, at the corner of State and North Fairchild streets, Coley chose to paint two fragmented portraits in honor of (though not necessarily depicting) two children who had been killed by police in the last decade: Aiyana Stanley-Jones, 7, and Cameron Tillman, 14. 
It wasn't long after the murals began appearing that people began asking what would happen to them when downtown businesses decide they want their windows back.
"This question about what happens after is a very alive one," Gilman said, noting that the works "were not created knowing what would happen."
Lashley said he believes art should evolve over time. The mural he and the Drum Power youth made is probably too big to fit in his home, he said, but perhaps it could become a backdrop for dance performances. 
Even while the murals remain in place, there are plenty of questions about what may happen to them. Lashley said he was "interested to see if some of the message, which wasn't really very filtered, would create some discord for people." That would be a good thing, he said, "but I wondered if they would express that by trying to deface it."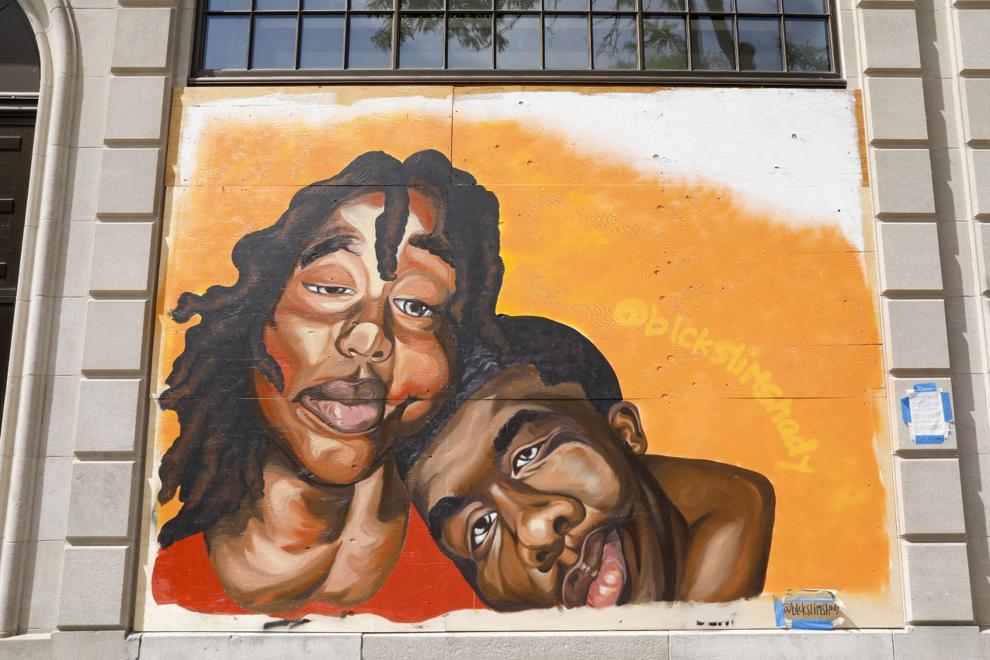 Some works have been defaced, including Coley's. A friend called Coley in D.C. to tell her that someone had painted "Trump 2020" on her mural. 
The friend was frantic, offering to paint over the addition. But Coley, whose recent works often include movable elements to allow viewers to interact with the art, wasn't worried.
"Obviously that wasn't something I was super excited about, but I was like, what does it mean for this to be a public conversation that we're having?" Coley said. "I think that's a really interesting dialogue that starts to happen with public work that, in a way, isn't allowed to happen with gallery space."
Coley's more worried about whether the art will change the viewer. She recalled seeing people flock to State Street to photograph the newly painted works, weaving amongst the area's many homeless people. She watched as a homeless Black woman and her children struggled to manage her luggage.
"No one was actually engaging with her, offering her any support," Coley said, and that made her wonder. "Is it the artist's responsibility, after you pose a question, to take action? You can lead a horse to water, but can you make them drink it?'"
Coley isn't sure, but she's considering "other avenues" too. "My visual art is not always going to be enough to challenge an audience and also hold them accountable," Coley said.