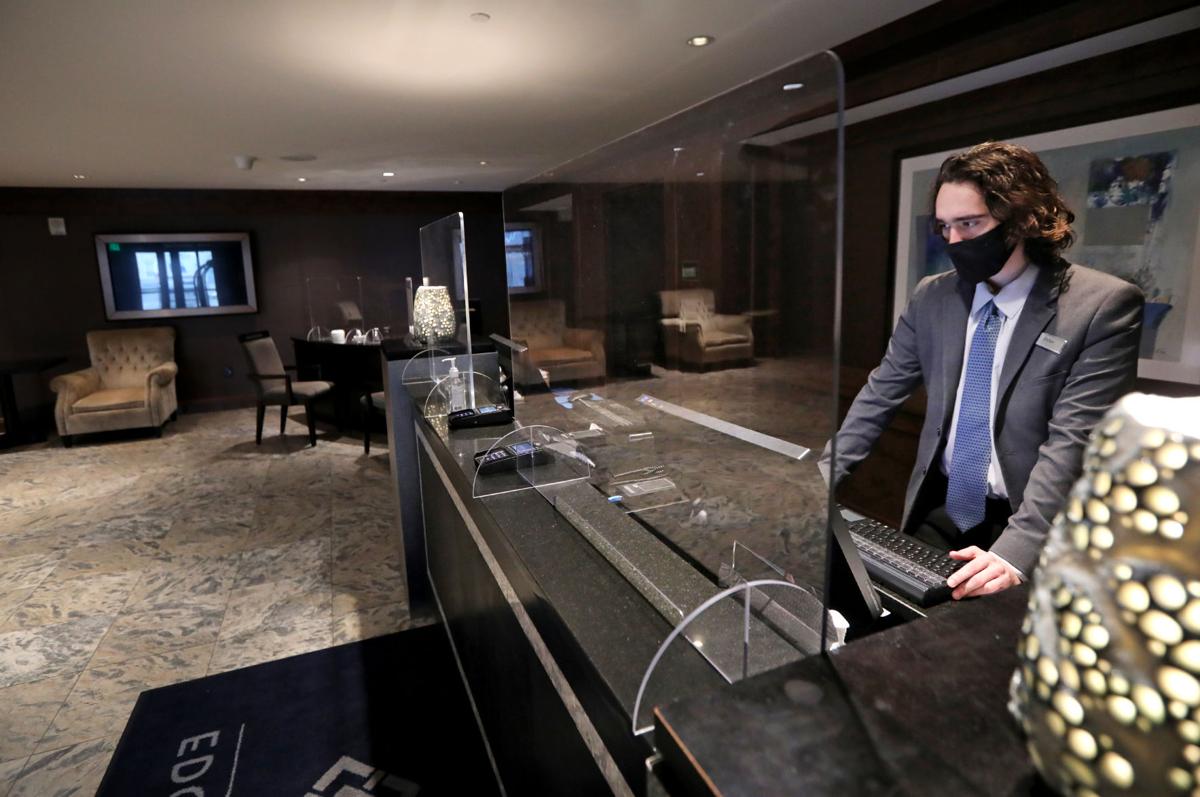 The pandemic dealt a heavy blow to tourism across Wisconsin, but no county felt it more than Dane County, according to data released Friday by the Wisconsin Department of Tourism. 
In the county, visitors spent 43% less in 2020 than in 2019, 50% more than the average loss across the state. In downtown Madison, the drop was yet starker: 62%, or more than double the statewide average. Downtown Madison was also the epicenter of the county's 2020 hospitality job losses, shedding 44% of hospitality jobs, double the state average.
For Ellie Westman Chin, CEO and president of tourism bureau Destination Madison, the report puts numbers to the losses she watched during a year of low hotel occupancy and layoffs.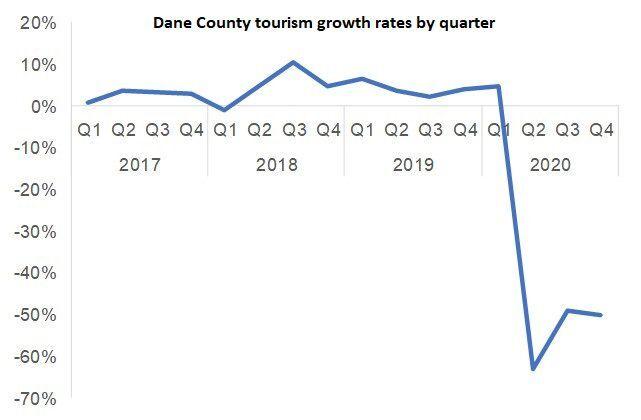 "We didn't have a great grasp on exactly how deep that decrease was going to be until we received this report," she said. "Being down 43% in visitor spending — it's really just so dismal."
The loss meant $57 million less in tourism-related tax revenue for Dane County. "The hardest part of seeing these numbers is knowing how many thousands of local people are affected by this loss," Destination Madison Board Chair Rob Crain said in a press release. "We know the money visitors bring to Dane County finds its way into businesses they never visit, feeds children they never meet and supports non-profits whose services they never need."
Milwaukee County consistently brings in the most tourist dollars of all Wisconsin counties, but, for nearly five decades, Dane County held onto second place. In 2020, Dane County was surpassed by Sauk County, which saw only a 16% decline in visitor spending. 
Westman Chin attributes the disproportionate toll on Dane County to two factors. Those who did choose travel during the pandemic often avoided bigger cities, she said. And much of Dane County's tourism is tied to conferences and other large events — think Ironman and CrossFit competitions — the sorts of events that were quickly canceled when the pandemic set in.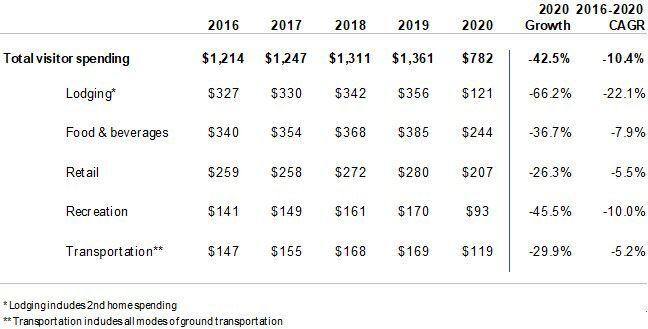 The pandemic effects have carried into 2021 too. Thirty events booked through Destination Madison for this year have already been postponed to future years, an $11.5 million loss for this year. But some notable events will go forward, including the World Dairy Expo, which organizers announced in March would again take place at the Alliant Energy Center this fall, after canceling last year and soliciting proposals for alternative locations for 2021. 
But Destination Madison won't be relying on those factors alone, she said, noting that the U.S. Travel Association forecasts that the tourism industry won't return to 2019 levels until 2024. "We cannot afford to wait that long," Westman Chin said. 
Among the challenges to restarting the industry will be recruiting enough workers, she said, citing a "workforce development need" for tourism industry employees. Destination Madison plans to work this year with local high schools, colleges and "multicultural partners" to help more people learn about career opportunities in tourism. 
Next Wednesday, the tourism agency and its partners will release a six-point recovery plan based on input from members of the hospitality industry. It's a "pretty aggressive" plan, Westman Chin said. "We hope all of our partners will work with us to get that economic impact back sooner rather than later, in as safe a way as possible.
"I just think there's a whole lot of positive on the horizon, and we're going to be right there leading the charge to get these visitors back into our community."
Share your opinion on this topic by sending a letter to the editor to tctvoice@madison.com. Include your full name, hometown and phone number. Your name and town will be published. The phone number is for verification purposes only. Please keep your letter to 250 words or less.