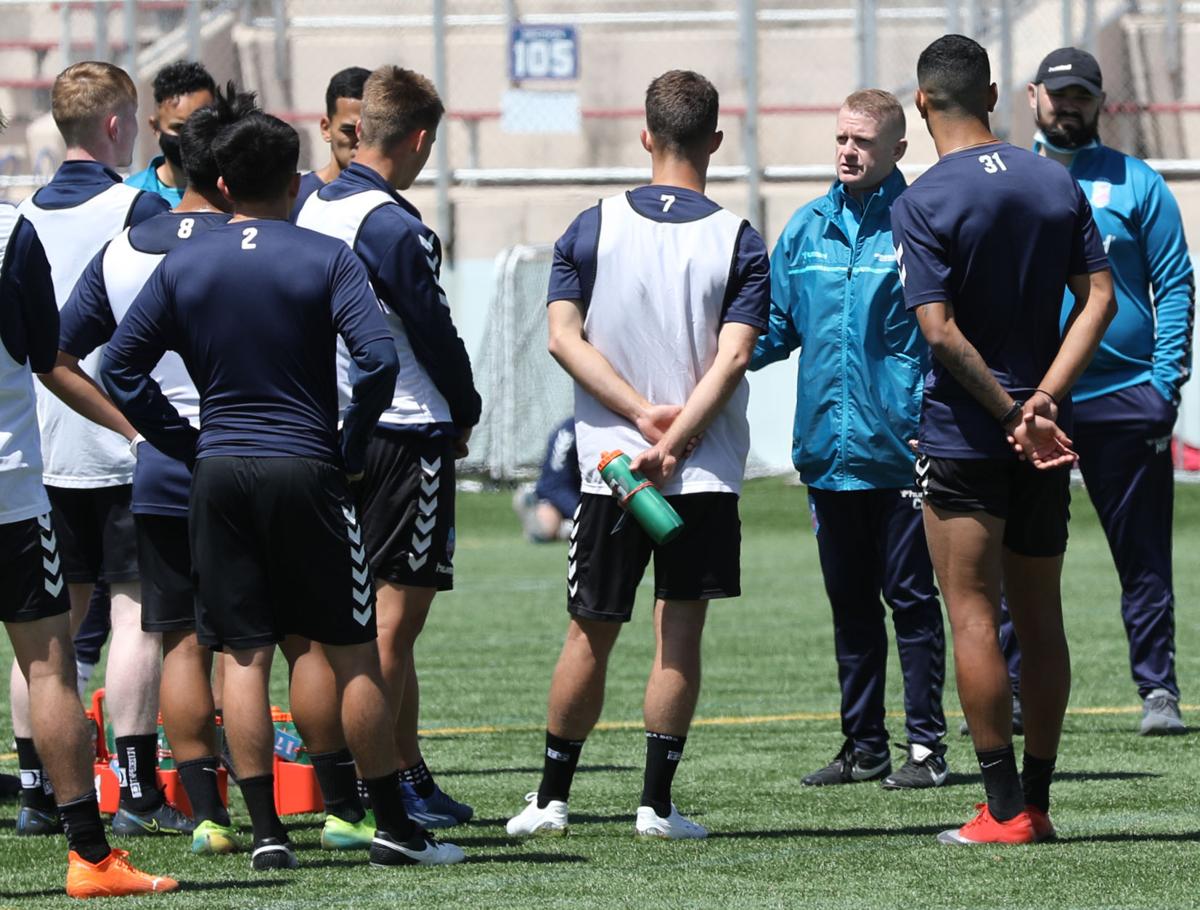 Forward Madison FC has plenty of new faces on the roster, guys unfamiliar to fans who last saw Madison's minor league soccer team play at Breese Stevens Field in autumn 2019. The Flamingos play their home opener Saturday at 7 p.m. against North Carolina F.C. after playing to a 1-1 tie at Tucson last week.
The most notable — and audible — of the team's newcomers is Carl Craig, the redheaded coach who prods his players with a Geordie accent common in the northeast region of England, where he learned to play soccer while performing in anarchist punk bands, among other colorful avocations.
If former coach Daryl Shore — dismissed after the team finished 5-5-6 in USL1 play in 2020 — was a stolid sideline presence, economical with his words and difficult to read, Craig is the opposite. "C'mon now, son! C'mon now, son!" he urged at practice earlier this week before describing how to continue play when "the pass is shite or your settle is rubbish."
After submitting to a COVID-19 test — "I've got to go see the chimney sweep!" he told a reporter, miming the nostril swab motion — Craig explained what he means when he says he wants Forward to play the game "on the front foot."
"Growing up in the UK, Newcastle, I want to see teams go that way," he said, pointing to the opposing goal. "There has to be defense, but I want to see our team go that way and score goals. That's the type of football I like to play and that's the type of football I want to teach."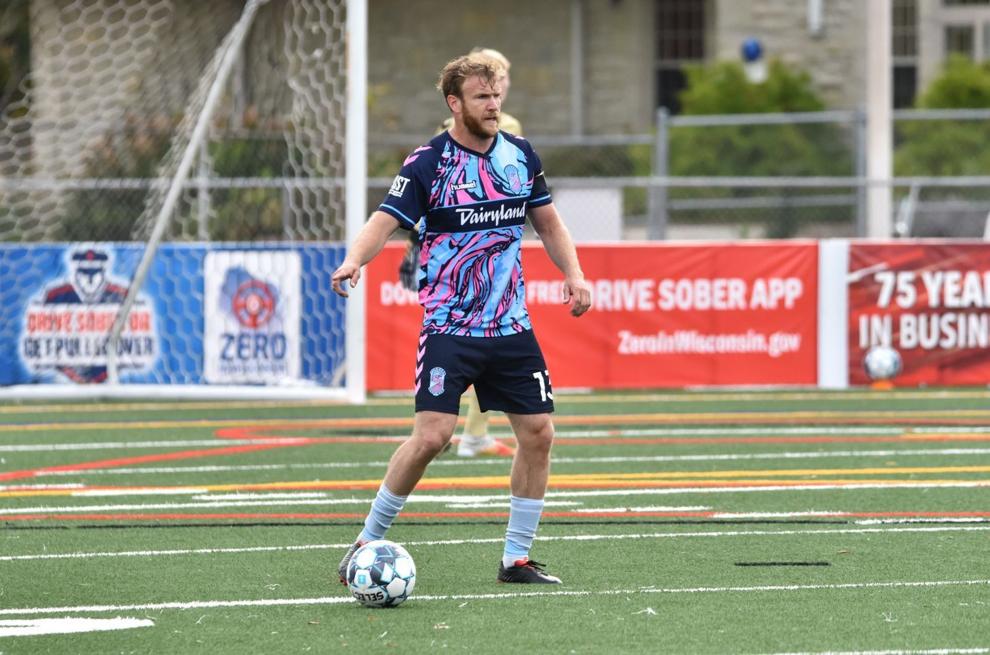 Craig uses the word "thrust" to describe his approach to the game, and his partner in translating that idea to the field is Connor Tobin, the team's veteran center back and captain. Out of the 11 players who started the season opener at Tucson last Saturday, Tobin was among just three who were on the roster in 2019.
"I want him to go take the game to the opposition, and he's doing that in addition to playing defense," Craig said of Tobin during an interview with the pair. "Maybe he wasn't expecting that two years ago. He's thinking he's coming here for a nice, calm, quiet life and this little so-and-so comes in and says, 'Come on men, we're gonna go do it again.'"
Tobin and Craig go back a decade, to when the former was starting his career in the North American Soccer League and the latter was an assistant coach with the Minnesota Stars, the club that would go on to join Major League Soccer in 2017 and change its name to Minnesota United.
"He was always very confident," Craig said, mixing praise with some mild needling. "He was a 3 (left fullback) at the time, banging on up and down the line. I'd like to think I've given him a new lease on life because I'm expecting that from his game now. He's maybe not as quick, but he was always confident, leadership skills were always there, as they are currently. He's the same kind of fella, but now he's educated."
If the relationship between a new coach and a team's established leader is critical in getting the rest of the players to buy in, Forward is in good shape with the dynamic between Craig, 55, and Tobin, 34.
"As a guy gets older, you can feel like you're stagnating, you're not learning something new," Tobin said. "I knew from a lot of different levels, from what he's asking me to do with the ball to the leadership side to even the philosophical and life stuff, Carl was going to come in and push me. That was hugely exciting for me."
Since training sessions prior to the team's inaugural season, Tobin has been vocal about the idea that Forward Madison can affect the community beyond its play on the field. He has been active in the front office and the community in building several of the team's initiatives, from an inclusive supporters' club to a reading partnership with the Madison Public Library announced this week.
That approach could be traced to a 2012 conversation he had with Craig in Minnesota.
"I almost walked away from the sport in 2012. I don't think I've ever told you how close I was, midseason, to leaving," he said, looking at Craig, who he now calls a mentor. "Things weren't really going well for me and Carl sat me down, I won't go into specifics of what we went through, but that is the reason I'm still in the sport."
Craig remembers it as a "profound" four-hour discussion that led to a long-distance friendship after Tobin left Minnesota in 2013 to play in North Carolina and Madison.
"A big part of me coming here was because he's here," Craig said. "I'm glad he's on the park, but if he wasn't on the park, I'd ask him to be a coach. ... Not only is he trying to fulfill his own ambitions, he's also helping other young fellas try to create a path within this sport for themselves whilst doing greater good for society. I think it's absolutely massive what he's doing and what he's going to do."
Tobin believes Forward Madison has built a unique fan base and atmosphere at Breese Stevens Field — "this is as special a place to play as any" — which comes with an obligation to improve on its 4th and 7th place finish in the standings the last two years.
"I think with that kind of special feeling, absolutely there are expectations and absolutely we haven't fulfilled those," Tobin said. "I think it would be wrong from a team side of things if we backed down from the responsibility that comes with the atmosphere these fans create inside of Breese that, in and of itself, is as good as it gets in American soccer."
Proving how in sync he is with Tobin, Craig's response to the captain's challenge was unusually brief for the loquacious Englishman: "What he said." 
Share your opinion on this topic by sending a letter to the editor to tctvoice@madison.com. Include your full name, hometown and phone number. Your name and town will be published. The phone number is for verification purposes only. Please keep your letter to 250 words or less.