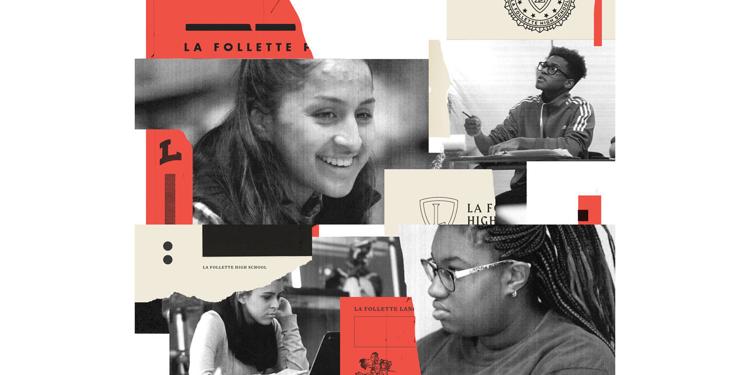 Freshman Breana "Bri" Mirilli-Wisniewski started at La Follette High School as a part of the inaugural cohort of Personalized Pathways, a smaller learning community that incorporates health care curriculum across multiple subjects.
Sophomore Anthoine "A.J." Wright, Jr. is exploring college options in his AVID class, which boosts students in the academic middle toward higher education.
At the same time, junior Adama Bah is taking her first round of advanced placement courses as the Madison Metropolitan School District aims to grow participation in higher-level classes among black and Latinx students.
And senior Jackie Barrera Gonzalez will be a part of the second class of MMSD graduates to earn the seal of biliteracy with her diploma, certifying her cultural and linguistic mastery of English and Spanish.
Whether gaining a specialized skill, navigating the college application process, or mastering high- level classes or a language, these four La Follette students are a part of key MMSD initiatives designed to help students succeed academically. Cap Times reporter Amber C. Walker shadowed the four over the course of several days throughout the first semester, which ended Jan. 22. The students were recommended by La Follette principal Sean Storch.
For all La Follette students, the semester had its wins — teachers asked tough questions, students stayed up late studying for exams and close bonds flourished. It also had its low points — tempers flared, police were called and student engagement fluctuated. And during the last two weeks of Feburary, La Follette made headlines for physical altercations involving students, and the discovery of a handgun on campus. As the La Follette community and MMSD administrators strategize to find solutions for the small group of students who need more support, these four students work to thrive despite the challenges.
Bri
When Breana "Bri" Mirilli-Wisniewski, 15, applied for the Personalized Pathways program as an eighth-grader at Sennett Middle School, she was excited to be a part of something new.
"I always thought it would be a really cool way to start my career," she said.
Although she was interested in architecture for a while, she recently turned her attention to the medical field.
"I know I want to go to medical school ... I'm not positive on plastic surgery, but I think it's really cool and interesting," Bri said. "I like looking at burns and skin implants and three-dimensional sizing on a human being."
Now,  after a bumpy semester, she is unsure of what to expect next.
"After the last two months of term one, things started not to make sense. They said we were always going to have connections in between all of our classes, but that was only really at the beginning of the year," she said.
Bri is one of the 454 MMSD freshmen participating in the pilot year of Personalized Pathways. MMSD rolled out Pathways to make high school more relevant for students, incorporating real-world applications. Students apply to the Pathways program.
The theme of the first pathway is health services. Pathways students' biology, English, history and health science classes are integrated, meaning teachers in those subjects plan their lessons collaboratively around the common theme. Other courses, like math, are outside the pathway.
The ties to health services were evident in Bri's English I class, taught by Victor Johnson.
In early November, Johnson asked students to analyze an argumentative essay. This lesson was part of a unit culminating in students writing their own argumentative essay answering the question, "What is the biggest health care issue facing the United States?"
Students would use the essay to argue their point in a Socratic seminar.
Although Bri was a few minutes late to class, she was eager to participate once she settled in.
"Someone tell me what a 'hook' is?" Johnson quizzed his students.
"It is something that makes the reader keep on reading," Bri answered.
"Yes, that is the power of a first impression," Johnson told the class.
Students broke off into small groups. Johnson handed each group a packet containing several strips of paper.
"These are argumentative essays written by my students last year," Johnson said.
Students read the deconstructed essays to identify the hook, thesis, claims, evidentiary support and conclusion, and put them back together in the correct order.
Bri's group pored over the strips, matched arguments to evidence, and debated ideas. When the group came to consensus, they summoned Johnson.
"Tell me why this makes sense," Johnson said and pointed to the sentence students identified as the thesis.
"Because all of the points in the essay link back to it," Bri's classmate answered.
After each group earned Johnson's approval, students shifted to independent work time and pondered topics for the upcoming Socratic seminar.
Bri decided to write about food deserts.
"A lot of people in the U.S. struggle with being able to provide their family with organic foods, or struggle finding transportation to ... markets," Bri said.
Though some Pathways lessons like this one worked well, the departure of the cohort's health sciences teacher mid-semester was a setback. Danielle Graser worked at La Follette for a little over two years, first as a student teacher before she was hired full-time to teach health sciences in the 2016-2017 school year. She chose to teach in the Pathway program.
Graser said she had 80 students in her first year, but Pathways increased her student load to 130.
"Teaching in the Pathway was pretty difficult," Graser said. "They all had different needs that had to get met."
Since Pathways teachers develop lessons across subject areas, much of Graser's independent lesson planning and grading time was converted to collaborative planning with other teachers.
"There was so much work and not enough time to do it," she said.
Principal Storch said he is grateful for Graser's contributions and supported her when she decided to leave. He acknowledged that collaborative planning is a big ask for teachers, but thinks the model ultimately benefits students.
"This important work takes time, and it is a significant challenge for our teachers to prioritize and organize tasks such as grading, individual planning, family communication and other daily responsibilities," he said. "Students are at the center of our decisions about how we spend our time, and we have to be gracious with each other as we work out adjustments together."
Graser's departure resulted in a string of substitutes, before Jesse Lyne came in as a long-term sub to finish out the one-semester class. Bri credits Lyne for exposing her class to medical professionals and planning engaging activities.  
"We only had three hands-on projects (last semester), and that was when we got the new teacher," Bri said. "It was kind of his idea to bring in his friends from medical school."
Yet because of all the changes, Bri said she felt disconnected from the Pathways program.
"I don't even feel like I'm in Pathways sometimes. But, you know, there is always room to improve," she said.
The disconnect began to show in Bri's classroom engagement. During health sciences class the week before winter finals, Bri asked to go to the bathroom and did not return for over 20 minutes.
"It's hard, sometimes you get bored, and you need to walk around the school," she said. "(Teachers) should look at (students) in class and (ask), 'Does this make sense to you?'"
If not, teachers should adjust and work to reach students in other ways, Bri said.
Kris Howard is the Pathways coordinator at La Follette and is responsible for coaching teachers through the collaborative planning process. Howard said Graser and Bri's concerns echo sentiments expressed by other students and teachers.
"We are working hard and working quickly to get to those (hands-on learning) pieces," Howard said. "We are confident those pieces will come, they just haven't come as quickly as the students thought they would."
Despite the rough patch in the school year, Bri doesn't regret signing up for Pathways. She saw evidence of her Pathways teachers' collaboration.
"I can totally see the difference in my Pathways classes. There are more connections with your teachers and the curriculum makes a bit more sense."
Bri said she would encourage eighth-graders who are interested in the Pathway to sign up for it.
"It will help you in the long run," she said. "You have a better bond with your teachers, and you feel like you understand a bit more when all of your teachers meet up and discuss what to provide for the students. I think it is very beneficial."
A.J.
Sophomore Anthoine "A.J." Wright, Jr., 15, knows exactly what he wants to do after high school.
"I definitely want to go to Ohio State. They are my favorite college team. I want to go to college for engineering too, and their engineering program is really good," A.J. said.
A.J. made his decision in fifth grade, before his family moved to Madison from Chicago. A.J. grew up watching his brother play football in high school, which earned him a scholarship to OSU. Ultimately, his brother was injured and unable to play. A.J. adopted his brother's dream and is a varsity football player at La Follette.
"I got moved up in the middle of the season," he said. "I am a really energetic person. I never give up on a play."  
For A.J., the only thing that rivals football in importance is his academic performance. It is part of the reason he enrolled in the Advancement Via Individual Determination and Teens of Promise programs. AVID is a national college-readiness program.
MMSD partners with the Boys and Girls Club of Dane County for TOPS, connecting students to mentors and internships. The club often provides prizes and incentives to students for meeting GPA goals or representing the program's values.
AVID students are placed in a cohort, and they take a class each year with their AVID mentor-teacher. Four years of the class with the same group helps build a sense of camaraderie and support.  A.J. credits his AVID teacher, Andrew Poquette, for holding him accountable.
"Mr. Poquette always pushes me to do better," A.J. said. "When he saw my grades slipping, he helped me to get back on track.
"I feel like he is one of the only teachers here that can relate and understand what I'm talking about… I feel like he cares about all of us individually and together."
AVID classes follow a routine. During the first half, students meet in small groups with tutors, typically college students, to review "points of confusion" they've encountered in their classes. Students talk with their peers and AVID tutors to work through the problem. The goal of this process is to prepare students to ask specific, thoughtful questions when they get to college and refine their academic thinking and problem-solving skills.
For the second part of the class, students explore college readiness topics, like how to apply for financial aid or engage with professors during office hours, led by Poquette.
 In one of A.J.'s AVID classes last November, students broke into small groups to discuss the fall of the Roman Empire, a topic they covered in world history. A.J.'s classmate stood at the whiteboard and wrote a question about the Roman Empire and the separation of church and state. As the students pondered, A.J. realized the root of his classmate's confusion.
"The Pope did not come into power until after the fall of the Roman Empire," he said.
"Can you show us in your notes where you found that?" his AVID tutor asked.
At first glance, A.J.'s binder appeared disorganized, but he quickly found an article that proved his classmate was thinking about a different era.
"You all should review your world history timeline," A.J. told his peers.
As the students transitioned out of their small groups, Poquette had an announcement. A.J. was one of a handful of students awarded tickets to a Milwaukee Bucks game from BGCDC.
"Of course A.J. won," one of his classmates teased. The class congratulated him. A.J.'s peers, teachers and tutors alike describe him as bright and charismatic.
"I feel like I just want to hype people up so they can be just as energetic as I am. Or, if you are not doing well at (something), I am going to try to help you so you can be just as good or better than me," he said.
By January, A.J. was a teacher's assistant for a ninth-grade AVID class, helping the new students out with projects and serving as a mentor.
Working with the younger students prompted A.J. to reflect on his freshman year. He said he'd matured a lot since then as he tried to stay more engaged in class and improve his grades.
Poquette led the students through a grade reflection and asked them to evaluate their performance. Although A.J. hit his 3.0 GPA goal for the quarter, he knows he has more to do.
"I want my GPA to go up a little bit every term so by fourth quarter I'll be at a 4.0," he said.
Poquette ended class with a discussion about taking responsibility for your actions. He asked the class what that meant to them. A.J. raised his hand.
"If you blame others, you don't have a sense of responsibility. That (mindset) can't help you," he said.
A.J. went on to share a story about an epiphany he had in his English class freshman year. He faulted his teacher and classmates for his performance before he realized he should look within for a solution.
"It's good that you can recognize that," Poquette said.
Adama
No one told junior Adama Bah, 17, she should take honors and advanced placement classes, but she wanted to push herself and make her parents proud.
"I made my own decision to take AP classes. I wasn't really recommended by anybody," Adama said. "My parents, they didn't go to school, so they want me to go to college and be successful, which is why I feel motivated to take honors and AP classes."
During the first semester, Adama took AP U.S. history, AP language and composition (called AP Lang) and honors algebra 2-trigonometry. She is one of a small number of black students in Madison's high schools enrolled in honors and AP courses.
According to MMSD school improvement plans, only 15.75 percent of black students at Madison's four comprehensive high schools took four or more honors or AP classes and earned at least a C in them by graduation in the 2016-2017 school year, compared to 50.5 percent of students overall.
Following a 2014 compliance review by the United States Department of Education's Office of Civil Rights, MMSD committed to reducing racial inequity in its advanced learner program.
Adama recognizes the lack of students of color and the gender imbalance in some of her higher level classes, but she sees it as an opportunity to inspire other students to challenge themselves.
"I was the only African-American in my honors (English) class (last year), and one of two in my AP history class (this year)...it doesn't really affect me," she said. "It does show that I am pushing myself and breaking barriers."
Noting that there were only four boys in her AP Lang class, Adama said, "there should be an equal amount of males and females taking AP classes and an incredibly diverse amount of students."
Adama is also a student-athlete. Last semester, she balanced varsity tennis, her studies and a part-time job at a shoe store. One of the greatest lessons she learned so far was how to prioritize her time.
AP courses "give you an idea of what college will be like. You are going to have a lot of workload. It teaches time management," she said. "You have to figure out your priorities. If I hang out with my friends, I may have to stay up extra late at night to finish my work."
Adama took an accelerated AP Lang course with Andrew McCuaig. While most classes at La Follette are 90 minutes and meet two to three times a week, McCuaig's class met every day. Students are expected to attend test-prep sessions throughout the spring to prepare for the AP exam. A good score on an AP test can count as college credit.
In a mid-November class, students were well into their unit on "The Crucible," the Arthur Miller play about the Salem witch trials.
One of the things Adama likes the most about McCuaig's class is his knack for tying classic literature to current events. A few days earlier, sexual harassment allegations against Matt Lauer and Garrison Keillor made headlines, and some students came prepared with "Crucible" comparisons.
"Someone on Twitter said that everything happening with the accusations is just like 'The Crucible,'" a student said.
"Interesting. How?" McCuaig asked.
A few students chimed in about how quickly public opinion turned against Keillor, Lauer and others accused in the wake of the #MeToo movement, similar to how Salem residents in "The Crucible" accepted allegations of witchcraft as fact before they had proof.
The students were then responsible for reading an excerpt of the text and answering a set of analysis questions.
Although Adama is often quiet in class, she is a discerning and copious notetaker. Her face lit up in a late December class as McCuaig read an excerpt from an award-winning young adult fiction novel, "The Hate U Give." The book focuses on Starr Carter, a black teenage girl who witnesses her best friend's death at the hands of a white police officer. The excerpt took place before the shooting, as the teens gathered for a party.
McCuaig read a line that included the word "bougie," which elicited stifled giggles from a few students.
"Is that a question mark?" one student quipped, remarking on McCuaig's inflection of the word.
 "I know these words! That is how you say it, right?" McCuaig said, poking fun at himself. The students erupted in laughter.
"The Hate U Give" was part of McCuaig's unit on banned books. Other titles included Sherman Alexie's "The Absolutely True Diary of a Part-Time Indian" and "The Handmaid's Tale" by Margaret Atwood. After the reading, students watched a clip from a school board meeting in Katy, Texas, where a parent complained about the language and themes in the book, prompting the board to ban it.
The outcome upset some of the students, pointing to what they perceived as implicit bias on the part of the parent and school board.
"The point of view of people of color makes people uncomfortable," a student said.
Adama admires her teacher's ability to connect with students and make the themes they discuss in class relevant to their lives.
"He is great,"  she said. "He makes learning fun."
Jackie
On a brisk, early fall day on the playground at Nuestro Mundo Elementary School, over 60 students played kickball, basketball and four-square, while others visited with classmates.
Seven first-graders huddled around Jackie Barrera Gonzalez, 17, a La Follette High School senior.
"Ms. Jackie is IT!" one exclaimed. Suddenly, the young students broke from the circle for a game of tag.
Jackie teaches for Nuestro Mundo's Puma Scholars program, named for the school's mascot. The after-school program, led by Madison School and Community Recreation, focuses on math and literacy enrichment for first- through fifth-graders. Nuestro Mundo is a dual language immersion school, so students take classes in Spanish and English.
Just as Jackie narrowed in to tag one of her students, someone blew a whistle, which signaled the end of recess. Jackie grabbed her large basket of supplies — crayons, pencils, paper, hand sanitizer and tissues — as her students lined up like little ducklings behind her.
Jackie is a Nuestro Mundo alumni. Last year, the first class of MMSD students to earn the state's seal of biliteracy graduated from La Follette, up the feeder pattern from Sennett Middle School and Nuestro Mundo. To earn the seal, students must master not only reading and writing in English and Spanish, but an understanding of how culture evolved around the language through studying literature and history.
Jackie completed her requirements for the biliteracy seal early, and fills the free time in her schedule with Puma Scholars. For Jackie, it is important to inspire the next generation of La Follette graduates and build her skill set as an aspiring teacher.
"I got to understand what it was like to plan a lesson and understand following a curriculum," she said. "Working with first-graders, there are a lot of obstacles and distractions, but I feel like everyday ... it gets easier."
The biliteracy seal requires La Follette students to take eight classes, including two advanced placement courses. As a part of the second class of students pursuing a biliteracy diploma, Jackie said the hard work has been worth it.
"The first year, I saw a lot of the students that came with me from middle school in the same classes, but after sophomore year and junior year a lot of them kind of stopped or dropped the whole program," she said.
"I think (the biliteracy seal) is something that can really make you stand out from other people, whether it be in college or when you are applying for a job."
During one of the Puma Scholars November classes, the students completed an activity called "Who Has More?," a riff on the card game, "War." Each student had a small pile of playing cards, face down in front of them. They flipped over the card on the top of the pile, and whoever had the biggest number won the round. Students picked their teams, and, in true first-grade fashion, it was girls versus boys.
The girls played by the rules, but the boys took some convincing.
"We are taking the card from the top of the pile, not choosing," Jackie told two boys as they shuffled through the card pile for the highest numbers. As the students tallied up their scores, the stakes rose.
"Ms. Jackie, we have to keep going!" one student said. "Five more minutes?" pleaded another.
Jackie is the second of four children and developed an unwavering sense of patience caring for her younger sisters.
"I've always loved kids," she said. "I think that definitely helps. When (my sister) was younger, I took care of her as if she were my own. It is just nature to me being so good with kids."
Jackie had to muster up that patience in one of her Puma Scholars classes in the days right after Thanksgiving break. Her students were comfortable, and it was time to reset classroom expectations.
Jackie introduced a behavior chart. The big, colorful chart listed each student's name, with a row next to it to tally hash marks.
"Three strikes? No sticker," Jackie said as she told her students they would not receive the coveted incentive at the end of class if they misbehaved.
The students appealed. "Mr. Michael doesn't give us strikes!" one student whined with a pout. Mr. Michael is Jackie's literacy counterpart who teaches on opposite days.
"Have you all noticed that your behavior has changed? That's why we need this chart," Jackie said.
"Can you take my name off the list and leave theirs?" another student asked.
"No," Jackie told him, as a small smile escaped her stern exterior.
This winter, Jackie got accepted to her first-choice college: the University of Wisconsin-Madison. She plans to major in elementary education and would love to return to Nuestro Mundo when she completes her studies.
"I've always had it in my head that if I did earn a degree in elementary education and I did go to Madison, if I got offered a job here I would do it in a heartbeat. It is a way of giving back," she said. "Nuestro Mundo was the place I discovered my passion."