As a young girl, Kabzuag Vaj would watch the women in her family cook for hours, then set a table full of mouthwatering dishes. But they didn't sit down to enjoy the meal; all the fathers, uncles and brothers would eat first.
Sometimes the men would eat all or most of the good food. The women and children then ate whatever was left.
Though the tradition of men eating first and separately is a longstanding part of Hmong culture, Vaj saw this as unfair.
"It's important for people to understand that you don't have to have a name for injustice, you can just feel it," she said. "My work and my longing for justice started way before I even had an understanding of it."
So one day after the women in her family spent hours cooking, Vaj snuck into the kitchen and did something about it.
"I remember being in the kitchen and thinking to myself, 'I'm just going to eat first.' It was a sense of justice for my mom, my sisters and my aunties," Vaj said. "In my mind I was like, I'm eating for all of us … and feeling a sense of justice with the little that it is."
For Vaj, 41, this small act was the beginning of a life dedicated to working on behalf of women and children. That mission started in the Hmong and Southeast Asian community, but has grown to include other people of color and those who identify as gay, lesbian or transgender. The nonprofit organization she founded in 2003, Freedom Inc., works to unite these disparate groups in a mission of ending gender-based violence and bringing about political, economic and cultural change.
Her commitment to ending domestic violence was recognized nationally in 2011, when she won the Champion of Change award at the White House, which honors individuals from around the country who make extraordinary contributions to their communities.
"Kabzuag is a really strong example and an exemplary leader in that work where not only has she built programs to respond to domestic violence, but also challenged her own community," said Chic Dabby, director of the Asian and Pacific Islander Institute on Domestic Violence, which nominated Vaj for the award.
"Her impact locally has definitely spread beyond Wisconsin. I think people know her as an activist across the country," said Duoa Thor, director of strategic partnerships at the White House Initiative on Asian Americans and Pacific Islanders, who knows Vaj through advocacy work they have done for the Hmong community. "So if you talk to Southeast Asian activists in Rhode Island or Philadelphia they know of her great and amazing work.
"I feel like people know a lot more about our communities and the issues women endure because of her great work and great advocacy."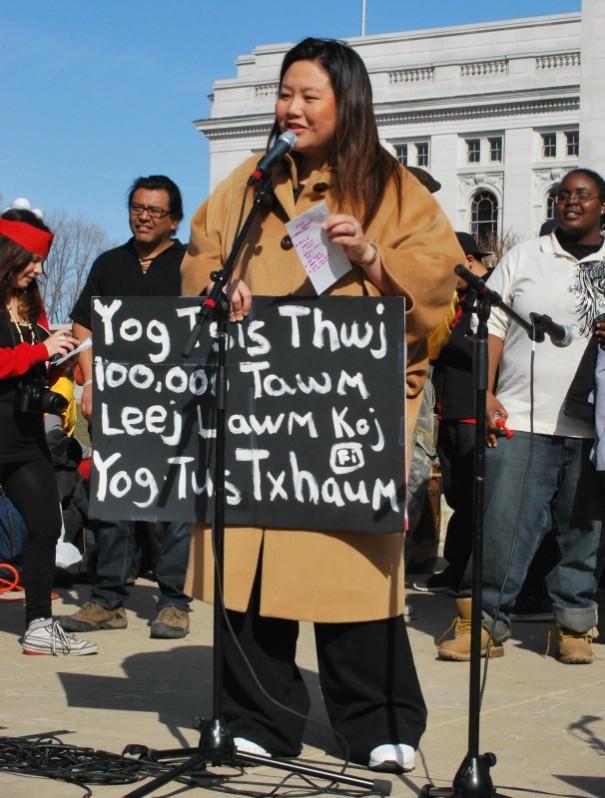 Though data on specific ethnicities varies widely, 21–55% of Asian women report experiencing intimate physical and/or sexual violence during their lifetime, according to a 2015 report from Dabby's institute. In data released from End Domestic Abuse Wisconsin, 1,776 Hmong individuals were served by Wisconsin domestic abuse service providers between October 2013 and September 2014. The Hmong population in Wisconsin is about 50,000.
Freedom Inc.'s Family Strengthening Project, which provides services and outreach to domestic violence and sexual assault victims and survivors of all ages, is one of the efforts that Vaj is most proud of. And this year, for the first time, Freedom Inc. received funding to work on domestic violence and sexual assault issues for Cambodian women. It is also working to begin a program that will address same-sex violence in the black community.
Wisconsin has one of the largest Hmong populations in the United States.The ethnic group is made up of refugees from Laos, Thailand, Vietnam, and China.
Vaj came to the United States in 1980 when she was 6 years old, as a refugee from Laos escaping political unrest during the Vietnam War. Her family moved to Madison in 1981 where she grew up in Bayview, a low-income community on Madison's south side. In her tight-knit family, Vaj said decisions in her household were made primarily by men.
She enjoyed Hmong dancing and as her peers were quite sheltered, she wanted to give girls in her complex an opportunity to do something fun. At age 14, she wrote her first grant application to the Bayview Foundation to teach traditional dancing to Hmong girls and was awarded $750 to do so.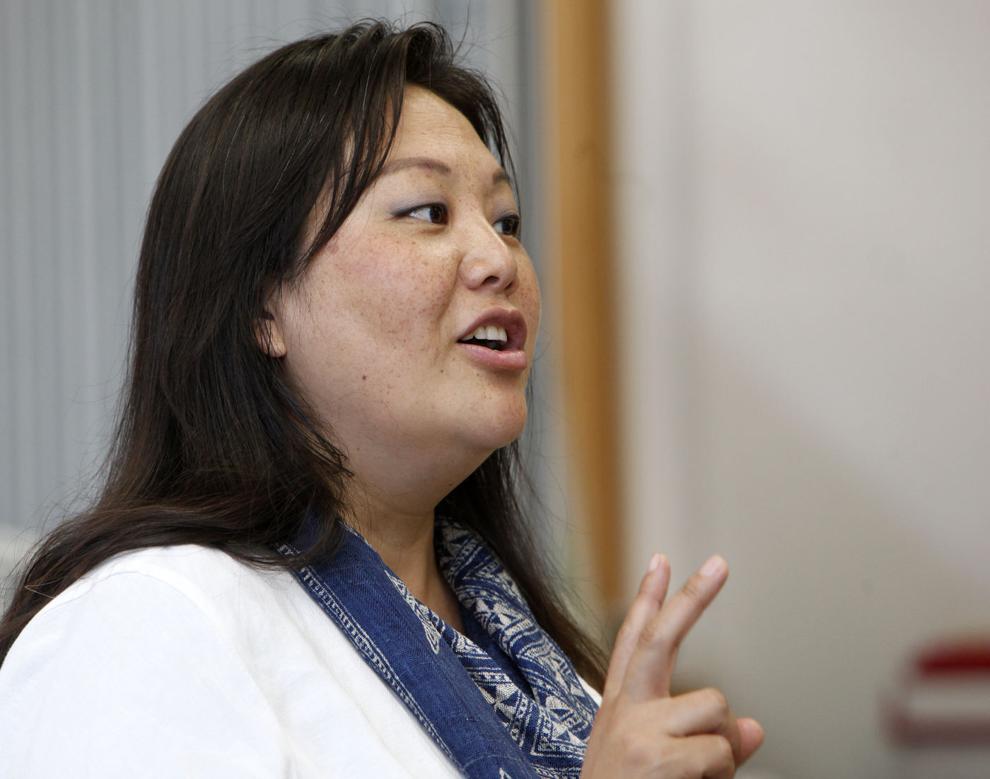 "I was a young teen teaching about 30 young Hmong girls how to dance. So I think my reputation in doing girls' and women's stuff started that young," Vaj said.
True Thao, 32, was one of the young girls in the dance class. Now Thao is a program coordinator at Freedom Inc., in charge of Freemen, a support group for Hmong boys in middle and high school.
For Thao, Vaj helped her see life's possibilities.
"Kabzuag was one of the first young Hmong girls to go to college to the dorms. In the '80s and '90s growing up I remember a lot of young girls — even their mothers coming here to the states — you weren't supposed to be that educated," Thao said. "And Kabzuag was one of them."
When Vaj enrolled at the University of Wisconsin-Madison, her decision to live on campus wasn't welcomed by her family. Her mother and brother worried bad things would happen to her in the dorms, Vaj said, but she challenged those ideas.
A year studying abroad in Thailand broadened Vaj's world view, and prompted her to form a teen center in her neighborhood.
"It was that experience that led me to believe my mind is so big now and I can envision and see so many different things that I wasn't able to see before. If I could create that same opportunity for other Hmong kids in this neighborhood, would that change their lives?" Vaj said.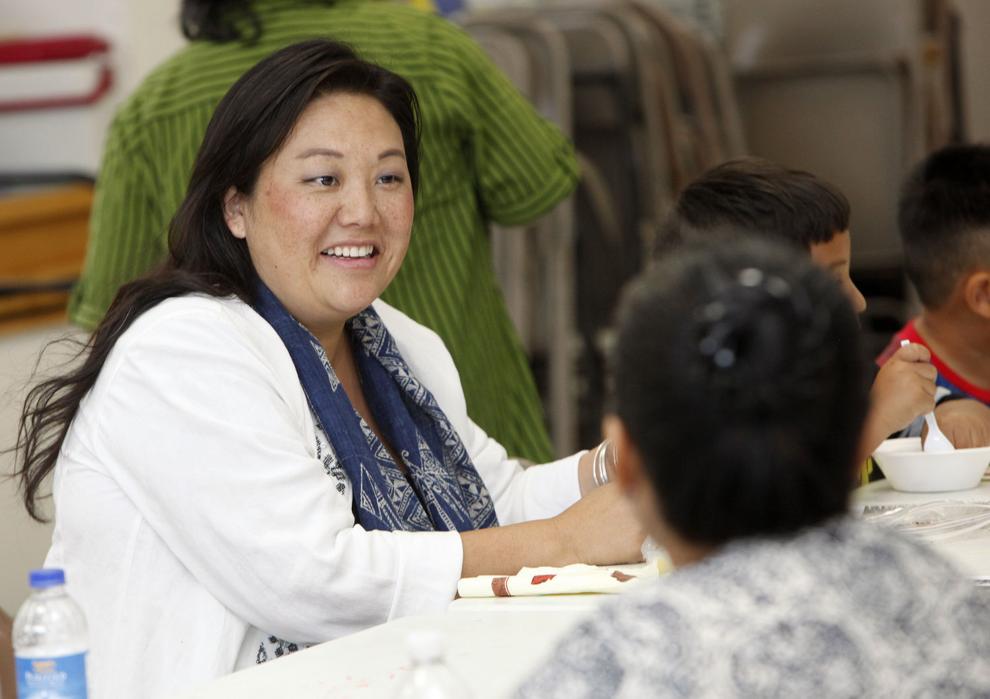 She noticed that when she came back from Thailand, the people she grew up with in her neighborhood were hanging around and had few prospects for the future.
"I was thinking, 'What if I could create a space where these kids or teens could come in every week?'" she said. "And every Tuesday, whether they came or not, I would create a space and anything I had learned about, whether it be racial profiling or other social justice issues like immigration or child welfare… whatever I knew, I was going to teach them."
So every Tuesday and Thursday, Hmong boys and girls gathered at the Bayview center, where Vaj acted as a mentor.
"When I saw that it worked, we just kept going," Vaj said. "And now you're looking at almost 15 years later we've served those initial 10 people, to their nieces and nephews and now almost their children."
Most of the leaders in the Hmong community were the male elders, Vaj said, and no one was addressing the needs of Hmong women, youth or the LGBTQ population.
The lack of services led her to create the Asian Freedom Project in 2000, a group that provided services for Southeast Asian women in abusive relationships and created a space for youths to organize and bring about change on social issues.
During that time, Vaj was also working at the Hmong American Women's Association, a nonprofit organization that advocates for Hmong women in the larger community. Its domestic violence program was going to be defunded that year so Vaj decided to pursue funding on her own for that purpose. A Fund for Women, located in Madison, granted her one of her first grants to create her own nonprofit, and in 2003, Freedom Inc. was born.
At first, Freedom Inc. served only Southeast Asian — particularly Hmong, — women, girls and boys. After some young black girls expressed they wanted to be part of the group, too, Vaj expanded the group's services to other communities of color. Over time, programs for gays and lesbians, gender non-conforming individuals and Hmong elders were created.
M. Adams, 29, is co-director of Freedom Inc. and also the program coordinator for Black Beauties, a group for middle and high school black girls to discuss issues in their lives and communities, and to learn leadership skills.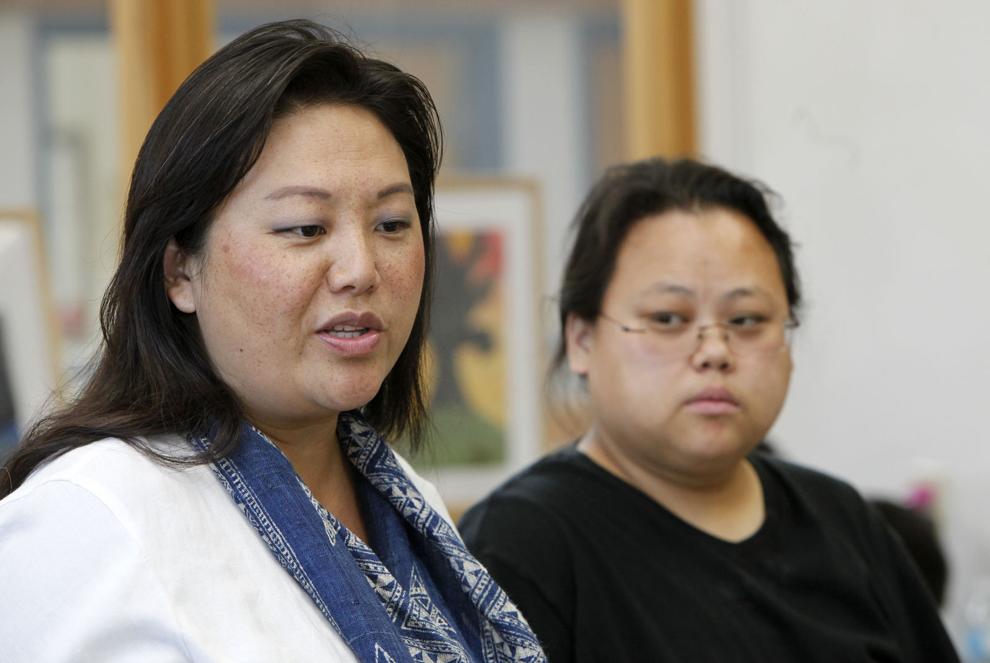 Adams joined the organization around 2008 when she was a student at UW-Madison. Along with leading Black Beauties, she created a group that discusses specific issues faced by LGBT African-American youth.
"Somebody who is able to bring together the most different of people in a way that builds family, you got to be brilliant," Adams said. "(Vaj) has got Hmong elders who barely speak English talking to queer black kids who were formerly in gangs about food and how we're going to build family together.
"That's a result of her brilliance. People have to have the mind to be able to vision that and the skills to make that come into play."
Another part of Freedom Inc., the Viv Ncaus Dance Troupe, was created to bridge the generation gap between Hmong elders and younger people. The group teaches culture, language and traditions through Hmong dancing to young girls. Mothers, daughters, aunts and sisters come together sometimes to sew traditional clothing for the troupe.
Zon Moua, 24, runs Viv Ncaus and joined the staff in 2012, but first came to Freedom Inc. at age 15. At the time, Moua and her friends were holding Hmong dance practices at each other's houses after school and would sometimes discuss issues like gender-based violence, sexuality and sexual orientation, topics regarded as taboo. They decided they needed a larger, safer space to have these conversations so they began dancing at the Bayview center.
"Growing up as a Hmong girl I was always told don't speak too much. If something is bothering you, just be patient. If you're patient things will just change," Moua said.
Working with Freedom helped Moua discuss issues from her past and heal. A relationship with an abusive partner took a toll on her self-esteem and self-worth, she said. Vaj and other staff members helped Moua overcome difficult situations and equipped her with the resources to move forward and begin a new chapter in life, she said.
"I know the importance of speaking and telling our stories," Moua said. "There are other folks who are like me and they just cannot stay silent."
Moua said over the last seven years she has been a part of Freedom Inc., she learned how to organize, be a leader and make her voice heard. She also said the organization's safe space allowed her to explore her sexuality and accept her sexual orientation. Vaj was there for her throughout.
Vaj has helped several Hmong women leave abusive marriages, even when she knew doing so would be met with criticism.
One woman, who asked to remain anonymous, shared how Vaj helped her leave an abusive marriage that lasted for more than a decade.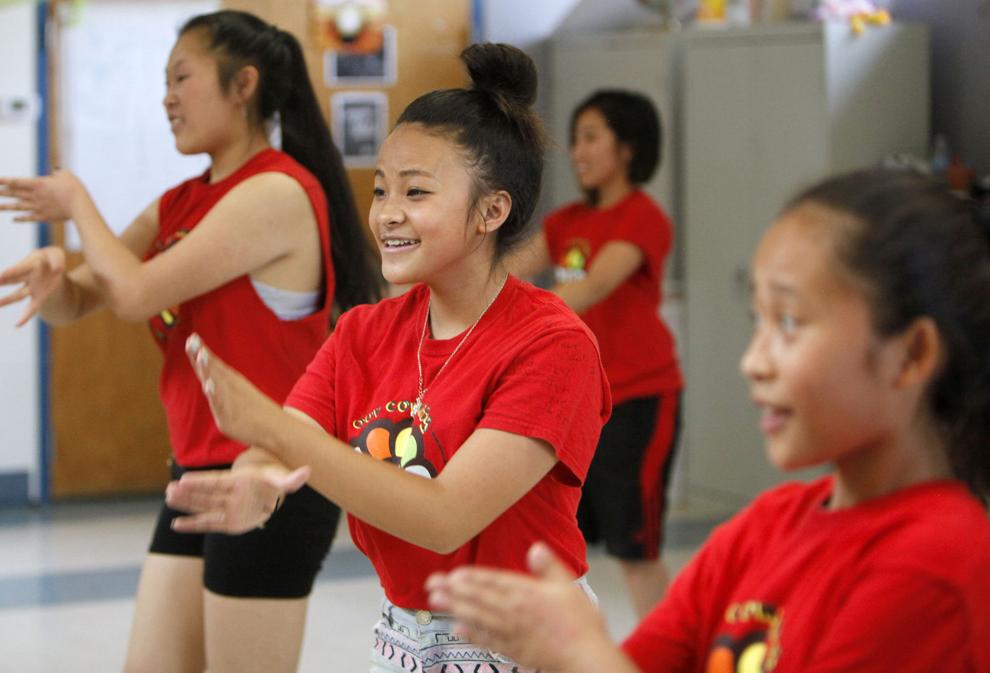 The woman was married as a teen to her husband who was seven years older. Her parents had always instilled in her respect for elders and tradition so when the request came for her to get married, she didn't want to displease her parents and went along with the plan. A few years into the marriage, her husband began drinking excessively, neglected work and had affairs. She became depressed and suicidal.
She reached out to Vaj, who helped the woman leave her marriage.
"Any other person would have declined helping me… but that's what is amazing about Kabzuag," the woman said. "Her love and compassion for women goes beyond her traditional role in the Hmong community. Where she should have encouraged me to stay in the marriage as was expected, she helped me to understand that it was not my fault, that I was a victim, and that I was not alone."
Vaj explained why it was particularly hard for the woman to leave.
"In Hmong culture, when you're a divorced person and people know that, what comes with that is you immediately lose whatever network and social support you had for all those years you've been married," Vaj said.
"What happens is, when you're married you're no longer associated with your birth family. All friendships, networks and social support are traditionally based on who you're married to. So with the woman I helped … everybody she knew, from the friends, cousins, sister in-laws, aunties, were all her support system. So when she divorced him, she loses all of that."
Hmong women like Vaj who fight against domestic violence are often blamed for tearing apart marriages. The woman said Vaj was her greatest supporter, helping her find housing, work through legal issues and make plans for her immediate needs. She credits Vaj for helping her find strength during what she refers to as the scariest and loneliest period of her life.
"On the day of my divorce, a board member from Freedom Inc. sat behind me. No one else was there for me, but her silent support was enough to help me move forward. Since then, I have slowly started to heal again and see that there is hope beyond what I had known," she said.
"Kabzuag continues to keep in touch with me to see how I am doing. I credit her for being the first voice and hand that was instrumental in helping me live," she said.
Yang Sao Xiong, who joined the UW faculty in 2013 and focuses on the Hmong experience in the United States and Wisconsin, said in an email interview that he has read about Vaj's work on the prevention of domestic violence and abusive international marriages within Hmong American communities. Though he is not familiar enough with her work to comment specifically on it, he called such issues "serious social problems in Hmong American society (as well as globally)."
"Domestic violence, but especially violence against Hmong women and girls, happens way more often than we (the public) know," Xiong said.
"She's breaking barriers by really giving a voice to women and providing a safe haven for them," said Peng Her, assistant director at the Center for Resilient Cities and co-director of a summer Hmong Language and Culture Enrichment program in Madison.
Her has been to trainings for Hmong men coordinated by Vaj, where the goal is to build allies with Hmong men in the community and teach them how to play a role in ending domestic violence. The perception of Vaj's work by men and elders in the community has slowly changed over time, he said, where at first it wasn't necessarily welcomed.
"When she first started her work I think the elders were a little apprehensive or viewed her work negatively because of the sensitive matter, but over time people are beginning to realize it is something that needs to be discussed," Her said.
Her also said the trainings for Hmong men were eye opening and helped them realize how they all can help prevent abuse against women.
Valerie Nash, who used to work with Vaj at the Wisconsin Coalition against Domestic Violence, said her first interaction with Vaj shaped her into being an ally and supporter for Hmong women.
Nash, who is African-American, was hired by the coalition to be the outreach and social activist coordinator for underserved and unrepresented populations. She commuted daily from Milwaukee to Madison and had to do outreach in a community she wasn't familiar with. Since she didn't have prior experience working with Hmong women, Vaj invited her to attend a dialogue for Hmong women in Madison. Although the meeting was spoken in Hmong, Nash picked up signals from body language and emotions to get an understanding of what was going on. She said that first interaction was her introduction to organizing and working alongside other communities culturally different from her own.
Nash said Vaj "has a clear understanding of how communities can work together and alongside each other without stepping on or over each other."
She developed a friendship with Vaj and other Hmong women — she calls them her Hmong sisters — who support one another as women of color. Nash attends Hmong events and meetings to show her respect and concern while Hmong women reciprocate by showing up to support Black Lives Matter and other race-related movements.
"It's very clear that when we do this work, we do it together, we do it alongside of each other and we do it because of each other," Nash said.
Tammie Xiong, executive director of the Hmong American Women's Association in Milwaukee, met Vaj through a mutual friend who does similar social justice work with Hmong women.
"While I consider Kabzuag to be a sister, I also really look up to her and I feel as if she has been one of my mentors, someone I've been able to look up to and learn from and sort of exchange ideas and get the critical feedback to improve my line of work," Xiong said.
Xiong and Vaj have worked to engage the Hmong community to support its women and girls. Both have worked on the Hmong Women's Giving Circle, the first of its kind statewide. The Hmong Women's Giving Circle started out of the idea for Hmong women in Wisconsin to organize in their communities. The women started a fund that was for Hmong women to invest in and use for initiatives or projects for women in their community.
"She is one of the greatest Hmong advocates Wisconsin has, and even in the country. She's very bold and stands up firmly for what she believes in and has always been at the forefront of the movement," Xiong said.
"I've seen that it has been incredibly difficult and there's risks associated with it, and she knows it and recognizes it," she said. "But it's people like her that have allowed me to really see that I can have a space in this movement to also contribute in a bold way.
"She's opened up a lot of doors for young women and men to participate in ending gender violence in our community."